Who can resist cauliflower covered in a cheese sauce? This Cauliflower Gratin has cauliflower covered in a creamy cheese sauce then sprinkled with breadcrumbs and baked for a veggie side dish everyone will love.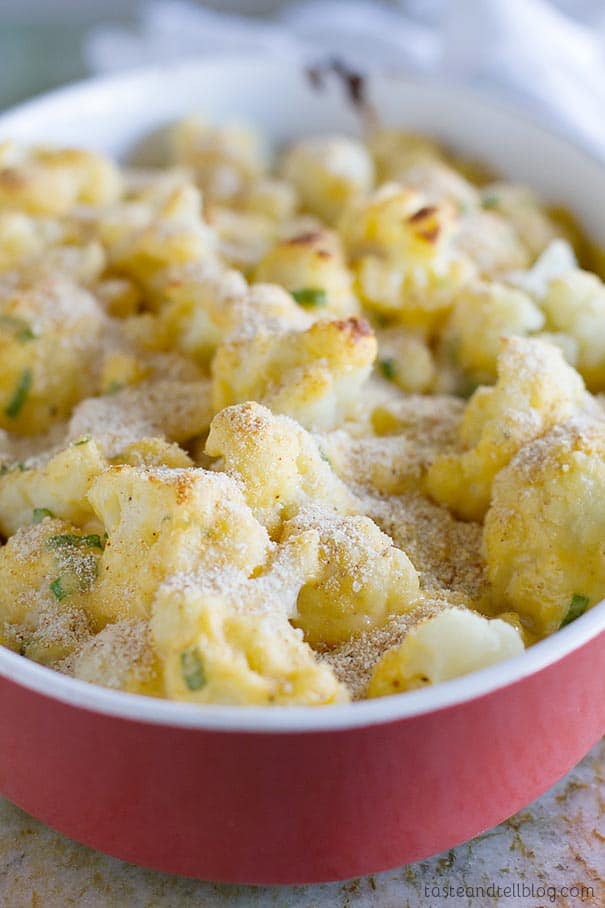 Photos Updated October 2014
Originally posted November 3, 2007 – I have a lot of really great recipes that are often overshadowed by a really awful photo. This was one of those recipes. The original photo was so unappetizing, and I knew that this post needed to be brought back to life. I updated the photos a few months ago, but was thinking that this Cheddar Cauliflower Gratin would make a great Easter side dish, so I decided to spotlight it today. This is such a delicious side dish – I'm so glad you can all see that now and that the original photo has been banished! 😉

First of all, I have seen several of the blogs that I read that are participating in National Blog Posting Month – otherwise known as NaBloPoMo. I really wasn't planning on participating, but seeing that I have tons of pictures of recipes that I haven't blogged about, I figured that this would be a good opportunity to share some of these and catch up. I went and counted, and I have 15 – so that combined with what I will make through the month – I figure I should have plenty!! So I'm sorry if you get tired of hearing from me every day!! (Let's see if I can actually make it through the month!)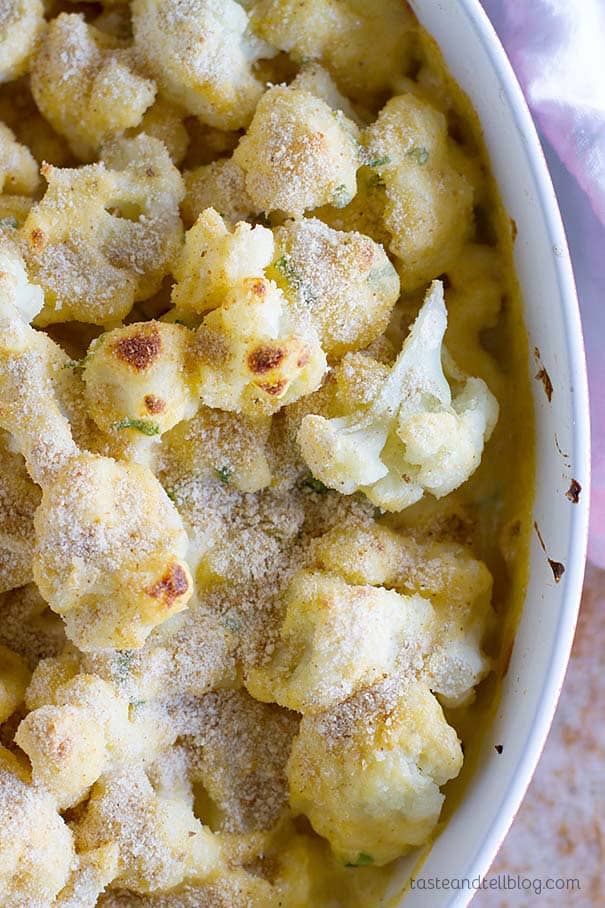 I rarely make side dishes. I know, I am probably a bad menu planner/cook because of this, but it seems like when we eat dinner, we really are never hungry enough for the main dish plus side dishes. This kind of strikes me as weird, because as I type that, I realize that whenever we go out, we almost always get an appetizer. Maybe that is why we always bring home so much in a to-go container!! I have been trying to branch out a bit and try different side dishes – sometimes it is nice to have more than 1 thing on your plate!
On this particular night, we hadn't planned for dinner, so upon digging through the freezer, we found some chicken thighs and some sausages that my husband could cook on the grill. I used this opportunity to make a side dish. I remembered a cauliflower dish that I saw on Leslie's blog, so I decided to do it. The recipe originally comes from Epicurious. It is a cauliflower gratin that has a horseradish crumb on top. Well, I didn't have the horseradish, so I decided to do what Leslie did and I substituted the horseradish crumbs with seasoned bread crumbs. Leslie's looks a lot prettier because she served hers in individual ramekins, but it still tasted very good even though it didn't look as good!! It made me realize that most side dishes can be thrown together with minimal effort, and they really do compliment the meal. I'm going to try to make more of an effort now to put a complete dinner on the table!!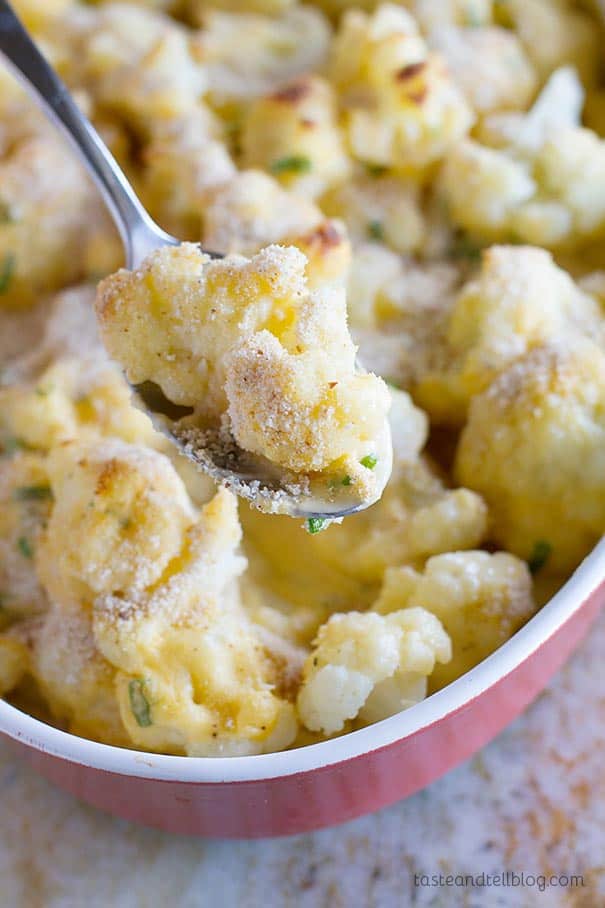 Like what you see here? Make sure you are following Taste and Tell for more great recipes and ideas!!

Facebook ** Pinterest ** Twitter ** Instagram ** Google+
or you can subscribe to my newsletter or Feedly or Bloglovin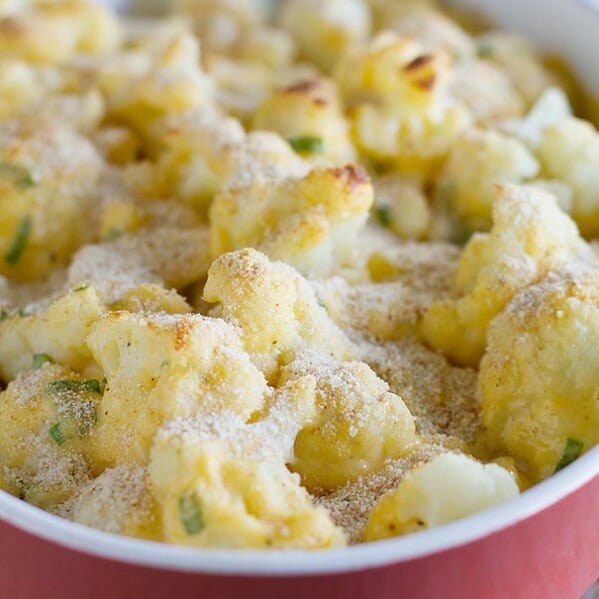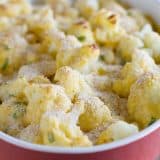 Cheddar Cauliflower Gratin
---
Author:
Prep Time: 15 mins
Cook Time: 25 mins
Total Time: 40 mins
Yield: 8 servings 1x
Description
Who can resist cauliflower covered in a cheese sauce? This Cauliflower Gratin has cauliflower covered in a creamy cheese sauce then sprinkled with breadcrumbs and baked for a veggie side dish everyone will love.
---
Scale
Ingredients
3 lb cauliflower, cut into 1 1/2 – 2 inch florets
2 tablespoons unsalted butter
2 tablespoons all-purpose flour
1 1/2 cups milk
6 oz Sharp Cheddar, grated
1/2 cup finely chopped scallion greens
1/2 teaspoon salt
1/2 teaspoon black pepper
1–2 tablespoons seasoned breadcrumbs
---
Instructions
Preheat the oven to 450ºF. Spray a 2-quart baking dish with nonstick cooking spray.
Bring a large pot of water to a boil, then salt generously. Add the cauliflower and boil until tender, 6-8 minutes. Drain well, then transfer to the prepared baking dish.
While the cauliflower is cooking, melt the 2 tablespoons butter in a large saucepan over medium-low heat. Add the flour to the butter and cook, whisking, for 3 minutes. Add the milk in a slow stream, whisking constantly. Bring the mixture to a boil. Reduce the heat and simmer, whisking occasionally, until slightly thickened, about 8 minutes. Remove the pan from the heat and add the cheese, scallion greens, salt and pepper. Stir until the cheese is melted. Pour the cheese sauce over the cauliflower and stir gently to combine.
Sprinkle the breadcrumbs evenly over the top and bake until the topping is golden brown, about 10 minutes.