You'll never go back to regular mashed potatoes after trying my favorite Mashed Potato Recipe! Browned butter takes this side dish up a notch from your traditional recipe. So good that you don't even need gravy!
This mashed potato recipe is perfect for holidays!! If you're looking for other perfect holiday dishes, try this Snickers Salad, Corn Casserole, or Sausage Stuffing with Apples and Cranberries.
Thanksgiving is one of my very favorite holidays that I look forward to every year. There is something about family gathering around a table, enjoying each other's company, that just gets me every time. And you can't forget the tradition of going around the table to tell what you are thankful for that really makes me sit back and realize just how blessed I am.
With Thanksgiving only a few weeks away, I know you must all be thinking about your menu already. I know I am!!
We are usually purists when it comes to mashed potatoes – sticking with the traditional mix of potatoes, milk, and butter. But this mashed potato recipe – let me tell you, it will convert anyone! These potatoes are so good that you don't even need gravy. Filled with flavor, they will be the star at your Thanksgiving table!
The Secret Ingredient for the Best Mashed Potatoes
I know that's a bold claim – but believe me. There is one thing that will totally elevate your mashed potatoes.
Brown Butter.
It takes these potatoes from just mashed potatoes to the very best mashed potatoes.
Browning butter is actually quite easy – you just need to keep an eye on it so that it doesn't burn. I walked you through the steps in these Mashed Sweet Potatoes, but I will walk you through it again here.
You are basically cooking the butter until the milk solids brown. The end result is a butter with a deep, rich, nutty flavor.
Start by melting your butter – I like to cut it into pieces so that it melts evenly.
As it starts to melt, it will start to foam up a bit. Keep the butter moving – either by stirring with a spatula or swirling the pan.
The butter will start to brown a bit – make sure to keep it moving, and keep an eye on it so that it doesn't get too brown too fast.
When it's done, it will have deep brown specks on the bottom of the pan and it will smell rich and nutty. Once it is to this point, immediately move it from the heat and pour the butter into a small bowl. I like to use a spatula to make sure I get all of the brown specks – that is where you get all the flavor!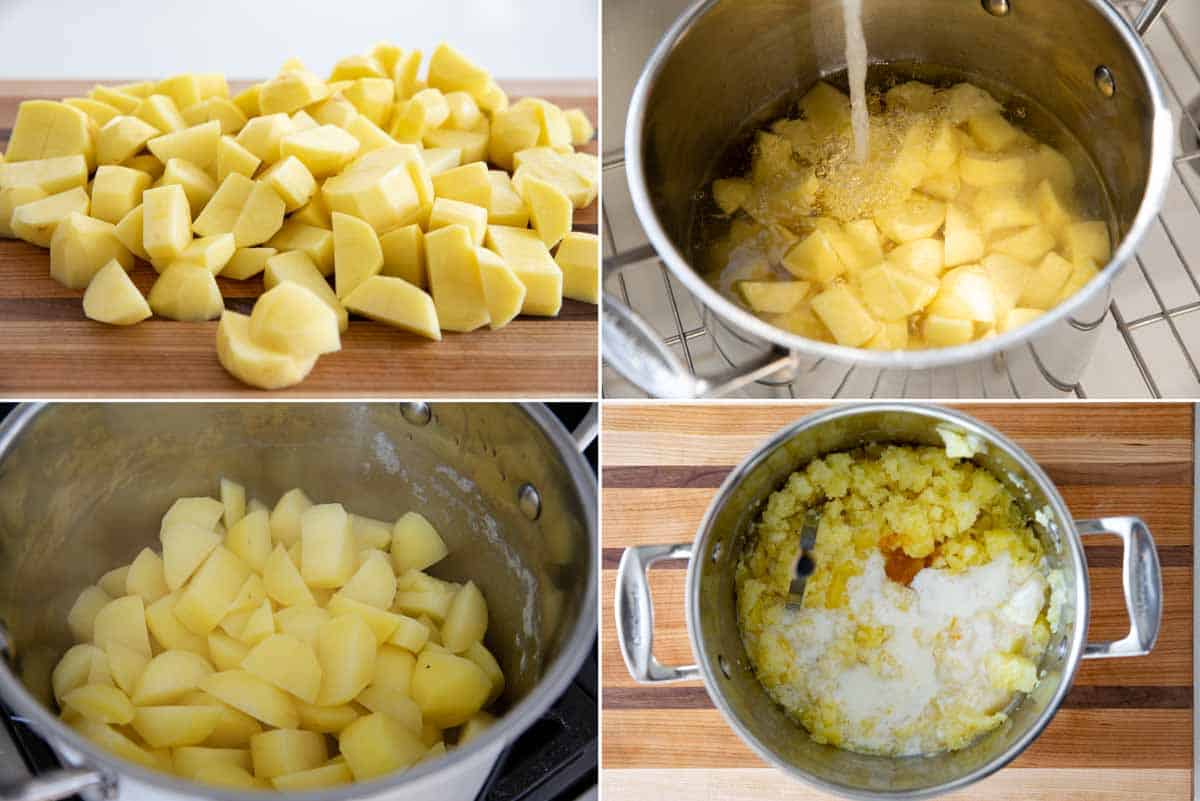 How to Make the Mashed Potatoes
This part is pretty basic!
Start by peeling and cutting your potatoes into small chunks.
Place the potatoes in a pan and cover them with water, then add some salt. Boil the potatoes until they are tender.
Drain the potatoes and return them to the pan.
Mash them slightly, then add in the buttermilk, milk, and most of the brown butter and mash until they are to your desired consistency. I like them mostly smooth, but I don't mind a few lumps, either!
Serve them topped with the remaining brown butter.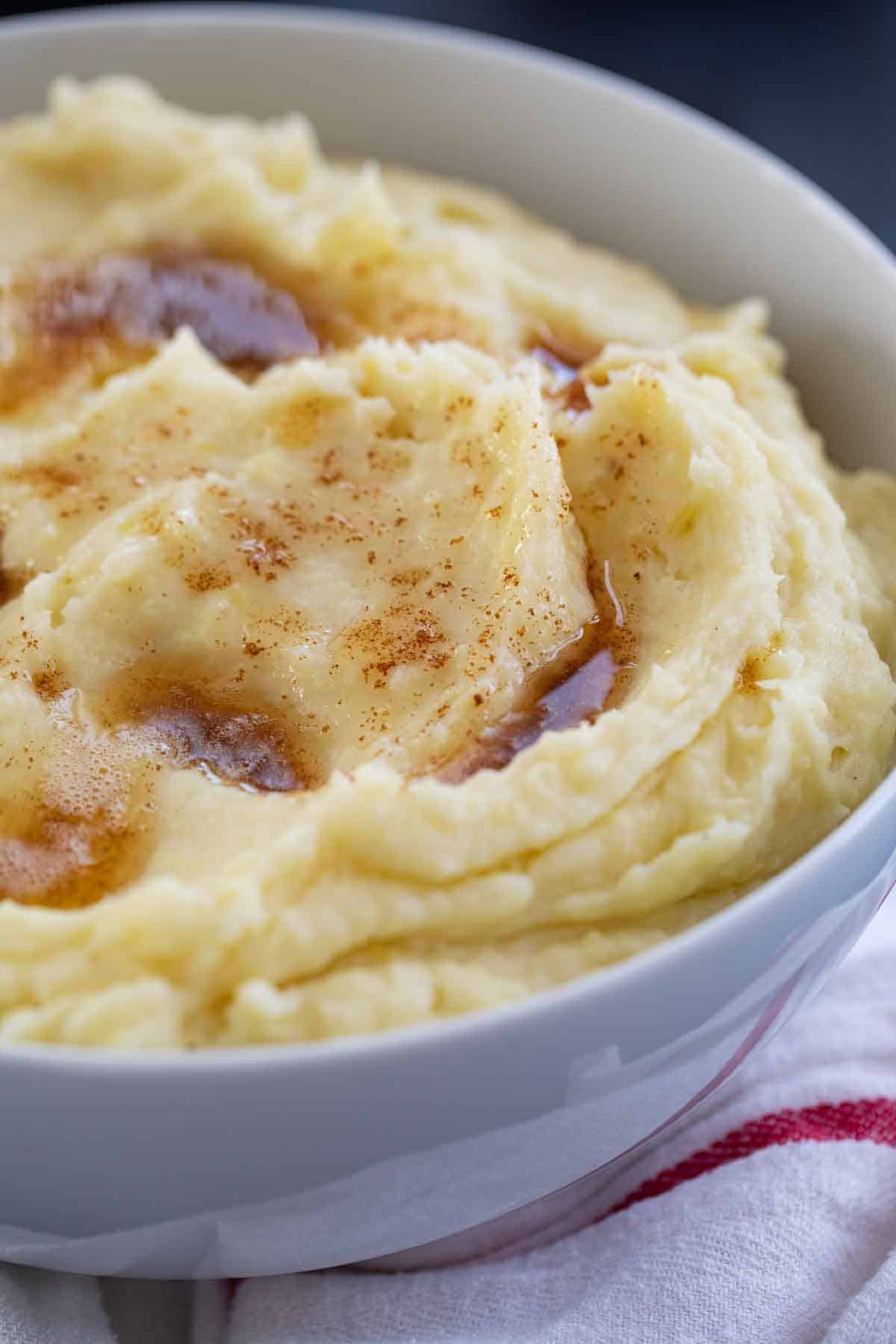 Frequently Asked Questions:
What kind of potatoes are best for mashed potatoes?
My vote will be Yukon golds. They aren't grainy or mushy, and I love how creamy they are. I have made my fair share of mashed potatoes with Russets as well, and they will be lighter and fluffier. They do tend to get grainy easier, though. Or go for a mix of the two!
Do I have to brown the butter? Can I just use melted butter?
You don't have to make the brown butter, but if you don't, you'll just have regular old mashed potatoes. There is nothing wrong with that, but if you want to wow people, trust me and make the brown butter.
What is the best way to mash potatoes?
I'm pretty old school when it comes to mashing. I have a basic, handheld potato masher similar to this potato masher (affiliate link) that I use most often. You can use a hand mixer, but you just want to make sure you don't overmix your potatoes, making them gummy or gluey. Another great option is a potato ricer (aff link). It will make perfectly smooth mashed potatoes.
How many potatoes do I need to serve for a holiday?
The general rule of thumb is 1/2 lb of potatoes per person. This recipe uses 4 pounds of potatoes, so technically it should serve 8 people. But keep in mind that on the big holidays, like Thanksgiving, there will be many side dishes and people won't always take a full serving.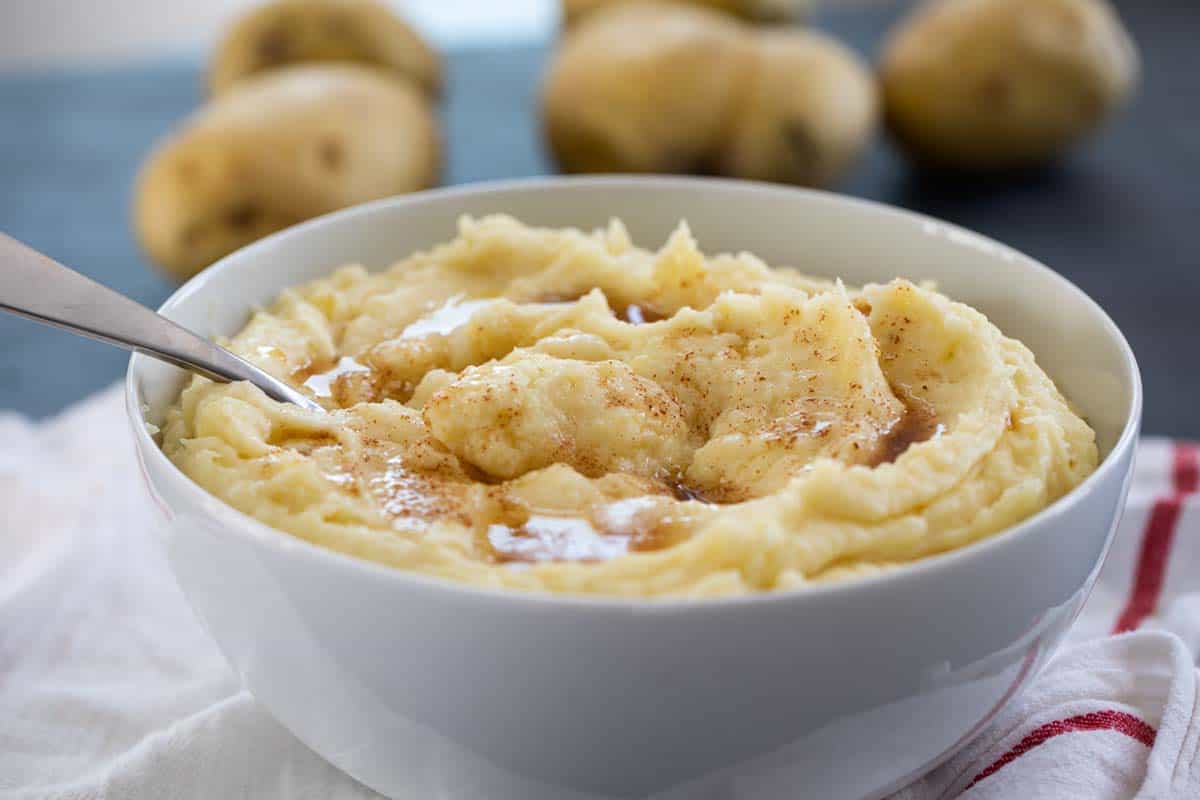 How to Make Mashed Potatoes Ahead of Time
This is actually really easy! Just make the recipe as written. Place the 2 tablespoons of brown butter that you reserve in a small container and keep this separate. Let the mashed potatoes cool, and cover and refrigerate. On the day that you want to serve the potatoes, remove them from the refrigerator and let them sit at room temperature for about 30 minutes. To reheat, you have a few options:
In the microwave – make sure the potatoes are in a microwave safe container and microwave on 50% to 75% power until the potatoes are heated through. You'll need to stir them a few times so that they don't heat unevenly.
In the oven – cover the potatoes lightly and bake in a 350ºF oven for about 30 minutes, or until heated through.
In the slow cooker – place the potatoes in a slow cooker and turn on to low. You'll want to stir the mixture at least once an hour, but this is an easy way to keep mashed potatoes warm for a holiday meal.
Before serving, you'll heat the reserved brown butter until melted and drizzle over the top of the potatoes.
More Thanksgiving Potato Ideas:
The BEST Sweet Potato Casserole
Golden Potato Mash
Scalloped Potatoes Recipe
Funeral Potatoes
Slow Cooker Cheesy Potatoes
Cheesy Ranch Potato Bake
Scalloped Sweet Potatoes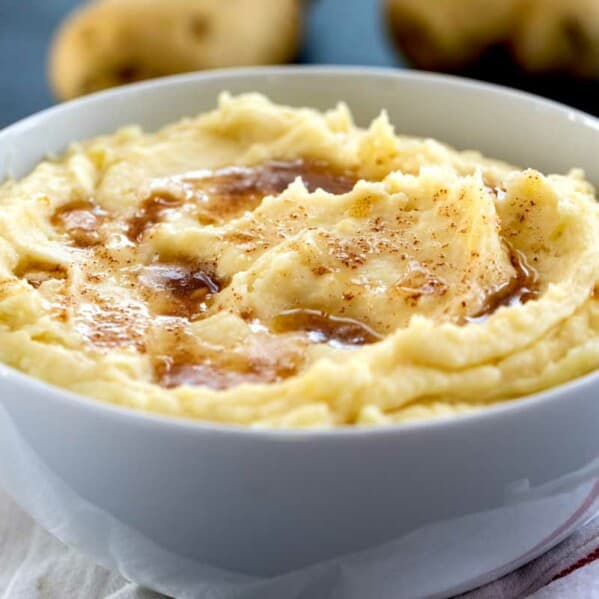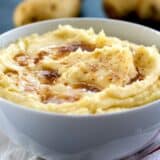 My Favorite Mashed Potato Recipe
---
Author:
Prep Time: 15 minutes
Cook Time: 35 minutes
Total Time: 50 minutes
Yield: 8 servings 1x
Category: Side Dish
Method: Stove Top
Cuisine: American
Description
You'll never go back to regular mashed potatoes after trying my favorite Mashed Potato Recipe! Browned butter takes this side dish up a notch from your traditional recipe. So good that you don't even need gravy!
---
Scale
Ingredients
4 lbs Idaho potatoes, peeled and cut into 2-inch chunks
1 tablespoon salt, divided
3/4 cup unsalted butter
3/4 cup buttermilk
1/2 cup milk
Freshly ground black pepper
---
Instructions
COOK THE POTATOES: Place the peeled potatoes in a large pot and cover completely with water. Add 2 teaspoons of the salt and bring to a boil over medium-high heat. Cook until the potatoes are tender; drain and return to the pot.
BROWN THE BUTTER: While the potatoes are cooking, place the butter in a saucepan and melt, stirring constantly. Continue to cook until the butter turns a golden brown color. It may start to foam or pop – keep stirring or swirling the pan to make sure the butter does not burn. It will take about 6-8 minutes for the butter to turn a deep brown and for it to smell nutty. As soon as it is done, immediately remove from the heat and pour into a bowl to stop the cooking.
MASH THE POTATOES: Use a masher to start mashing the potatoes in the pot. Add the buttermilk, milk, remaining teaspoon of salt and the pepper. Reserve about 2 tablespoons of the browned butter and add the rest to the pot. Mash the potatoes until you reach your desired consistency.
SERVE: Transfer the potatoes to a serving dish and drizzle with the reserved brown butter. Serve warm.
Recipe Notes:
adapted from Southern Living 2007 Annual Recipes
Nutrition information provided as an estimate only. Various brands and products can change the counts. Any nutritional information should be used as a general guideline.
Nutrition
Serving Size: 1/8 of recipe
Calories: 336
Sugar: 3 g
Sodium: 903 mg
Fat: 17 g
Saturated Fat: 11 g
Unsaturated Fat: 5 g
Trans Fat: 0 g
Carbohydrates: 42 g
Fiber: 3 g
Protein: 6 g
Cholesterol: 47 mg
Keywords: Mashed potato recipe, best mashed potatoes recipe, mashed potatoes, how to make mashed potatoes