Creamy and cheesy, these Scalloped Sweet Potatoes are an easy addition to any holiday table.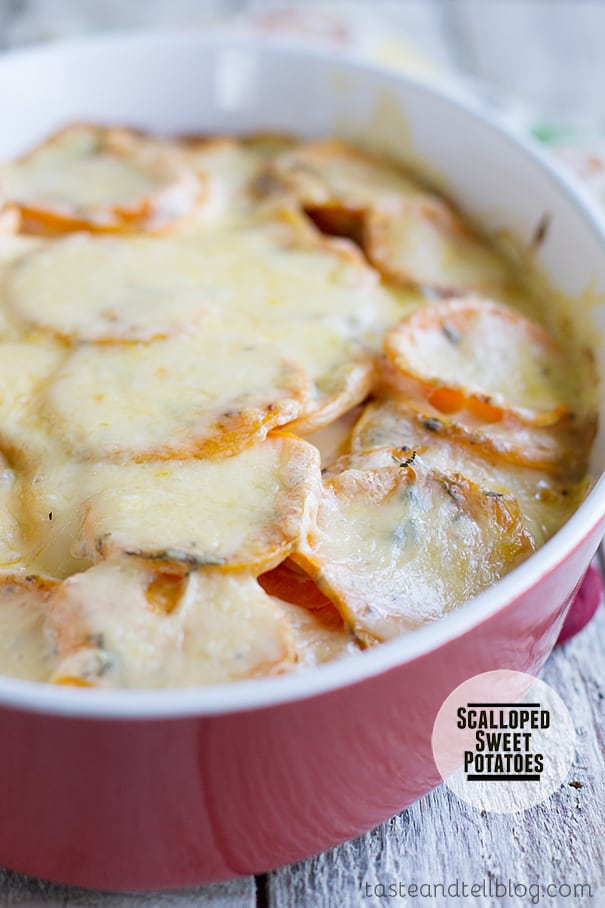 So – I honestly wasn't even planning on really blogging any Easter recipes this year. Sometimes I feel like, as a blogger, all I am doing is jumping from one holiday to the next. And I've been wanting to just cook whatever I feel like cooking. Without having to follow a theme or have any restrictions.
Well, as it turns out, I must have just wanted to make Easter recipes, because before I knew it, I had several recipes tested and made. Everything from brunch to the Easter ham to bread and dessert (and another dessert coming on Friday!). So I had to round it out with a side dish so that I'll have your whole meal lined up for you!!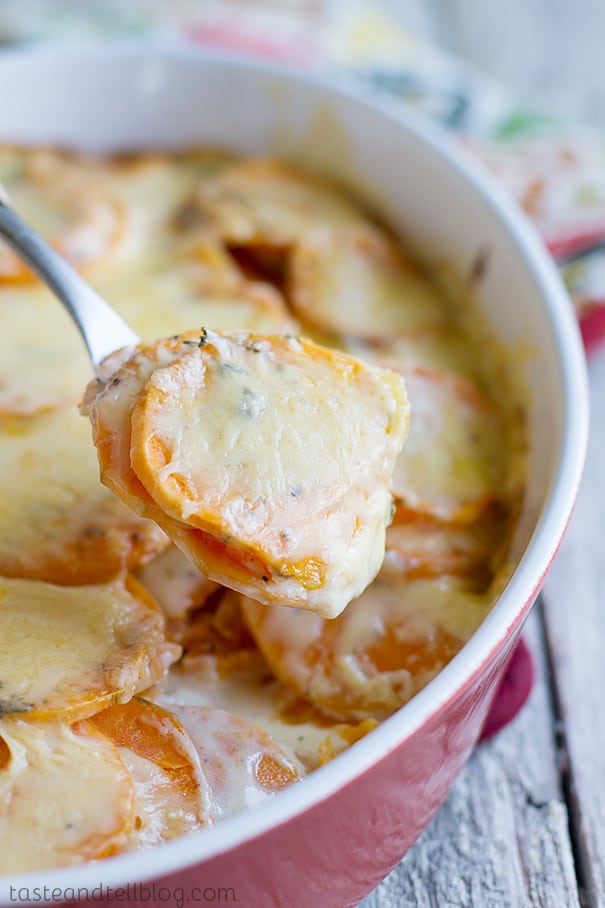 We always have ham on Easter, and a ham dinner is not complete without potatoes, in my opinion. I love scalloped potatoes with ham, and even have a favorite recipe, but I decided to change things up this year and go a little sweet with sweet potatoes instead of regular white potatoes.
I thought it would be pretty easy. Take a basic scalloped potato recipe, and switch out sweet potatoes for the white. Make a cream sauce with cream and flour and seasonings, throw in some cheese, layer it all together and bake.
As it turns out, it wasn't quite that easy. My first go-round, while extremely delicious, just didn't look right. The sauce looked curdled and the potatoes broke apart. And we all know that for a holiday meal, the dish has to look as good as it tastes. So back to the drawing board I went.
I ended up coming across a recipe from Bobby Flay that intrigued me. All his consisted of was sweet potatoes, cream, and chipotle puree. No making a sauce with cream and flour and onions and who knows what else. His didn't even call for cheese!!
Well, I couldn't leave the cheese off of mine, and I was going for a more traditional dish, so I wanted to change it around a bit, but I loved the idea of just adding a bit of cream to each layer.
And guess what? It totally worked. Every day, I am more and more convinced that simplicity wins every time. And this is a perfect example of that. Easter dinner – here I come!!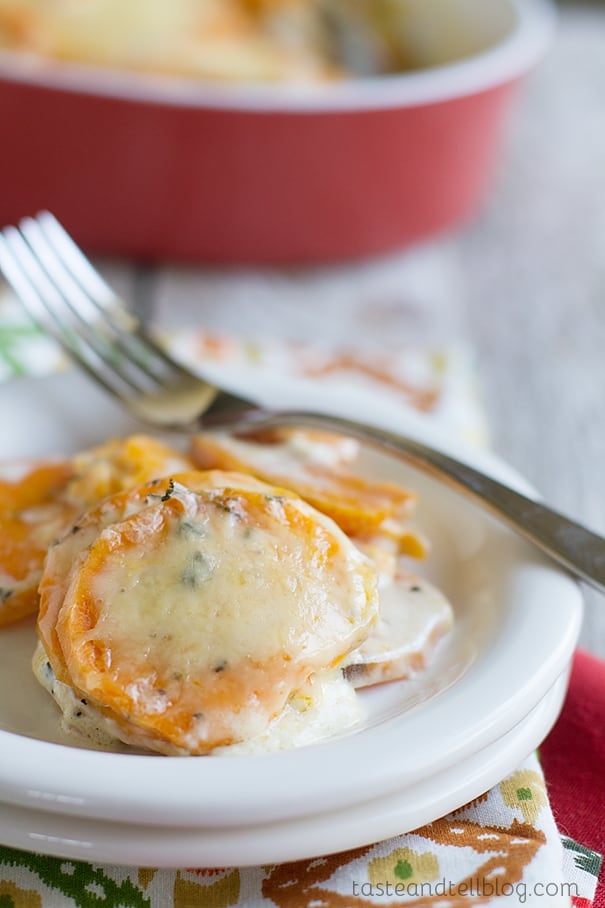 Like what you see here? Make sure you are following Taste and Tell for more great recipes and ideas!!

Facebook ** Pinterest ** Twitter ** Instagram ** Google+
or you can subscribe to my newsletter or Feedly or Bloglovin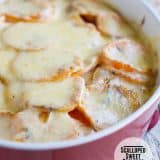 Scalloped Sweet Potatoes
---
Prep Time: 20 minutes
Cook Time: 1 hour 5 minutes
Total Time: 1 hour 30 minutes
Yield: 6-8 servings 1x
Description
Creamy and cheesy, these Scalloped Sweet Potatoes are an easy addition to any holiday table.
---
Scale
Ingredients
3 medium sweet potatoes, about 2 1/2 lbs.
1 1/2 cups heavy cream
1 tablespoon thyme, chopped
salt and pepper
2 cups shredded gruyere
---
Instructions
Preheat the oven to 375°F. Spray a 2-quart baking dish lightly with nonstick cooking spray.
Peel the sweet potatoes and cut into rounds about 1/8-inch thick.
Line the bottom of the baking dish with a layer of sweet potatoes. Drizzle about 2 tablespoons of cream over the potatoes. Sprinkle lightly with some of the thyme, then season with salt and pepper. (Go lightly – you will be seasoning each layer.)
Repeat the layers, making 7-10 layers. Pour any remaining cream over the top of the top layer. Cover the dish with foil and bake for 30 minutes. Remove the foil and continue to cook until the potatoes are tender and lightly browned on top, about 30 more minutes.
Remove the potatoes from the oven and sprinkle with the shredded gruyere. Change the oven to the broiler and return the dish to the oven. Bake until the cheese has melted and is bubbling, 3-5 minutes. Let sit for a few minutes before serving.
More Holiday Side Dish Ideas:
Around the Web:
Parmesan Vegetable Tian from The Comfort of Cooking
Cauliflower Bacon Gratin from Running to the Kitchen
Baked Parmesan Mushrooms from Damn Delicious