Creamy and cheesy, these Scalloped Sweet Potatoes are an easy addition to any holiday table. Layers or slice sweet potatoes are covered in cream and cheese in this indulgent savory side dish.
Holiday side dishes are my favorite! Serve these Scalloped Sweet Potatoes with some Glazed Carrots, Roasted Asparagus, and my favorite Dinner Roll Recipe, and the best part of the meal is done!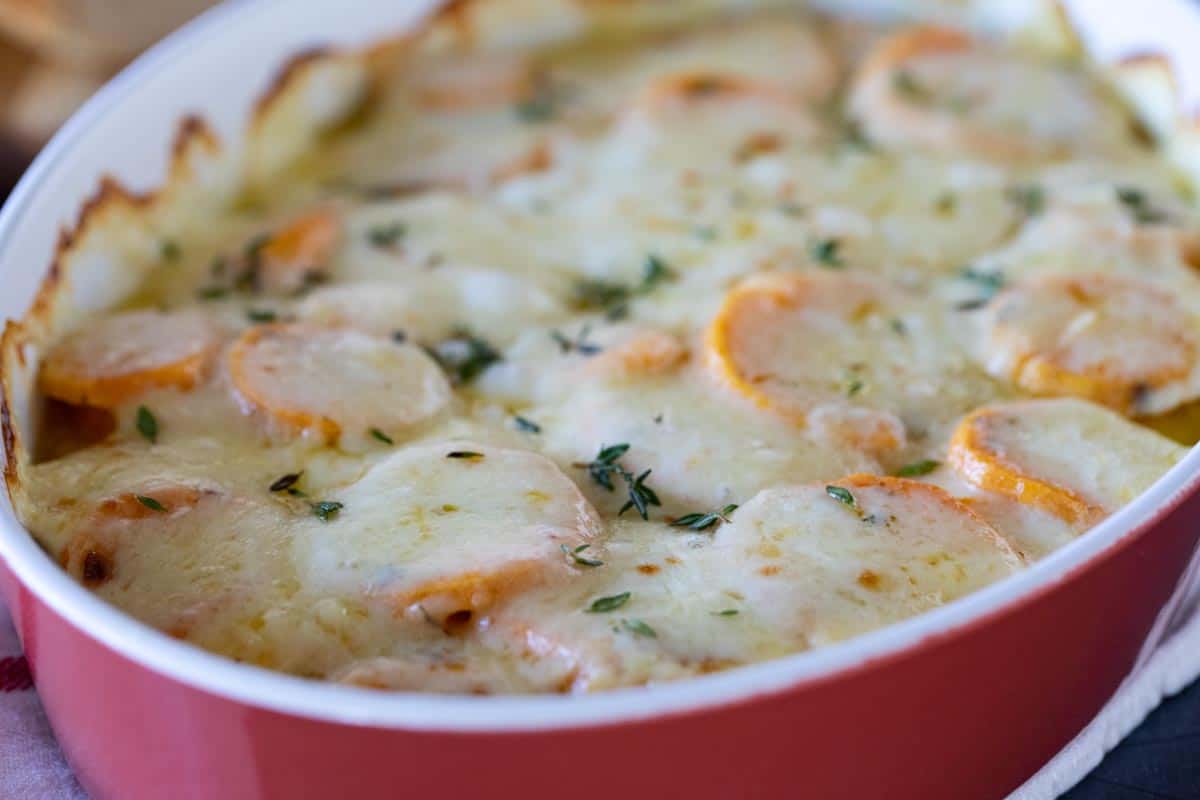 We always have ham on Easter, and a ham dinner is not complete without potatoes, in my opinion. I love scalloped potatoes with ham, but sometimes you need to change things up from the traditional scalloped potatoes. (Although I do love those, too!)
These Scalloped Sweet Potatoes are a great way to do something different without steering too far from tradition. And one of the things I love the most about this recipe is its simplicity. You don't have to make a fancy sauce or have 500 ingredients. You are simply layering the potatoes with a drizzle of cream, then topping the whole thing off with cheese.
Simple and delicious – my favorite combination! These Scalloped Sweet Potatoes are not only perfect for Easter, but other holiday meals as well (yes to Thanksgiving and Christmas!) But I'd even serve them with Sunday dinner!
Ingredients
Sweet Potatoes: You'll need about 2 1/2 pounds of sweet potatoes. This is 3 medium sized potatoes, or about 5-6 of the small ones.
Heavy Cream: I wouldn't try subbing in milk or half and half. To get the creamy potatoes, you'll want to use heavy cream.
Thyme: I use fresh thyme and think it's worth it to buy fresh for this. If you do want to use dry, you'll only want about a teaspoon, so use very sparingly in the layers. You could also substitute the thyme for another herb of your choice.
Salt and Pepper: I season each layer of the potatoes. Just remember to go light because you don't want to overseason.
Gruyere: Gruyere is my favorite choice for cheese here, and is pretty typical for scalloped potatoes. You could also use Jarlsberg, Emmental, or Fontina.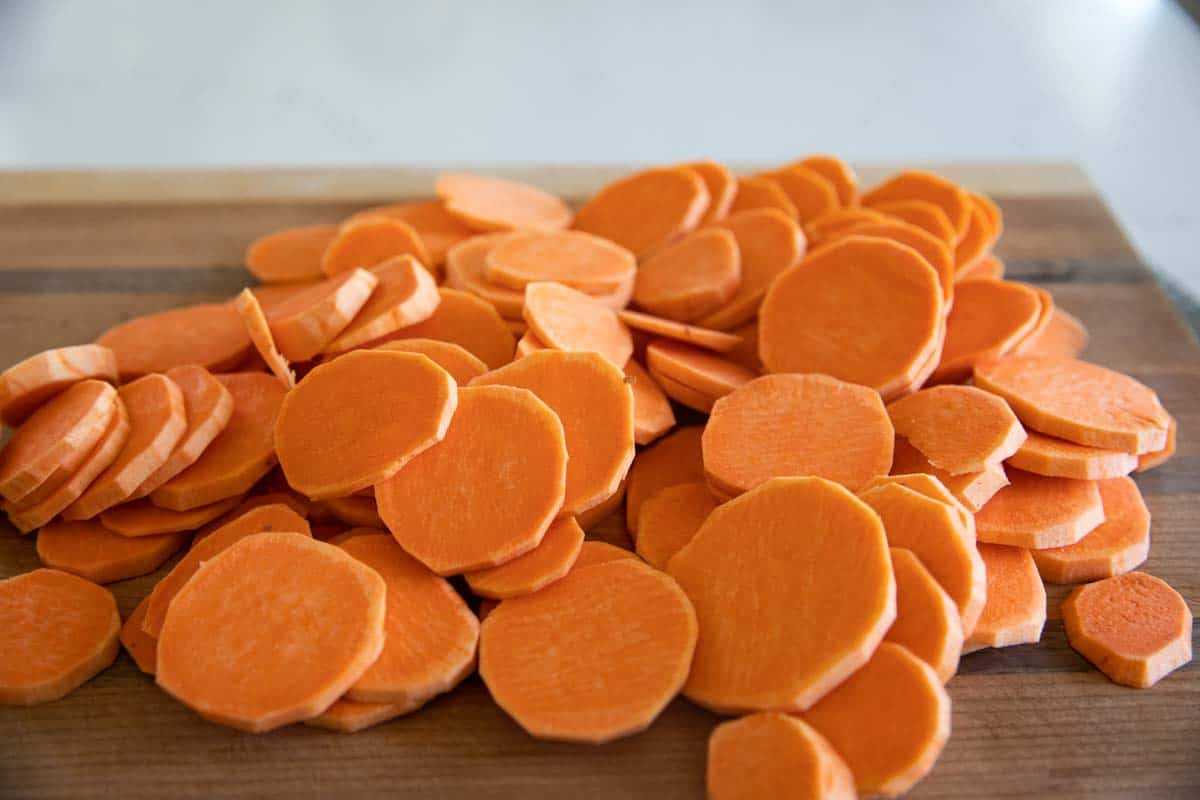 How to Cut the Sweet Potatoes
The hardest part of the whole recipe is slicing the sweet potatoes. Start by washing your potatoes and peeling them. I like to cut off the ends so that all of the pieces are flat.
You can use a mandoline if you have one to cut the slices easily and evenly, I don't think most people have a mandolin. I like to use a sharp knife and cut the potatoes about 1/8-inch thick each. You don't need to be exact, but the more even they are, the more evenly your potatoes will cook.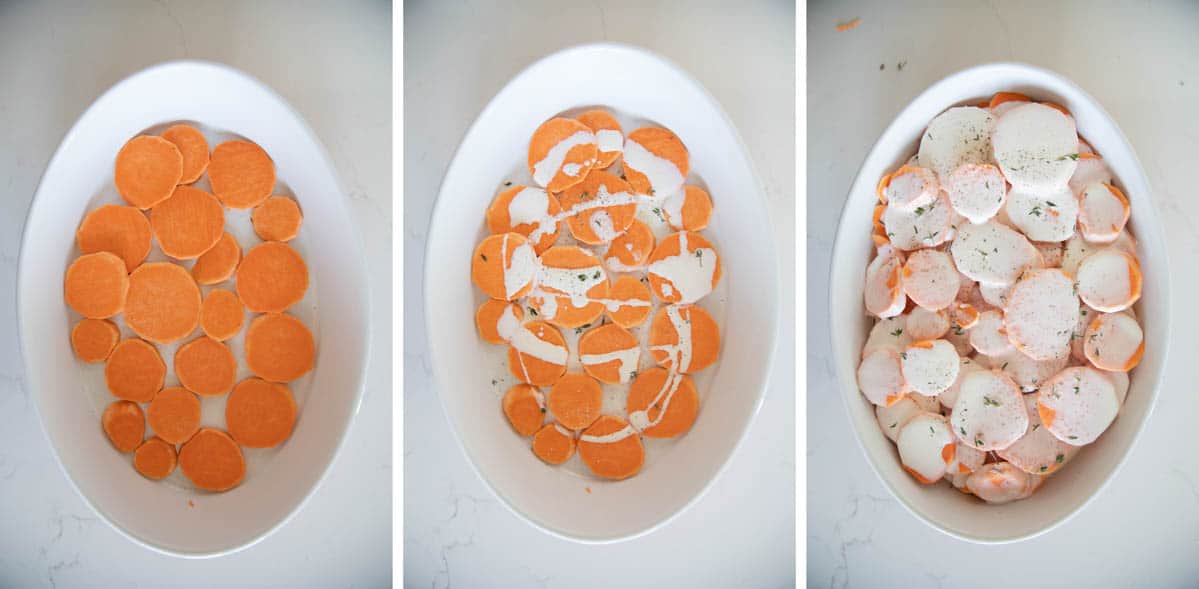 How to Make Scalloped Sweet Potatoes
Once your potatoes are sliced, this recipe is super easy!
1 – Start with your first layer. Lay a single layer of potato slices in the bottom of a casserole dish that has been sprayed with nonstick cooking spray. You want a 2 quart shallow dish. I have one that I picked up at a discount store years ago, but I like this simple Pyrex casserole dish, as well.
2 – Drizzle about 2 tablespoons of the cream over the top of your potatoes, then season lightly with some of the thyme, salt and pepper.
3 – Continue layering the potatoes, cream, and seasonings until all of your potatoes have been used. It will be between 7 and 10 layers, depending on the size of your potatoes. Pour the remaining cream on top over the potatoes. Give it one last layer of seasoning, as well. Cover the dish with foil, then put them into the oven to bake for 30 minutes.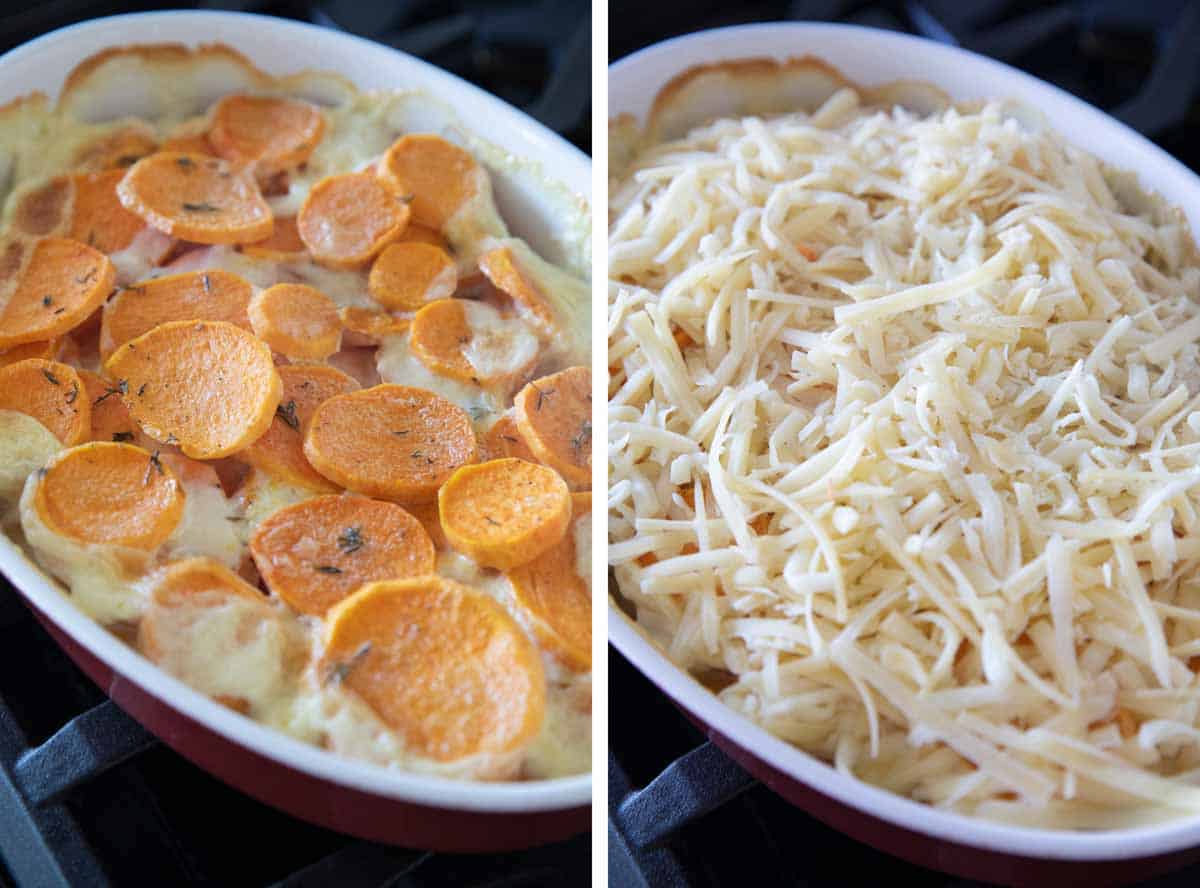 4 – After the 30 minutes, remove the dish from the oven and remove the foil.
5 – Add the cheese to the top, and turn the oven to broil. Return the dish to the oven – it will only be in there a few minutes because you just want to melt the cheese. The potatoes should already be cooked through. Make sure to keep an eye on them and cook just until the cheese is melted and bubbling.
6 – Let the potatoes sit for a few minutes before digging in to enjoy!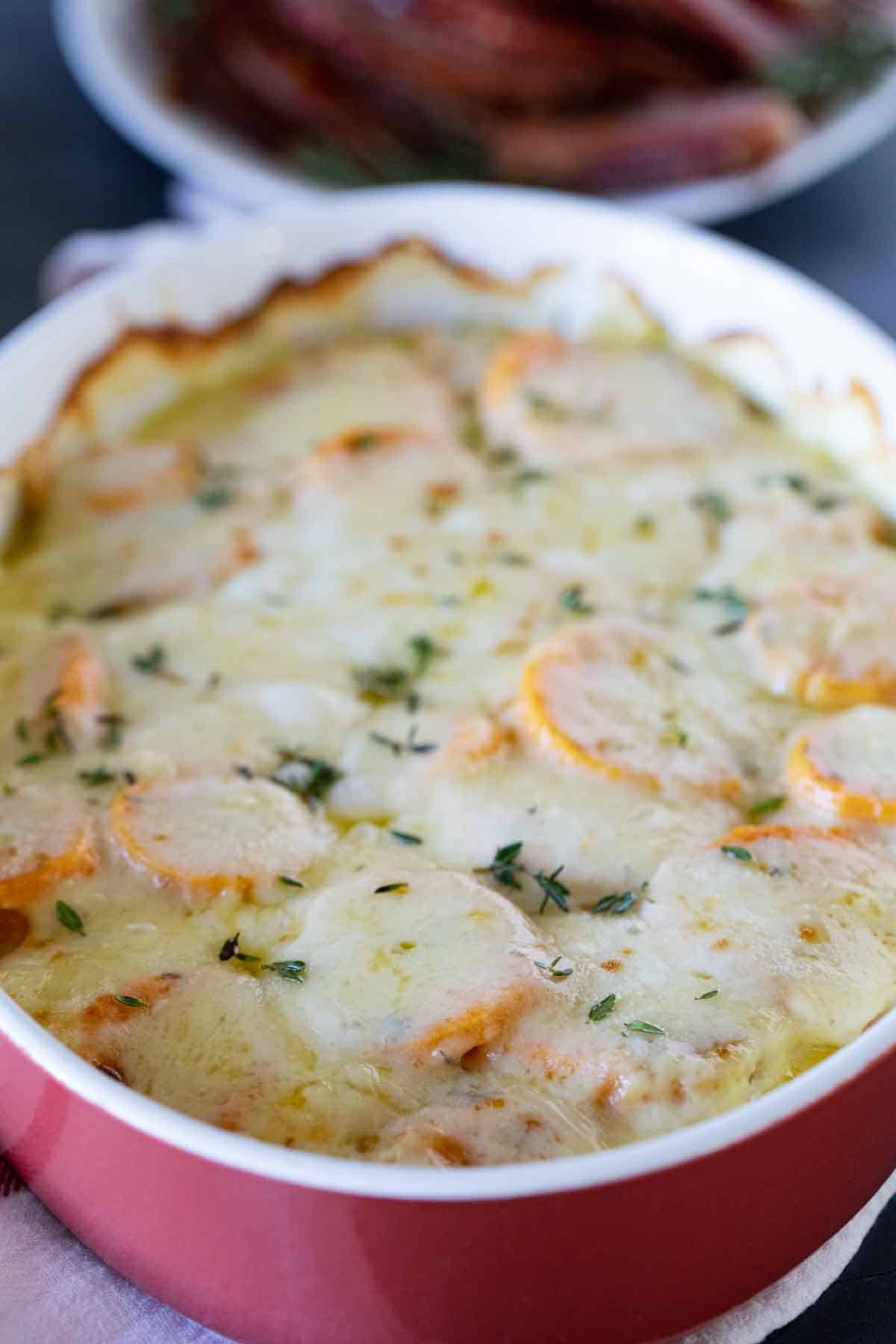 Tips and Tricks
The potatoes I have in the photos here were pretty small. I actually prefer a bigger sweet potato for this recipe, though, because I feel like you don't have to worry about soggy potatoes as much. Both will definitely work, but if I have the choice, I look for bigger potatoes.
You can check to see if the potatoes are done by sticking a fork in the middle of the dish. If the potatoes are fork tender, they are cooked through, but if there is a lot of resistance, you may need to bake them a little longer. This should only be the case if your potatoes are cut thicker.
Because these have cheese on top, they are technically potatoes au gratin, so you could leave the cheese off. But the cheese totally makes these, in my opinion.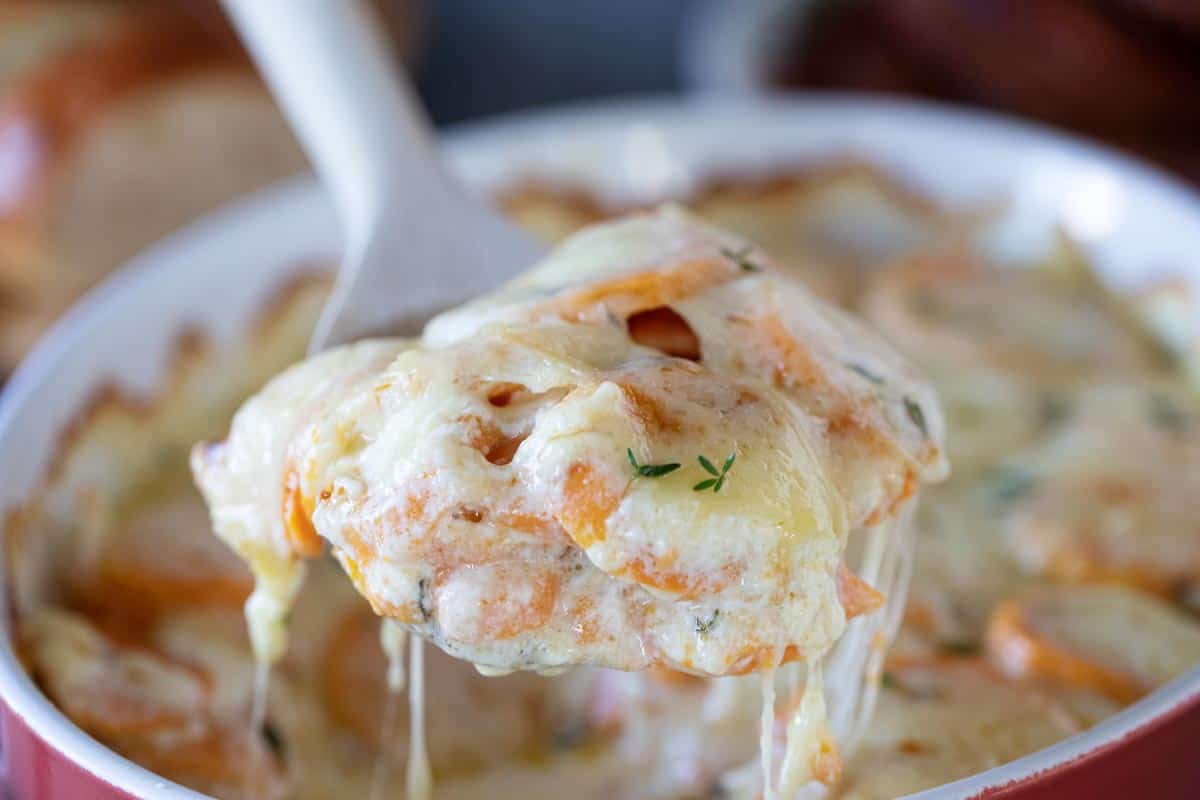 Storing and Making Ahead
Storing
Store any leftovers covered in the refrigerator for 3-5 days. You can reheat in the microwave or in the oven.
Make Ahead
Want to make more time for other recipes on the holiday? These scalloped sweet potatoes can be made up to 3 days in advance. Prep the dish and bake the potatoes completely for the 30 minutes. Let it cool completely, then cover and refrigerate. When ready to serve, bake again, covered, at 350ºF until warmed through, 20-30 minutes, then remove the foil, add the cheese, and broil until melted.
Freezing
Because of the amount of dairy, I have never tried to freeze these because dairy will often become grainy after freezing.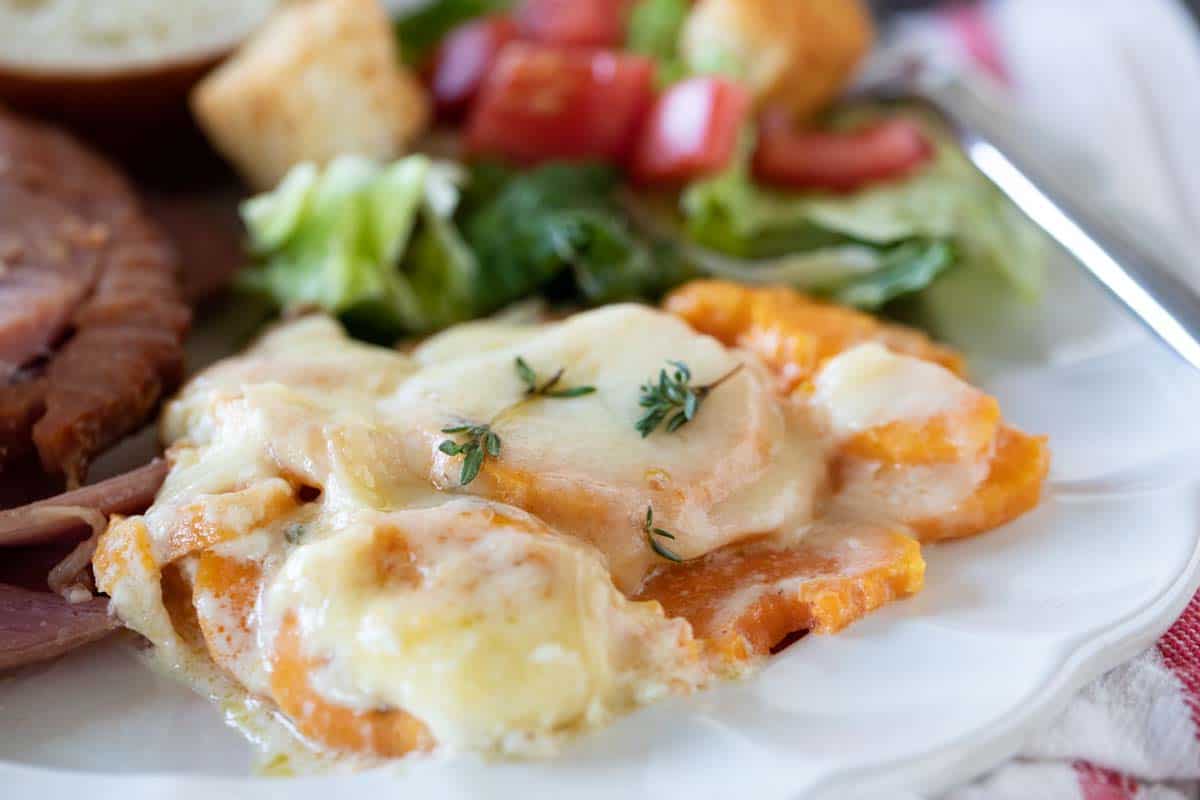 More Holiday Worthy Potatoes
The Best Sweet Potato Casserole
Funeral Potatoes
My Favorite Mashed Potato Recipe
Mashed Sweet Potatoes with Brown Butter
Ranch Potatoes
Crockpot Cheesy Potatoes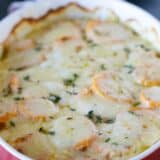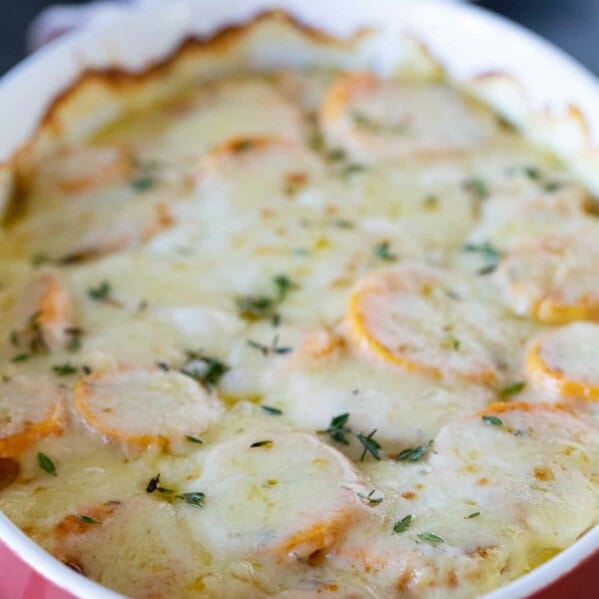 Scalloped Sweet Potatoes
---
Author:
Prep Time: 20 minutes
Cook Time: 1 hour 5 minutes
Total Time: 1 hour 30 minutes
Yield: 8 servings 1x
Category: Side Dish
Method: Baked
Description
Creamy and cheesy, these Scalloped Sweet Potatoes are an easy addition to any holiday table. Layers or slice sweet potatoes are covered in cream and cheese in this indulgent savory side dish.
---
Scale
Ingredients
2 1/2 lbs sweet potatoes
1 1/2 cups heavy cream
1 tablespoon thyme, chopped
salt and pepper
2 cups shredded gruyere
---
Instructions
Preheat the oven to 375°F.  Spray a 2-quart baking dish lightly with nonstick cooking spray.
Peel the sweet potatoes and cut into rounds about 1/8-inch thick.
Line the bottom of the baking dish with a layer of sweet potatoes.  Drizzle about 2 tablespoons of cream over the potatoes.  Sprinkle lightly with some of the thyme, then season with salt and pepper.  (Go lightly – you will be seasoning each layer.)
Repeat the layers, making 7-10 layers.  Pour any remaining cream over the top of the top layer.  Cover the dish with foil and bake for 30 minutes.  Remove the foil and continue to cook until the potatoes are tender and lightly browned on top, about 30 more minutes.
Remove the potatoes from the oven and sprinkle with the shredded gruyere.  Change the oven to the broiler and return the dish to the oven.  Bake until the cheese has melted and is bubbling, 3-5 minutes.  Let sit for a few minutes before serving.
Recipe Notes:
Nutrition information provided as an estimate only. Various brands and products can change the counts. Any nutritional information should be used as a general guide.
Nutrition
Serving Size: 1/8 of recipe
Calories: 253
Sugar: 6 g
Sodium: 317 mg
Fat: 11 g
Saturated Fat: 6 g
Unsaturated Fat: 3 g
Trans Fat: 0 g
Carbohydrates: 29 g
Fiber: 4 g
Protein: 11 g
Cholesterol: 37 mg
Keywords: scalloped sweet potatoes, sweet potato au gratin