Boneless pork chops are coated in panko bread crumbs and served with a creamy dressing in this recipe for Panko Pork Chops with Creamy Herb Dressing.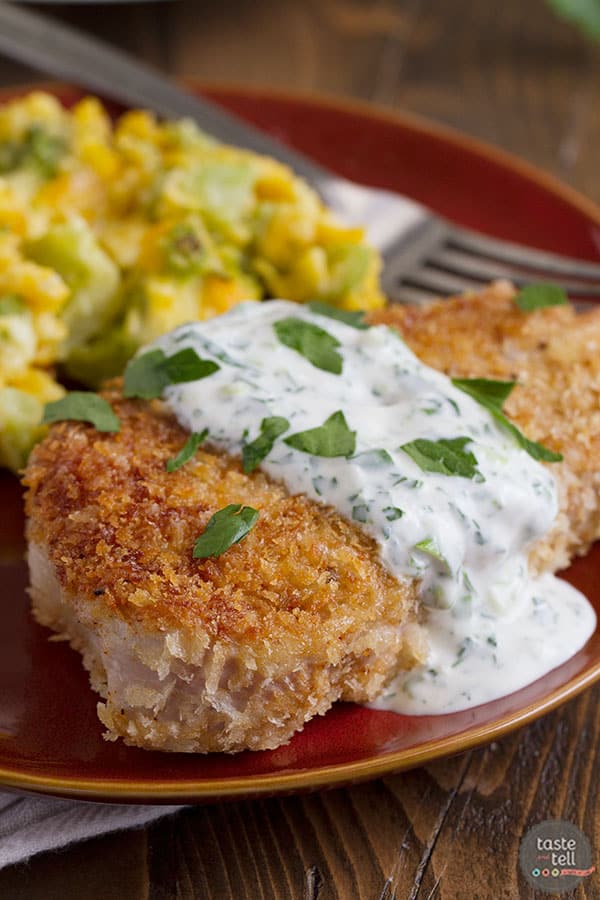 Photos Updated June 2015
If I had to choose one of my favorite culinary ingredients, it would have to be panko. I'm seriously drawn to any recipe that lists it as an ingredient. Just in case you don't know, panko is a Japanese breadcrumb. When I first heard about it years ago, I thought there would be no way I'd be able to find it in my local grocery store, but you really can find it just about anywhere these days. And if you haven't tried it, you are really missing out. Panko brings so much more than regular, boring breadcrumbs. You get that crunch and texture – making foods almost feel like they are fried, but keeping in much healthier.
This recipe is not only delicious, but also pretty low in calories. Well, as long as you skip out on the side dish that I have listed as well!!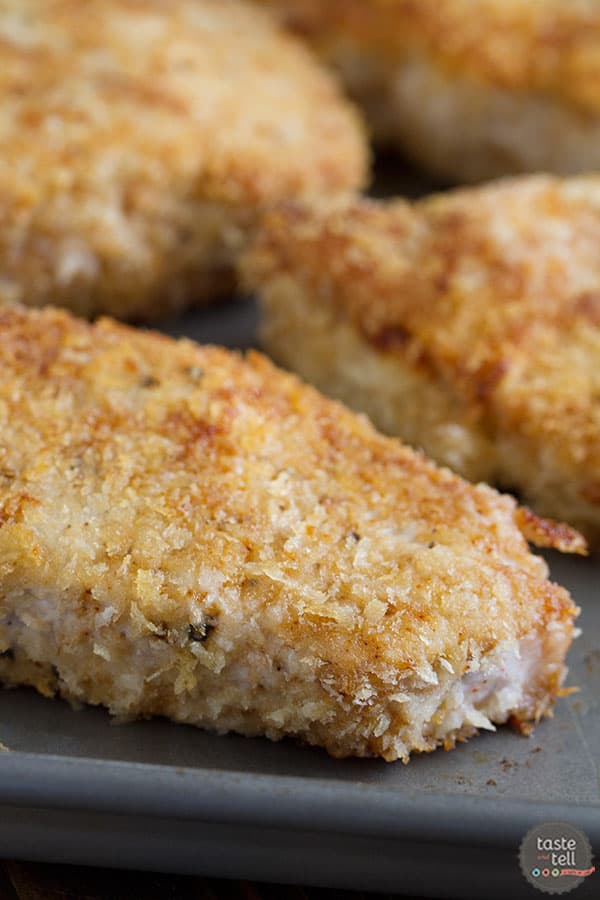 **Update – the Scalloped Corn and Broccoli can be found here!**
This side dish may not look like much, but it's one of those that taste a heck of a lot better than they look. I'm not usually a fan of canned vegetables, but this was delicious. Maybe it was the cheese…but I'd definitely make it again! It did take a little bit of planning because it takes an hour to bake, but besides the waiting time, very little work is involved.
If you are like me, you can make the healthy entree and enjoy a not-as-healthy side dish to go along – it all balances out, right??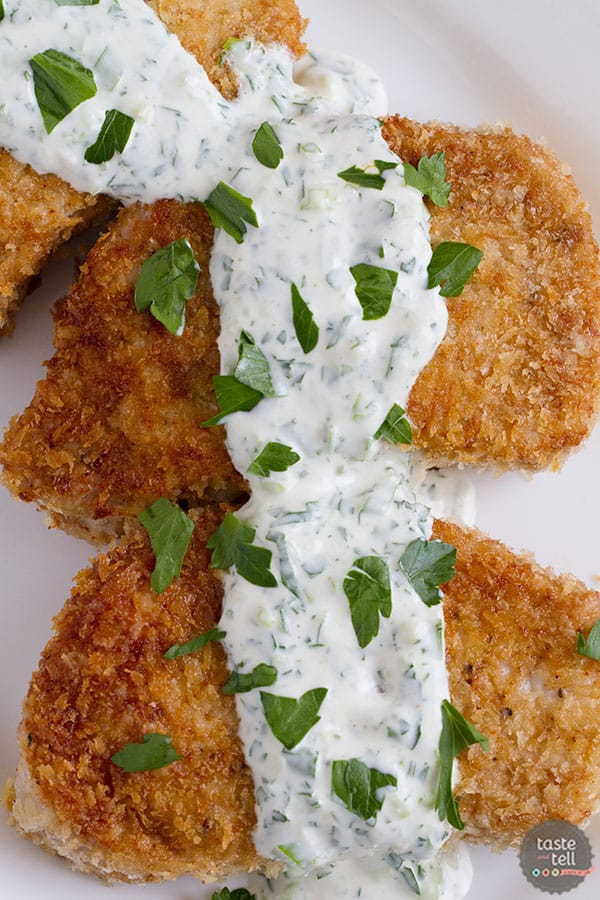 Like what you see here? Make sure you are following Taste and Tell for more recipes and ideas!
Facebook | Pinterest | Instagram | Twitter | Google+ | Weekly Newsletter | Feedly | Bloglovin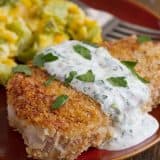 Panko Pork Chops with Creamy Herb Dressing
---
Author:
Prep Time: 10 mins
Cook Time: 12 mins
Total Time: 22 mins
Yield: 4 servings 1x
Description
Boneless pork chops are coated in panko bread crumbs and served with a creamy dressing in this recipe for Panko Pork Chops with Creamy Herb Dressing.
---
Scale
Ingredients
Pork Chops
4 teaspoons all-purpose flour
1/2 teaspoon salt
1/2 teaspoon onion powder
1/2 teaspoon ground cumin
1/2 teaspoon chili powder
1/4 teaspoon ground red pepper
2 teaspoons low-sodium soy sauce
2 large egg whites
11 cup panko
4 boneless pork chops, 1/2- to 1-inch thick
1 tablespoon vegetable oil
cooking spray
Creamy Herb Dressing
2 tablespoons chopped green onions
2 tablespoons chopped fresh flat-leaf parsley
1/4 cup sour cream
2 tablespoons milk
2 tablespoons mayonnaise
2 teaspoons cider vinegar
1/2 teaspoon garlic powder
---
Instructions
Preheat the oven to 450ºF.
Combine the flour, salt, onion powder, cumin, chili powder and red pepper in a shallow dish. In another dish, combine the soy sauce and the egg whites and whisk to combined. Place the panko in a third dish.
Heat the vegetable oil in a skillet over high heat. Dredge the pork chops in the flour mixture, then in the egg mixture, then coat in the panko. Place in the skillet and cook until browned, about 1 minute per side. Transfer to a baking sheet that has been coated with cooking spray. Bake in the oven until the internal temperature is 145ºF, 6-8 minutes, depending on the thickness of your pork chops. Remove and let rest for 5 minutes.
While the pork chops are cooking, make the dressing by combining the green onions, parsley, sour cream, milk, mayonnaise cinder vinegar and garlic powder. Season to taste with salt and pepper.
Serve the pork chops topped with the creamy herb dressing.
SHOP THIS POST:
Don't miss a thing! Follow me on Pinterest to see what I'm pinning!
Visit Taste and Tell's profile on Pinterest.


More Pork Chop Love: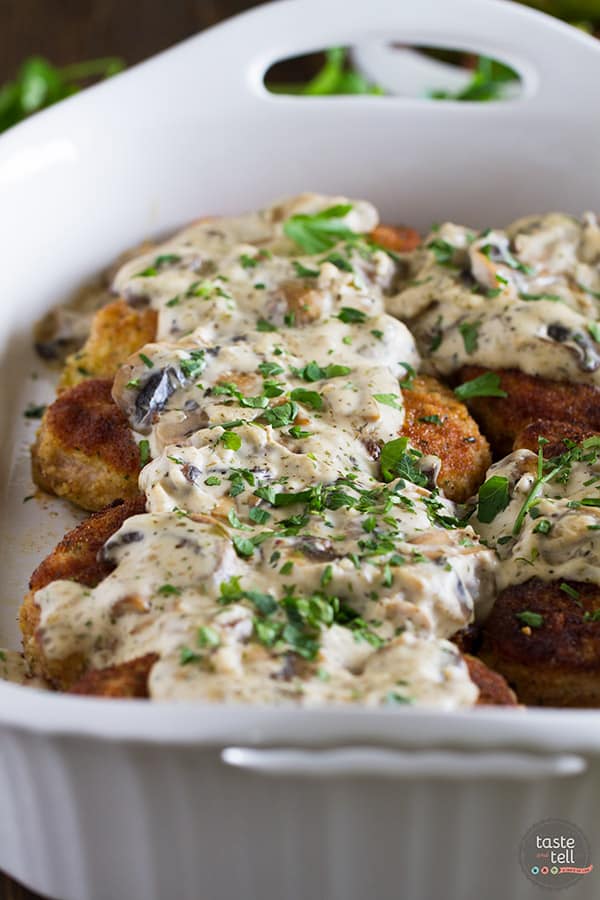 Italian Pork Chops with Creamy Mushroom Sauce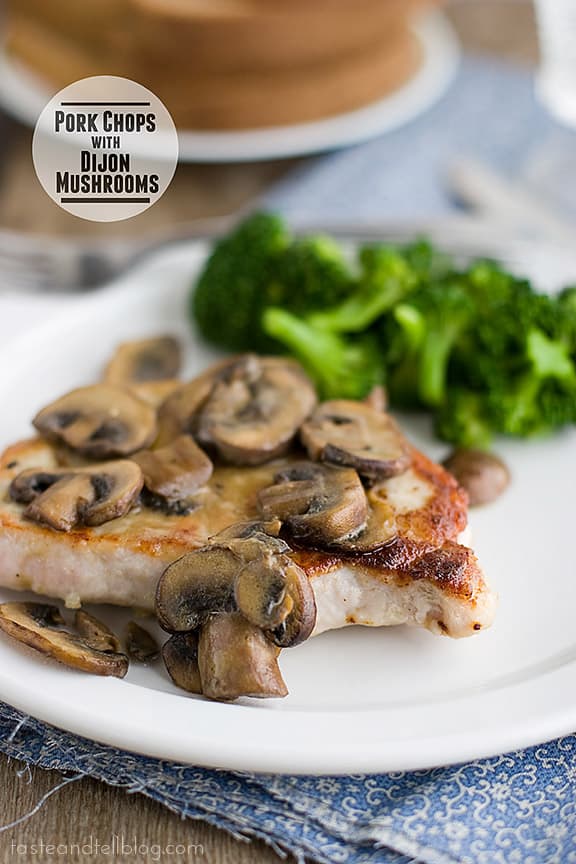 Pork Chops with Dijon Mushrooms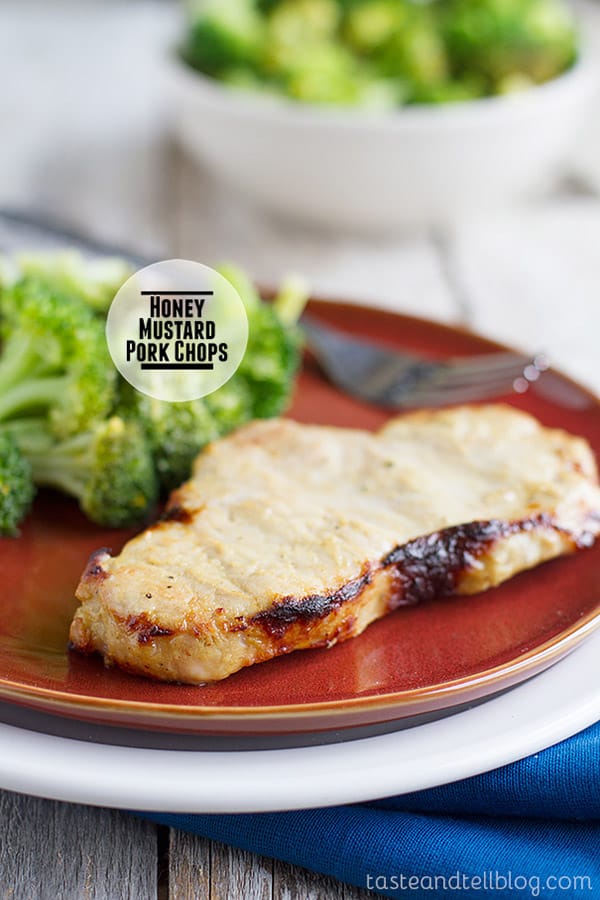 Around the Web:
Herbed Pork Chops with Garlic Butter from Cookin' Canuck
Balsamic Honey and Mustard Pork Chops from Closet Cooking
Honey Garlic Pork Chops from Cakescottage