An easy recipe for slow cooked, Mexican spiced pork that is shredded and served up in tacos.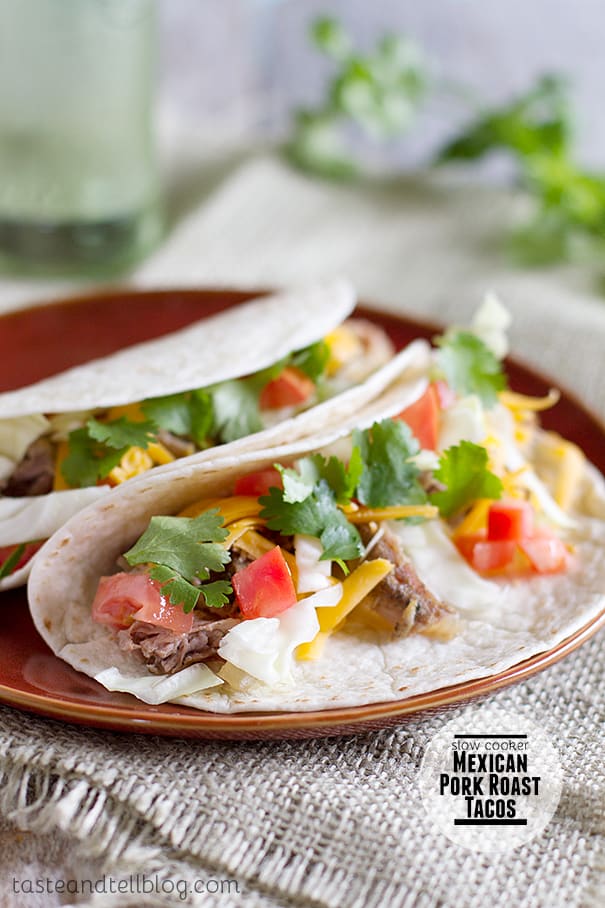 Recipe and Photo Updated November 2013
Originally published September 8, 2008 – Tacos are definitely a favorite around here, and these are so easy and good that I had to re-share them. Break out the slow cooker for a great taco that is full of flavor!!
It was Saturday afternoon about a month ago. I hadn't made it to the grocery store yet, but I was exhausted. I knew I needed to go so that I could make dinner on Sunday night. But I just didn't think I had it in me to fight the Saturday crowds.
So what did I do? I pulled out one of my cookbooks that I haven't blogged from, and searched for a recipe where I had all of the ingredients on hand. It was a bit difficult, because my pantry has been quite bare these days. But I did have a pork tenderloin in the freezer and a few veggies in the fridge, so I was happy when I was able to come up with a meal plan that didn't require any grocery shopping!
Bonus for me that this was also a Crock-Pot recipe. I know a lot of people see their Crock-Pots as something to get out during the winter, but I love to use mine during the summer. It doesn't heat up the house like using the oven or stove top does, so I actually like mine better in the summer than in the winter!
The pork was put into the Crock-Pot with the required ingredients, and that night we had a hot dinner with very little effort. I had to improvise a bit to turn these into tacos, but it all worked out. I didn't have any lettuce, so we used cabbage, which I actually really liked because of the great crunch. The tomatoes came from the garden, and I had to cut up some cheese sticks for the cheese. Both my husband and I were surprised how much we actually enjoyed this meal!

The only change I would make on this recipe is to leave out the carrots on the pork if you plan on making them into tacos. The carrots just seemed out of place to me. But besides that, I think I found a great go-to recipe! Note – the updated recipe does not have the carrots in it.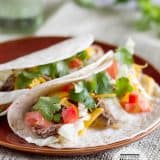 Slow Cooker Mexican Pork Roast Tacos
---
Prep Time: 10 minutes
Cook Time: 8 hours
Total Time: 8 hours 20 minutes
Yield: about 6 servings 1x
Description
An easy recipe for slow cooked, Mexican spiced pork that is shredded and served up in tacos.
---
Scale
Ingredients
2 medium onions, sliced
2 lb pork loin roast
1 teaspoon salt
1/2 teaspoon oregano
1/2 teaspoon cumin
1/2 teaspoon coriander
1 cup water
12 6-inch flour tortillas
desired taco toppings – shredded lettuce or cabbage, diced tomatoes, shredded cheddar cheese, cilantro, etc.
---
Instructions
Place onions in the bottom of a slow cooker. Rub the pork with the salt, oregano, cumin and coriander. Place the pork in the slow cooker. Add the water, cover and cook on low for 6-8 hours.
When the pork is cooked through and tender, remove from the slow cooker and shred. Return to the slow cooker and mix together with the onions and remaining juices.
Warm the tortillas slightly. Assemble the tacos with the shredded pork and desired toppings.