Individual chicken pot pies are made of puff pastry shells filled with a chicken, vegetable and gravy mixture.
I definitely feel like I'm getting to the end of this pregnancy.  Every week, as I plan my menu, I start looking for easier and easier meals to bring to the table – simply because I don't have the energy to be in the kitchen for very long.  And give me a recipe that has both veggies and a protien in it so that I don't have to worry about much of a side dish?  I'm sold!!
This recipe for these mini pot pies has been on my list for a little while, and I'm so happy I finally got around to making them.  They were super easy, and full of goodness.  I do have to say, though, that I usually only make half of a recipe to feed our small family – especially with Rachael Ray recipes because the portions are usually so large.  I don't know if I went wrong somewhere, or if it's because I didn't really measure anything for these – just eyeballed it – but I ended up with a ton of filling.  Enough to fill all 6 cups, plus a little extra.  I didn't mind, though, because 1 wasn't really enough for a serving, especially just served with a salad.  I think most adults would want 2 of these, and 1 would probably be good for the kids.
Print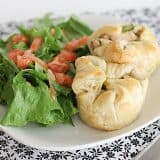 Muffin Tin Pot Pies
Prep Time:

10 minutes

Cook Time:

45 minutes

Total Time:

1 hour

Yield:

6 individual pot pies
---
Description
Individual chicken pot pies are made of puff pastry shells filled with a chicken, vegetable and gravy mixture.
---
Ingredients
1 pound boneless, skinless chicken breasts
1 bay leaf
1 medium onion, halved, divided
1 tablespoon extra virgin olive oil
a handful of mushroom caps, sliced or chopped
1 small rib celery, finely chopped
½ cup defrosted frozen peas and carrots
2 tablespoons butter
2 tablespoons flour, plus a sprinkle to roll out dough
¾ cup chicken stock
¼ cup cream or half-and-half
1 rounded tablespoon Dijon mustard
2 tablespoons fresh thyme or dill, finely chopped
salt and pepper
8-ounce sheet frozen puff pastry dough, defrosted
1 egg, beaten with a splash of water
---
Instructions
Preheat the oven to 400F. Spray a large 6-tin muffin pan with cooking spray.
Place the chicken in a large pot. Add half of the onion and the bay leaf, and fill with enough water to cover the chicken. Place over medium heat and cook until the chicken is cooked through. Remove the chicken and shred or dice and place in a medium bowl.
Meanwhile, heat the olive oil in a medium skillet. Add the mushrooms and cook until softened. Dice the remaining onion and add to the skillet along with the celery. Season with salt and pepper and cook until the vegetables are soft. Add in the frozen vegetables and cook 2 more minutes. Add all of the cooked vegetables into the bowl with the chicken.
Return the skillet to the heat and melt the butter. Whisk in the flour. Whisk in the chicken stock and allow it to cook and thicken for 1-2 minutes. Stir in the cream. Add in the mustard and dill or thyme, then season to taste with salt and pepper. Pour the gravy over the chicken and vegetables and stir to combine.
Roll out the puff pastry and cut into 6 squares. Place each square of dough into one of the prepared muffin cups and divide the chicken mixture evenly between the 6 cups. Fold the points of the dough over the filling so that they meet in the middle.
Brush the tops with egg white and bake until they are golden brown, 25-30 minutes. Let the cups stand for a few minutes before removing from the pan.
---