Filled with cheese and topped with a classic glaze, this Cheesy Mini Meatloaf Recipe is a hit with both kids and adults. The mini size is perfect for portioning and makes great leftovers!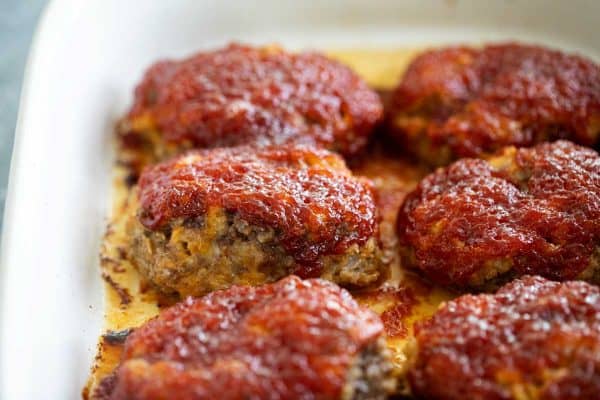 When I married my husband, he informed me that there are only a few things that he does not like to eat. On that list was meatloaf. But the problem with this is that I love meatloaf. But over the years, I have learned that sometimes, I just need to make something that I want. And sometimes, even as adults, we need to try (or retry!) somethings we think we may not like. So I made meatloaf.
Mini meatloaves, to be exact.
And they were a hit. Even my husband ate his fair share and wanted more.
This Cheesy Mini Meatloaf recipe has been a favorite for years and years now. And even though he won't fess up to actually liking meatloaf, I never get complaints when I make these!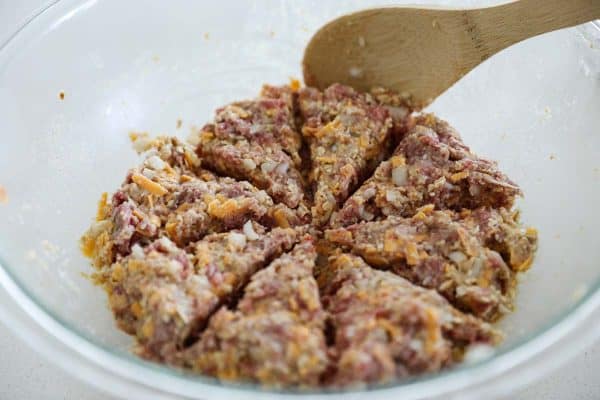 What is Meatloaf?
So what sets meatloaf apart from other dishes – like a hamburger patty or a meatball?
Meatloaf is basically a meat mixture that is formed into a loaf. Traditionally, they were baked in a loaf pan, and many recipes are still like that today. But free-form meatloaf seems to be a more popular approach.
Meatloaf will contain fillers and binders, such as eggs or breadcrumbs. It's a more hearty mixture. Hamburgers don't usually have as much added to the meat – they tend to be more straight forward with just ground beef and seasonings. (Although there are always exceptions to that rule!)
Meatballs and meatloaf often contain the same ingredients – but one is cooked as a small ball and the other as a loaf. And while meatballs can, and are often, baked, they are also pan fried and cooked in sauces.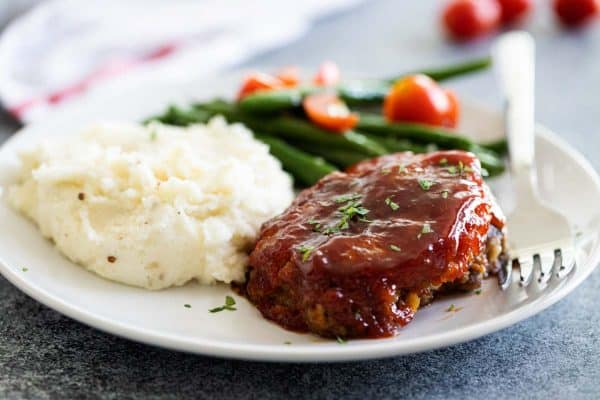 Tips for Making This Mini Meatloaf Recipe
This recipe uses both oatmeal and breadcrumbs. You'll want to use quick cooking oats and plain breadcrumbs. You can use store bought breadcrumbs or you can make your own.
Do not overwork the meat. The less you handle the meat, the more tender the meatloaf will be. That is why you add the ground beef in last.
Make sure the mixture is seasoned well.
You don't want dry meatloaf, so make sure the mixture is moist. If you can't form the mini loaves, add in some extra breadcrumbs but don't go crazy. It should be fairly wet.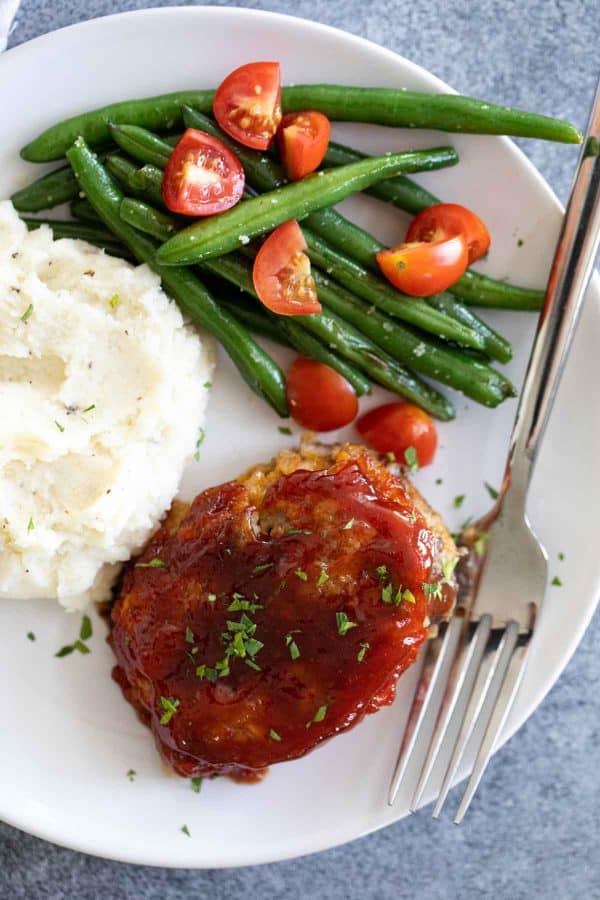 How Do You Know When Meatloaf Is Done?
Meatloaf is just like other ground beef – you need to cook it to an internal temperature of 160ºF. The best way to check this is with an instant read internal thermometer. If you don't have a thermometer, just make sure it is no longer pink in the middle.
What to Serve with This Cheesy Mini Meatloaf
Easy Focaccia Bread – one of my favorite bread recipes that is homemade in 2 hours!
Scalloped Potatoes – I do love mashed potatoes with meatloaf, but don't forget about the scalloped potatoes, as well!
Scalloped Corn and Broccoli – this is such an easy, comforting side dish.
Glazed Carrots – I always have carrots on hand, so these are a popular one at our house!
Cheesy Mini Meatloaf Recipe
---
Author:
Prep Time: 15 mins
Cook Time: 45 mins
Total Time: 1 hour
Yield: 8 mini loaves 1x
Category: Main Dish
Method: Bake
Cuisine: American
Description
Filled with cheese and topped with a classic glaze, this Cheese Mini Meatloaf Recipe is a hit with both kids and adults. The mini size is perfect for portioning and makes great leftovers!
---
Scale
Ingredients
3/4 cup milk
1 egg
1 cup shredded cheddar cheese
1/2 cup quick cooking oats
1/2 cup plain breadcrumbs
1/2 cup chopped onion
1 teaspoon salt
1 pound lean ground beef
2/3 cup ketchup
1/2 cup packed light brown sugar
1 1/2 teaspoons prepared yellow mustard
---
Instructions
Preheat the oven to 350ºF. Grease a 9×13-inch baking dish.
In a large bowl, beat together the milk and egg.
Stir in the cheese, oats, breadcrumbs, onion and salt.  Add the ground beef and gently mix, just until combined. The mixture will be a little wet, but should hold together. If it is too wet, add more breadcrumbs.
Divide the mixture into 8 equal portions and form into mini loaves. Place them in the prepared baking dish.
In a small bowl, mix the ketchup, brown sugar and mustard together. Spoon the sauce over the loaves.
Bake uncovered until the meat is no longer pink and is cooked through, about 45 minutes.
Recipe Notes:
Nutrition information provided as an estimate only. Various brands and products can change the counts. Any nutritional information should only be used as a general guideline.
Nutrition
Serving Size: 2 loaves
Calories: 515
Sugar: 37 g
Sodium: 1287 g
Fat: 17 g
Saturated Fat: 8 g
Unsaturated Fat: 2 g
Trans Fat: 0 g
Carbohydrates: 57 g
Fiber: 3 g
Protein: 35 g
Cholesterol: 140 mg
Keywords: mini meatloaf, mini meatloaf recipe