Can't decide between a pie or a cookie? Get the best of both worlds with this Red Velvet Cookie Pie. This is the perfect holiday pie!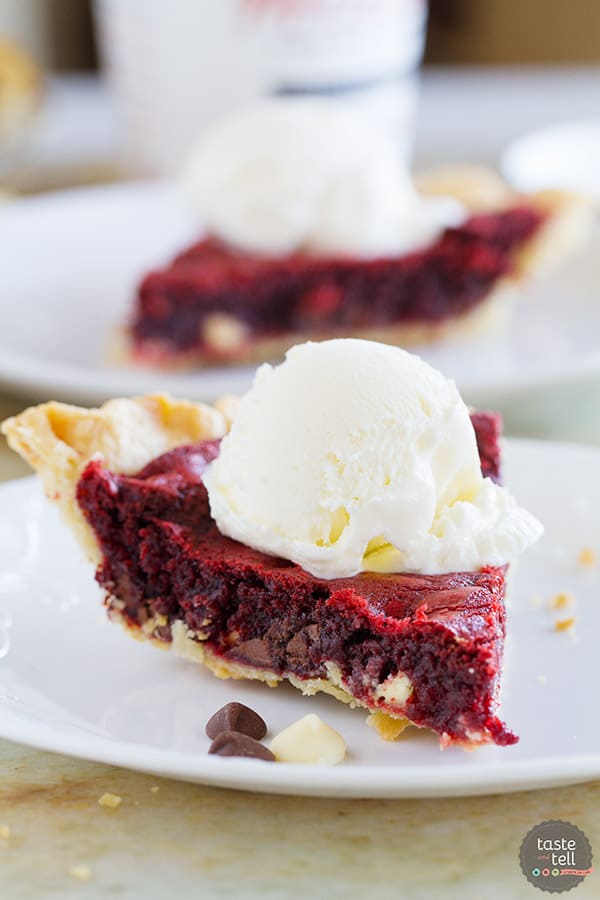 Yum

I always have great intentions…
So – if you've been following me for awhile here on Taste and Tell, you'll know that every year, I have an annual Red Velvet Week. I started back in 2011, so I have 5 years worth of red velvet recipes here. (Oh, yeah – I also wrote a book all about it!!)
Well, I didn't intend to give it up this year. I have so many ideas still, (crazy, I know), but I just didn't have the time or energy for a full week this year. So I was going to do an abbreviated week and still post 3 recipes.
And then life happened. More on that coming soon (so much has happened over the last couple weeks) but I didn't want to give up my red velvet completely. I already posted an amazing Red Velvet Pull Apart Bread last week, and after multiple tries, I finally got this Red Velvet Cookie Pie just right so that I could share it with all of you. It's definitely not a full week of red velvet, but I tried!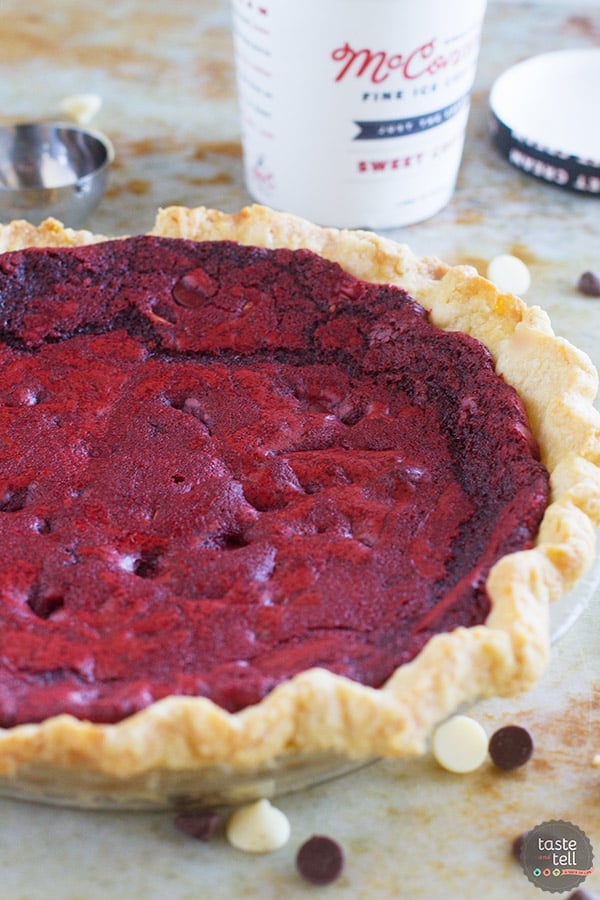 Now, let's talk pie. I told you all last month that I have deemed 2016 the year of the pie. This red velvet beauty is my February submission. I actually had the idea to do a cookie/pie hybrid after remembering a Peanut Butter and Chocolate Chip Cookie Pie that I made a few years ago. I tried using the same recipe, but adapting lightly to turn it red velvet, but it didn't translate over to red velvet very well. So I scraped that recipe, and went for a more traditional cookie dough for the center. The dough is still a bit more sticky and gooey than regular cookie dough, but it makes it so that the whole cookie stays soft and perfect.
All you need is a scoop of ice cream to top it off. This pie is good both warm and at room temperature, but I really like it a little warm with the ice cream melting on top. I'm pretty sure this would be the perfect holiday dessert!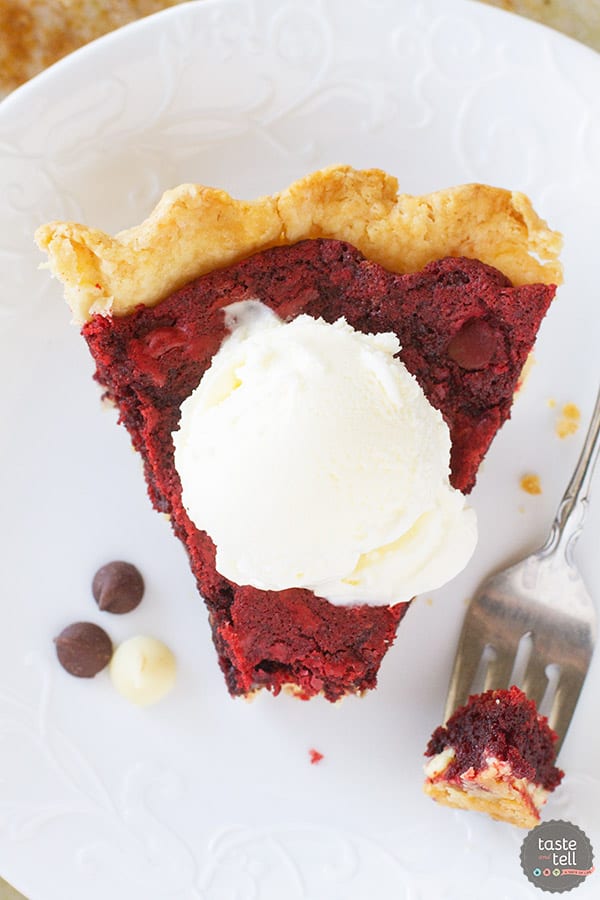 Like what you see here? Make sure you are following Taste and Tell for more recipes and ideas!
Facebook | Pinterest | Instagram | Twitter | Google+ | Weekly Newsletter | Feedly | Bloglovin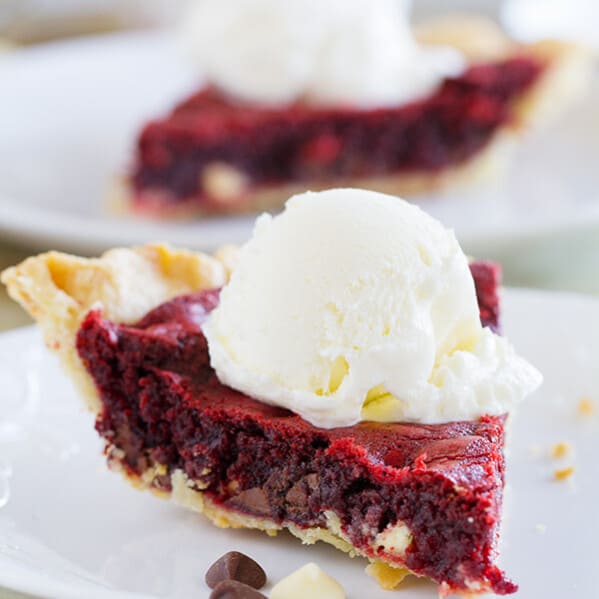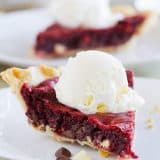 Red Velvet Cookie Pie
---
Author:
Prep Time: 20 mins
Cook Time: 45 mins
Total Time: 1 hour 5 mins
Yield: 8-10 servings 1x
Description
Can't decide between a pie or a cookie? Get the best of both worlds with this Red Velvet Cookie Pie. This is the perfect holiday pie!
---
Scale
Ingredients
1 pie crust, unbaked
1/2 cup butter, softened
1/3 cup granulated sugar
1/3 cup light brown sugar
1 egg
2 teaspoons red food coloring
1 teaspoon vanilla extract
1/2 teaspoon salt
1/2 teaspoon baking soda
1 tablespoon unsweetened cocoa powder
1 cup all-purpose flour
1/2 cup milk or semi-sweet chocolate chips
1/2 cup white chocolate chips
ice cream, for serving
---
Instructions
Preheat the oven to 350ºF.
Roll the pie crust and place in a 9-inch pie dish. Flute the edges and prick the bottom and the sides of the crust with a fork. Set aside.
In a bowl, or the bowl of a stand mixer, beat the butter until smooth. Add both sugars and continue to beat until light and fluffy. Beat in the egg, then scrape down the sides of the bowl. Beat in the food coloring and vanilla extract.
In another bowl, whisk together the salt, baking soda, cocoa powder and flour. Pour the dry ingredients into the wet ingredients and beat just until combined. Stir in both kinds of chocolate chips.
Pour the batter into the prepared pie crust. Carefully spread evenly into the crust. (I used an offset spatula which worked perfectly.)
Bake the pie for 20 minutes, then cover the exposed crust and return to the oven until a toothpick inserted in the center of the pie comes out clean, another 20-30 minutes.
Serve the pie warm or cold, topped with ice cream, if desired.
Helpful Products:
Want more Red Velvet?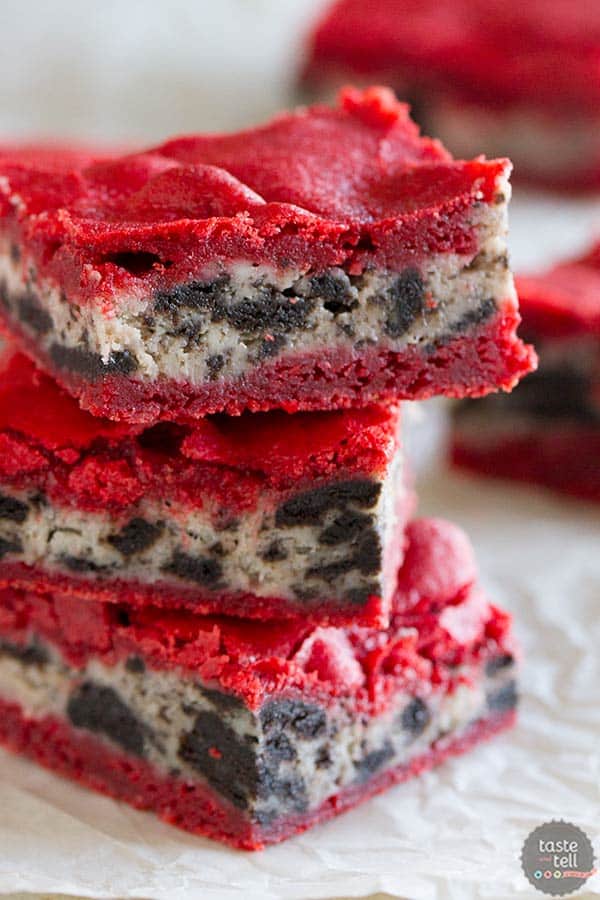 Oreo Cream Cheese Stuffed Red Velvet Brownies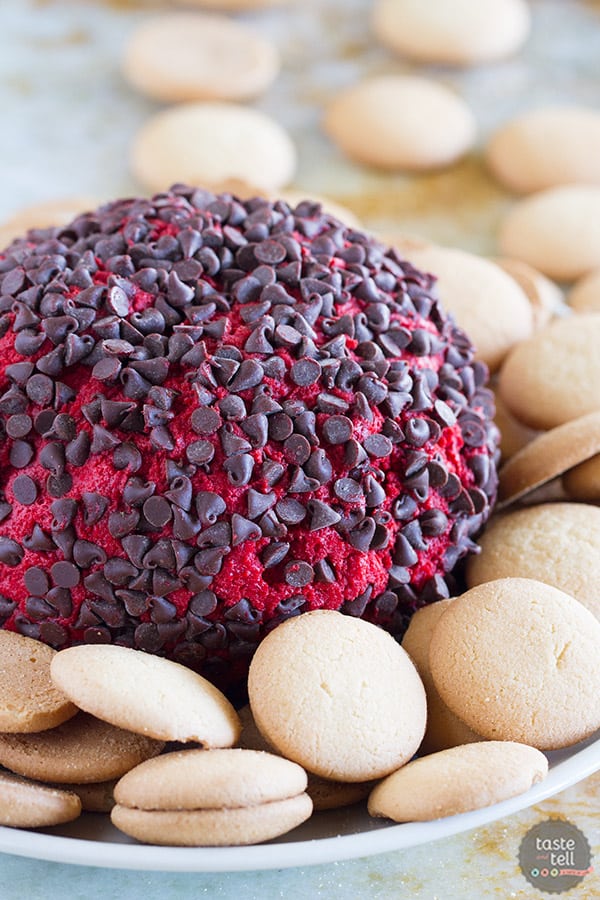 Around the Web:
Red Velvet Waffles on Barbara Bakes
Red Velvet Oreo Truffle Brownies on Kevin and Amanda
Red Velvet White Chocolate Chip Cookies on A Latte Food
Don't miss a thing! Follow me on Pinterest to see what I'm pinning!
Visit Taste and Tell's profile on Pinterest.