"Do you think it's gross if I were to store some small kitchen appliances under the sink in the bathroom?"
Yeah, this was an actual question I called to ask my sister yesterday. I'm struggling here. I'm trying to unpack and get organized here in my new house. The problem is – although we gained square feet overall in the house we are living in now, this kitchen is about a third of the size of my last kitchen. And when you love all things kitchen like I do, you accumulate lots of tools and gadgets and pots and pans. This teeny kitchen just isn't going to hold it all! I keep thinking I have a handle on it, and then find yet another box labeled "kitchen" and I want to cry because I don't know where to put it all. I guess it's time for some down-sizing of my kitchen things!
This past weekend, since I knew I was going to be moving out of my parent's house, I went a little crazy with my mom's cookbooks. My mom is like me, and has a bit of a cookbook addiction. I've loved having a whole new array of cookbooks to cook from, and even though I'm glad to have all of mine back, it was fun to go through different books. And then I started to panic – knowing that there were tons of recipes I had wanted to try before moving. I managed to whip out a few over the weekend, like this pie.
I had remembered seeing a cookie pie on Pinterest awhile ago, so when I came across this Peanut Butter and Milk Chocolate Chip Cookie Pie in a cookbook of my mom's, I knew I had to try it out. I had everything on hand, and went to work! If you are a cookie lover and a pie lover, this is definitely the dessert for you. It's super rich, so I enjoyed my slice with a scoop of ice cream (and of course some chocolate syrup for good measure!) My dad absolutely loved this pie, and ended up eating most of it himself! It was delicious both when it was still warm, as well as when it had come to room temperature. The hardest thing was trying to pass by this pie sitting on the counter without stopping for another little sliver!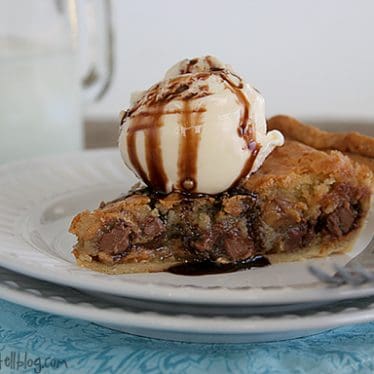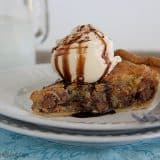 Peanut Butter and Milk Chocolate Chip Cookie Pie
---
Prep Time: 15 minutes
Cook Time: 50 minutes
Total Time: 2 hours 5 minutes
Yield: 8 to 10 servings 1x
Description
Baking cookies is as easy as pie in this decadent dessert. You can have your pie and cookie at the same time!
---
Scale
Ingredients
1/2 cup butter, softened
2 eggs, beaten
2 teaspoons vanilla extract
1 cup sugar
1/2 cup flour
1/2 teaspoon salt
1 cup milk chocolate chips
1 cup peanut butter chips
1 cup chopped pecans or walnuts, optional
1 unbaked (9-inch) pie crust
sweetened whipped cream or ice cream, optional
---
Instructions
Preheat the oven to 350F. Prepare the pie crust by laying in a pie dish. Set aside.
In a bowl, beat the butter. Beat in the eggs and vanilla. Add in the sugar, flour and salt and beatu until combined. Add in the chocolate chips, peanut butter chips and nuts. Pour into the unbaked pie crust.
Bake in the preheated oven for 45-55 minutes, or until golden brown. Cool for 1 hour. Serve warm with whipped cream or ice cream if desired.
————————–
slightly adapted from Hershey's Chocolate Cookbook
——————–
Check out these other cookie pies:
Mini Chocolate Chip Cookie Pies from Buns in My Oven
Ice Cream Cookie Pie from Cooking on the Side
Chocolate Chip Cookie Pie from Bakerella
Pumpkin Chocolate Chip Cookie Pie from How Sweet It Is
Deep Dish Salted Chocolate Chip Cookie Pie from Eat, Live, Run