I've mentioned it before, but I really think my best ideas come to me while I'm in the shower.  Strange, yes I know.  Maybe that's my few minutes of the day that I have to myself so that I'm able to actually think about things for more than 30 seconds at a time.  Well, a couple of months ago, I had this idea come into my head.  How about a week full of red velvet recipes to prepare us for Valentine's Day?  Some people do tons of sweets the weeks before Christmas, but me – I've reserved mine for Valentine's Day!!
So, this week I will have all sorts of red velvet goodness.  5 recipes, to be exact.  I'll be taking a break from the red velvet on Friday, since February's Cookbook of the Month didn't have a red velvet recipe in it, but I'll finish off the week on Saturday with my last red velvet recipe.  (And I'll also be bringing you this month's Cookbook of the Month review later today!)  What better way to prepare for Valentine's Day than with lots of red?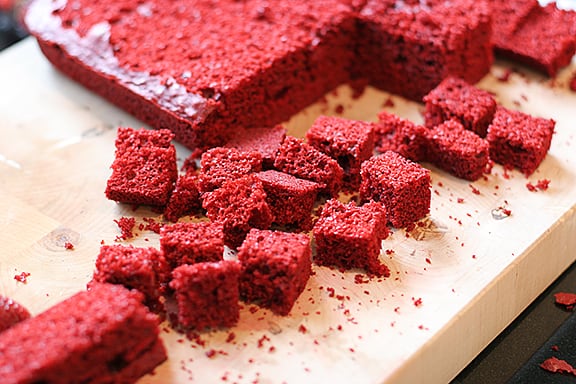 First up – this Red Velvet Trifle.  I wanted to make sure I did some easy and some harder recipes this week, and this one was super easy – especially since it starts off with a box cake mix.  You could definitely do a cake from scratch, but this shortcut works for this recipe.  Both my husband and I gave this dessert 2 thumbs up.  Way up.  In fact, my husband ate 2 servings, he loved it so much!!  The addition of the yogurt to the cream cheese is so delicious and brings something different than a normal cream cheese flavor.  And a big plus is that these could be assembled ahead of time, so if you are having a romantic dinner at home for Valentine's Day, dessert is not only easy, but it will be ready ahead of time!!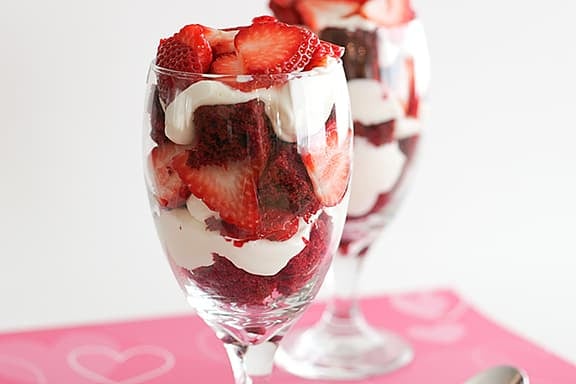 Red Velvet & Strawberry Trifle
Adapted from myrecipes.com
Serves 8-10
1 box Red Velvet cake mix, plus ingredients to make cake
2 (8-oz) packages cream cheese, softened
2 cups low-fat vanilla yogurt
1 cup powdered sugar
1 teaspoon lemon zest
2 pounds fresh strawberries
Preheat oven to 350F. Prepare cake batter as directed. Pour batter into a greased 13×9-inch pan.
Meanwhile, beat cream cheese at medium speed with a heavy-duty electric stand mixer 1 minute or until creamy. Add yogurt, powdered sugar, and lemon zest. Beat 1 to 2 minutes or until smooth, stopping to scrape down sides of bowl as needed. Cover and chill.
Remove cake from oven. Cool in pan on a wire rack 10 minutes. Remove from pan to wire rack, and cool completely (about 1 hour).
Invert cake onto a cutting board. Cut rounded top off of cake. Trim and discard edges of cake. Cut cake into 32 pieces. (If making individual trifles, you'll want to cut the cake into smaller squares.)
Arrange about one-third of cake pieces in a 3-qt. trifle dish. Carefully spread one-third of chilled cream cheese mixture over cake. Add a layer of strawberries. Repeat layers 2 times, smoothing top layer of cream cheese mixture over cake pieces. Top with strawberries. Cover and chill 1 hour before serving. Garnish, if desired.