Mini red velvet brownies are baked into cups that hold a cream cheese filling for the perfect Valentine's Day treat.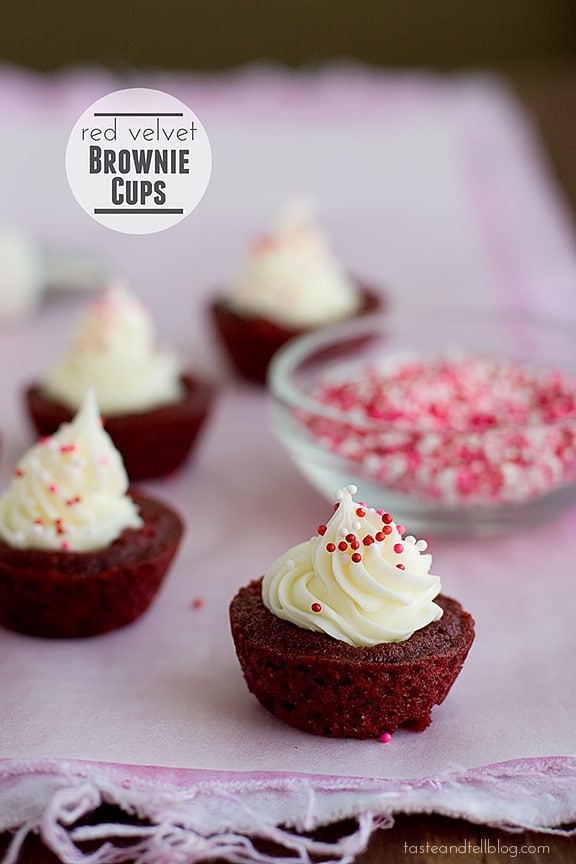 I can't believe I'm already to the end of Red Velvet Week. That went by much too quickly!! But hopefully you have some fun ideas for Valentine's Day next week.
Can you believe it's already next week?? Yikes!
Today's recipe is the perfect little red velvet bite. And it might be my favorite recipe from this week. At least it's the one I ate the most of. It was just too easy to pop one of these little cups into my mouth, and before I knew it, I had eaten way too many. But that's ok, because Red Velvet Week only comes around once a year, right? 🙂
I did manage to make sure that every recipe this year had a hit of cream cheese somewhere in it. As much as I love red velvet, I think the cream cheese frosting that usually accompanies it is almost as good. And you are not left wanting with these babies. For me, they were the perfect ratio of brownie to frosting. And of course, little sprinkles always make them more fun!
So whether you're into muffins, cake, cupcakes, rolls or brownies, I've covered it all this week. I can only imagine what Red Velvet Week 2014 will contain!!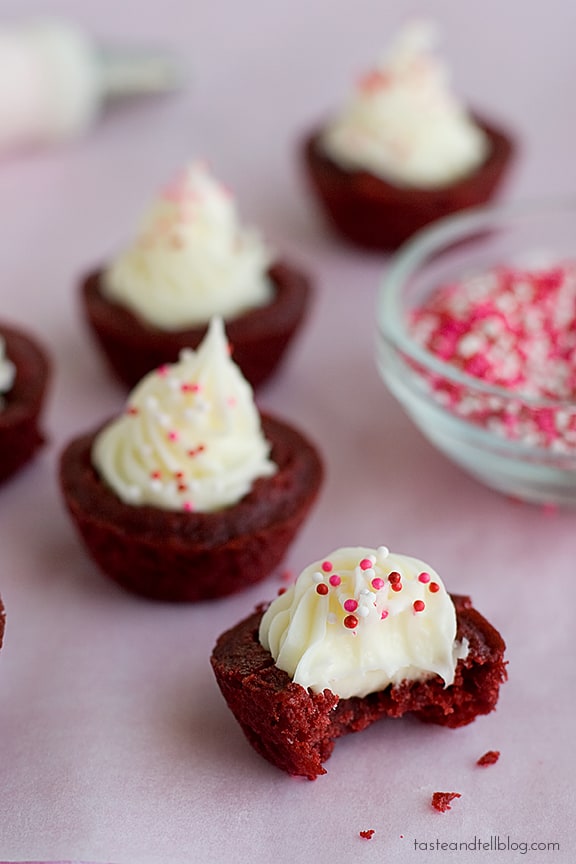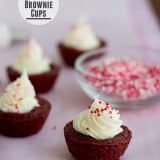 Red Velvet Brownie Cups
---
Prep Time: 15 minutes
Cook Time: 12 minutes
Total Time: 1 hour
Yield: 36 cups 1x
Description
Mini red velvet brownies are baked into cups that hold a cream cheese filling for the perfect Valentine's Day treat.
---
Scale
Ingredients
Brownies
1 cup butter
1 cup sugar
1 teaspoon vanilla
1/4 cup unsweetened cocoa
1/8 teaspoon salt
1 tablespoon red food coloring
1 teaspoon vinegar
2 eggs
3/4 cup all-purpose flour
Cream Cheese Filling
4 oz cream cheese, softened
1/4 cup butter, softened
1 cup powdered sugar
---
Instructions
Preheat oven to 350F. Spray 36 mini muffin tins with nonstick cooking spray.
In a small saucepan (or in a microwave safe bowl), melt the butter. Transfer the melted butter to a medium bowl and add the sugar, then the vanilla, cocoa, salt, red food coloring and vinegar, stirring after each addition.
In a small bowl, lightly whisk the eggs. Add to the brownie mixture, then fold in the flour.
Place about 1 tablespoon of batter into each of the muffin tins. Bake until the brownie is set, about 12 minutes. Remove the pan from the oven and let sit for one minute, then using the end of a wooden spoon, lightly press down the middle of the brownie, forming a cup. Allow to cool completely.
In a small bowl, beat together the cream cheese and butter until smooth. Gradually add the powdered sugar and beat until it all comes together. Pipe into the brownie cups.
Some Red Velvet Favorites: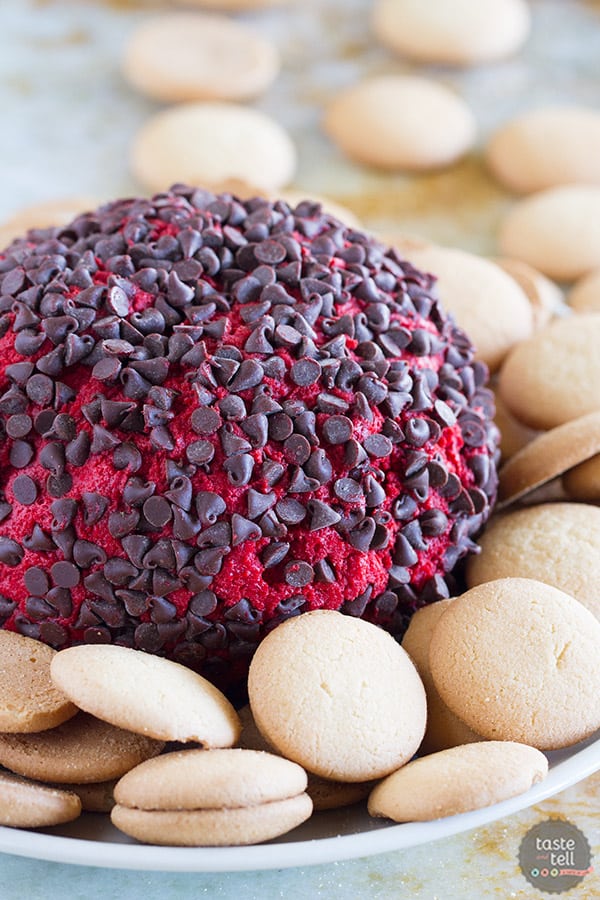 Red Velvet Cheese Ball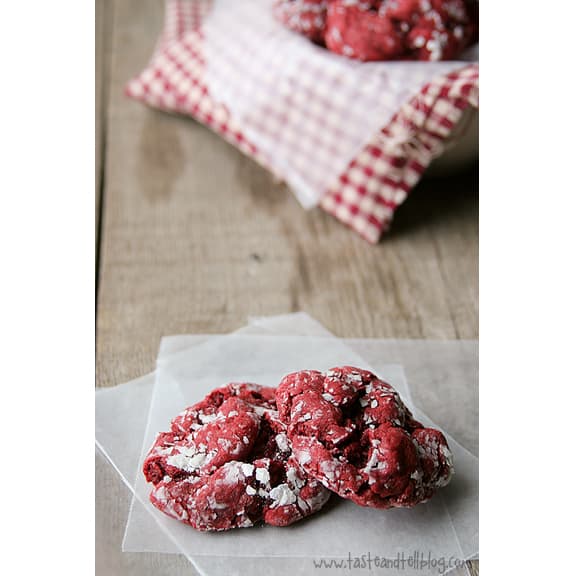 Red Velvet Gooey Butter Cookies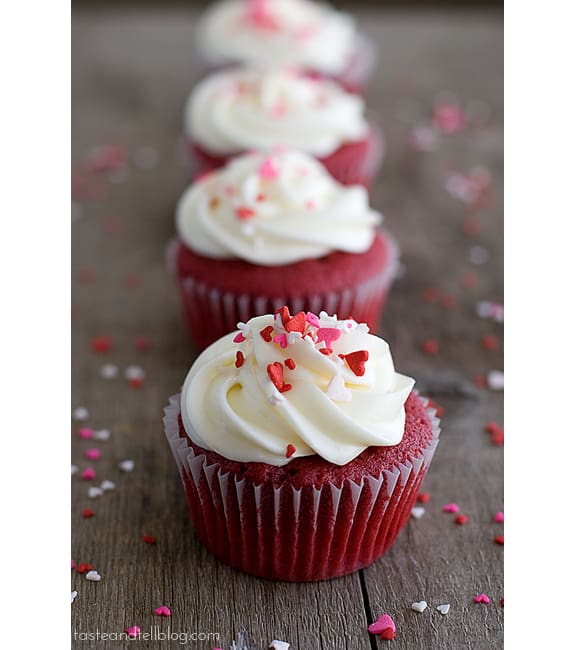 Classic Red Velvet Cupcakes with Marshmallow Cream Cheese Frosting
Red Velvet Black and Whites
Around the Web:
Red Velvet Puppy Chow from Your Cup of Cake
Red Velvet Cake Mix Donuts from Buns in My Oven
Red Velvet Milky Way Cake Cookies from Picky Palate