This Red Velvet Cheese Ball is the ultimate dip for red velvet lovers!! This sweet version of a cheese ball will have you going back for more!
I love an easy dessert! Just like this Red Velvet Cheese Ball, this Dump Cake Recipe is also made from a cake mix and done in a flash. And this Oatmeal Cake may not be made from a mix, but it's so easy that it won't matter!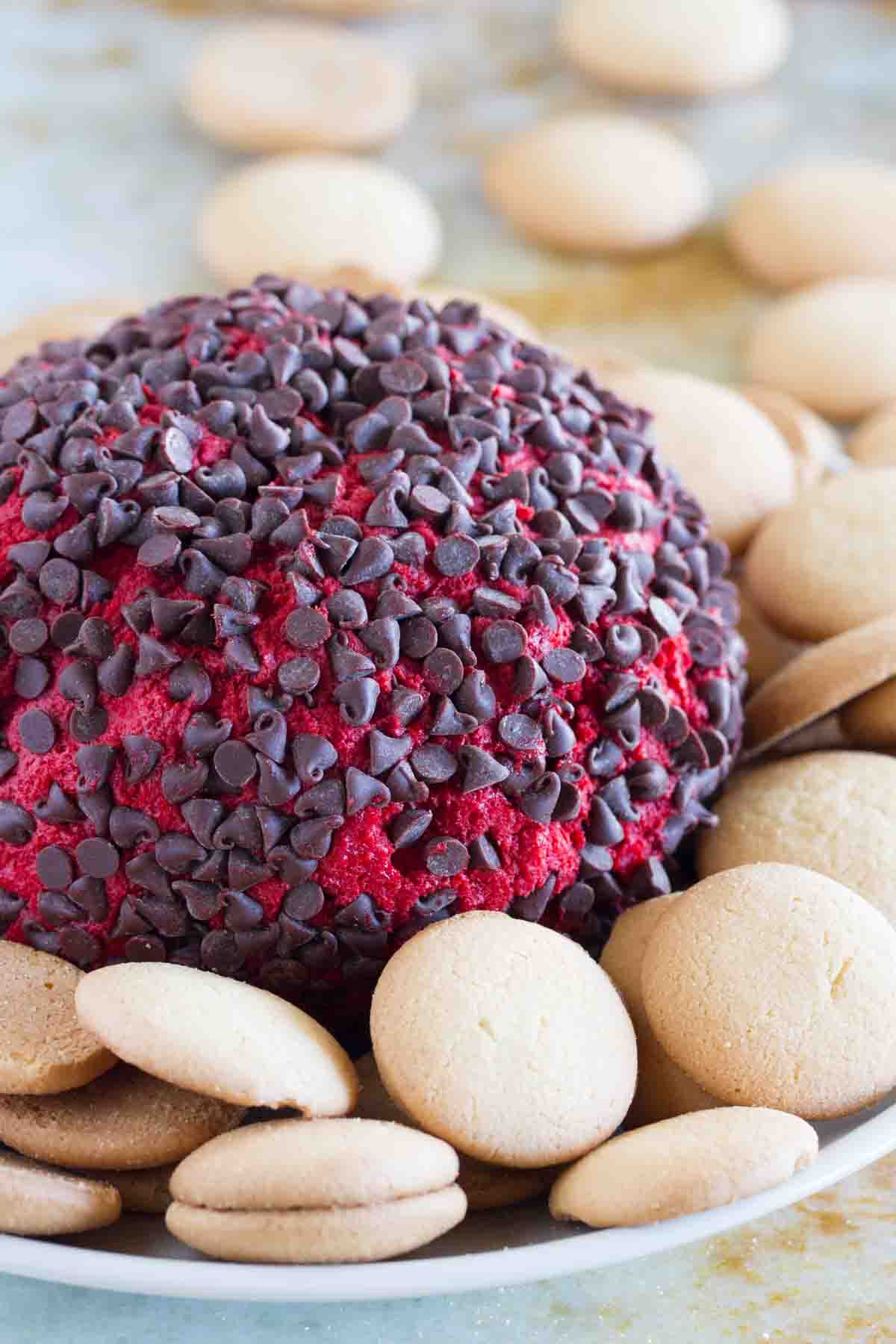 Every once in awhile, an idea comes to me. An absolutely brilliant idea.
Now, I'm not one to toot my own horn, or to pat myself on the back, but I do believe that this one deserves a little of both.
Red. Velvet. Cheese. Ball.
Yep, you read that right. All the deliciousness of red velvet – plus the cream cheese frosting – all rolled into a ball and served with cookies.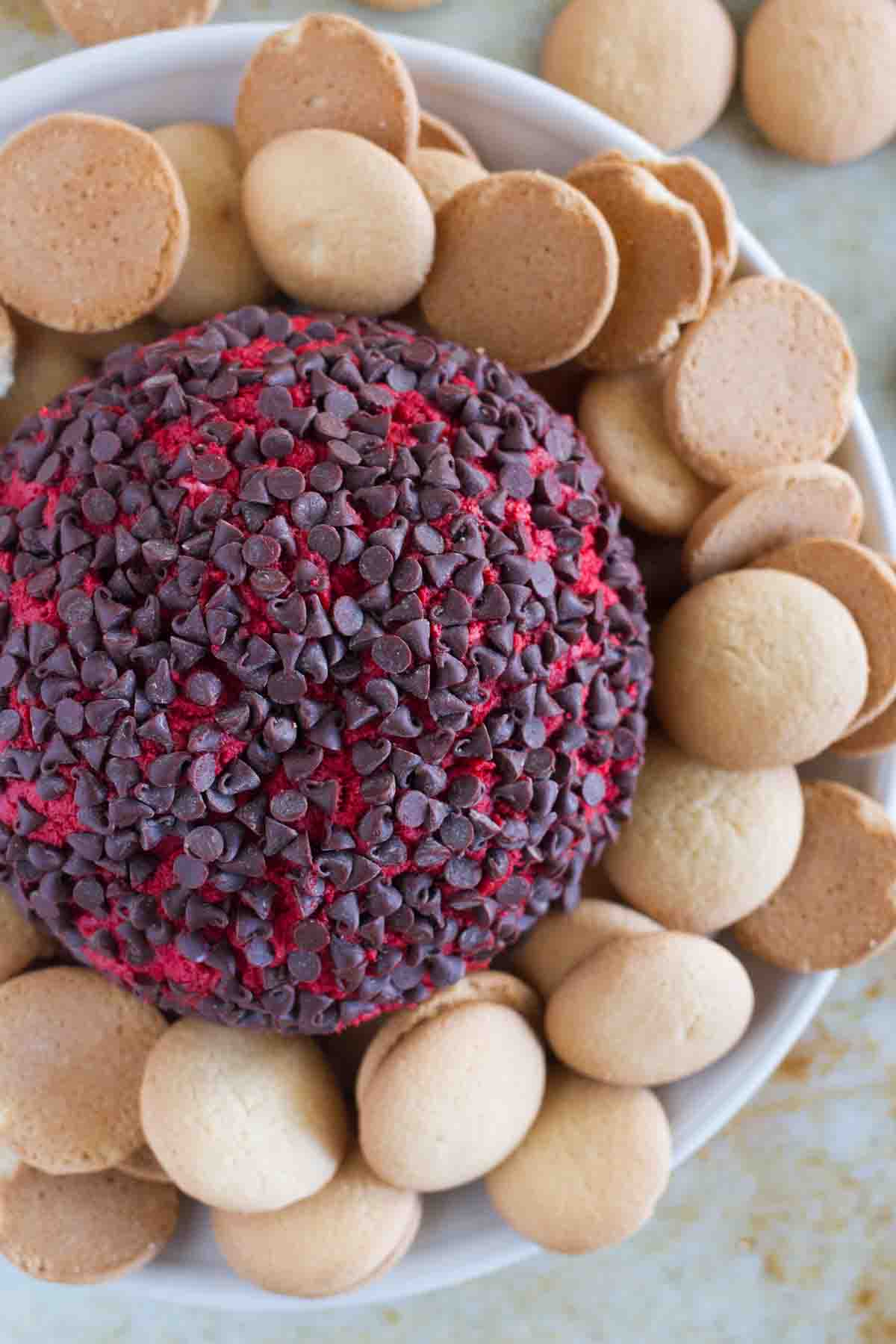 I guess I can't say the idea is completely original.  I actually had the idea pop into my head while reading another blog post, about a peanut butter cheese ball. 
But I looked and looked and looked some more, and nowhere online could I find another red velvet cheese ball.  Usually, when I come up with an idea that I can't find anywhere online, it's because it's not a good idea.  Believe me – I've tried more than one thing before that I thought was originally a brilliant, original idea – only to learn my lesson.  If you can't find something online, most of the time it's because it doesn't work. 
But this idea – it worked – as well as I was hoping for.
The best way I thought to get that red velvet flavor and color while keeping the texture of the cheese ball was to use a cake mix. It only uses part of the cake mix, so feel free to double the recipe (especially if you are feeding a crowd!) or you can even make cake mix cookies with the other half. My husband loved this so much that he ate almost half of it himself!! He said the only thing that would make it better would be to add in more chocolate chips, mixed throughout – so that is always another option as well.
Not only would this great for Valentine's Day, but I'm sure it would be a hit at your Super Bowl party this weekend, too!
And if you love this idea, you can also try my Cannoli Cheese Ball!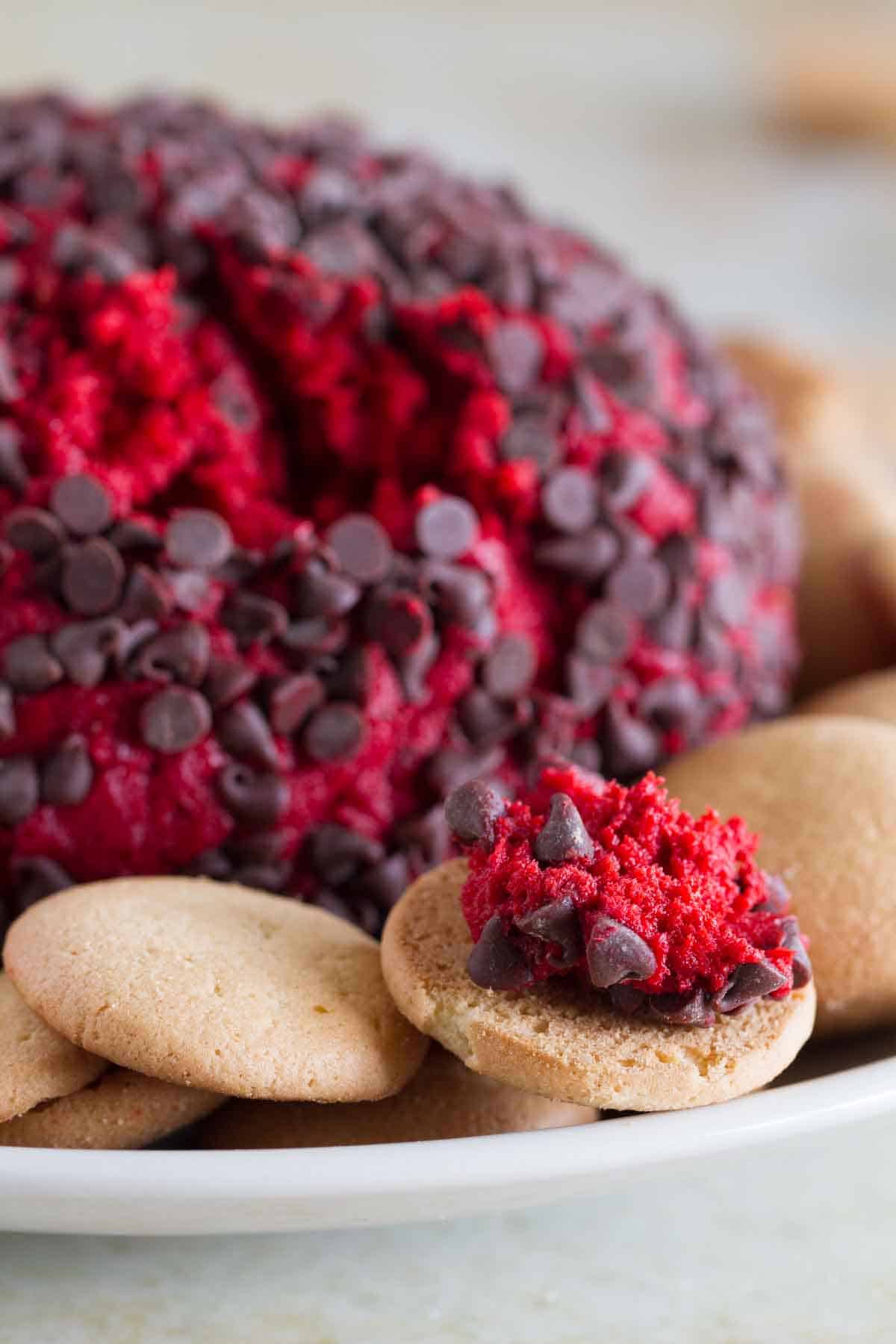 More Delicious Desserts:
Fresh Blueberry Crisp
Meringue Cookies
Orange Cake
Giant Chocolate Chip Cookie Recipe
No Bake Cheesecake Recipe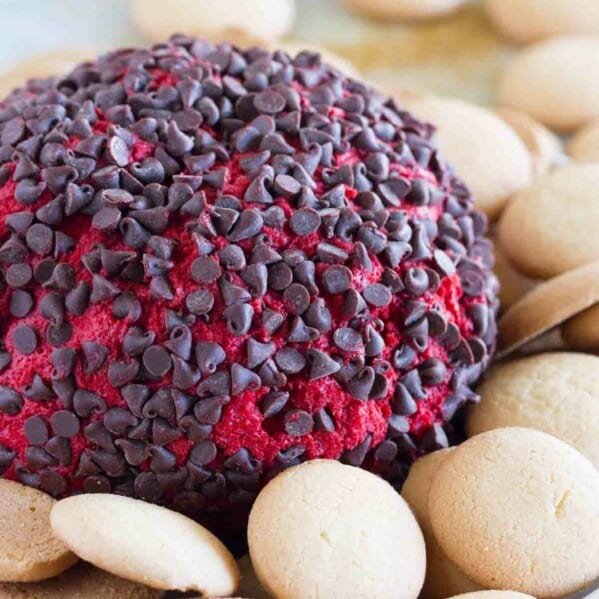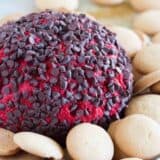 Red Velvet Cheese Ball
---
Author:
Prep Time: 10 minutes
Refrigeration Time: 2 hours
Total Time: 2 hours 10 minutes
Yield: 16 servings 1x
Category: Dessert
Method: No Bake
Cuisine: American
Description
This Red Velvet Cheese Ball is the ultimate dip for red velvet lovers!! This sweet version of a cheese ball will have you going back for more!
---
Scale
Ingredients
8 ounces cream cheese, at room temperature
1/2 cup butter, at room temperature
1 1/2 cups red velvet cake mix, dry
1/2 cup powdered sugar
2 tablespoons brown sugar
1/2 cup mini chocolate chips
assorted cookies and crackers (my favorite was Vanilla Wafers)
---
Instructions
In the bowl of a stand mixer, beat the cream cheese and butter until smooth. Add in the red velvet cake mix, the powdered sugar and the brown sugar. Beat until smooth and combined.
Turn the mixture out onto a piece of plastic wrap. Wrap up into a ball and refrigerate for at least 2 hours.
Put the chocolate chips on a plate or in a shallow dish. Remove the cheese ball from the refrigerator and unwrap. Roll in the chocolate chips. (This might get messy!) Place on a serving plate and serve with cookies or graham crackers.
Keywords: Red Velvet Cheese Ball