What can be better than a creamy chicken and bacon pot pie, topped with bacon cheddar biscuits? It is said that bacon makes everything better, and this Chicken and Bacon Pot Pie with Bacon Cheddar Biscuits is proof that it is true!

Yum

We potty trained our daughter when she was 2 years old. It wasn't a totally horrible experience, but it wasn't a walk in the park, either. She caught on pretty quickly, but I remember being stressed out and thinking that I couldn't wait until the whole "training" part was done. So when Easton turned 2, I decided to boycott. I said that I wasn't going to force potty training on him, but wait until he was ready and let him make that choice. We bought a training potty that he wanted, and he "practiced" quite a bit before he actually took the plunge. But really, once he decided he was ready, he practically did all the work himself. It was glorious. He was 3 years old, but I had no problem with that.
Well, Camden turned 3 in November, and I have been talking up the big potty to him for a few months now. About a month ago, he came to me one afternoon and told me that he wanted to wear big boy underwear to bed that night. I let him, and he did great. The next day, though, he had an accident, and I think it scared him and it was straight back to diapers.
Well, amidst all of the craziness of the past 2 weeks, he decided again earlier this week that now he was ready. I laughed at the timing, but decided to go with it. And ladies and gentlemen – we are now officially a diaper free house. Which I'm grateful for. Really, I am. He has done great, and is a pro already.
But, man – the trips to the bathroom. I feel like I have lived in there this week. And he likes to take his time, but insists that I am right there by him. So. Much. Time. In. There.
So when it comes to dinnertime, all I want is a big bowl full of comfort. And this Chicken and Bacon Pot Pie? It doesn't get more comforting than this.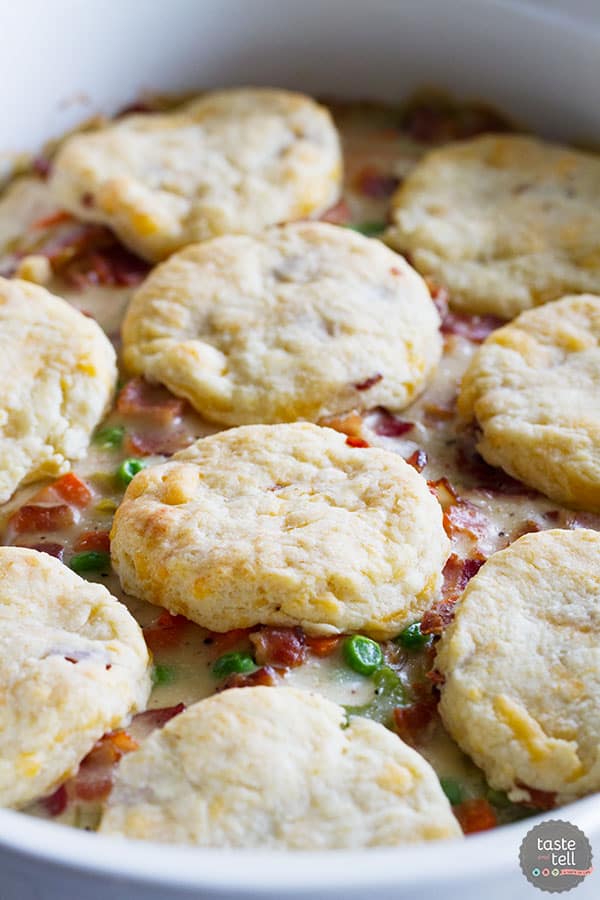 The person who first said that bacon makes everything better is really onto something. This Chicken and Bacon Pot Pie takes a traditional pot pie filling and makes it even better with the addition of bacon. And instead of a pie crust, you get Bacon Cheddar Biscuits. There is nothing wrong with a pie crust, (you all know how much I love pie!!), but cheesy biscuits? With even more bacon? Count me in!!
And even though we are past the whole diaper thing, I'm sure there will be many nights ahead when I'll still need a bit of comfort, and I'm sure this Chicken and Bacon Pot Pie with Bacon Cheddar Biscuits will be on the top of my list!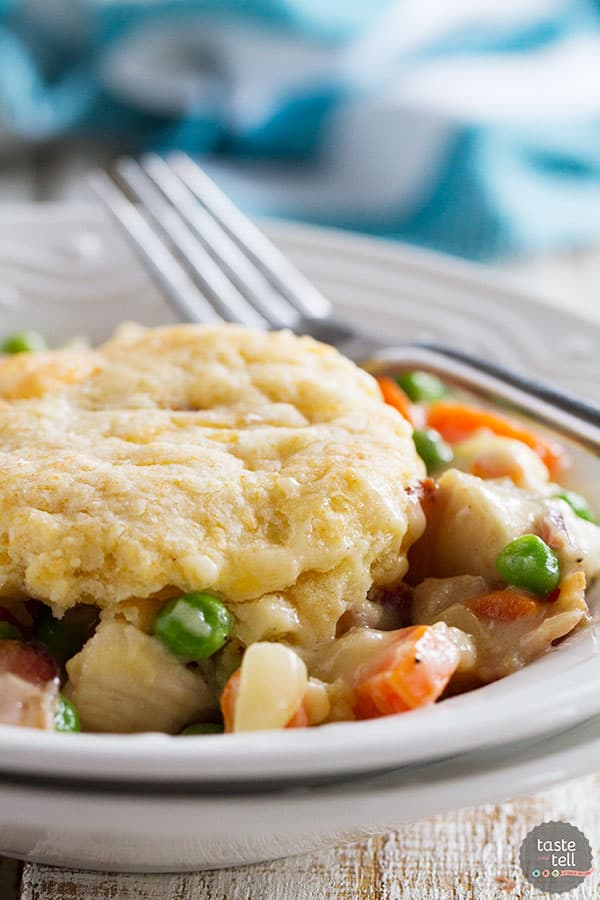 Like what you see here? Make sure you are following Taste and Tell for more recipes and ideas!
Facebook | Pinterest | Instagram | Twitter | Google+ | Weekly Newsletter | Feedly | Bloglovin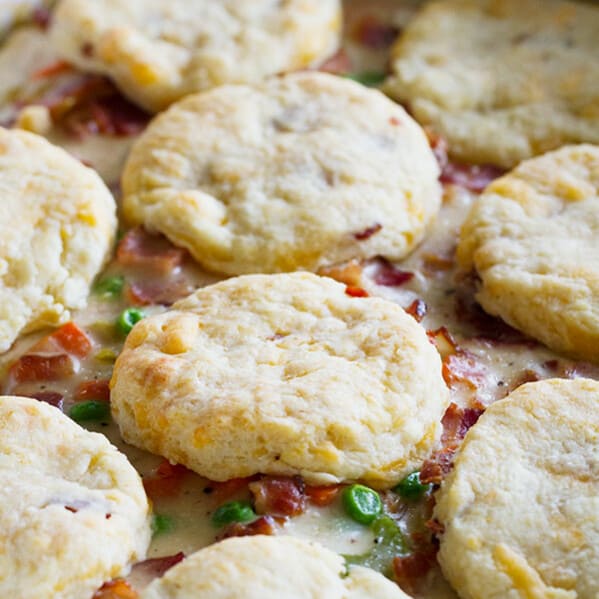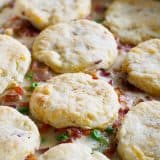 Chicken and Bacon Pot Pie with Bacon Cheddar Biscuits
---
Author:
Prep Time: 20 mins
Cook Time: 40 mins
Total Time: 1 hour
Yield: 4-6 servings 1x
Description
What can be better than a creamy chicken and bacon pot pie, topped with bacon cheddar biscuits? It is said that bacon makes everything better, and this Chicken and Bacon Pot Pie with Bacon Cheddar Biscuits is proof that it is true!
---
Scale
Ingredients
Chicken and Bacon Pot Pie
6 slices bacon, diced
3 carrots, peeled, cut in half lengthwise, then sliced (about 1 1/4 cups sliced carrots)
1 medium onion, diced (about 1 1/4 cup diced onion)
2 stalks of celery, sliced (about 1 cup sliced celery)
3 cloves garlic, minced
1 cup frozen peas
4 tablespoons butter
4 tablespoons flour
2 cups chicken broth
1/3 cup heavy cream
2 cups cooked, shredded chicken
Bacon Cheddar Biscuits
3 slices bacon, diced
1 1/2 cups all-purpose flour
1 1/2 teaspoons baking powder
1/4 teaspoon salt
6 tablespoons butter, cut into small pieces
3/4 cup shredded cheddar cheese
3/4 cup heavy cream
1 tablespoon butter, melted
---
Instructions
Preheat the oven to 400ºF.
Heat a large skillet over medium heat. Add the bacon and cook until crisp. Remove with a slotted spoon to a paper towel lined plate and set aside.
Drain the bacon grease from the skillet, leaving about 1 tablespoon in the skillet. Return to the heat and add the carrots, onion and celery and cook until softened, about 5-8 minutes. Stir in the garlic and cook until fragrant, about 1 minute. Add in the peas and cook for an additional minute. Season with salt and pepper, then pour the vegetable mixture into a 9×13-inch baking dish. Set aside.
Return the skillet to the heat and melt the butter over medium heat. Sprinkle in the flour and whisk for a minute. Slowly whisk in the chicken broth. Continue to cook until the mixture starts to bubble and become thick. Once the consistency of cream, stir in the heavy cream and cook an additional minute. Stir in the reserved bacon and the chicken. Pour the mixture over the vegetables in the dish. Cover with foil while you make the biscuits.
In a small skillet, cook the bacon until crisp. Remove to a paper towel lined plate and set aside.
In a bowl, combine the flour, baking powder and salt. Add the butter, and with a fork or a pastry cutter, cut the butter into the flour mixture until it resembles coarse crumbs. Stir in the cheddar cheese and the bacon. Add the cream and stir just until combined.
Dust a work surface with flour and pour the mixture out onto it. Knead a few times, just until the mixture comes together. Roll the dough out to about 1/3" thick. Using a round cutter, about 3" in diameter, cut out 9-12 biscuits. (I don't like to re-roll the scraps as they can become tough, so I will just bake the scraps on a separate baking sheet to let the kids eat.)
Uncover the pot pie mixture and place the biscuits on top. Bake the until the pot pie is bubbly and the biscuits have started to brown, about 20-25 minutes. If the biscuits start to get too brown, cover the dish with foil. Remove from the oven.
As soon as the dish comes out of the oven, brush the melted butter on top of the biscuits. Let the mixture sit for 5 minutes before serving.
Useful Products for this Recipe:
More Comforting Chicken Recipes: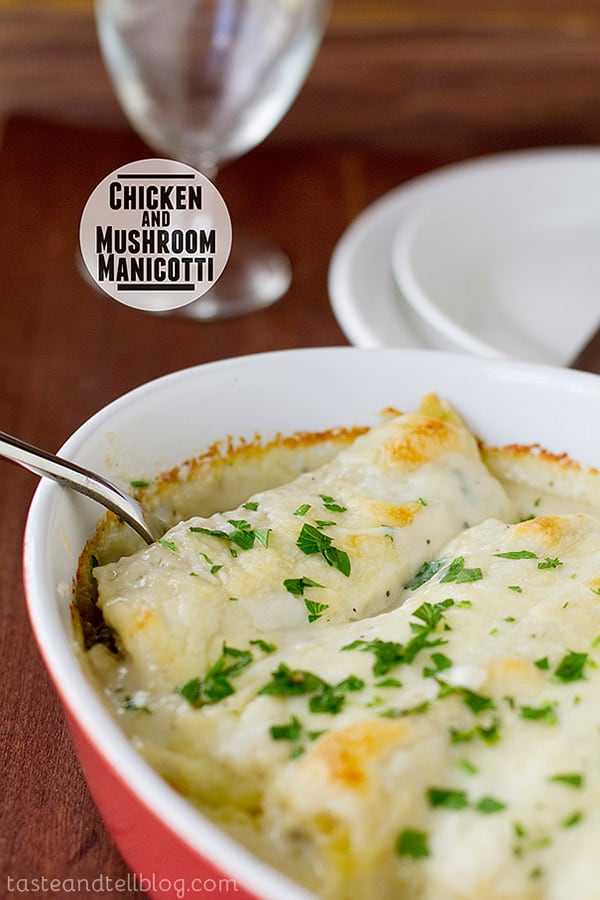 Chicken and Mushroom Manicotti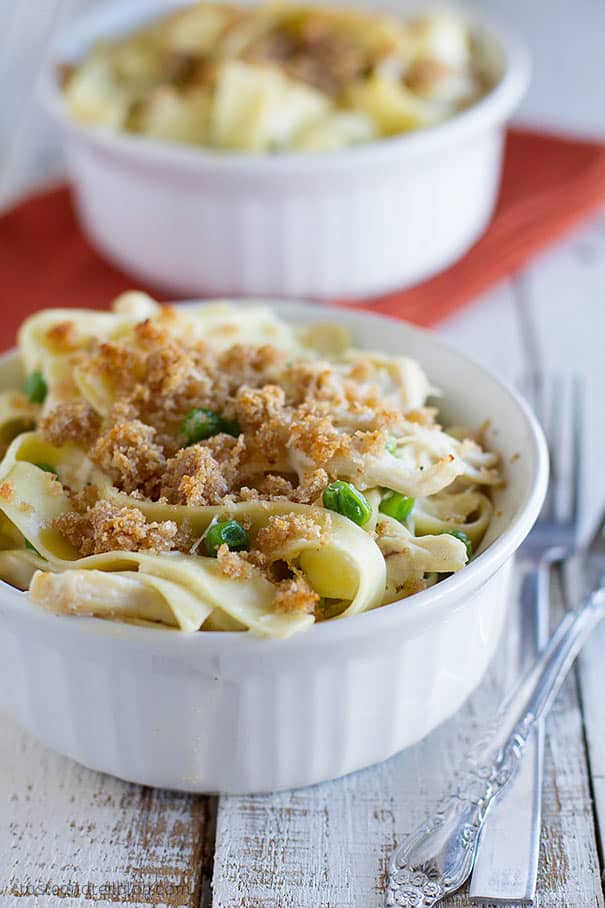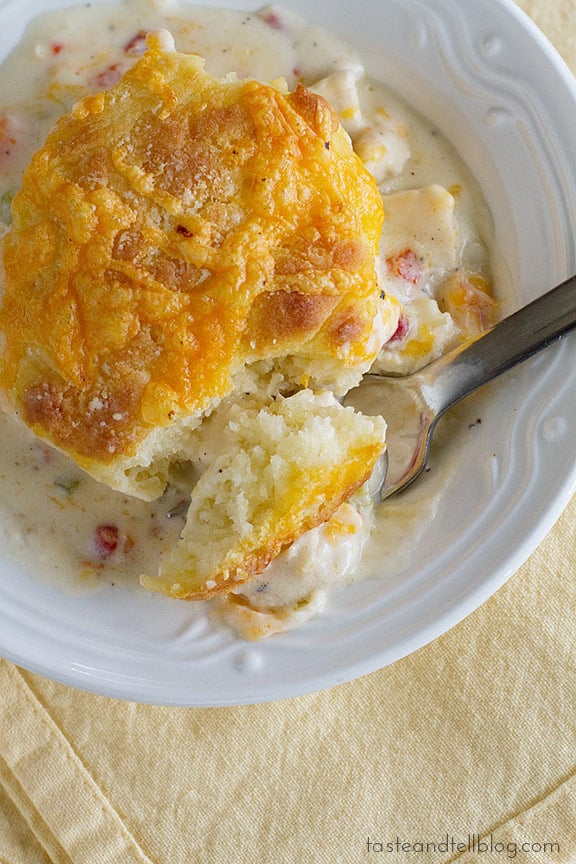 Around the Web:
Salsa Verde Chicken Pasta from Kevin and Amanda
Chicken Cordon Bleu Casserole from Life in the Lofthouse
One Pot Garlic Chicken Alfredo from Julie's Eats and Treats
Don't miss a thing! Follow me on Pinterest to see what I'm pinning!
Visit Taste and Tell's profile on Pinterest.