This easy recipe for chicken teriyaki comes together with very little hands on time – while you let the slow cooker do all the work!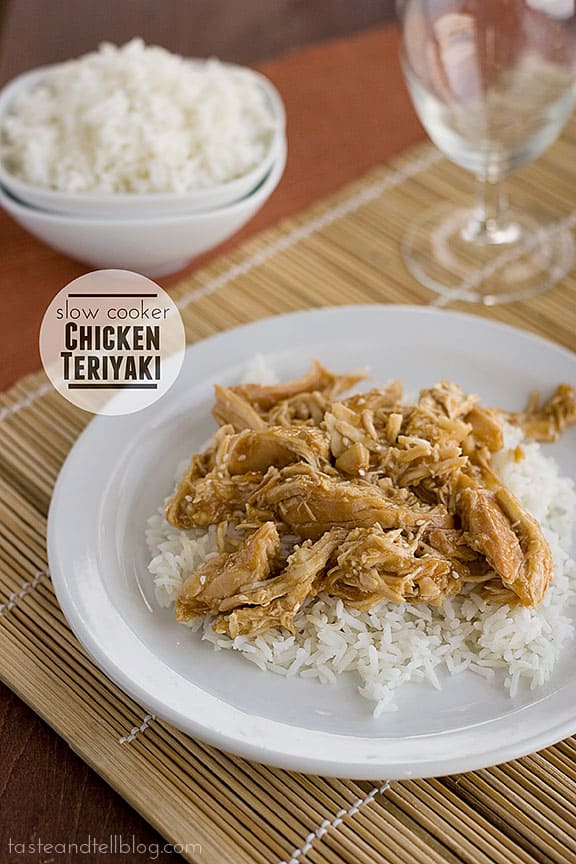 When I first found out that I was pregnant with Camden, I quickly did the math in my head. And just about died when I realized that when he was born, I would have 3 kids, 3 and under. We knew that we wanted to have our kids closer together since we aren't spring chickens, but this was a little closer than I had imagined!!
But he came, and I am so grateful for him. But I'll admit – life is definitely different now. I can have an idea in my head in the morning of how I want the day to go – what the schedule is going to be – but my life is ruled by the schedules of my 3 young children. And try as I might, when I lay down in bed at night, the day never went quite as planned.
One thing I have quickly learned is that 5 o'clock is the crazy hour. The time when all 3 of my children are wanting attention. And when I'm trying to get the house cleaned up and dinner on the table. And honestly, if it's not something super simple, or if I didn't cook earlier in the day, dinner often ends up being leftovers, sandwiches or quesadillas. Or even the occasional can of soup. Because I can make that with one hand while holding a baby (or a toddler) in one arm.
So needless to say, the slow cooker has really been my friend lately. I can put everything together earlier in the day and when the crazy hour strikes, dinner is only a few easy steps away.
This chicken teriyaki recipe came about as I was trying to use up some teriyaki glaze that I had in the fridge leftover from the Teriyaki Chicken Pizza that I made not too long ago. (Or you can make your own teriyaki glaze – it's super easy!!) This is the best kind of slow cooker recipe, too, since it's basically a mix and dump kind of recipe. So if you are looking for easy, look no further!!
We served this Slow Cooker Chicken Teriyaki over rice, and it was the perfect meal for us. Especially because I didn't have to worry about the crazy hour in the kitchen. Chicken Teriyaki for the win!
Like what you see here? Make sure you are following Taste and Tell for more great recipes and ideas!!

Facebook ** Pinterest ** Twitter ** Instagram ** Google+
or you can subscribe to my newsletter or Feedly or Bloglovin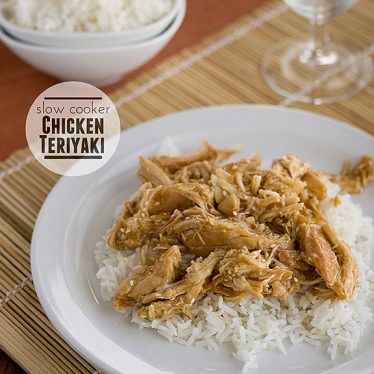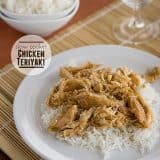 Slow Cooker Chicken Teriyaki
---
Prep Time: 10 mins
Cook Time: 6 hours 15 mins
Total Time: 6 hours 25 mins
Yield: 4 servings 1x
Description
This easy recipe for teriyaki chicken comes together with very little hands on time – while you let the slow cooker do all the work!
---
Scale
Ingredients
1 1/2 lbs boneless, skinless chicken breasts
1 tablespoon grated ginger
1/2 cup teriyaki glaze (not teriyaki sauce)
1 heaping tablespoon orange marmalade
2 cloves grated or minced garlic
2 tablespoons water
1 tablespoon cornstarch
1 tablespoon toasted sesame seeds
prepared rice, for serving
---
Instructions
Spray a 3 1/2-4 quart slow cooker with nonstick cooking spray. Put the chicken breasts in the bottom of the slow cooker.
In a small bowl, combine the ginger, teriyaki glaze, orange marmalade and garlic. Mix well and pour over the chicken.
Cook on low for 6 hours, or until the chicken is cooked through.
Remove the chicken to a plate and shred or cut into bite-sized pieces. Pour the liquid into a saucepan. Return the chicken to the slow cooker.
In a small bowl, combine the 2 tablespoons of water and 1 tablespoon of cornstarch. Add to the pan with the liquid. Cook over medium-high heat until the liquid has thickened, then pour back into the slow cooker and stir to coat the chicken. Stir in the sesame seeds.
Serve over prepared rice.
Recipe Notes:
*Note – different slow cookers cook at different temperatures. Start checking your chicken earlier for doneness if yours cooks faster.*