Baked Red Velvet Donuts – Red velvet meets baked donuts in this striking breakfast treat.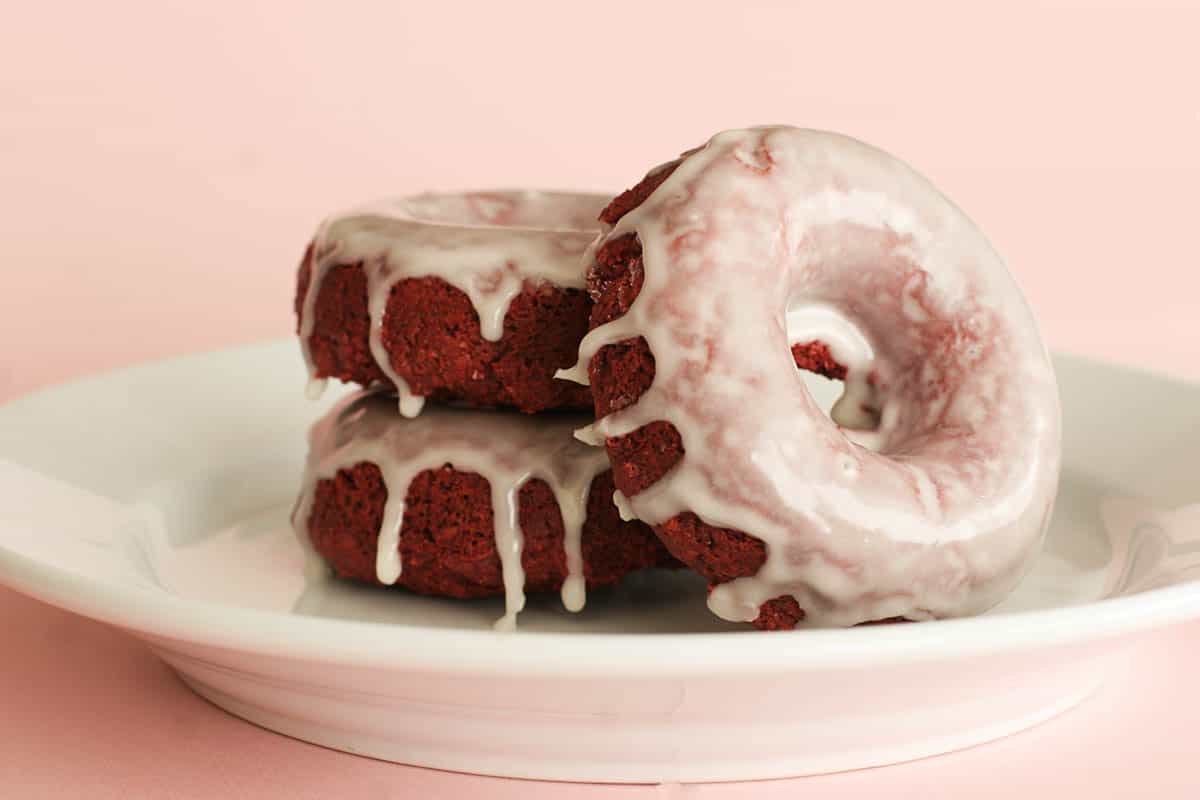 Ok, I'm breaking one of my rules with this recipe.  I try really hard to make sure that the majority of the recipes on my blog are accessible for everyone.  And yes – this one requires a special baking pan.  I almost didn't make them, just because of that.  But – I've been wanting an excuse to buy a donut pan for a long time now, and well – this gave me the perfect excuse!!  Plus, I've been cleaning out our spare room to get ready for baby, and I ran across a gift card that I got for Christmas 2 years ago that I hadn't spent!  So, I am the proud owner of a donut pan!
So, I apologize right now if you don't have a donut pan. But this is the perfect excuse for you to invest in one!!  (Really, it was only around $10, so it's not a huge investment!)
I am a donut lover.  In fact, they are one of my big "splurge" things that I don't have very often, but it's a real treat when I do get them.  I've made them before, but it's not something that I do all the time.  And I had some serious doubts when it came to baked donuts.  Don't get me wrong – I'm all for trying something "healthier" than the original.  Were these as good as a fried donut?  Well, I wouldn't go that far.  But – I was pleasantly surprised at how much these did taste like donuts!  And if it means I can have more, or have them more often, I'm all for it!!
A few notes about the recipe – the dough is pretty stiff.  I had to get in and use my hands to fill the donut pan with the dough.  And you want to make sure you don't over bake these – they dry out pretty quickly!  And the glaze is pretty thin.  I had to double – or triple – the glaze on the donuts to get them where I wanted them.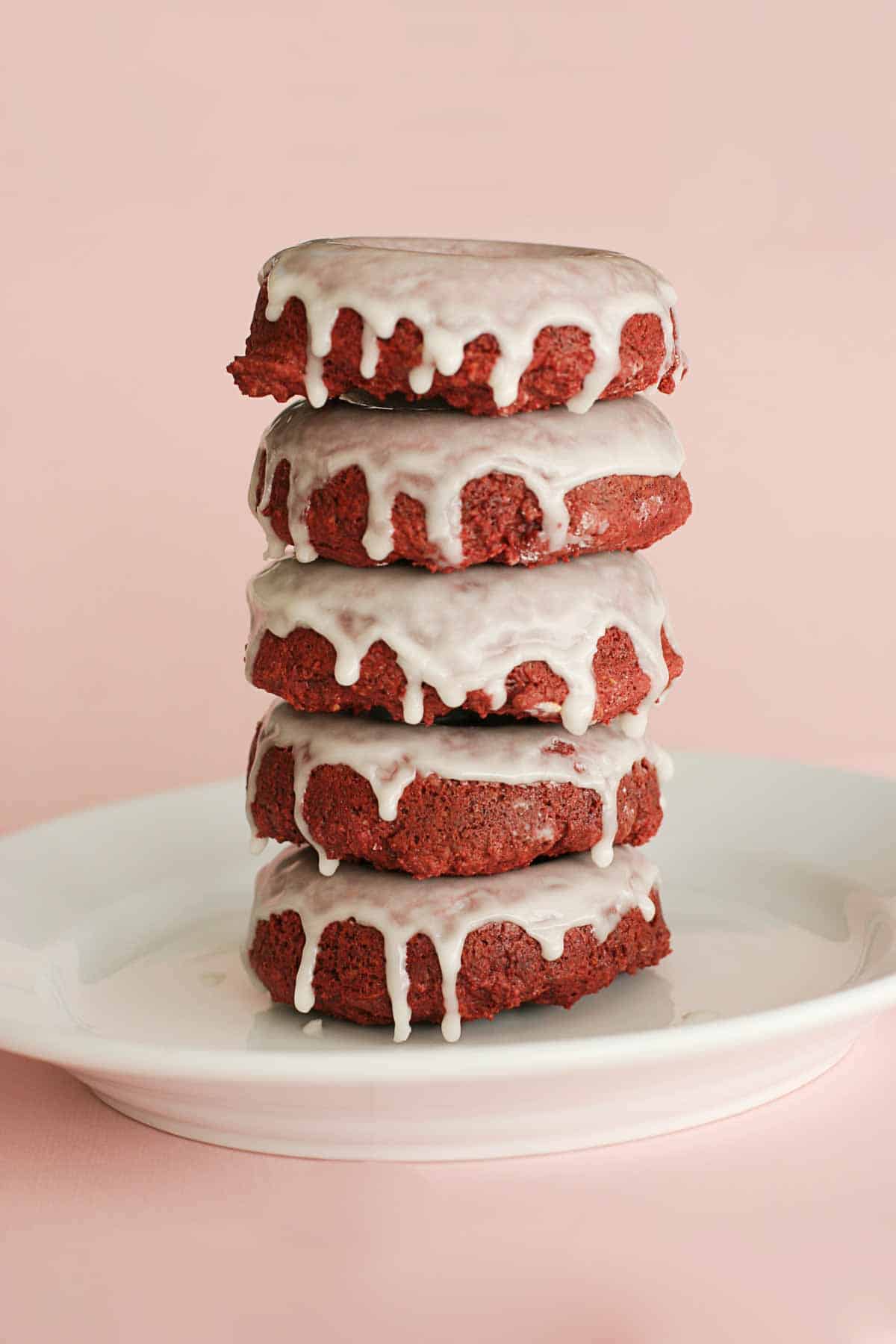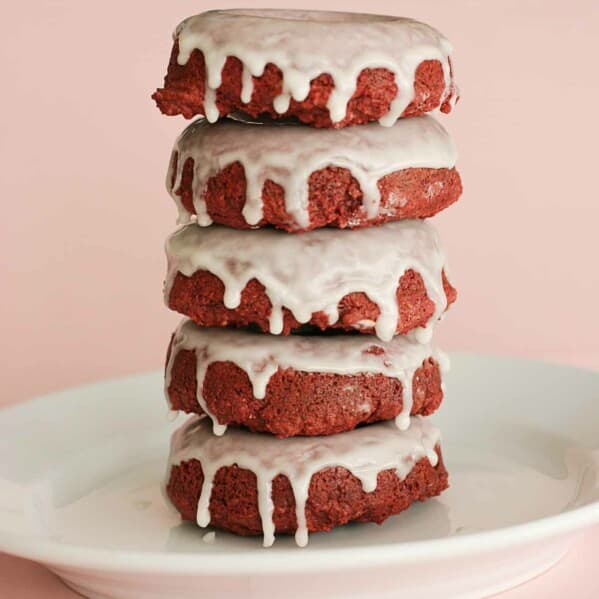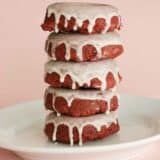 Baked Red Velvet Donuts
---
Author:
Prep Time: 15 minutes
Cook Time: 15 minutes
Total Time: 30 minutes
Yield: 1 dozen donuts 1x
Category: Breakfast
Method: Baked
Cuisine: American
Description
Baked Red Velvet Donuts – Red velvet meets baked donuts in this striking breakfast treat.
---
Scale
Ingredients
Donuts
2 1/4 cups flour
1 tablespoon baking powder
1 teaspoon baking soda
1/2 teaspoon salt
3/4 cup sugar
1 large egg
2 tablespoons unsalted butter, melted
2 ounces unsweetened chocolate, melted
1/2 tablespoon vanilla extract
1/2 cup buttermilk
1 tablespoon red food coloring
Icing
2 tablespoons hot water
2 cups confectioners' sugar
1 tablespoon milk
1/2 teaspoon vanilla extract
---
Instructions
Donuts
Preheat the oven to 350F. Spray a donut pan with cooking spray.
In a large bowl, combine the flour, baking powder, baking soda and salt.
In another bowl, mix together the sugar and egg. Add the melted butter and melted chocolate to the egg/sugar mixture. Add in the vanilla and buttermilk and red food coloring.
Gradually add the dry ingredients to the wet mixture, mixing just until combined. Fill the donut pan with the batter, filling each about 2/3rds full. Bake in the preheated oven for 12-15 minutes.
Icing
In small bowl, stir together all ingredients until sugar is completely dissolved. Use immediately to glaze donuts. You can either toss them in or dip just the tops. If the glaze starts to harden you can add more hot water.
Keywords: baked red velvet donuts, red velvet donuts