Want to impress your dinner guests? This red velvet bread pudding is not only stunning to look at, but it's pretty darn tasty as well!
Love bread pudding? Give this Chocolate Bread Pudding a try!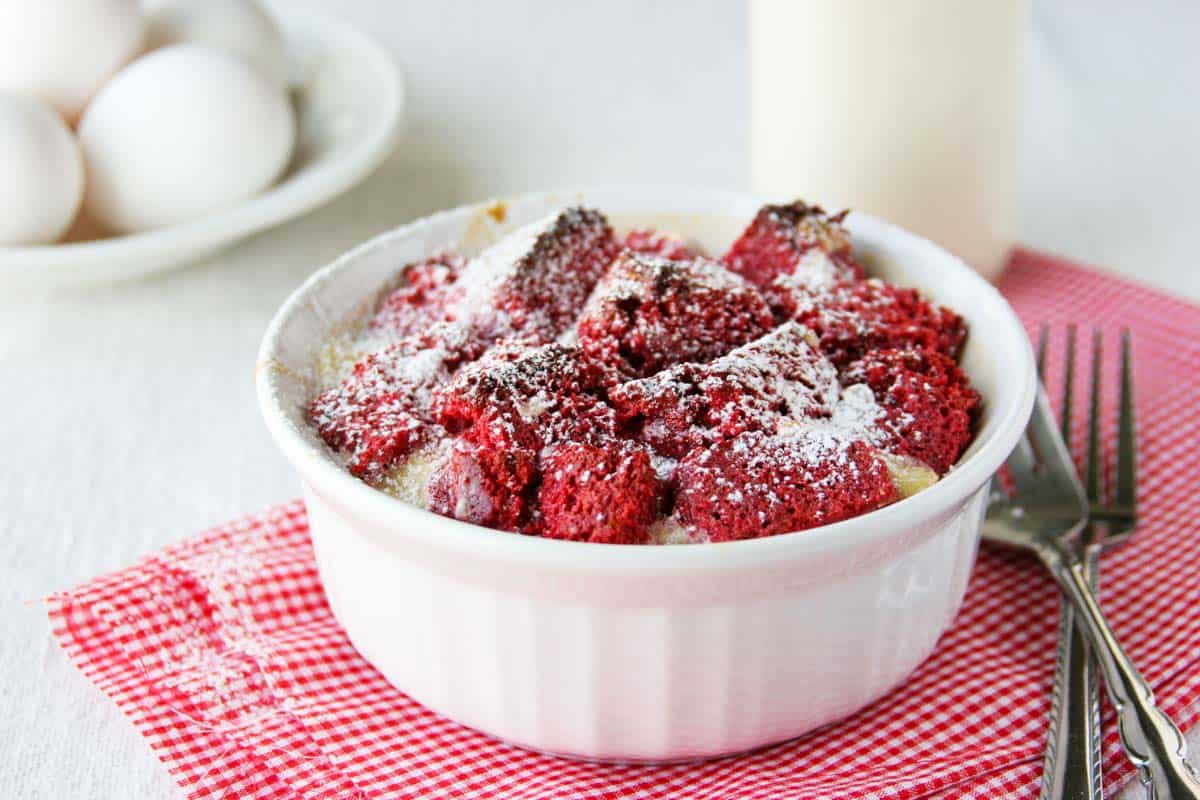 I hope that you all have never thought that red velvet just comes in the shape of cake or cupcakes. Because ladies and gentlemen, I'm starting to discover that it is pretty much awesome in any way, shape and form.
Donuts? Yep.
Pancakes? Yep.
Cookies? Yep.
And now – Bread Pudding.
I haven't always been the biggest bread pudding fan. I've never been really big on the whole soggy bread thing. Honestly, the only reason I ever even started making bread pudding was because my husband loves it. But somewhere along the line, I fell in love with it. (That's been happening a lot in the last few years – discovering that I actually love things that I thought I hated.)
This was totally husband approved, too. In fact, he came home during the day and ate one of these, then later that night, I found him searching through the fridge for more!!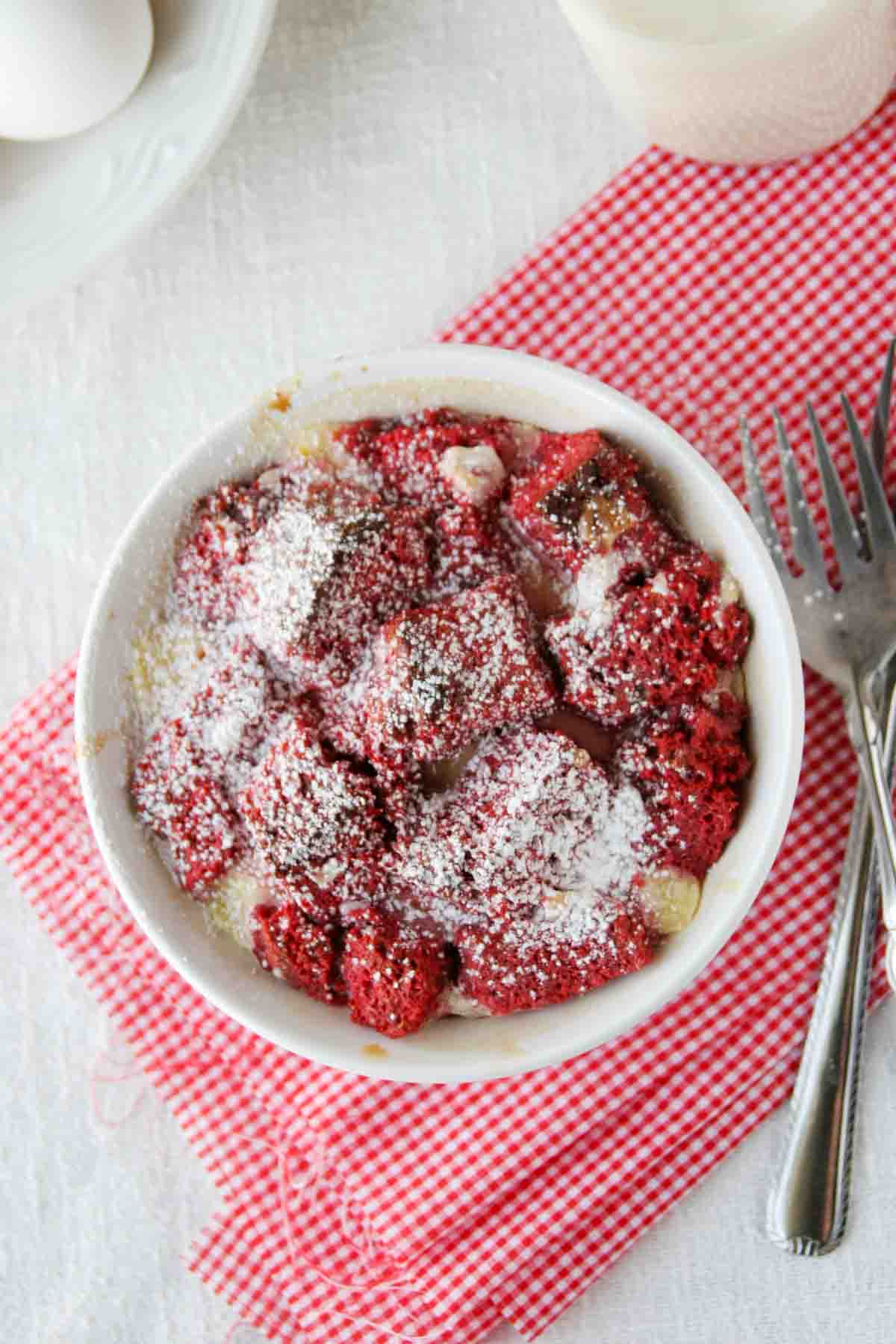 Tips and Tricks
This dessert consists of 2 components – the cake and the custard.
The cake recipe alone is delicious. You do need to make sure you don't undercook it. You actually want it a bit dried out for this recipe. If the chunks of cake seem too moist, you can toast them in the oven before you add them to the bread pudding.
The custard mixture is absolutely divine. You may have few little chunks of cream cheese that don't get mixed in completely, but this is normal. I loved finding those little pockets of goodness in the final dish.
I prefer to eat this warm, but cold is good, as well. I also like to bake it in individual serving dishes, but you can also bake it in one casserole dish.
You can simply sprinkle on some powdered sugar for serving, or if you want to be a little more indulgent, serve it with a side of vanilla ice cream.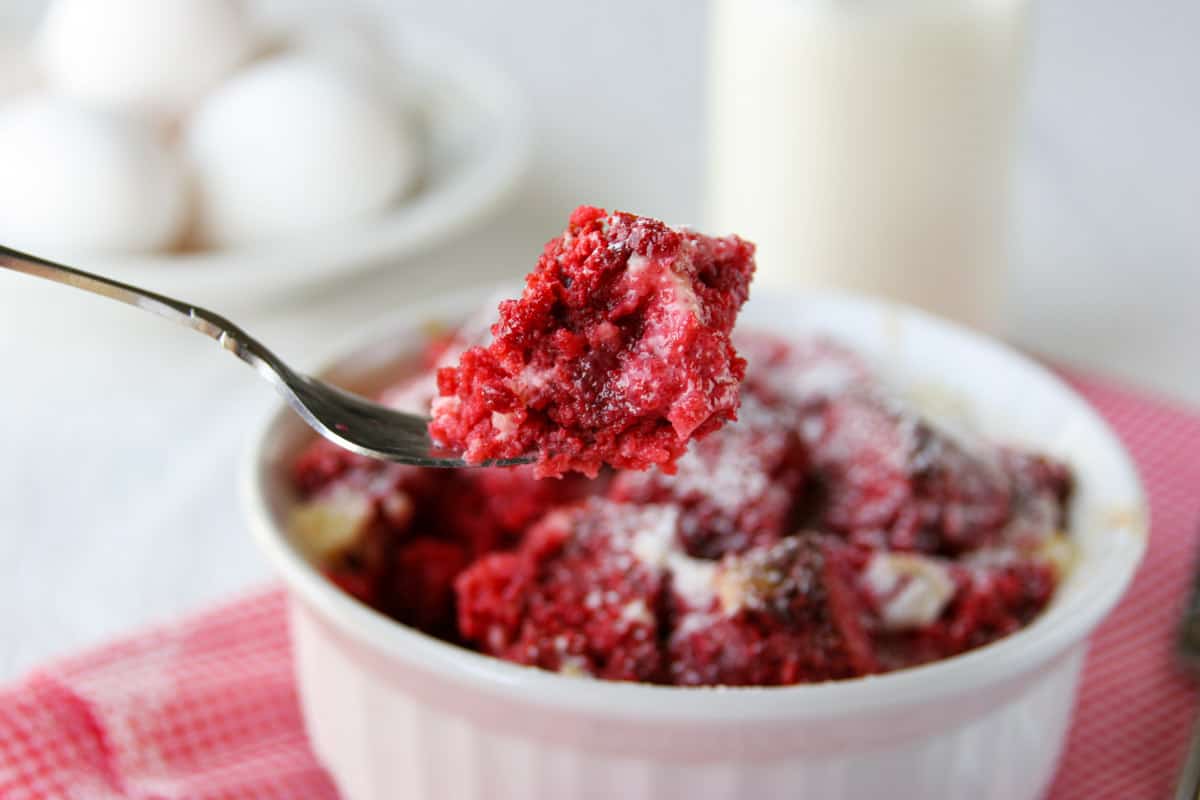 More Red Velvet Recipes
Red Velvet Waffles
Red Velvet Pull Apart Bread
Red Velvet Cream Cheese Danish
Red Velvet Quick Bread with Cream Cheese Filling
Red Velvet Cheesecake Cupcakes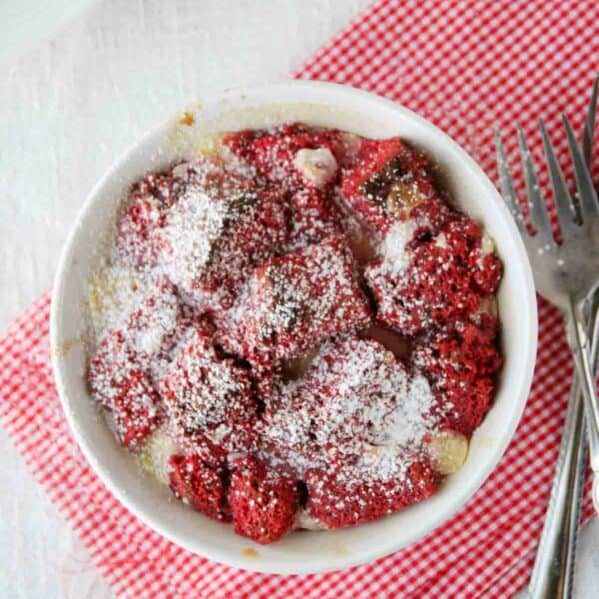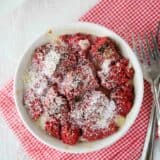 Red Velvet Bread Pudding
---
Author:
Prep Time: 30 minutes
Cook Time: 1 hour
Total Time: 2 hours
Yield: 8 servings 1x
Category: Dessert
Method: Baked
Cuisine: American
Description
Want to impress your dinner guests? This red velvet bread pudding is not only stunning to look at, but it's pretty darn tasty as well!
---
Scale
Ingredients
For the cake:
2 cups sugar
1/2 pound (2 sticks) butter, at room temperature
2 eggs
2 tablespoons cocoa powder
1 ounce red food coloring
2 1/2 cups cake flour
1 teaspoon salt
1 cup buttermilk
1 teaspoon vanilla extract
1/2 teaspoon baking soda
1 tablespoon vinegar
For the bread pudding mix:
3 cups half-and-half
3 large eggs
1 large egg yolk
pinch of salt
1 teaspoon vanilla extract
8 ounces cream cheese, at room temperature
3/4 cup powdered sugar, plus more for sprinkling
---
Instructions
Preheat the oven to 350°F. Grease a 9x13x2-inch baking dish or sheet pan.
In a mixing bowl, cream together the sugar and butter. Add in the eggs one at a time, mixing well in between additions. In a small bowl, mix together the cocoa powder and the food coloring. Mix into the butter mixture.
In another bowl, mix together the flour and salt. Add alternately with the buttermilk to the butter mixture. Stir in the vanilla. In a small bowl, mix together the baking soda and vinegar. Add to the mixture and mix well.
Pour mixture into the prepared baking dish. Bake in the preheated oven for 20-25 minutes, or until a toothpick inserted in the middle comes out clean. Remove and cool completely.
Once cool, cut the cake into 1-inch squares. Place on a baking sheet and bake for 10-15 minutes, or until slightly dried out.
Make the bread pudding mix: In a medium bowl, mix together the half-and-half, eggs, egg yolk, salt and vanilla. In the bowl of a stand mixer, or with a hand mixer in a medium bowl, mix together the cream cheese and powdered sugar until smooth. Stir in the half-and-half mixture.
Place the red velvet cake cubes in a large baking dish or in individual baking dishes. Pour the pudding mix over the cubes, making sure to soak with the mixture. Bake for about 30 minutes, or until the pudding is set. (Time will vary, depending on the size of your baking dish(es).) Serve sprinkled with powdered sugar or with ice cream.
Keywords: red velvet bread pudding, red velvet recipe, red velvet dessert