Want to impress your dinner guests? This red velvet bread pudding is not only stunning to look at, but it's pretty darn tasty as well!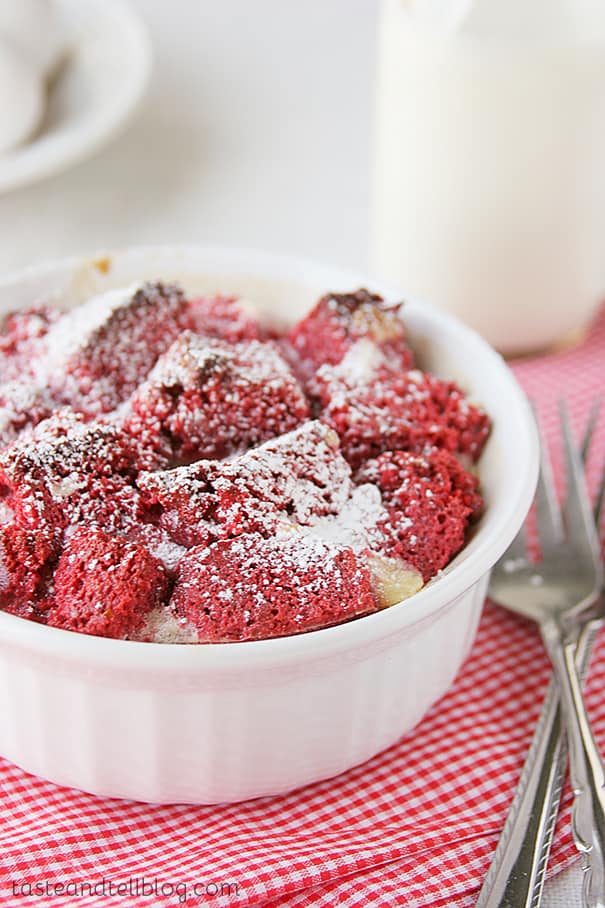 I hope that you all have never thought that red velvet just comes in the shape of cake or cupcakes. Because ladies and gentlemen, I'm starting to discover that it is pretty much awesome in any way, shape and form. Donuts? Yep. Pancakes? Yep. Cookies? Yep.
And now – Bread Pudding.
I haven't always been the biggest bread pudding fan. I've never been really big on the whole soggy bread thing. Honestly, the only reason I ever even started making bread pudding was because my husband loves it. But somewhere along the line, I fell in love with it. (That's been happening a lot in the last few years – discovering that I actually love things that I thought I hated.)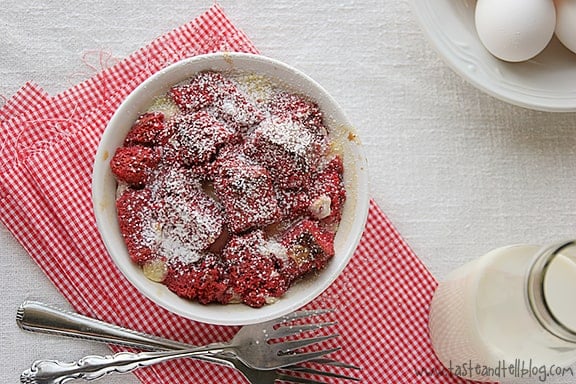 I actually bookmarked this recipe last year when I did Red Velvet Week. It didn't make the cut last year, but I'm kind of kicking myself now, because I could have had this delicious dessert in my life for the whole last year. But I guess we live and learn, and I've learned to never pass over a Paula Deen recipe.
I pretty much loved every single part of this recipe. The cake recipe alone was delicious. You do need to make sure you don't undercook it, like I did. Mine ended up super, super moist, but nothing a few extra minutes of toasting in the oven couldn't cure. The custard/pudding mixture is absolutely divine. I had a few little chunks of cream cheese that didn't get mixed in completely, and I loved finding those little pockets of goodness in the final dish. And this was totally husband approved, too. In fact, he came home during the day and ate one of these, then later that night, I found him searching through the fridge for more!!
Red Velvet Bread Pudding
Want to impress your dinner guests? This red velvet bread pudding is not only stunning to look at, but it's pretty darn tasty as well!
Ingredients
For the cake:
2 cups sugar
½ pound (2 sticks) butter, at room temperature
2 eggs
2 tablespoons cocoa powder
1 ounce red food coloring
2½ cups cake flour
1 teaspoon salt
1 cup buttermilk
1 teaspoon vanilla extract
½ teaspoon baking soda
1 tablespoon vinegar
For the bread pudding mix:
3 cups half-and-half
3 large eggs
1 large egg yolk
pinch of salt
1 teaspoon vanilla extract
8 ounces cream cheese, at room temperature
¾ cup powdered sugar, plus more for sprinkling
Instructions
Preheat the oven to 350°F. Grease a 9x13x2-inch baking dish or sheet pan.
In a mixing bowl, cream together the sugar and butter. Add in the eggs one at a time, mixing well in between additions. In a small bowl, mix together the cocoa powder and the food coloring. Mix into the butter mixture.
In another bowl, mix together the flour and salt. Add alternately with the buttermilk to the butter mixture. Stir in the vanilla. In a small bowl, mix together the baking soda and vinegar. Add to the mixture and mix well.
Pour mixture into the prepared baking dish. Bake in the preheated oven for 20-25 minutes, or until a toothpick inserted in the middle comes out clean. Remove and cool completely.
Once cool, cut the cake into 1-inch squares. Place on a baking sheet and bake for 10-15 minutes, or until slightly dried out.
Make the bread pudding mix: In a medium bowl, mix together the half-and-half, eggs, egg yolk, salt and vanilla. In the bowl of a stand mixer, or with a hand mixer in a medium bowl, mix together the cream cheese and powdered sugar until smooth. Stir in the half-and-half mixture.
Place the red velvet cake cubes in a large baking dish or in individual baking dishes. Pour the pudding mix over the cubes, making sure to soak with the mixture. Bake for about 30 minutes, or until the pudding is set. (Time will vary, depending on the size of your baking dish(es).) Serve sprinkled with powdered sugar or with ice cream.
-------------------------
Slightly adapted from Paula's Best Dishes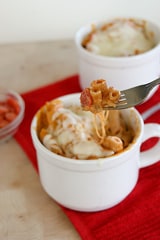 Also – The Wisconsin Milk Marketing Board is celebrating 30 Days, 30 Ways of Mac and Cheese right now. Today, my Pepperoni Pizza Mac and Cheese is being featured. I'll talk more about the recipe next week (after the red velvet goodness is over!) but head over to check out the recipe today! And while you are there – check out some other amazing sounding macaroni and cheese recipes!!