Rich, gooey and sweet, this Red Velvet Cobbler Recipe is a fun version of an old-time Southern dessert.
I think one of the things I love the most about being a food blogger is how it has taken me out of my comfort zone in the kitchen. I used to be a die-hard stick to the recipe kind of person. I wasn't comfortable with substitutions, and even if I wanted to change something, I didn't know how. Even reading back through some of my first blog posts, I see a lot of that.
But after 7+ years of trying new recipes and developing new recipes and failing at recipes and hitting some recipes out of the park, I feel like I'm a lot more comfortable with changing things up.
Don't get me wrong – there are still plenty of times when I feel like I have no creativity running through me and all I need is a recipe to follow to the t. But a lot of the time now, I feel like I can change things up to my tastes or what I have on hand.

When I started Red Velvet week several years ago, I had no idea that it would lead me to where I am today. Dozens and dozens of red velvet recipes. Who would have ever thought? And I'm always seeing ideas that others have made, and I have ideas pop into my mind all of the time. The possibilities really are endless.
And I love that blogging has brought me to this point.
Today, I am red velvet-izing another recipe. Have you ever had a chocolate cobbler? It's not really a traditional cobbler – there is no fruit filling, no biscuit top. Instead, this old-fashioned Southern dessert has an ooey, gooey chocolate "filling" that bakes up with a chocolate cake on top. Today's version is a Red Velvet Cobbler Recipe, and it's totally out of this world. It may not look like much, and it's so simple it's crazy, but I can almost guarantee that you'll find yourself going back for seconds.
If you've never made a recipe like this, the directions might sound a little strange. You put some melted butter in a pan, then top it with your red velvet batter. You top the batter off with a sugar and cocoa mixture. And then it gets strange – you pour boiling water over the whole thing. Don't question it – just do it. Trust me.
Let the cobbler sit for a few minutes once it comes out of the oven to let the "sauce" thicken a bit. Then serve it up with vanilla ice cream. I wouldn't skip the ice cream. Trust me on that one, too. The cobbler itself is pretty sweet, so the ice cream helps to cut that sweetness a bit.
If you are looking for comfort, this Red Velvet Cobbler Recipe definitely fits the bill. Unassuming and delicious. It's a perfect dessert for family night or for a potluck. I know my family loved it!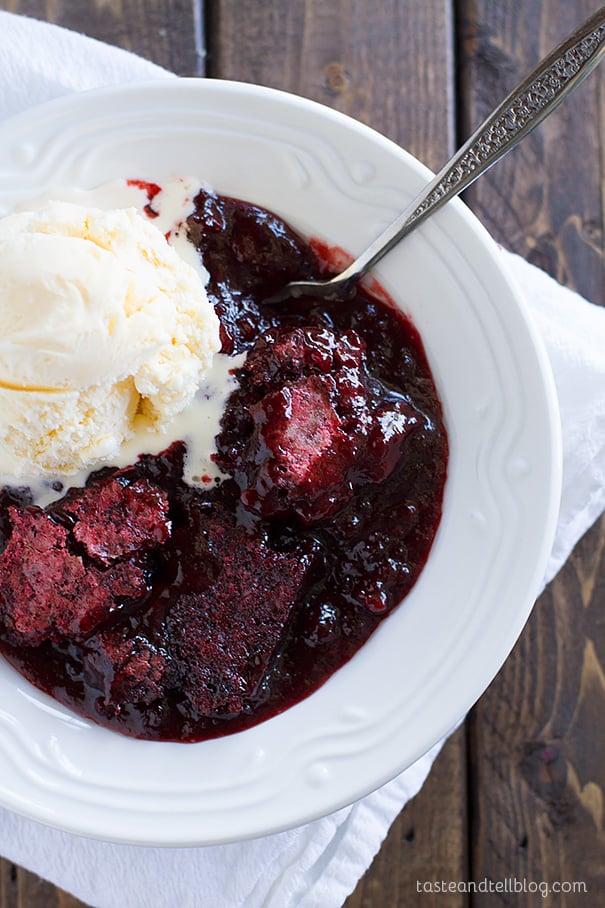 Like what you see here? Make sure you are following Taste and Tell for more great recipes and ideas!!

Facebook ** Pinterest ** Twitter ** Instagram ** Google+
or you can subscribe to my newsletter or Feedly or Bloglovin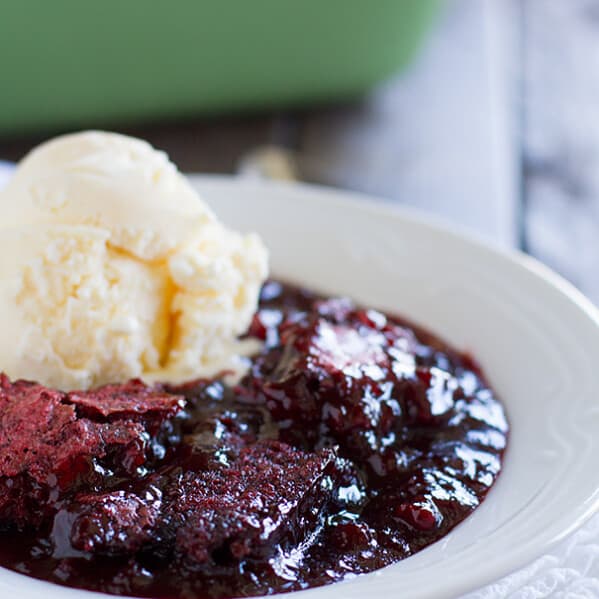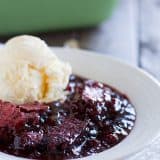 Red Velvet Cobbler Recipe
---
Prep Time: 10 minutes
Cook Time: 35 minutes
Total Time: 45 minutes
Yield: 6 servings 1x
Description
Rich, gooey and sweet, this Red Velvet Cobbler Recipe is a version of an old-time Southern dessert.
---
Scale
Ingredients
6 tablespoons butter, melted
1 cup all-purpose flour
1 3/4 cup sugar, divided
3 1/2 teaspoons cocoa powder, divided
1 teaspoon baking soda
1/2 teaspoon salt
1/2 cup buttermilk
1 tablespoon red food coloring
1/2 teaspoon vanilla extract
1 1/2 cups boiling water
---
Instructions
Preheat the oven to 350ºF.
Pour the melted butter into the bottom of an 8×8-inch baking dish.
In a bowl, combine the flour, 3/4 cup of the sugar,1 1/2 teaspoons of the cocoa, baking soda and salt. Stir in the buttermilk, red food coloring and vanilla extract. Spoon the batter over the butter, and carefully spread into one layer.
In another bowl, stir together the remaining 1 cup of sugar and 2 teaspoons cocoa powder. Sprinkle the sugar mixture over the top of the batter. Carefully pour the boiling water over the top of the sugar.
Bake in the oven for 35 minutes, or until the center is just set. Let the cobbler sit for 5 to 10 minutes before serving. (The "sauce" will thicken as it sits.)
More Red Velvet Love: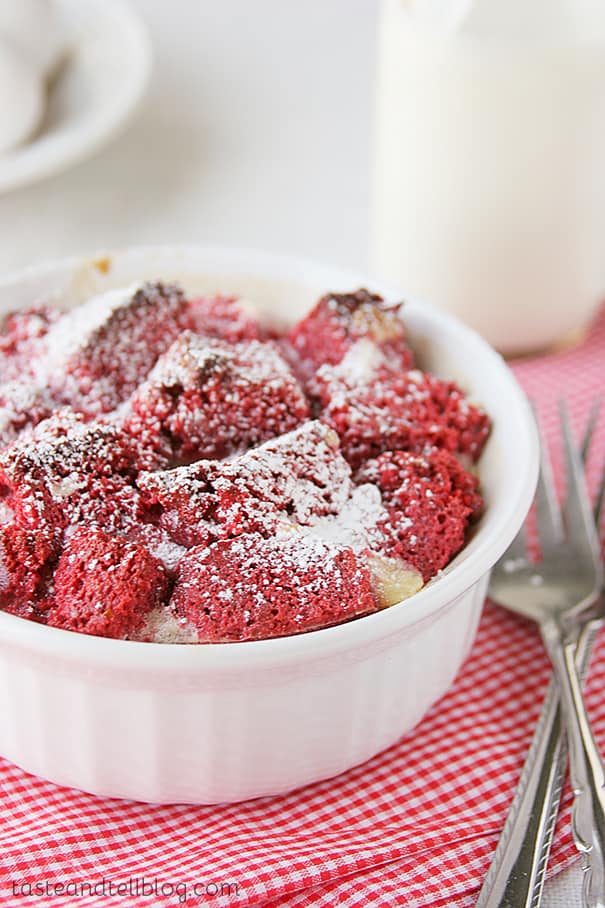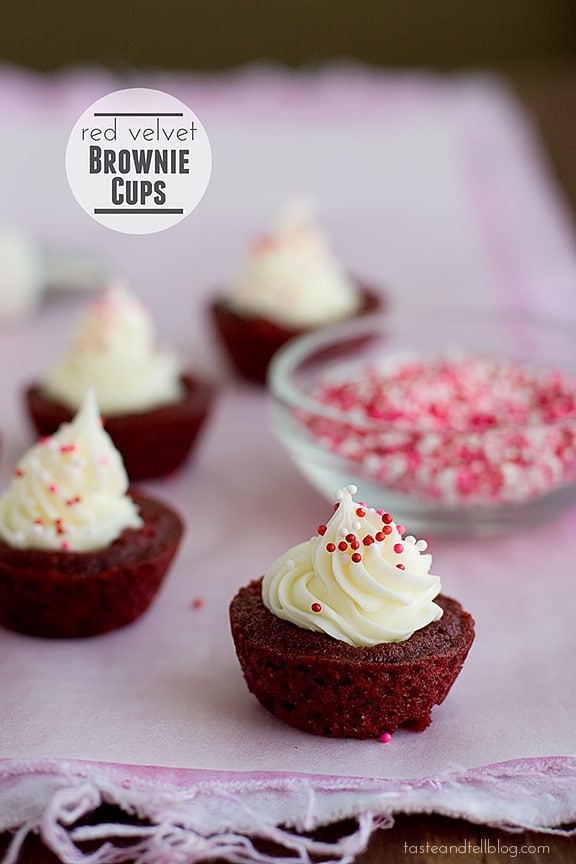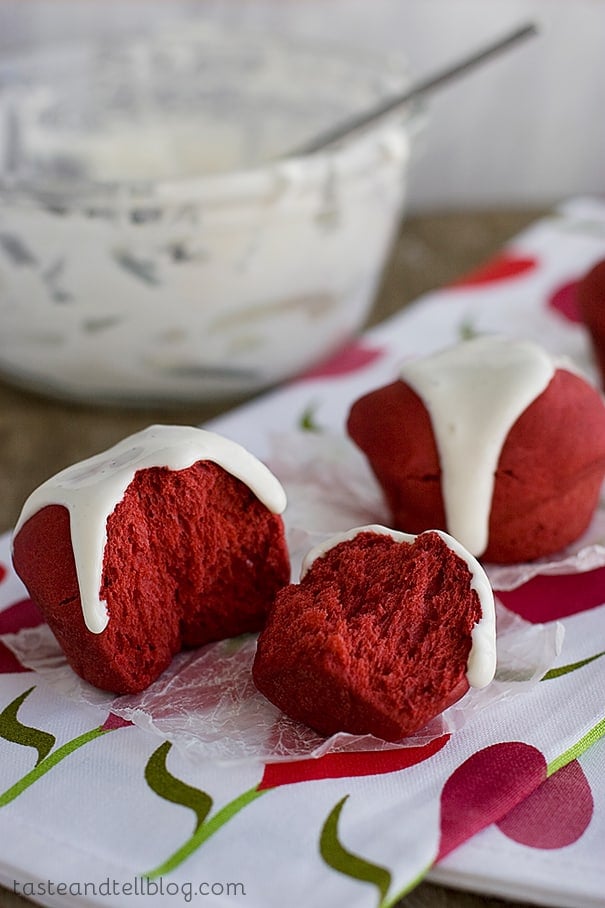 Red Velvet Rolls with Cream Cheese Icing
Around the Web:
Malt Ball and Chocolate Chunk Red Velvet Cookies from Picky Palate
Red Velvet Brownies with Fluffy Cream Cheese Frosting from Cooking Classy
Red Velvet Cake Milkshake from Add a Pinch