Chocolate Bread Pudding – a recipe for bread pudding made with chocolate and cherries. Tender and perfect!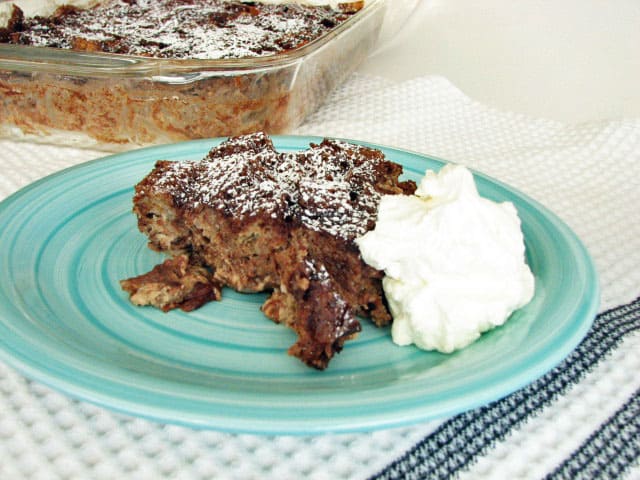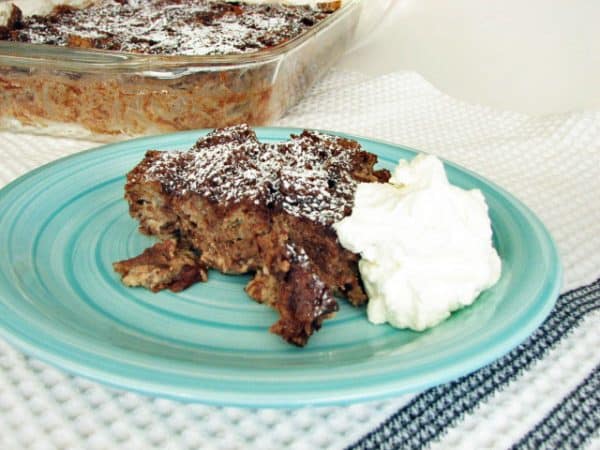 There has been all of this Dorie love going around, and it has really made me want to get out my Dorie cookbook and try a few new recipes. So when I had a loaf of French bread left from last month's Daring Baker challenge, I knew that I wanted to try a bread pudding, and straight to Baking I went.
I love bread pudding, but I have never actually made it before. I don't know why, because it is so easy!! I looked through the bread pudding recipes in my book and settled on the Four-Star Chocolate Bread Pudding. I was only going to make a half recipe, because that is way too much dessert for two people, but when my husband heard I was making bread pudding, he insisted that I make the full recipe.
It worked out almost perfectly because the recipe calls for 12 ounces of bread, and the loaf I had was just barely under that. The only thing I had to change a little bit was I only bought a 4 ounce bar of bittersweet chocolate (thinking I needed 3 ounces to half the recipe) so I had to substitute in 2 ounces of semi-sweet that I already had at home. It gives the choice of raisins or dried cherries, and we chose the cherries.
Dorie suggests serving this at room temperature or cold, and I would suggest that, too. We ate it at room temperature the first day, but I think I preferred it even more after it had been refrigerated.
This was a delicious dessert! I made some fresh whipped cream to serve on the side, which was a wonderful companion. If I was thinking ahead, I would have made some Creme Anglaise, but the whipped cream worked well. I would definitely make it again!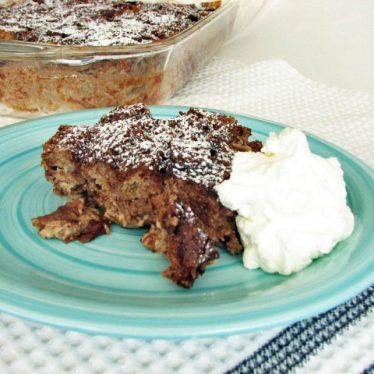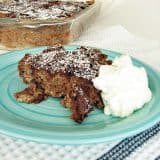 Chocolate Bread Pudding
---
Author:
Category: Dessert
Method: Baked
Description
Chocolate Bread Pudding – a recipe for bread pudding made with chocolate and cherries. Tender and perfect!
---
Scale
Ingredients
12 ounces bread (brioche, challah or white) preferably stale
1/2 cup moist, plump raisins (dark or golden) or dried cherries (optional)
3 cups whole milk
1 cup heavy cream
3 large eggs
4 large egg yolks
1/2 cup sugar
4 ounces bittersweet chocolate, finely chopped
2 ounces semi-sweet chocolate, finely chopped
---
Instructions
Have a 9×13 inch baking pan at hand, as well as a roasting pan big enough to hold the baking pan and hot water. Line the roasting pan with a double thickness of paper towels.
Cut the bread into 1-inch cubes. If the bread is stale, put it and the raisins or cherries, if you are using them, into the baking pan. If it is not stale, spread it out on a baking sheet lined with parchment or a silicone mat and bake in a 350F oven for 10 minutes, then toss in the pan.
Bring the milk and cream just to a boil.
Fill a tea kettle with water and put it on to boil; when the water boils, turn off the heat. Meanwhile, whisk the eggs, yolks and sugar together in a bowl. Still whisking, slowly drizzle in about one quarter of the hot milk mixture-this will temper, or warm, the eggs so they don't curdle. Whisking all the while, slowly pour in the rest of the hot milk. Add the chocolate and whisk it in gently until it is melted and the custard is smooth. Rap the bowl against the counter to pop any bubbles that might have formed, then pour the custard over the bread and press the bread gently with the back of a spoon to help cover it with liquid. Leave the pan on the counter, giving the bread the back-of-the-spoon treatment now and then, for 30 minutes.
Center a rack in the oven and preheat the oven to 350F.
Slide the pan setup into the oven and very carefully pour enough hot water into the roasting pan to come halfway up the sides of the pudding pan. Bake for 35 to 45 minutes, or until the pudding is uniformly puffed, the top is dull and dry and a thin knife inserted deep into the center comes out clean. Transfer the baking pan to a rack and cool to room temperature.