Taste the flavors of the season in this quiche recipe that is filled with roasted butternut squash, kale and gruyere cheese.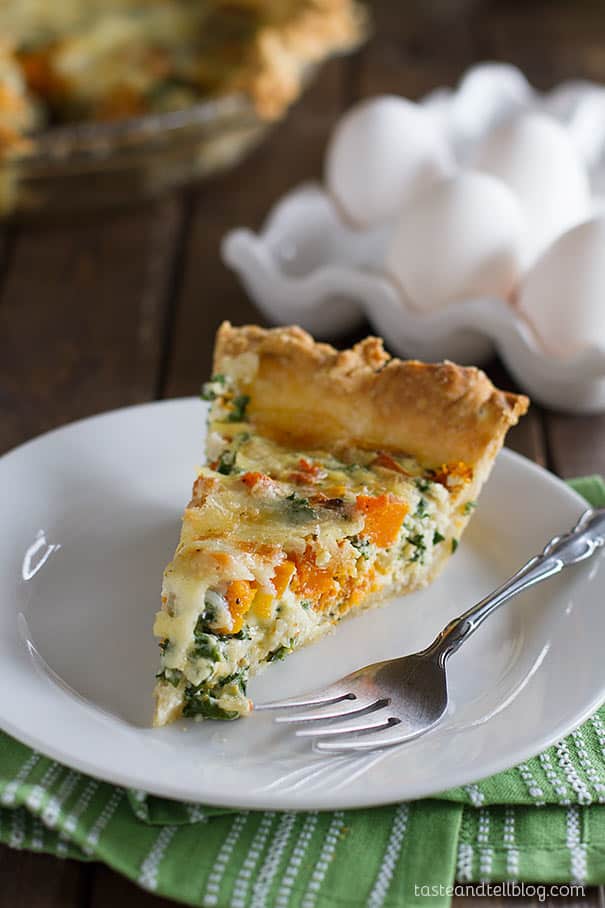 Food blogging has opened my eyes to many things, which I will be forever grateful for. One of those things is eating seasonally.
Now, I grew up mostly eating what was in season. My dad had a huge garden that we would have to help weed all summer long, and when the vegetables started ripening, we would feast. One of my favorite meals of the year to this day is our annual garden dinner every late summer – my mom's chile rellenos, mashed squash from the garden, sliced garden ripe tomatoes, cucumber slices that have been lightly salted, and of course, corn on the cob. My mom canned a lot so that we would have that garden bounty with us all winter long.

But sometime after I left home, I kind of forgot that things actually grew in different seasons. I think it's easy to forget these days, when you can buy most fruits and vegetables year round.
Then I started reading food blogs. And then I started my own. All of a sudden, I was wanting to be more aware of where my food came from, and what was actually in season. Aware of what local farmers were growing, and of what I could actually grow in my own backyard.
I'm hoping to one day have a big garden of my own again, but until then, I love that I can still buy what is in season. The whole farm to table movement is definitely one that I can get behind!!
One of my favorite ingredients that is in season right now is butternut squash. If you've been following me for awhile, you'll know that I'm kinda obsessed with it. I buy them practically weekly all fall and winter long, and seriously can't get enough. Also in season right now is kale. The flavor of kale is a bit stronger and woodier than some other greens, but I loved it in this quiche recipe because it holds up so well. I think that even if you aren't totally sold on kale, you just might fall in love with it in this quiche recipe!
I use my favorite pie crust, and then fill it with a mixture of roasted butternut squash, kale, cheese and eggs. I love that this is an egg dish that can be served for any meal – not just breakfast or brunch. In fact, we ate this for dinner! Since the ingredients are in season, and eggs are always inexpensive, this makes a meal that is easy on the pocketbook as well.
I'll be holding onto this recipe as we head into the holiday season. This is a perfect dish for holiday entertaining!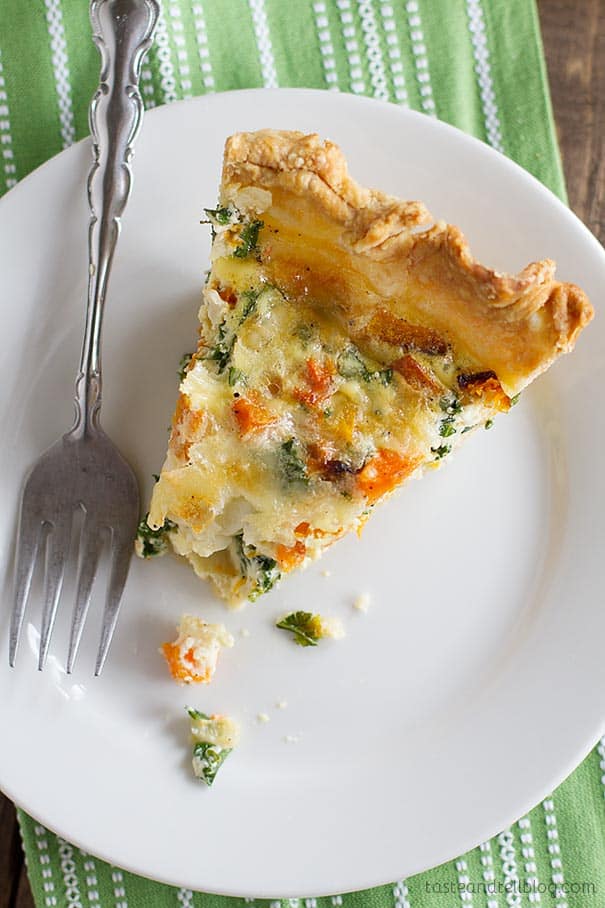 Like what you see here? Make sure you are following Taste and Tell for more great recipes and ideas!!

Facebook ** Pinterest ** Twitter ** Instagram ** Google+
or you can subscribe to my newsletter or Feedly or Bloglovin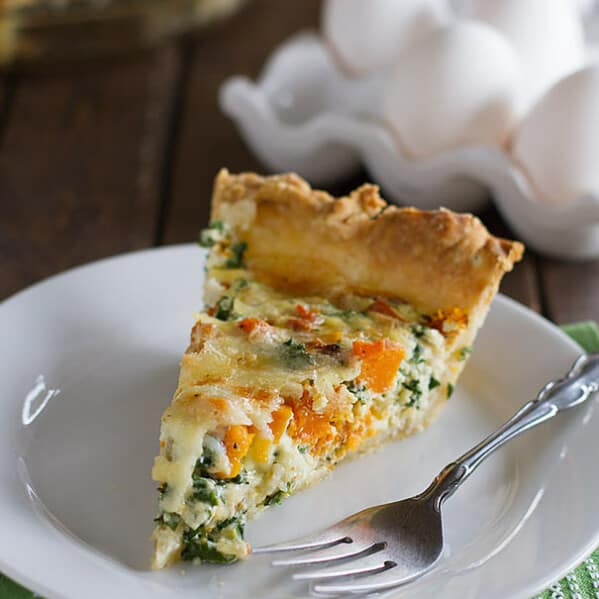 Quiche Recipe with Butternut Squash and Kale
---
Prep Time: 20 mins
Cook Time: 1 hour
Total Time: 1 hour 20 mins
Yield: 4-6 servings as a main dish 1x
Description
Taste the flavors of the season in this quiche recipe that is filled with roasted butternut squash, kale and gruyere cheese.
---
Scale
Ingredients
1 lb butternut squash, cut into 1/2" cubes
2 tablespoons extra virgin olive oil, divided
1 single pie crust
1 cup diced onion
2 oz shredded kale
4 eggs
1 cup half and half
4 oz gruyere cheese, shredded
---
Instructions
Preheat the oven to 425ºF. Combine the butternut squash with 1 tablespoon of the oil and season with salt and pepper. Roast in the oven for 20-25 minutes, stirring once or twice, until soft and browned on the edges. Remove from the oven and reserve.
Lower the oven temperature to 375ºF. Roll out the pie crust and line a 9-inch pie dish with the crust and crimp the edges. Poke the bottom and the sides generously with a fork. Spray a piece of foil or parchment paper with nonstick cooking spray and place over the pie. Add pie weights and bake the crust for 10 minutes. Remove the crust from the oven and remove the weights and the paper.
Heat the remaining 1 tablespoon of oil in a large skillet and add the onion. Cook until the onion has softened, about 5 minutes. Add the kale and cook, stirring, until the kale has started to wilt a little bit, another 3-4 minutes. Remove from the heat and stir in the roasted butternut squash.
In a bowl, whisk together the eggs and the half and half. Season to taste with salt and pepper, then stir in the gruyere.
Spread the butternut squash/kale mixture in the bottom of the par-baked crust. Pour the egg mixture over the top, spreading out the cheese if it tries to all stick together in one spot.
Bake the quiche until the top is light golden brown and a tester inserted in the center comes out clean, about 35 minutes. Cover the crust with a pie shield or foil if the edges start to get too brown.
I am in a working relationship with the American Egg Board, and this post has been sponsored. I'm so glad to be able to work with companies and organizations that I truly believe in. Thank you for supporting them, too.