Pistachio Lemon Pound Cake – this pound cake is lemon scented and full of chopped pistachios.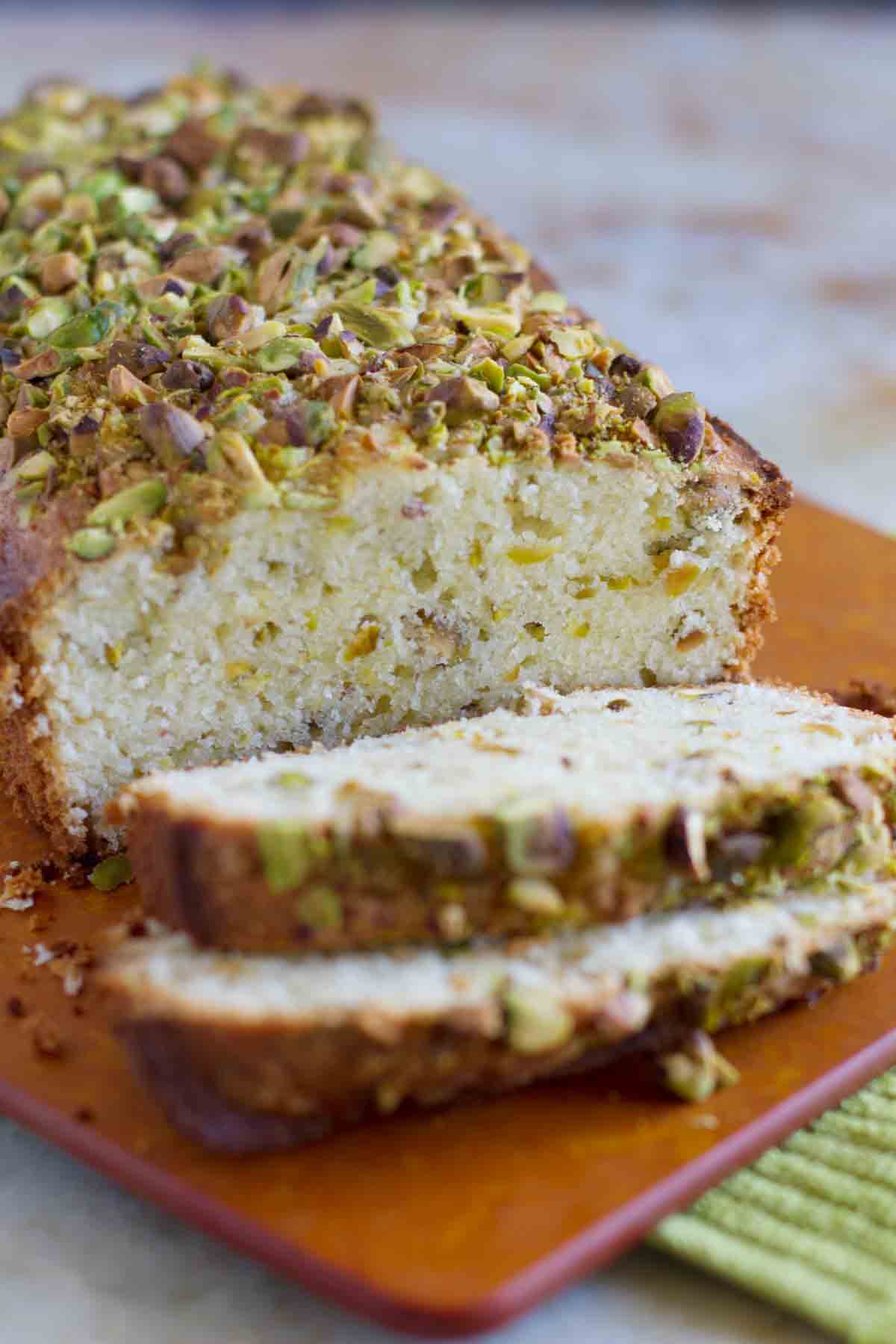 So – The Amazing Race. Who watches??
It has always been one of my favorite reality shows. But man – sometimes I think that it's not good for my health.
I will usually watch it at night, and I get so caught up in it that it takes me time to cool down before I can even go to bed. You know how I talked about not being a competitive person?? Maybe this is why!! That show seriously stresses me out!
And can I just say that my husband and I would be horrible on this show. You should have seen us driving in New Jersey before we headed home from NYC. Yikes. Even with GPS. (Granted – those roads in New Jersey make no sense whatsoever. At least we weren't yelling and screaming at each other!!)

When I get worked up, one thing that will always calm me down is baking. That's my kind of therapy! Especially when it comes in the form of a pound cake. That has lemon. And TONS of pistachios.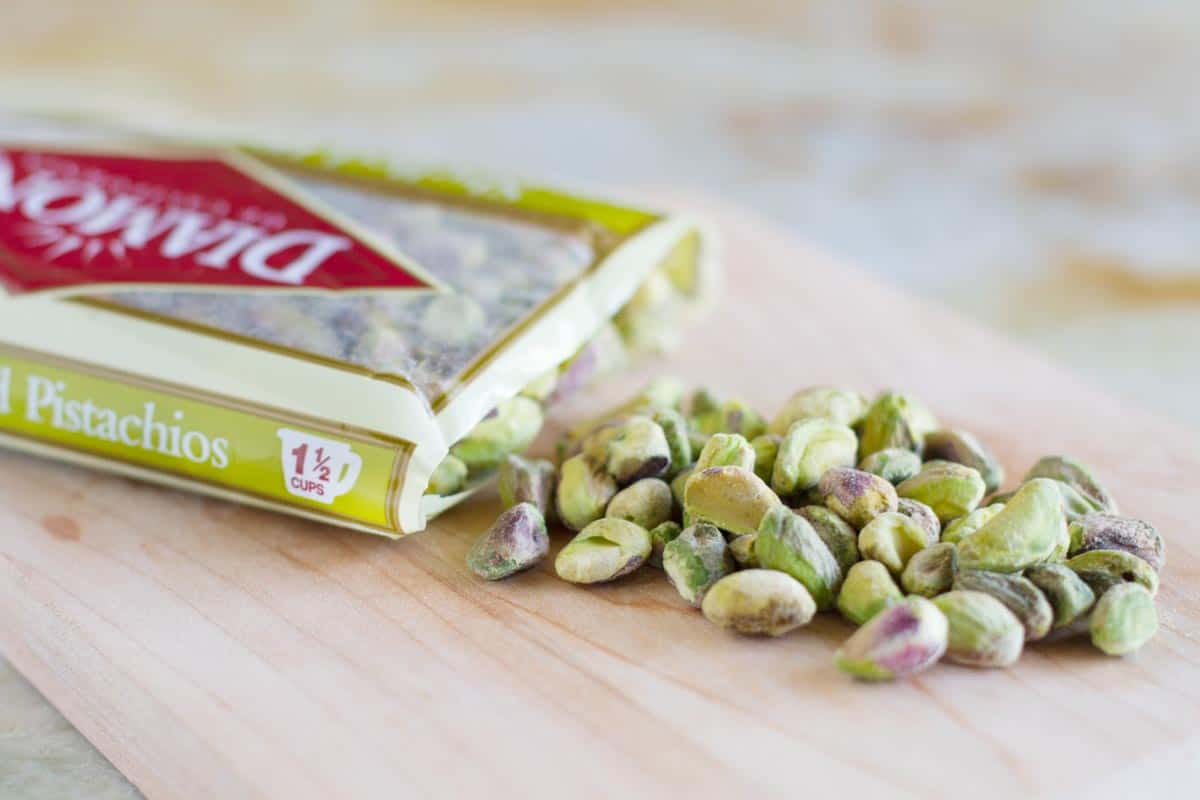 Before we get to the cake, though, let's talk pistachios. I remember years ago, seeing a recipe that had pistachios in it and wanting to make it. I searched high and low for pistachios, and all I could come up with were the pistachios – in their shells. I painstakingly shelled each of those pistachios for that recipe. And then vowed to never do it again.
Thank goodness I don't have to do that again!! Diamond Nuts is the first company to market raw, shelled, unsalted pistachios. My life was just made a whole lot easier!! And because they carry the Diamond name, you know they are going to be quality!!
This cake is everything you'd expect from a pound cake, plus more. I had actually just planned to do just a pistachio pound cake, but at the last minute, I decided to throw some lemon in there. Best decision. I only added a little bit of lemon juice and zest, but the flavor definitely comes through. And I have decided that lemons and pistachios are a match made in heaven.
This cake was great the day I made it, but after sitting overnight, it was even better. Even a few days later, it was so good. (Although I could have easily finished it off in a day or two myself!!)
I'm pretty sure this pound cake will be a favorite for years to come!
More Pistachio Favs:
Pistachio Cake
Pistachio Cookies
Coconut and Pistachio Pudding Cake
Creamy Cranberry Pistachio Fudge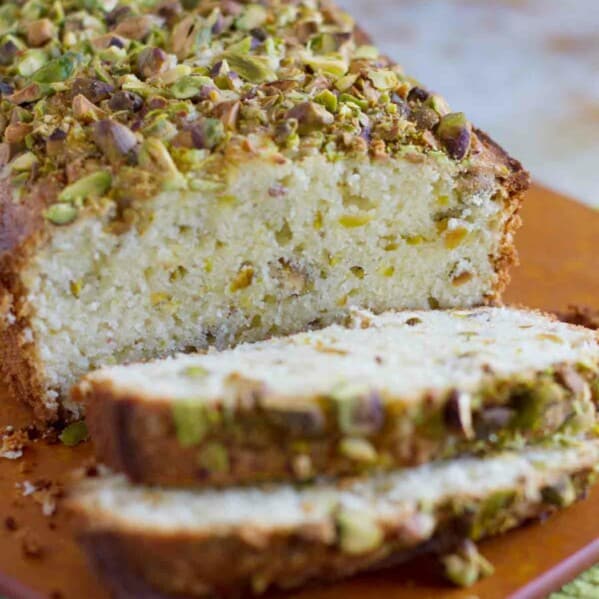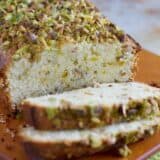 Pistachio Lemon Pound Cake
---
Author:
Prep Time: 20 minutes
Cook Time: 1 hour 30 minutes
Total Time: 2 hours 30 minutes
Yield: One 9x5-inch cake 1x
Category: Dessert
Method: Baked
Cuisine: American
Description
This pound cake is lemon scented and full of chopped pistachios.
---
Scale
Ingredients
1 cup butter, softened
1 1/2 cups sugar
3 eggs, at room temperature
1 teaspoon vanilla extract
2 tablespoons lemon juice
2 teaspoons lemon zest
1 1/2 cups flour
1/4 teaspoon salt
1/8 teaspoon baking powder
1/8 teaspoon baking soda
1/2 cup sour cream
1 1/2 cup Diamond pistachios, coarsely chopped
---
Instructions
Preheat the oven to 325F. Spray a 9×5-inch loaf pan with nonstick cooking spray, then line with parchment paper. Spray the paper lightly with cooking spray.
In a large bowl or the bowl of a stand mixer, beat the butter and sugar together until very light and fluffy, about 5 minutes. Add in the eggs, one at a time, beating for a full minute between additions. Beat in the vanilla, lemon juice and lemon zest. The mixture may appear curdled, but it will come together.
In another bowl, mix together the flour, salt, baking powder and baking soda. Add in 1/3 of the flour mixture to the creamed mixture. Mix just until combined. Add half the sour cream and mix just until combined. Add another 1/3 of the flour, then the remaining sour cream, mixing lightly between additions. Fold in the remaining flour by hand. Fold 1 cup of the pistachios into the batter, then pour into the prepared loaf pan. Sprinkle the remaining 1/2 cup of pistachios on top of the loaf.
Bake until a tester inserted comes out clean, 1 hour 15 minutes to 1 hour 30 minutes. Check the loaf after about 45 minutes and cover with foil if the top is getting too brown.
Let the loaf cool for 15 minutes, then carefully pull the cake out of the loaf pan. Allow to cool completely on a wire rack.
This cake is good the first day, but is even better the second day after being stored in an airtight container.
I am in a working relationship with Diamond Nuts, and this post has been sponsored. I'm so glad to be able to work with companies and organizations that I truly believe in. Thank you for supporting them, too.