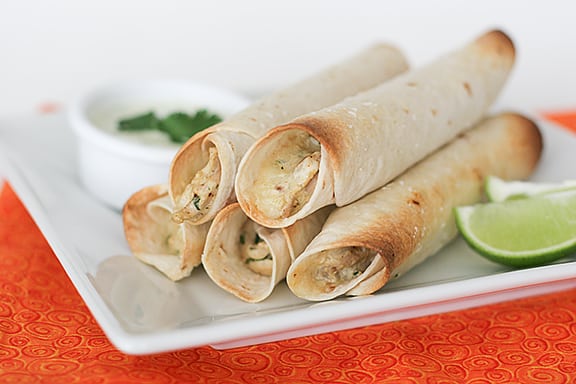 In high school, I worked at a movie theater.  It was such a fun job – the people were great, the popcorn was free, and I got to see all the movies I wanted for free.  I saw a lot of movies back then!!  But I was always amazed.  Usually, when there would be all kinds of hype and advertising for a movie, the movie ended up being a disappointment.  Maybe it was just me, but usually hype spells out disaster for me.  It seems like I would always like the little known, rarely advertised movies.  So even today, I tend to shy away from things that are surrounded by a lot of hype.
If you haven't seen this recipe floating around the internet, you must live under a rock.  Now, I don't know, but I'd have to wager that this is one of Kate and Sara's most popular recipes.  I've even seen non-food blogs posting about these babies and raving about them!  So I had to see what the fuss was all about.  I'll admit – I was a little worried that they wouldn't live up to the hype.  I was afraid they were going to be like one of those movies that I dreaded in high school – all talk and no substance.  But luckily, they were everything I was hoping for – and more!!
I've been doing this Cookbook of the Month series since October of 2007.  One recipe a week – almost every week – that's a lot of recipes from these cookbooks.  But to date, I've only given 1 recipe a perfect rating.  Until this one.  That's how much I liked loved these taquitos.  A perfect score!!  Do yourself a favor and make these – if you haven't already.  There's  a reason so many people have made them and raved about them!!
Recipe Rating:  10 out of 10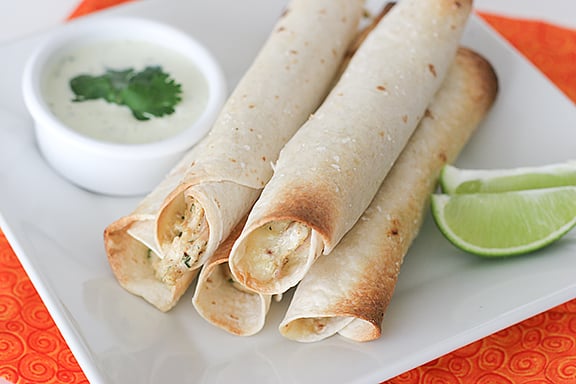 Baked Creamy Chicken Taquitos
from Our Best Bites Cookbook
makes 14-16 corn tortillas or 10-12 flour tortillas
total time: about 45 minutes
1/3 C (3 oz) cream cheese
1/4 C green salsa
1T fresh lime juice
1/2 t cumin
1 t chili powder
1/2 t onion powder
1/4 t granulated garlic, or garlic powder
3 T chopped cilantro
2 T sliced green onions
2 C shredded cooked chicken
1 cup shredded pepper jack cheese
6-inch corn or flour tortillas
2 tablespoons vegetable oil, optional
nonstick cooking spray
kosher salt
Creamy Cilantro-Lime Ranch Dressing (recipe follows)
Heat oven to 425F. Line a baking sheet with aluminum foil and spray it lightly with cooking spray.
Heat cream cheese in the microwave for 20-30 seconds so it's soft and easy to stir. Add green salsa, lime juice, cumin, chili powder, onion powder and granulated garlic. Stir to combine and then add cilantro, green onions, chicken and pepper jack cheese.
Wrap 3-4 tortillas at a time in damp paper towels and microwave for 20-30 seconds so they are soft and pliable. If you find your tortillas are cracking when rolled, use damper paper towels and increase the microwave time.
Place 2-3 tablespoons of the chicken mixture on the lower third of each tortilla, keeping it about 1/2 inch from the edges, and then roll up.
Place seam-side down on the baking sheet in a single layer. Spray the tops lightly with cooking spray or brush with vegetable oil. Sprinkle with a pinch of kosher salt on top. Place the pan in the oven and bake for 15-20 minutes or until crisp and the ends start to get golden brown. Cool for 5-10 minutes and then serve with Creamy Cilantro-Lime Ranch Dressing.
Creamy Cilantro-Lime Ranch Dressing
from Our Best Bites Cookbook
makes 2 cups
1 cup mayonnaise
1/2 cup milk or buttermilk
1 lime, juiced (about 2 tablespoons lime juice)
1 package dry Ranch dressing mix
2 cloves garlic, roughly chopped
1/2 cup roughly chopped cilantro
1/4 cup green salsa
hot sauce, to taste
Combine mayonnaise, milk, lime juice and the contents of the ranch dressing in a blender or food processor. Add garlic, cilantro, and green salsa and blend to thoroughly mix all the ingredients. Season with hot sauce, if desired. If possible, refrigerate for several hours to allow the dressing to thicken and the flavors to meld.