Bring some brightness and sunshine to your plate with this sweet fruit side dish that makes you think you are in the tropics.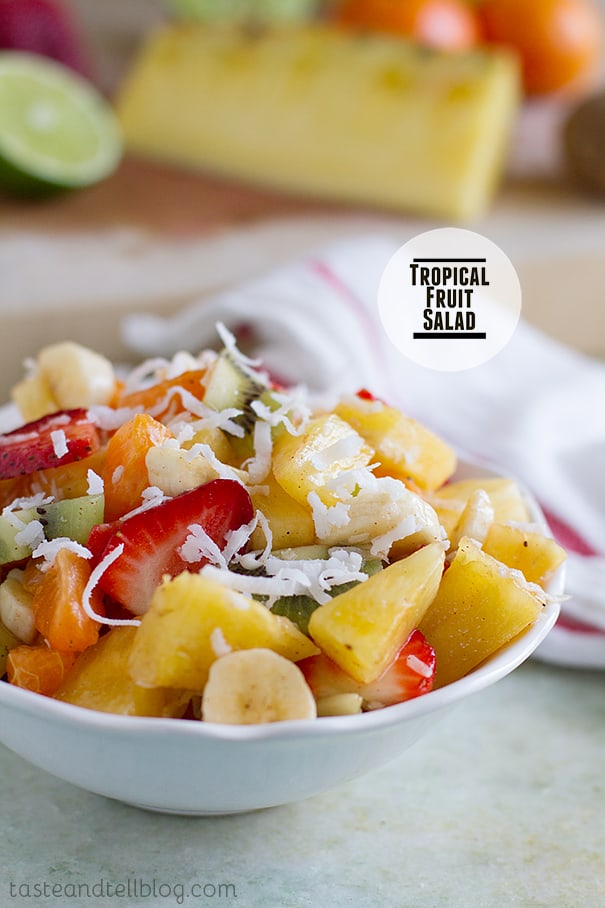 Things you don't think about before you have children:
That the grocery store you shop at isn't determined by prices, or product, or distance. You choose the grocery store you go to based on the kind of grocery carts they have.
Let me explain.
Grocery Store #1: I love the store, the checkers are friendly, the produce is fresh. The prices aren't the lowest, but aren't the highest, either. But they have these little child-sized grocery carts. I know you are thinking that this is what should make me love this grocery store. But you try getting your shopping done with a 3 year old and a 5 year old trailing behind, pushing their own carts, most of the time running into your ankles and feet. Not to mention trying to keep them out of the way of the other shoppers. And because they have their own carts, they think they can put whatever they want into the cart, which means I'm constantly returning items to the shelves. Not to mention that I'm having to push a regular cart to put the youngest in. Yeah, those trips are not very fun.

Grocery Store #2: They have kid carts – yay!! Or not. Because their kid carts (you know – the big carts with room for the kids to ride) only have 2 spots, and I have 3 kids. And Camden is still to little to ride in these seats, and there is no way I can carry a 16 month old and push a cart. Doesn't work. Too bad, because I actually do love this store.
Grocery Store #3: This is almost my favorite, because they have those carts that have the car on the front that the 2 older kids can get in and "drive". There is a spot for the youngest, so kids are all taken care of!! I don't love the store – I've been burned with bad meat and expired products, so I always have to keep an eye on everything, and the cart portion of the cart is super small (probably since all the room is taken up by the car). The prices are definitely not the cheapest, either, although they do have things on sale for great deals.
Grocery Store #4: My least favorite store. The prices are low, but the service is terrible, usually even the shoppers aren't very friendly. But they have a kid cart that fits both older kids plus Camden. And, the cart is big enough for all of he groceries.
Guess which store we go to most often? Yep – the store I like the least, because it is the easiest with the kids. I will totally admit that often, I will wait until the kids go to bed so I can go to the grocery store by myself (and choose whatever store I want!!) And sometimes, I'll wait until my husband is home from work and let him watch the kids, or at least one or two of them. But most of the time, I'm at the mercy of the grocery cart…
But all of the grocery shopping pains are worth it when I get to put a good meal on the table for my family at the end of the day. Lately, this fruit salad has been making it onto the table at dinnertime – I just can't seem to get enough of it!! Lots and lots of fresh fruit, with a kick of honey, lime, cinnamon and coconut. I'm totally bringing a bit of the tropics to your dining room table!
I usually will use all fresh fruit in this salad. But I have used canned mandarin oranges before and those work well as well. And the beauty of this recipe is that you can really use any fruit that you want or that you have on hand. I really wanted to throw a mango in the last time I made it, but darn grocery store #4 didn't have any. 🙂
Next time you need to add a bit of sunshine to your table, this is the way to do it!
Like what you see here? Make sure you are following Taste and Tell for more great recipes and ideas!!

Facebook ** Pinterest ** Twitter ** Instagram ** Google+
or you can subscribe to my newsletter or Feedly or Bloglovin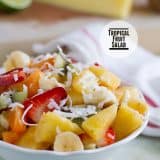 Tropical Fruit Salad
---
Prep Time: 15 minutes
Total Time: 15 minutes
Yield: 4-6 side dish servings 1x
Description
Bring some brightness and sunshine to your plate with this sweet fruit side dish that makes you think you are in the tropics.
---
Scale
Ingredients
2 cups chopped pineapple
1 cup sliced strawberries
1/2 cup mandarin oranges, clementines or tangerines, peeled, segmented and halved
2 kiwis, peeled and sliced
1 banana, sliced
1 tablespoon honey
1 tablespoon lime juice
1/4 teaspoon cinnamon
1/4 cup shredded sweetened coconut
---
Instructions
In a large bowl, combine all of the fruit. (You can also substitute about 4 1/2 cups of your favorite chopped fruits.)
In a small bowl, whisk together the honey and lime juice. Stir in the cinnamon. Pour the dressing over the fruit and mix to combine. Fold in the coconut.
More Sweet Side Dishes:
Around the Web:
Pistachio Pudding Salad from Is This Really My Life?
Cheesecake Fruit Salad from Sweet Basil
Waldorf Fruit Salad from Cupcakes and Kale Chips