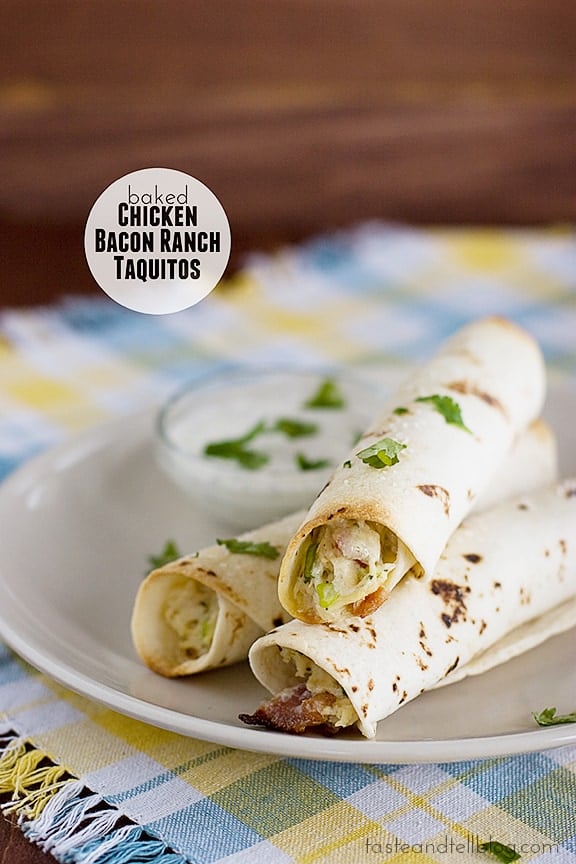 You all know that if there is one thing I try to achieve here, it's family friendly food. Which is one reason I was excited when I was asked to review a copy of the new cookbook by the gals at Six Sisters' Stuff (which is being released today!) The sisters are all about easy, family friendly food that isn't intimidating or over the top, and that is totally my kind of food.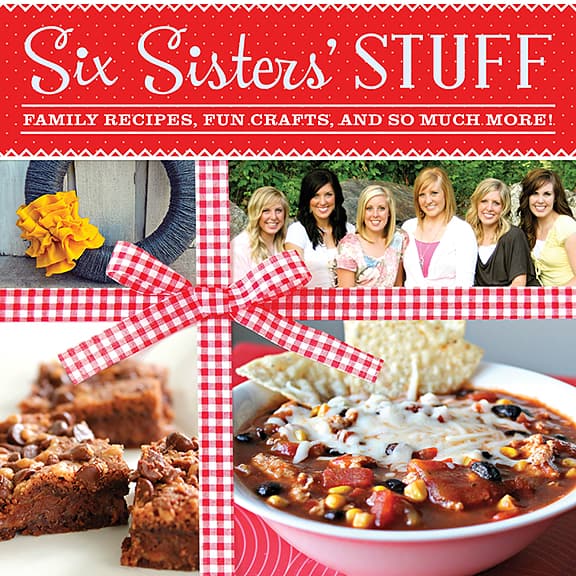 Before we get to the recipe, let's talk about the book:
Number of Photos: Lots
You won't be asking for more photos on this one – there is a photo of every recipe!!
Difficulty Level of Recipes: Easy
It doesn't get easier than this. Anyone from a novice cook to someone with lots of experience in the kitchen will love cooking from this book.
Availability of Ingredients: Easy
There isn't anything that you wouldn't be able to find at your local grocery store – it's all the basics!
From breakfast to lunch to dinner (and of course dessert!), you'll find a little bit of everything in this book. There is also a whole chapter on slow cooker recipes, which is a bonus. And it's not just recipes! Crafts are sprinkled throughout the book, as well as lists like "50 Fun Date Ideas" and "101 Fun, Easy, and Cheap Indoor Activities for Kids." So really, there is a little bit of everything for everybody in this book!!
I had quite a few recipes bookmarked to try, but the minute I saw these Baked Chicken Bacon Ranch Taquitos, I knew I wanted to try them. Ever since trying my first Baked Taquito last year, I have gone crazy making every version and variety. And since I love ranch so much (hello Cheesy Ranch Potato Bake, BLT Ranch Chicken Wraps, Ranch Ham and Cheese Pasta – just to name a few), I knew I'd love these.
And I was right.
They were perfect in every way. And I love that this recipe makes a ton. I cooked what we were going to eat for dinner and froze the rest. They have already come in handy for easy lunches for my husband to take to work, or easy dinner if the day has been so crazy that I haven't been able to make dinner. They are a winner!!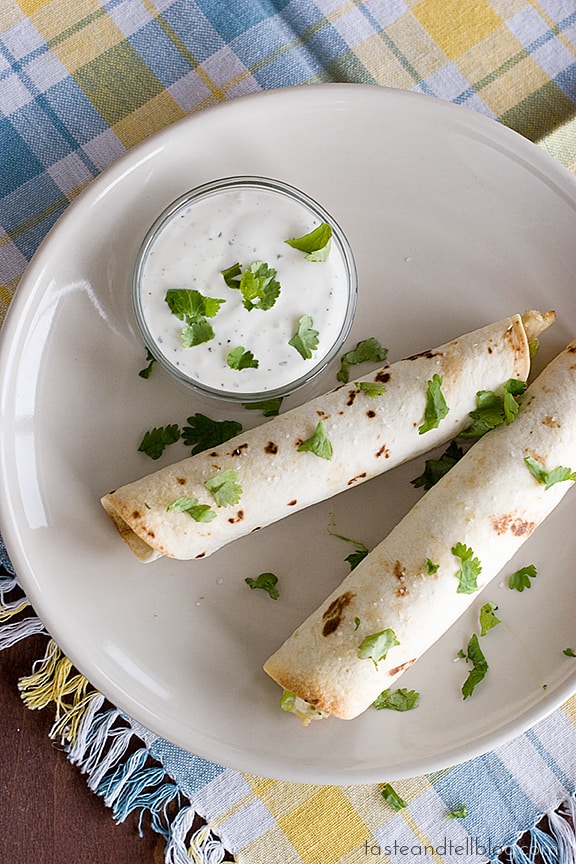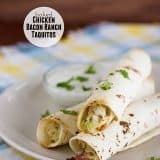 Baked Chicken Bacon Ranch Taquitos
---
Prep Time: 30 minutes
Cook Time: 15 minutes
Total Time: 45 minutes
Yield: 20 taquitos 1x
Description
Chicken, bacon and ranch flavors come together in this baked taquito. They also freeze well for easy lunches or dinners!
---
Scale
Ingredients
1 (8 oz) package cream cheese, softened
4 cups cooked, shredded chicken
12 slices bacon, cooked and crumbled
2 cups shredded Monterey Jack cheese
3 to 4 tablespoons chopped green onion
1 (1 oz) package dry ranch dressing mix
20 (6-inch) flour tortillas
salt
---
Instructions
Preheat oven to 425 degrees. Cover a large baking sheet with aluminum foil and spray lightly with cooking spray.
Mix together cream cheese, chicken, bacon, cheese, and green onions. Add in about 1/2 of the dry ranch dressing mix and taste. Add more for stronger ranch taste. Mix well. Spoon 2-3 tablespoons of the chicken mixture into a flour tortilla and roll it up. Place taquito seam-side down on the baking sheet. Repeat about 20 times. Once finished, spray the tops of the taquitos with non-stick cooking spray (or you could lightly brush some olive oil on them) and sprinkle with salt (I like to use sea salt).
Place pan in oven and bake for 10-15 minutes or until edges and tops are golden. Let cool for a couple of minutes. Serve with Ranch dressing or Blue Cheese Dressing for dipping.
———————
from Six Sisters' Stuff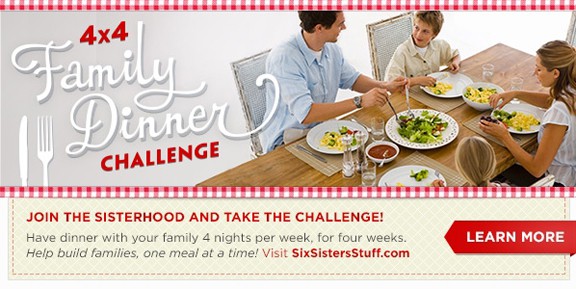 Not only is today the release date for the Six Sisters' Stuff cookbook, but today they are launching their 4×4 Dinner Challenge. I am a huge believer in family dinner. And I know it's not easy. My husband works until 7pm every night, which means he doesn't get home until 7:30. So that means it's just me and the kids. Me and a 4 year old, almost 2 year old, and 3 month old. Believe me – I know it's not easy!! But even though it may be a struggle to get the kids to sit at the table every night with me, we still try every night because I believe it's that important. And I know it's going to become even more important as they get older.
So I love that the sisters are encouraging us to have family dinnertime. During the month of March, they are encouraging us to have family dinner 4 times a week for 4 weeks. I think it's such a great thing!!