Practically dump and cook, these Slow Cooker Sweet Chili Chicken Drumsticks are full of Asian flavor and the slow cooker makes them easy as can be.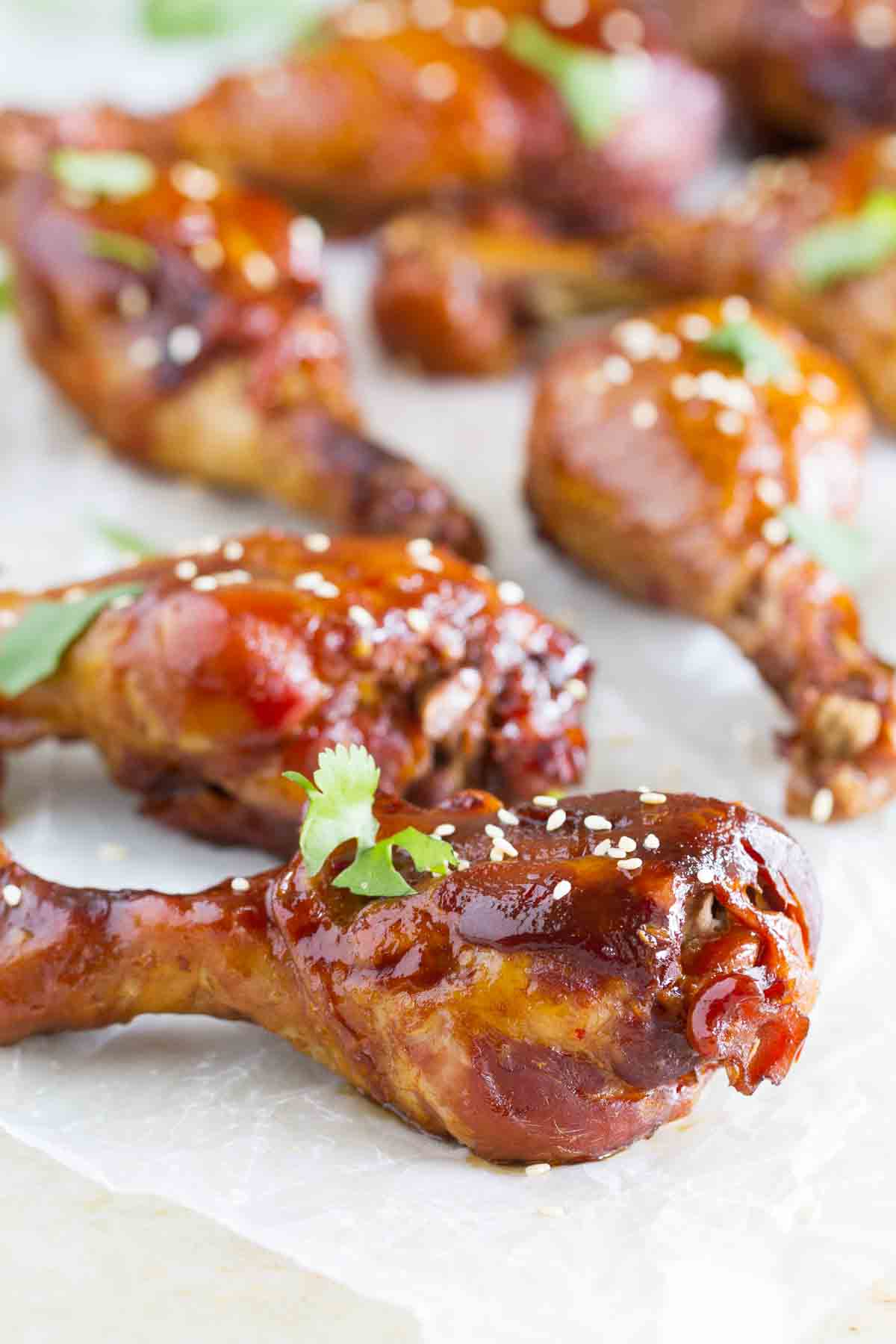 Back in my younger years, I used to always dream of living in New York City. It's funny, because I don't like crowded places at all, but there is something just magical about New York. This was all pre-kids, of course, but I dreamt about having a little apartment, somewhere in the middle of all the action. Where I could hear the sounds and smell the smells. Where I'd have to go to the neighborhood grocer every day for ingredients for dinner that night because I just didn't have enough space in my little apartment for a week's worth of food. And even though I love to cook, I would definitely take advantage of all of the take out and delivery available in the city.
I love my life right now, and wouldn't change it at all, but ordering delivery in New York City versus in suburban Utah? 2 completely different stories. In fact, delivery is practically non-existent where I live. You can get pizza (although nothing like New York pizza) and one Chinese restaurant that I have heard not one good thing about. It's definitely not New York City.
But who needs Chinese take out when you can make all of your Asian favorites at home? And not only can you make them all at home, but now it's even easier with this cookbook – The Asian Slow Cooker. Written by Kelly Kwok, the blogger behind Life Made Sweeter, this cookbook makes dinnertime easy and full of flavor. With 80 recipes, with favorites such as Sweet and Sour Chicken, Kung Pao Chicken and Szechuan Beef, you will never miss ordering out.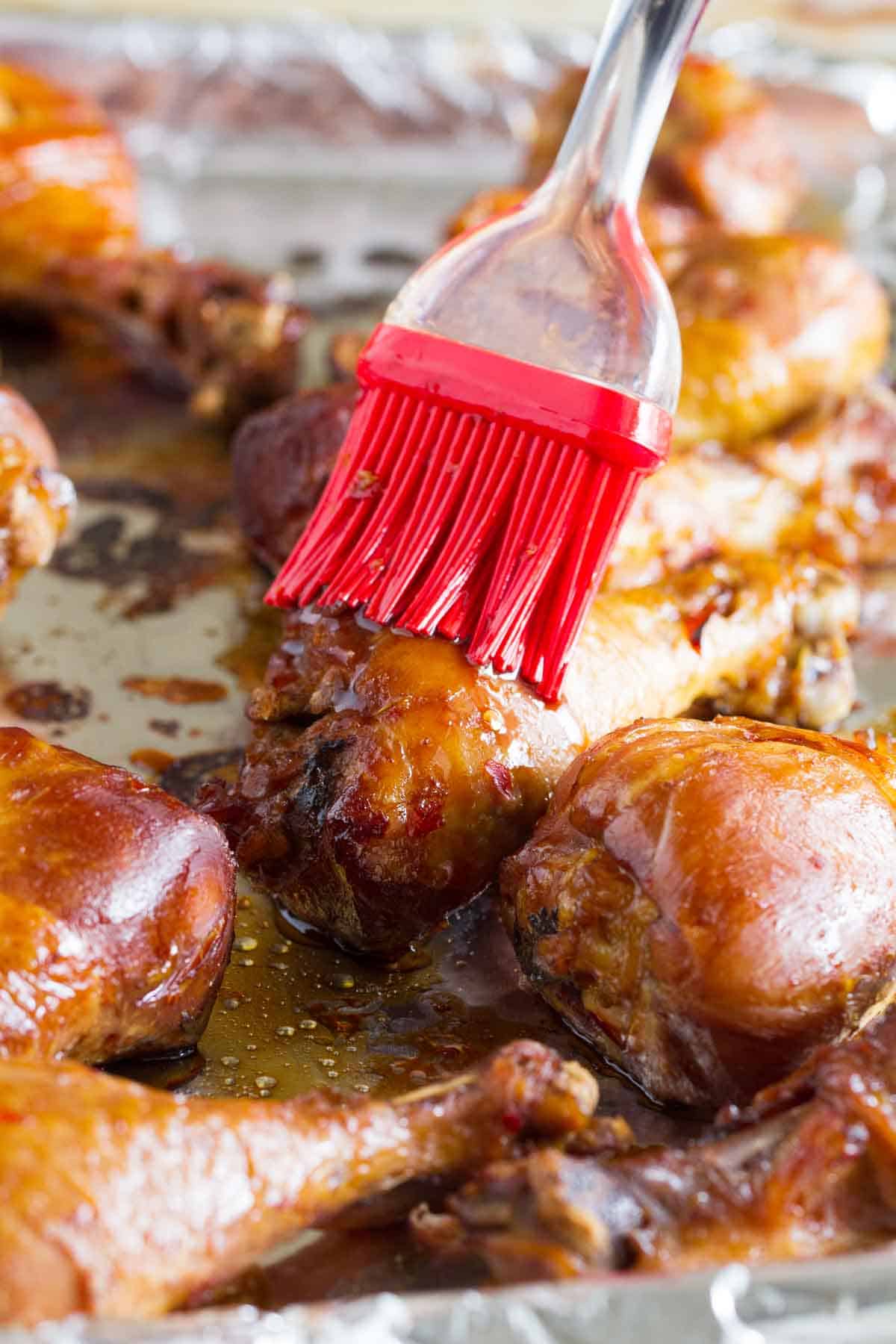 Here are the details:
Number of Photos: lots. Every recipe has a photo – yay!
Difficulty Level of Recipes: Easy to Medium. I love that this book has a lot of dishes that I'm familiar with, but there are also quite a few new to me dishes, as well. This keeps things interesting and forces me to learn a little outside of my comfort zone.
Availability of Ingredients: Easy to Medium. I think you should be able to find most ingredients at a regular grocery store, but you may need to go to an Asian market for others.
Other Recipes I Want to Try:
Chicken Lo Mein
Chili Orange Beef
Chicken Adobo with Coconut Lime Rice
Honey Garlic Chicken Sliders
Chili Hoisin Glazed Sticky Meatballs
Chicken Laksa Noodle Soup
Vietnamese Pho Beef Rice Noodle Soup
Mango Coconut Tapioca Pudding
Buy The Asian Slow Cooker on Amazon.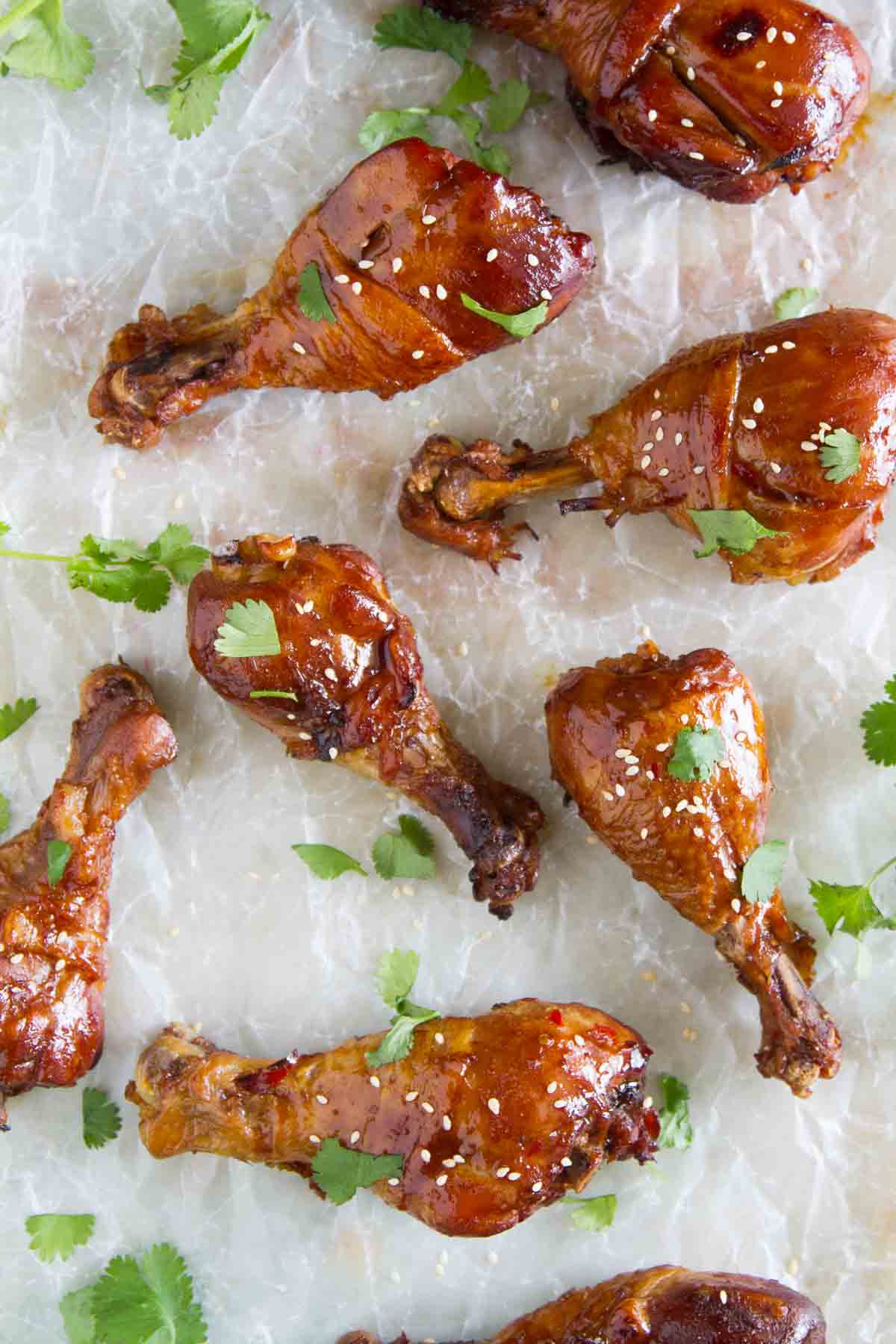 So…the minute I saw these Sweet Chili Chicken Drumsticks, I knew I needed to make them. A – because my family loves drumsticks. Really, every time I make them, they all go crazy. And B – while preparing for our move, and taking stock of what is in the pantry and food storage, I managed to find several bottles of sweet chili sauce. Talk about the perfect way to use some of that up.
Recipes don't really get much easier than these Slow Cooker Sweet Chili Chicken Drumsticks. They are practically dump and cook. You do have to remember to marinate the drumsticks the night before, which I'm actually pretty terrible about. I keep thinking that whenever I have to start a recipe the night before, I need to set an alarm or something to remind me, because otherwise, I always forget.
But marinating these drumsticks overnight was easy and so worth it. These babies are packed with so much flavor, and they are so tender after spending some time in the slow cooker. I was even able to get one of my pickier eaters to not only eat this, but to beg for leftovers the next day for lunch. I think it's a winner!
Now I can't wait to dive into the rest of the book. There are so many great recipes to choose from!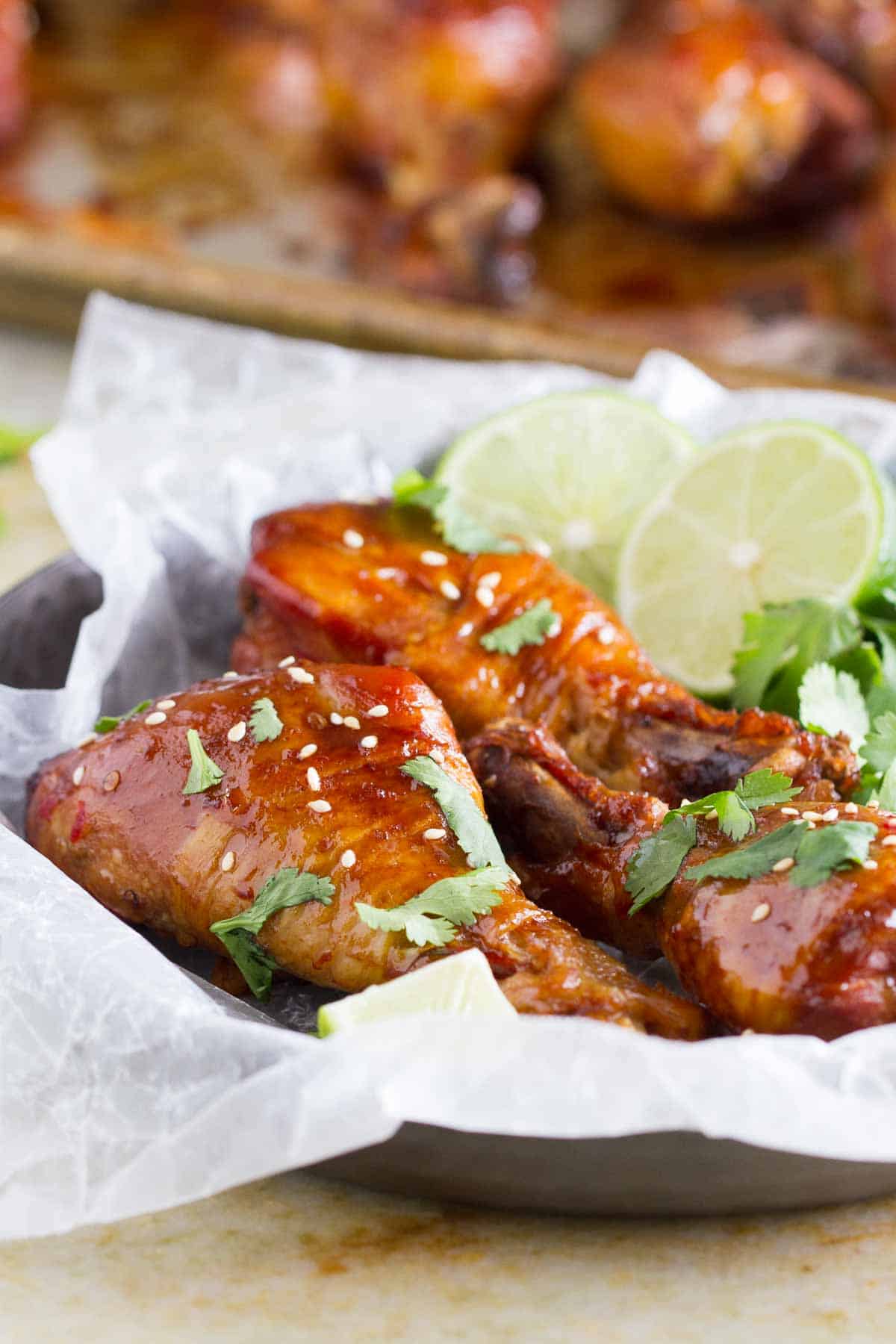 More Drumstick Recipes:
Crispy Baked Chicken Drumsticks
Honey Balsamic Drumsticks
Hoisin Glazed Chicken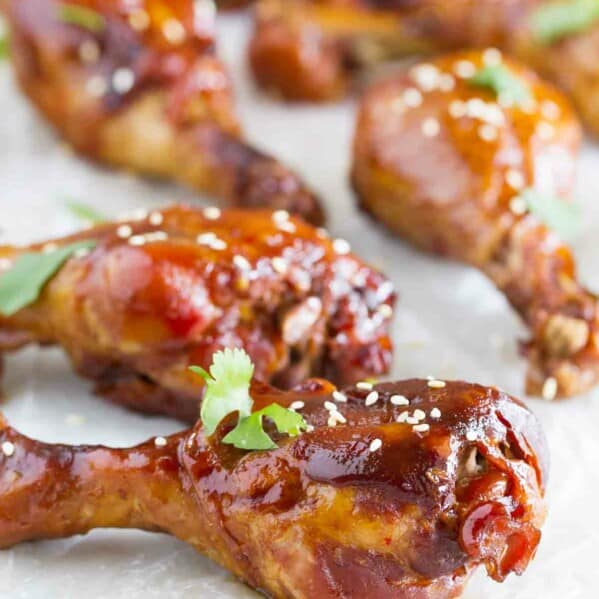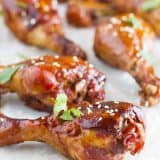 Slow Cooker Sweet Chili Chicken Drumsticks
---
Author:
Prep Time: 10 minutes
Marinating Time: 3 hours
Cook Time: 6 hours
Total Time: 9 hours 10 minutes
Yield: 4 servings 1x
Category: Main Course
Method: Slow Cooker
Cuisine: Asian
Description
Practically dump and cook, these Slow Cooker Sweet Chili Chicken Drumsticks are full of Asian flavor and the slow cooker makes them easy as can be.
---
Scale
Ingredients
2/3 cup low sodium soy sauce
2/3 cup Thai sweet chili sauce
2 teaspoons fish sauce
2" piece ginger root, (peeled and minced)
4–5 lbs chicken drumsticks
fresh chopped cilantro, (for garnish)
toasted sesame seeds, (for garnish)
---
Instructions
Combine the soy sauce, Thai sweet chili sauce, fish sauce and ginger root in a large resealable container. Add the drumsticks and toss to coat. Place in the fridge and allow the chicken to marinate for at least 3 hours, up to overnight.
When ready to cook the chicken, dump the chicken and the marinade into a 6-quart slow cooker. Cook on low for 5 to 6 hours, or on high for 3 hours.
Turn on the broiler. Cover a baking sheet with foil and carefully transfer the chicken to the baking sheet. Brush with some of the remaining marinade and broil on high for 3 minutes on each side, flipping once and brushing with more sauce.
Remove from the oven and garnish with cilantro and sesame seeds, if desired.
Keywords: sweet chili chicken drumsticks