Perfectly moist and bursting with bits of carrots, this is the perfect traditional Carrot Cake recipe. Topped with a smooth cream cheese buttercream, you'll want to make this classic over and over again.
Say yes to all the carrot cake! If you love this recipe, you'll also love my Carrot Cake Cheesecake, Carrot Cake Cupcakes, Carrot Sheet Cake with Toasted Coconut or Carrot Cake Pancakes.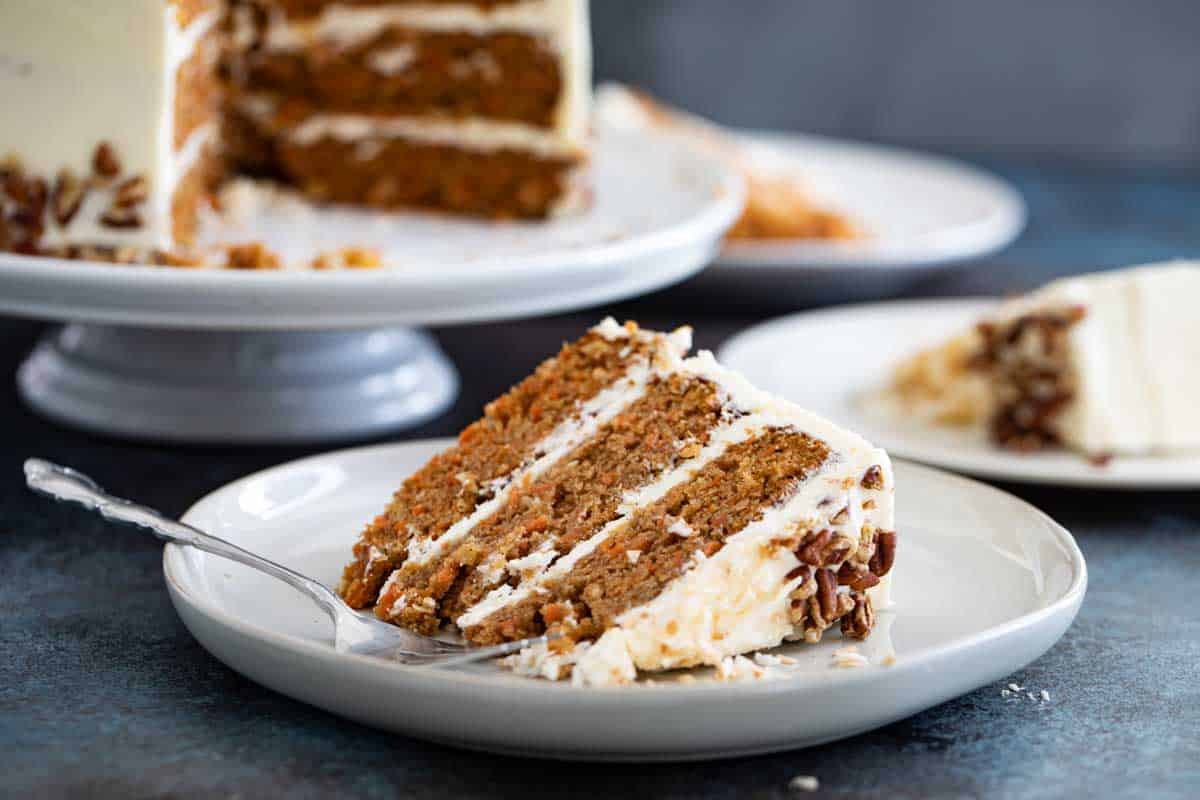 It's really surprising (and a shame!) that in all this time, and all the thousands of recipes here on Taste and Tell, I have never shared a classic carrot cake. You can tell that I love carrot cake, by the references of different carrot cake inspired recipes above, but I've never posted the classic.
And maybe that's because I was trying to get it just right. And it took a lot of testing. We ate a lot of cake. It was fun research, and I loved the satisfaction of finally making the one I could deem "the one". For me, that means a super moist cake, without being gummy or sticky. And I know some people love a light cake, but in my opinion, the perfect carrot cake is a fairly dense one. And it has to be topped with cream cheese frosting.
This cake hits all of those check marks. And while I will always say that carrot cake doesn't have a season, it would make the perfect Easter dessert!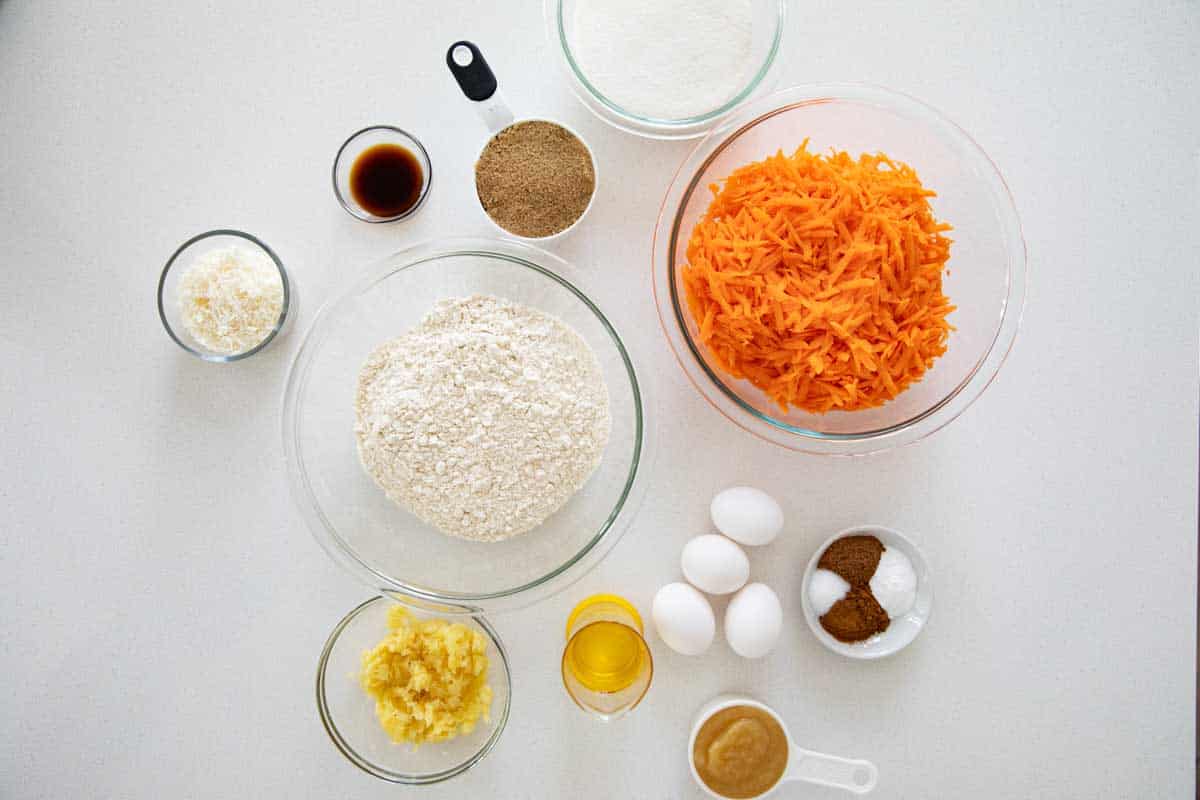 What You'll Need
For the cake, here is what you'll need:
Eggs – always large eggs.
Vegetable oil – feel free to use any neutral oil that you like. I prefer vegetable oil over canola, but use what you have and/or like!
Applesauce – I use unsweetened applesauce. This helps with the moistness, and also help to cut back on a few calories. If you don't have applesauce, you can just use an additional 1/2 cup of oil.
Sugar – you'll use both granulated sugar and brown sugar in this cake.
Pineapple – this is one of the ingredients I went back and forth on in the testing phase, but always liked the moistness that the pineapple brought. You can't really taste it, but it helps with texture.
Vanilla – a whole tablespoon!
Flour – cake flour is not ideal for a carrot cake – stick to all-purpose for this one.
Cinnamon and Pumpkin Pie Spice – this may seem like a lot of spices, but carrot cake is a spicy cake. If you want to tone it down, you can do half of each, or just do one or the other. But I definitely did not find the spices overpowering in the final cake.
Baking Soda and Salt – both necessary for structure and flavor.
Carrots – very important – use only freshly grated carrots. Do not use pre-grated carrots, as they will be too dry. And yes, this is a lot of carrots – more than most recipes. But it is a carrot cake, after all!
Coconut – I actually did an informal poll among family and friends as to whether or not add the coconut to the cake. It was split right down the middle! I prefer it with coconut, so I put it in. But you could very easily leave the coconut out of the cake.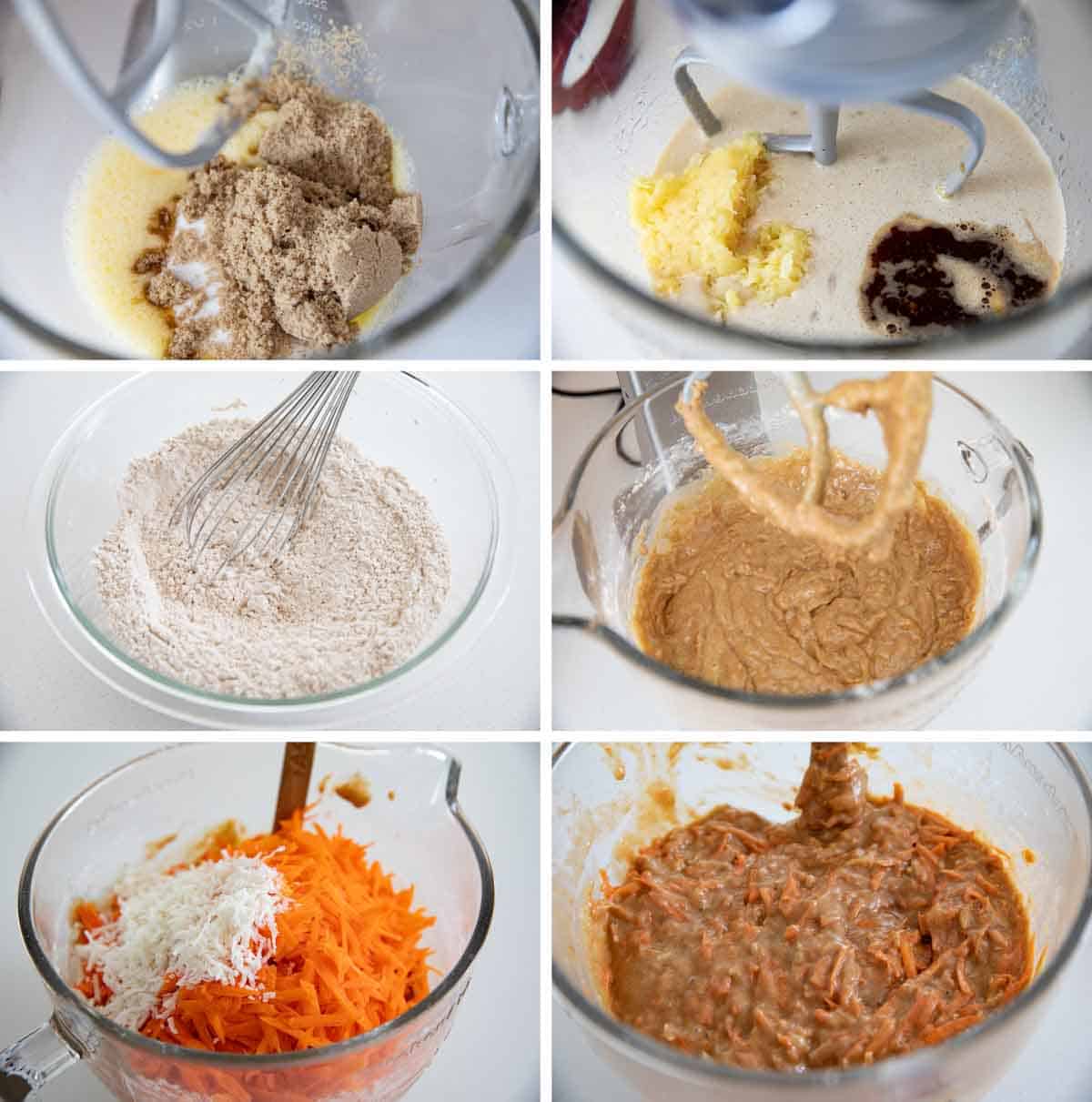 How to Make Carrot Cake
WET: Combine all of the wet ingredients plus the sugars and mix to combine.
DRY: Mix together the flour, spices, baking soda and salt.
COMBINE: Add the dry ingredients to the wet ingredients and mix just until incorporated.
ADD: Fold in the carrots and coconut.
BAKE: Divide the batter between 3 baking pans and bake until done.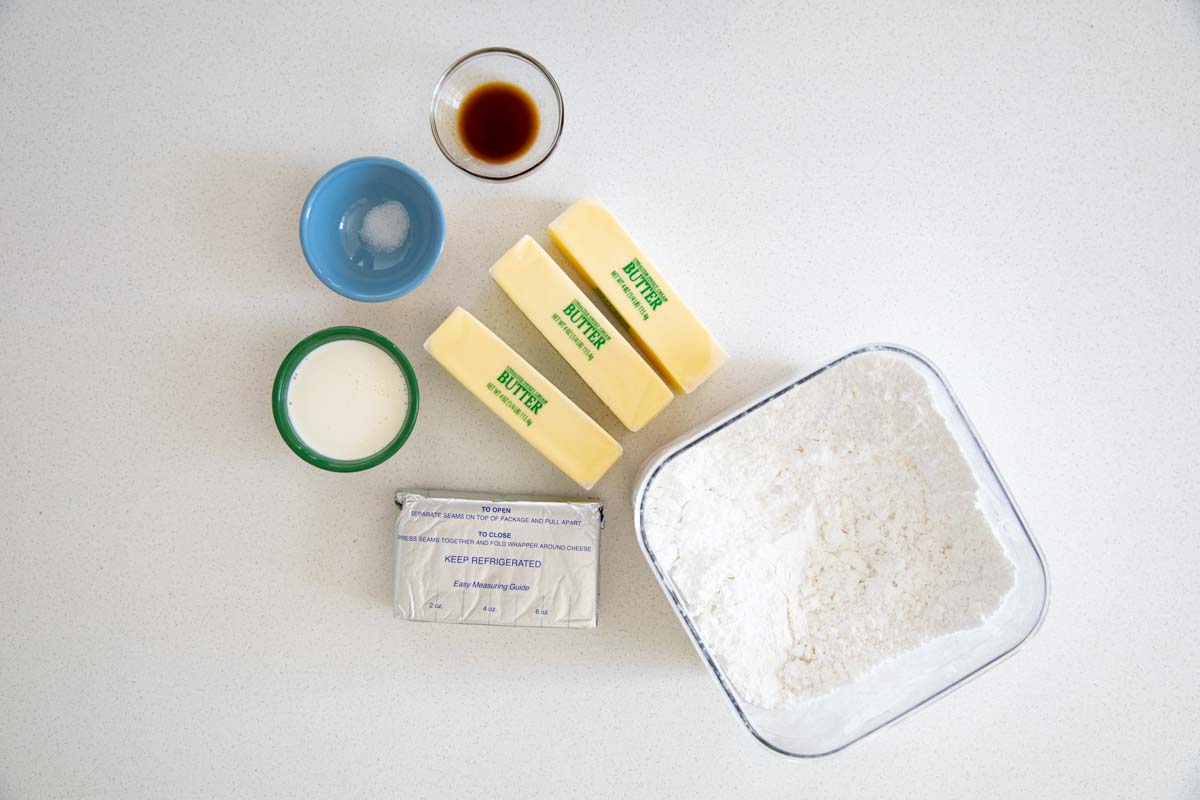 Cream Cheese Frosting Ingredients
Butter: I use unsalted. If you use salted, skip the pinch of salt.
Cream Cheese: You want the butter and cream cheese to still be slightly cold. Not straight from the refrigerator, and not room temperature, but somewhere in between.
Powdered Sugar: I don't usually take the time to sift it, but if you want a super smooth frosting, feel free to sift.
Heavy Whipping Cream: You may need a little bit more or a little bit less, so start with less and add it as needed.
Vanilla: If you have vanilla bean paste, it will add more flavor.
Salt: Just a pinch, but as mentioned above, you can leave this out if you are using salted butter.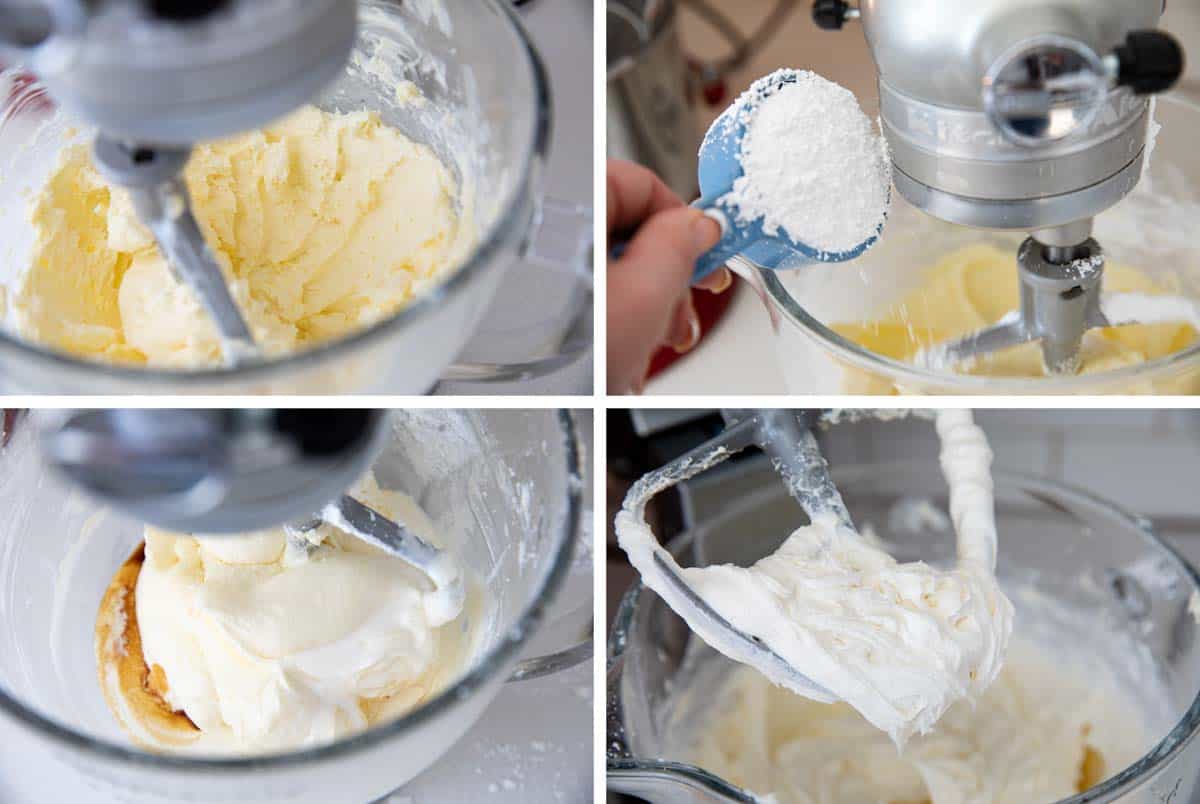 Cream Cheese Buttercream Tips
Instead of letting the butter and cream cheese come to room temperature, let them sit out for 15-30 minutes, so that they are still slightly cold. This helps your buttercream to remain lump free.
My trick for the best buttercream is to whip it for longer than you think you need to. I like to whip the butter and cream cheese together really well to start off with, but once everything is combined, whip it for a good 5 minutes.
You want a good consistency for frosting the cake – it should be thick enough, but not so thick that it tears the cake when you spread it. I start with adding 2 tablespoons of the cream, and then add in more cream, if needed.
I am always a fan of a pinch of salt in frostings. It doesn't make it salty, but it gives it a little bit of depth. Don't skip it (unless you are using salted butter, of course).
Frosting the Cake
My biggest piece of advice for you when frosting a layered cake is to give yourself grace. I really only make layered cakes like this a few times a year, so I am far from perfect.
Start by putting your first cake layer down. Add some of your frosting and spread a layer over the top of cake. Add a second cake layer on top, then spread another layer of frosting on this layer. Add the last cake layer, (I like to do the bottom of the cake on the up side so that the cake is flat across the top.)
Next comes the crumb coat. This is basically a thin layer of frosting over the whole cake that will help to keep the crumbs from coming through the rest of your icing. You simply spread a thin layer of the frosting over the entire cake. Once you have your crumb coat, you can place the cake in the refrigerator or freezer to set the crumb coat.
Next, you simply finish frosting your cake. I don't have a lot of fancy tools for this, just a flat spatula and an offset spatula. You can definitely get more creative and fancy!
If desired, you can add chopped pecans and toasted coconut as garnish.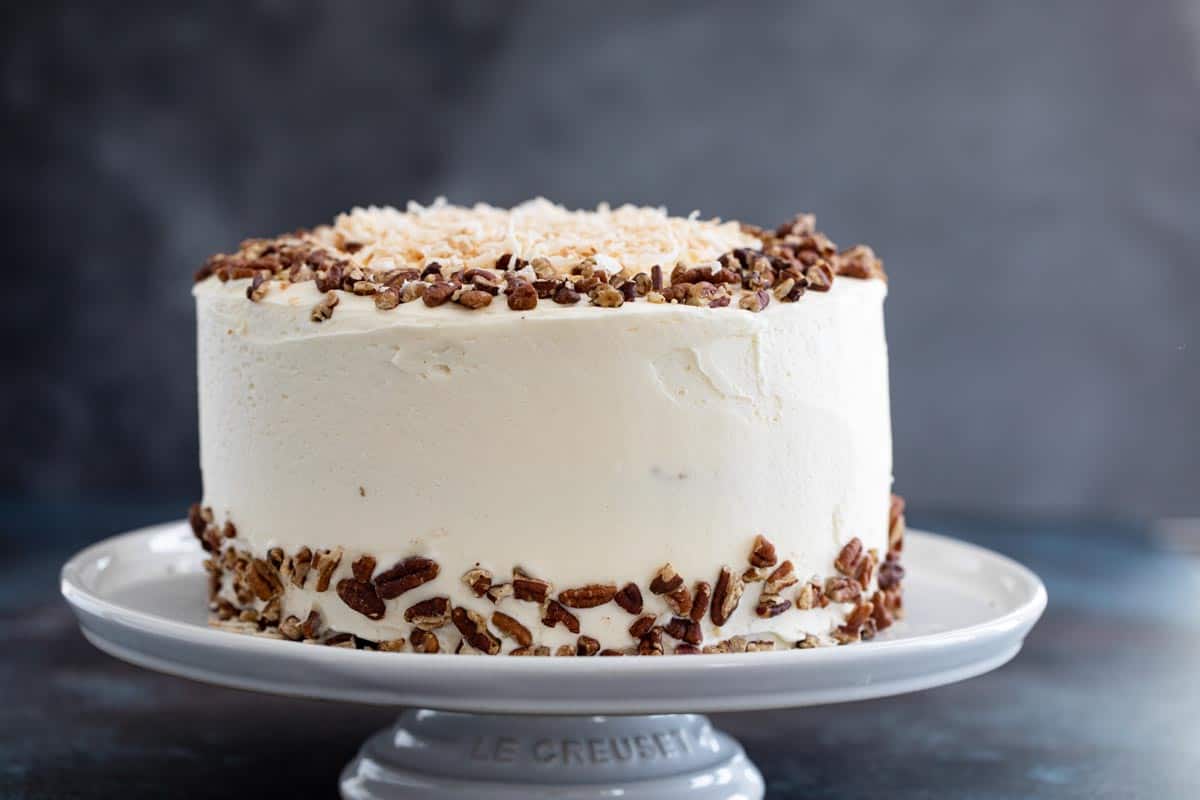 Tips and Tricks
If you have a food processor, it makes shredding the carrots super fast and easy. If not, just use a regular large hole cheese grater. 6 cups is a lot, but it really doesn't take too long.
These cake layers don't dome a lot, but if they do and you want even cake layers, I find that it's easiest to level them when the cake layers have been frozen and then set out for about 10 minutes.
I used 8-inch cake pans, but if you don't have 8-inch, you could use 9-inch pans. The layers will just be a bit thinner. The bake time will be about 5 minutes less, as well.
Make It Ahead
A cake like this is a little bit of a time investment. And if you are making it for a holiday, like Easter, you may want to spread the steps out over a few days, or make it so that most of the work is done before hand.
The good thing is that you can!
I would suggest making the cake layers a day or two in advance, then wrapping them tightly in plastic wrap and freezing them. You can actually do this a few months in advance, but you'd want to make sure to wrap them tightly in aluminum foil over the plastic wrap if you are freezing for more than a couple days.
The frosting can also be made a few days in advance. Store it covered in the refrigerator, and then you'll want to bring it to room temperature before frosting the cake. You may need to beat it for a minute or two to get the correct consistency back.
The cake is best, though, if frosted shortly before serving. You can definitely frost it the morning of and take it out of the refrigerator to come to room temperature to serve. But I wouldn't frost it the day before, as it will probably dry out.
If you have leftover cake, individual pieces can be frozen.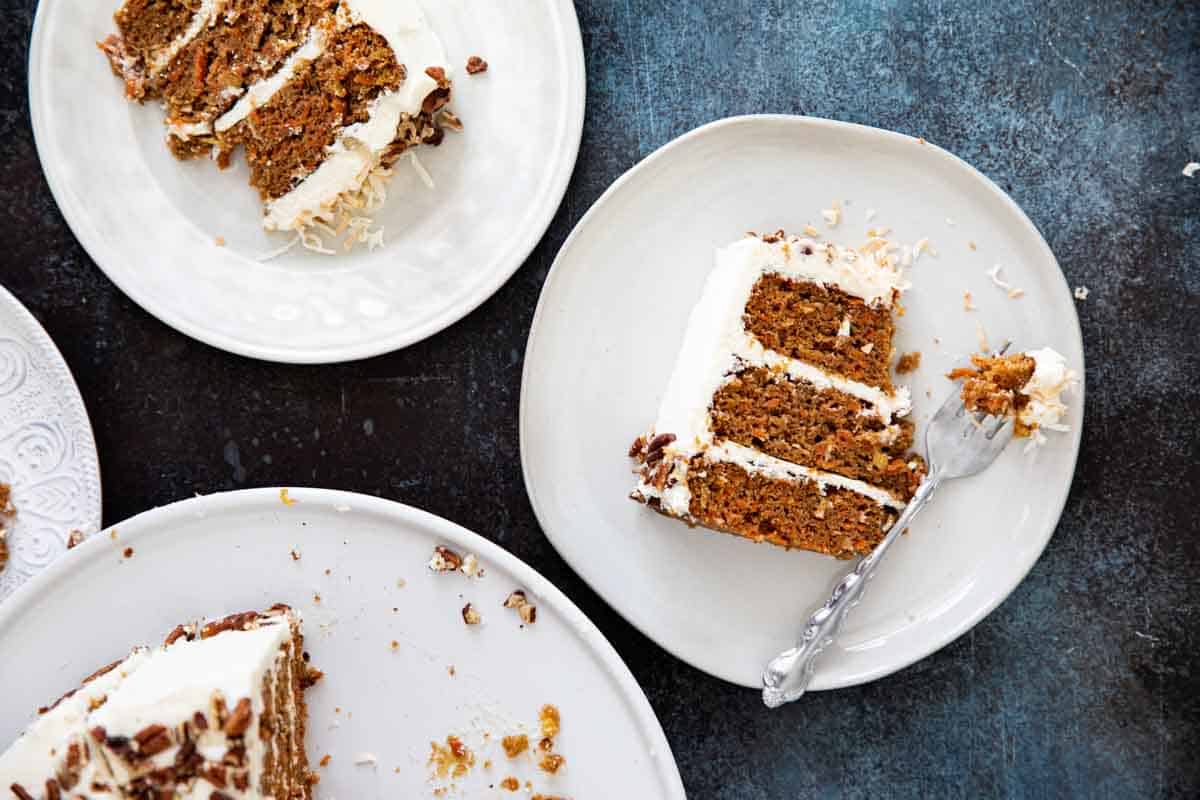 More Easter Dessert Ideas
Easter Cupcakes – these are super cute, and great to make with the kids!
I always lean towards a lemon dessert, and this Lemon Cream Pie and Lemon Meringue Pie both have my heart!
More lemon, but this Lemon Cheesecake gets rave reviews every time.
If you want cake, but something easier, this Orange Glazed Bundt Cake is super easy and so good!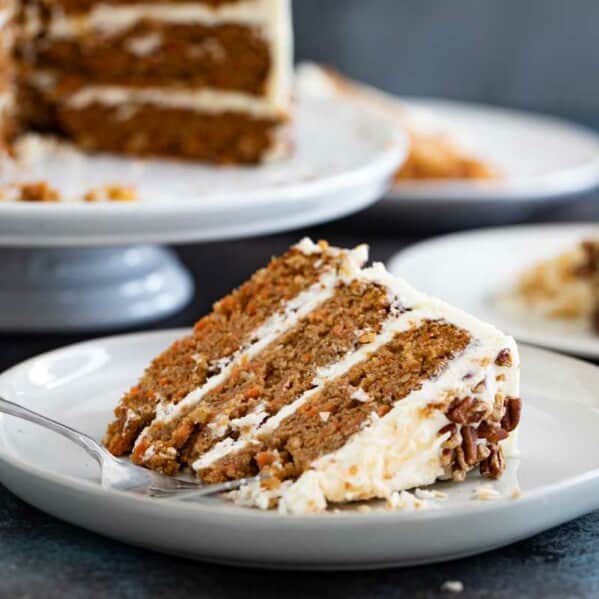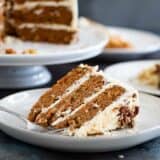 Carrot Cake
---
Author:
Prep Time: 1 hour
Cook Time: 25 minutes
Total Time: 2 hours 30 minutes
Yield: 20 servings 1x
Category: Dessert
Method: Baked
Cuisine: American
Description
Perfectly moist and bursting with bits of carrots, this is the perfect traditional Carrot Cake recipe. Topped with a smooth cream cheese buttercream, you'll want to make this classic over and over again.
---
Scale
Ingredients
Cake:
4 large eggs
1/2 cup vegetable oil
1/2 cup unsweetened applesauce
1 1/2 cups granulated sugar
1 cup packed light brown sugar
1 (8 oz) can crushed pineapple, drained well
1 tablespoon vanilla extract
3 cups all-purpose flour
1 tablespoon ground cinnamon
1 tablespoon pumpkin pie spice
1 1/2 teaspoons baking soda
1 teaspoon salt
6 cups grated carrots
1/2 cup shredded, sweetened coconut
Frosting:
1 1/2 cups unsalted butter, slightly cold
1 package (8 oz) cream cheese, slightly cold
6 cups powdered sugar
2–3 tablespoons heavy whipping cream
1 teaspoon vanilla extract
Pinch of salt
Chopped pecans and toasted coconut, for garnish, optional
---
Instructions
Preheat the oven to 350ºF. Grease 3 8-inch cake pans and line with parchment paper, if desired.
In the bowl of a stand mixer, or in a large bowl, combine the eggs, vegetable oil and applesauce and mix until completely combined. Add both sugars and continue to mix for 1-2 minutes.
Add the well drained pineapple and vanilla extract and mix to combine.
In another bowl, whisk together the flour, cinnamon, pumpkin pie spice, baking soda and salt.
Add all of the dry ingredients to the wet ingredients and mix just until mostly combined.
Add the carrots and coconut and stir with a spatula to incorporate.
Divide the batter evenly between the 3 prepared baking pans.
Bake in the oven until a tester inserted in the center comes out clean, about 25-28 minutes.
Let the cakes cool for 5-10 minutes, then turn out onto a cooling rack to cool completely.
(If desired, and for easier frosting, you can wrap the cake layers in plastic wrap once they are cool and freeze them. Remove from the freezer about 20 minutes before you are ready to frost the layers.)
When the cakes have cooled completely, make the frosting.
In the bowl of a stand mixer (or in a large bowl with a hand mixer) combine the butter and cream cheese and beat until it is smooth and light. Start adding in the powdered sugar 1/2 cup at a time until all of the sugar has been mixed in.  Add 2 tablespoons of the cream and the vanilla and salt. Scrape down the bowl, and beat to combine. If needed, add the additional tablespoon of cream. Beat the frosting on medium speed for about 5 minutes.
To decorate, place one cake layer down on a serving platter or cake stand. Add a dollop of frosting and smooth over the layer. Add a second layer of cake, then more frosting, followed by the last cake layer. Spread a crumb coat (or a thin layer of the frosting) over the entire cake. Refrigerate or freeze for about 15 minutes, then continue to frost the cake with the remaining frosting.
If desired, decorate with chopped pecans and toasted coconut.
Recipe Notes:
Nutrition information provided as an estimate only. Various brands and products can change the counts. Any nutritional information should be used as a general guide. Nutrition information does not include optional toppings.
Nutrition
Serving Size: 1/20 of cake
Calories: 574
Sugar: 55 g
Sodium: 263 mg
Fat: 26 g
Saturated Fat: 12 g
Unsaturated Fat: 10 g
Trans Fat: 0 g
Carbohydrates: 82 g
Fiber: 2 g
Protein: 4 g
Cholesterol: 87 mg
Keywords: Carrot cake, cream cheese frosting, easter dessert, layer cake