Chinese Chopped Salad – Chinese flavors come together in this flavorful chopped salad with mandarin oranges and fried wonton strips.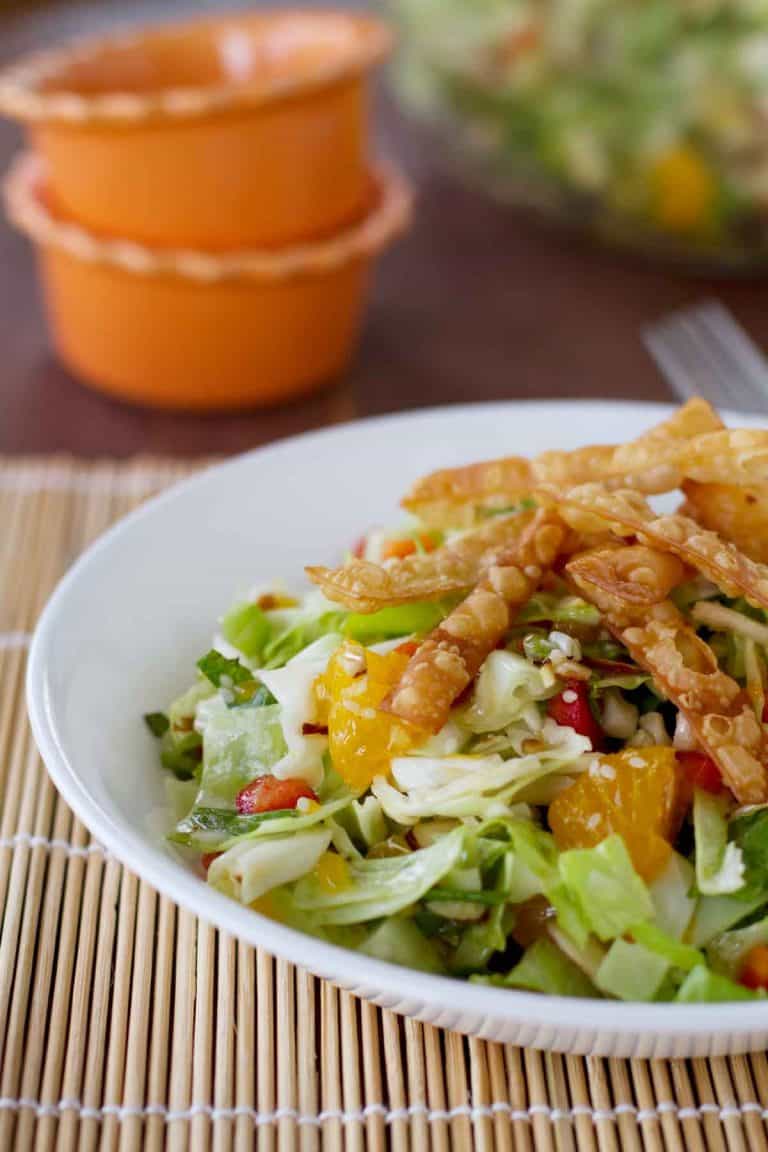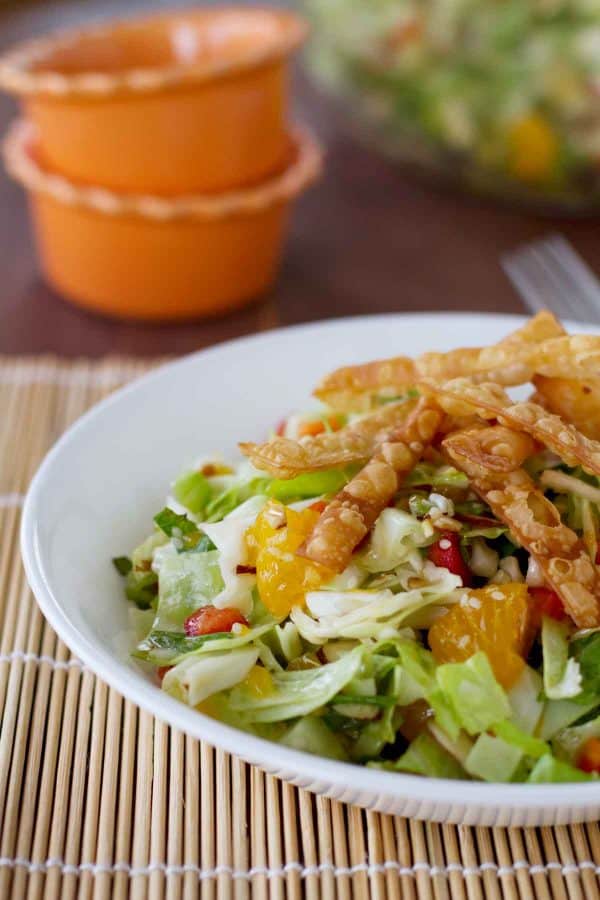 A few random facts about me:
I overuse exclamation points. A lot. But there is so much that is lost when you are communicating via writing vs talking, and I just want people to know how much I really am excited about something, or how much I love something. I don't apologize!
If I make a mistake while I'm typing, I will almost always just backspace to the mistake to fix it instead of clicking on the mistake. I may have to delete a whole sentence of words, but for some reason, I like to keep my hands on the keyboard.
I'm very anal about the direction the toilet paper roll is put on. So bad, in fact, that if I am a guest somewhere and it's not on my way, I will remove it and fix it.
I'm also very specific about the way the towels are folded.
I was the lead in the 4th grade musical, but I never told my parents. They didn't find out until they arrived for the show and saw my name on the program. (I don't remember my reasoning behind not telling my parents – I think it just never crossed my mind that I needed to!)
I'm not a clean freak by any means, but I start to get anxiety if I'm surrounded by messes. I know that when that feeling starts to set in, it's time to set everything else aside and start cleaning!
One of the best things I've ever eaten was a grilled cheese sandwich. Granted, it was in France, but I still think about that sandwich all of these years later.
I used to hate meat on the bone. I also used to eat my steaks well done. Luckily, I have learned the error of my ways and have changed both!
When I find something that I really like, I can't get it out of my head. Like the Thai Chopped Chicken Salad that I posted a few weeks ago. And since I can't just keep making the same salad and posting it over and over again, I thought I'd do the next best thing and do a variation of that salad. Hey – maybe I'll make this summer the summer of chopped salads and see how many I can come up with. My mind is already spinning!!
This was my second confirmation that yes, I do indeed love chopped salads. Give me a big bowl filled with chopped vegetables like this every once in awhile, and I'm a happy girl. I had some leftover wonton wrappers, so I fried them up in strips and absolutely loved what they brought to this salad. In fact, there wasn't anything about this salad that I didn't like!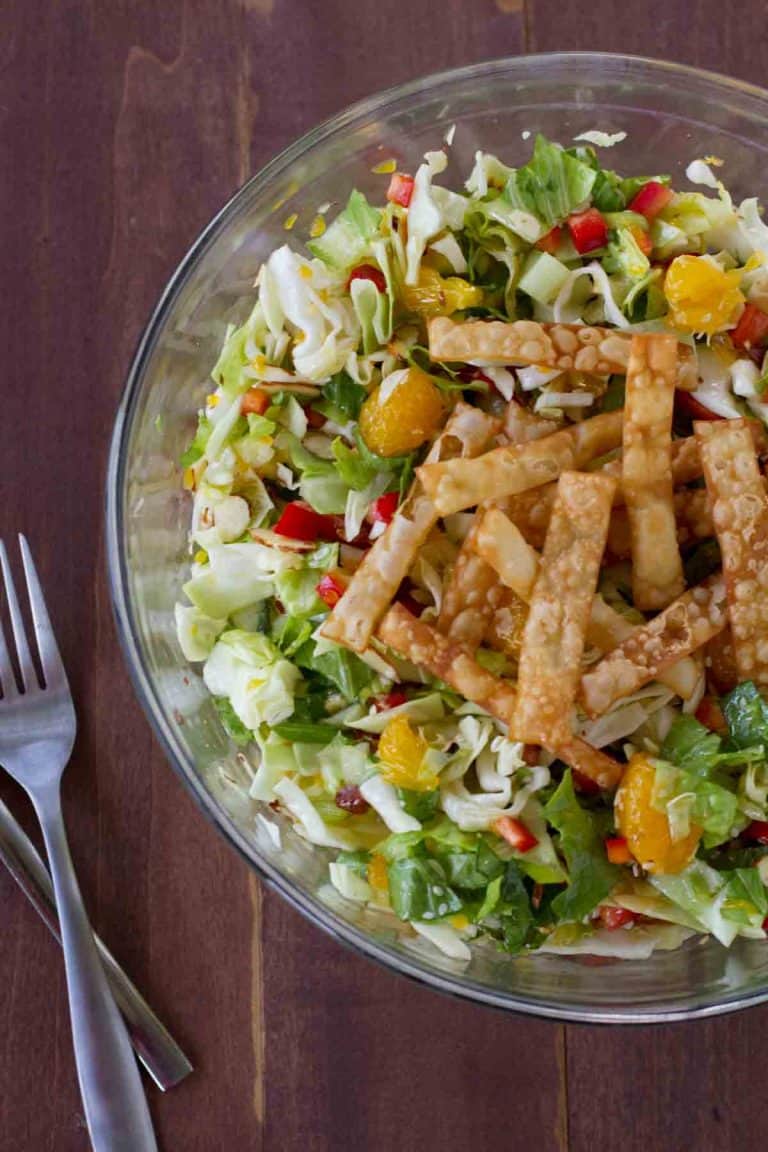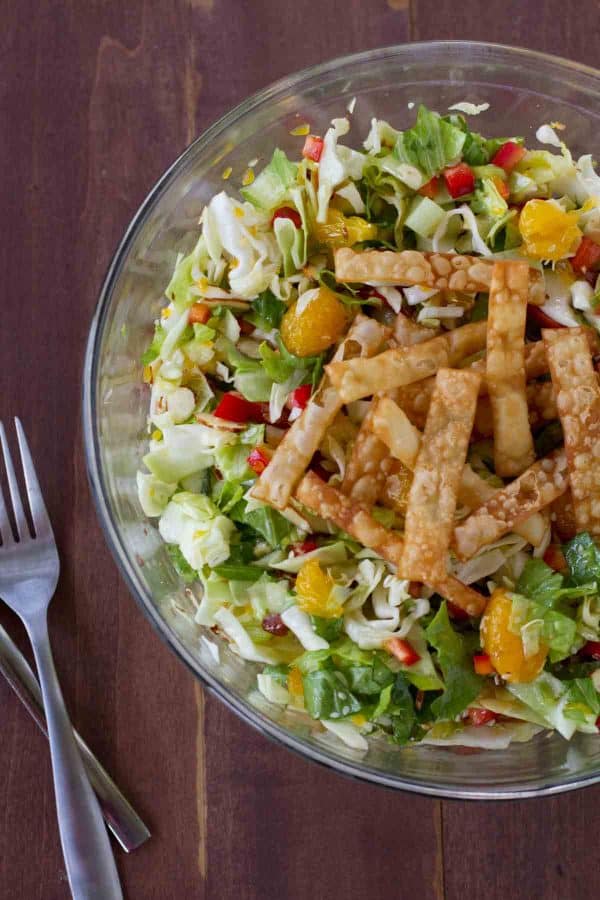 More Delicious Salads:
Steak Swap Cobb Salad
Steph's Summer Salad
Grilled Corn and Black Bean Salad
Red Raspberry Spinach Salad
Summer Berry Chopped Salad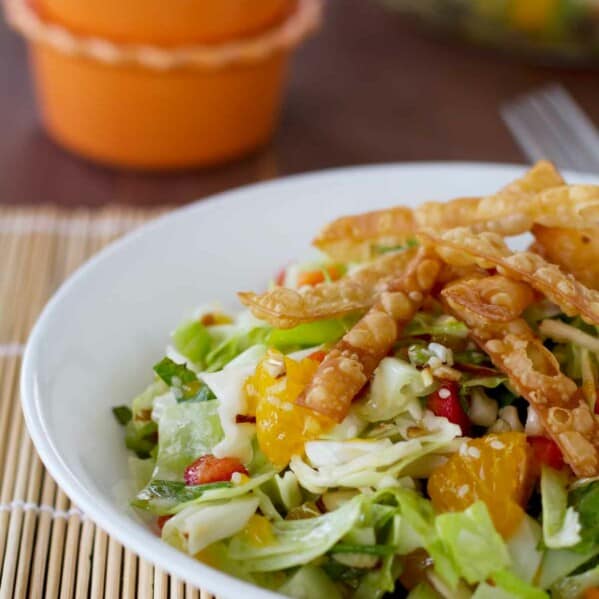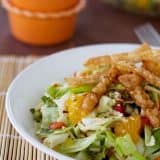 Chinese Chopped Salad
---
Author:
Prep Time: 20 minutes
Total Time: 20 minutes
Yield: 4 servings 1x
Category: Salad
Cuisine: Asian
Description
Chinese Chopped Salad – Chinese flavors come together in this flavorful chopped salad with mandarin oranges and fried wonton strips.
---
Scale
Ingredients
Salad
6 wonton wrappers, each cut into 6 strips
Vegetable oil, for frying
6 cups chopped green cabbage
4 cups chopped romaine lettuce
4 green onions, sliced
1 (15 oz) can mandarin oranges, drained and chopped if large
1 cup diced red bell pepper
3/4 cup slivered almonds, toasted
Dressing
2 tablespoons fresh lime juice
2 tablespoons soy sauce
1 tablespoon rice vinegar
1 tablespoon sesame seeds
2 teaspoons sesame oil
2 teaspoons sugar
1/2 teaspoon salt
1/2 cup vegetable oil
---
Instructions
Heat about 1 inch of vegetable oil in a heavy duty pan. Fry the wonton strips until browned and crisped, about 30-45 seconds. Remove and drain on a paper towel lined plate.
In a large bowl, combine the cabbage, lettuce, green onions, mandarin oranges, bell pepper and almonds.
In a small bowl, combine the lime juice, soy sauce, vinegar, sesame seeds, sesame oil, sugar and salt. Slowly whisk in the oil until combined.
Pour as much of the dressing over the salad as desired and mix to combine.
Recipe Notes:
The salad dressing recipe makes quite a bit of dressing, so only add as much as you want to the salad.