Beef chili is served over spaghetti and topped with beans, cheese and onion in this traditional Cincinnati Chili Recipe.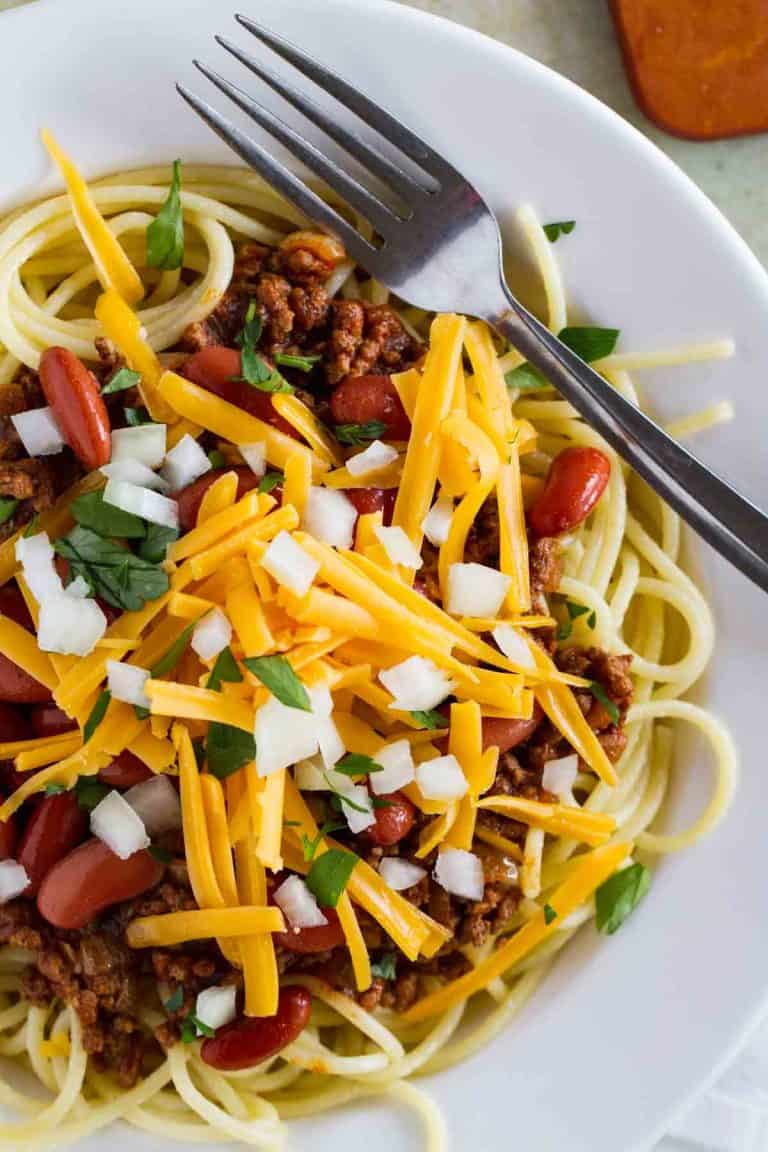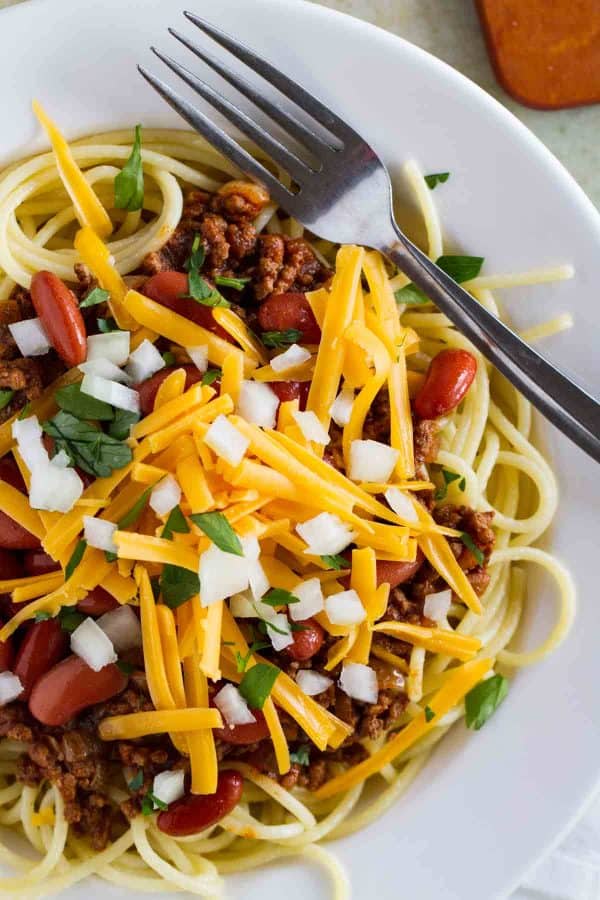 I can bet that if you ask most kids what their favorite food is, you won't get many that say chili. Well, my girl is absolutely in love with chili. It's the funniest thing. She could care less about chicken nuggets or cupcakes or peanut butter sandwiches. Give this girl a big bowl of chili and she is one happy child. (If only she could teach her ways to my boys!!)
So with her in mind, I decided that it was about time I tried a Cincinnati Chili Recipe. I've had just about every version of chili under the sun, and while I had heard of Cincinnati Chili, I had never actually tried it.
And that brings me to my first question:
Is Cincinnati Chili Really Chili?
Upon first glance, you might think that it is. A meaty sauce, filled with lots of spices. But then you serve it over spaghetti. Which is definitely not how you serve regular chili. Instead of a bowl, you serve it on a plate. And eat it with a fork. So to that question, I'd have to answer no – this is not really chili. But I'm ok with that, because we fell in love with this recipe!
Without getting into all of the history of Cincinnati Chili, this "chili" was originally created in Cincinnati by immigrants as a hot dog topping. They then started serving the chili over spaghetti, and called it chili spaghetti. It caught on and spread like wildfire, and is now known as Cincinnati Chili, and is served in chili parlors all over the city. It has even spread to restaurants outside of Cincinnati.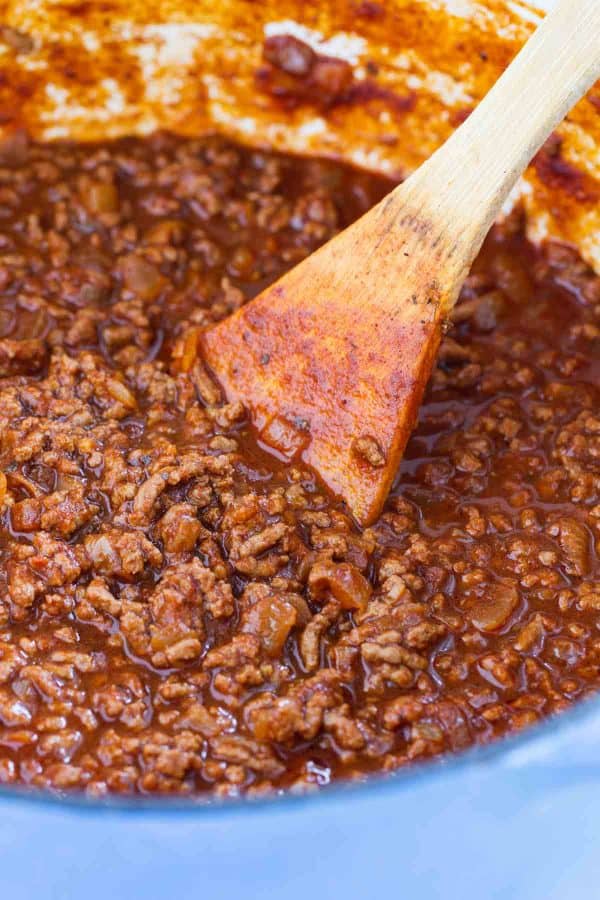 Ingredients in Cincinnati Chili
One of the things that set this Cincinnati Chili Recipe apart from other chilis is the addition of Mediterranean spices. It has chili powder and oregano, which are to be expected, but then you add cinnamon, allspice, and cocoa powder.
This recipe is made with ground beef that you blanch first, which removes most of the fat without taking away all of the flavor. And then you have other typical ingredients, like onions, garlic, tomato sauce, broth, vinegar and brown sugar.
The way I have written up this Cincinnati Chili Recipe is what they would call Five-Way, aka with all of the good stuff. Two way would be just the chili and spaghetti, three way adds cheddar cheese to the top. Four way is the spaghetti, chili, cheese, and your choice of beans or onions, and Five Way is with both the beans and the onions.
Cincinnati Chili is also usually served with oyster crackers and hot sauce.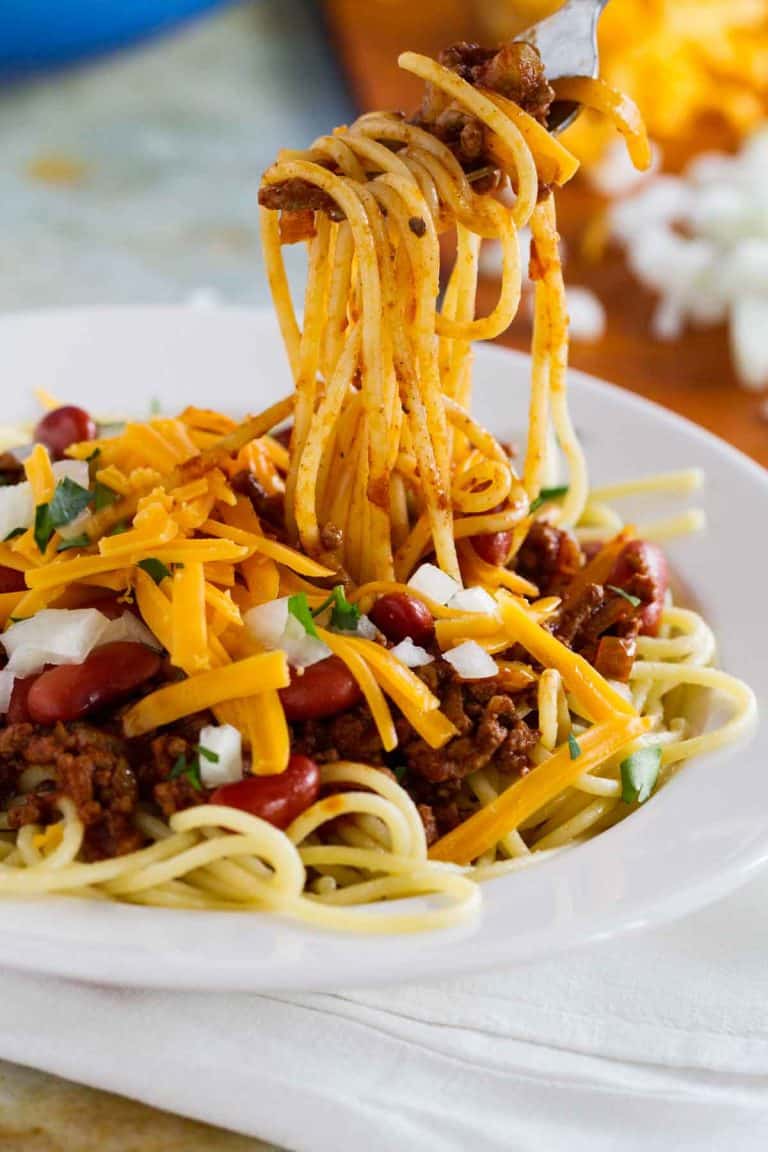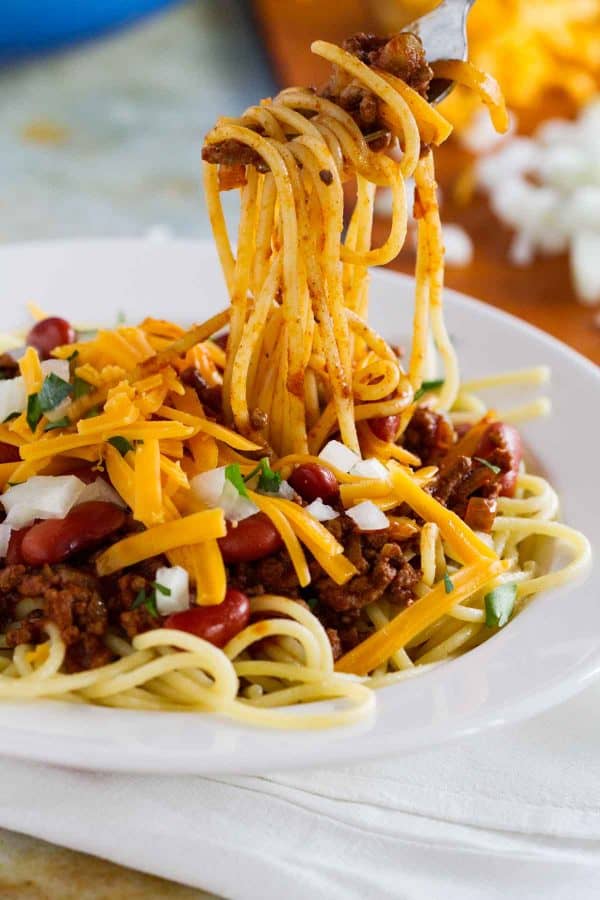 More Spaghetti Recipes
Cheesy Chicken Tetrazzini
Spaghetti Lasagna
Creamy Tomato Pasta with Shrimp
Creamy Butternut Squash Pasta
Super Easy Spaghetti Recipe
The Best Spaghetti Sauce
Tools Used to Make this Cincinnati Chili Recipe
I love to use my Dutch oven to make the chili. It cooks evenly and has plenty of room.
I also like having a good pasta pot to cook the pasta in.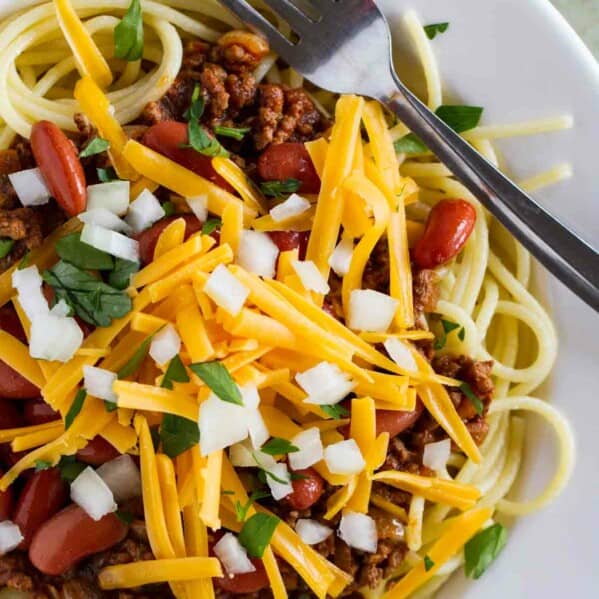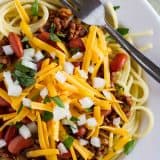 Cincinnati Chili Recipe
---
Author:
Prep Time: 20 mins
Cook Time: 1 hour 20 mins
Total Time: 1 hour 40 mins
Yield: 8 servings 1x
Category: Main Dish
Method: Stove Top
Cuisine: American
Description
Beef chili is served over spaghetti and topped with beans, cheese and onion in this traditional Cincinnati Chili Recipe.
---
Scale
Ingredients
2 teaspoons table salt, divided
1 1/2 pounds 80% lean ground chuck
2 tablespoons vegetable oil
2 medium onion, diced
2 medium garlic cloves, minced or pressed through a garlic press
2 tablespoons chili powder
2 teaspoons dried oregano
2 teaspoons cocoa powder
1 teaspoon ground cinnamon
1/2 teaspoon allspice
1/4 teaspoon cayenne pepper
1/4 teaspoon black pepper
2 cups tomato sauce
2 cups low-sodium chicken broth
2 cups water
2 tablespoons cider vinegar
2 teaspoons dark brown sugar
hot sauce (optional)
1 pound spaghetti, cooked, drained and then tossed with 2 tablespoons butter
12 oz sharp cheddar cheese, shredded
1 (15-ounce) can red kidney beans, drained, rinsed and warmed
1 medium onion, chopped
---
Instructions
Bring 2 quarts of water and 1 teaspoon of the salt to a boil in a large saucepan. Add the ground beef and stir vigorously, separating the beef into strands. Foam will rise from the beef to the top of the water (this takes about 30 seconds), and just before the water boils, drain the beef into a strainer and set aside.
Rinse and dry the saucepan, and place the pan over medium heat. Add the oil, and when it is warm, add the onions. Cook until the onions are softened and slightly brown on the edges, stirring frequently, for about 8 minutes. Add the garlic and cook for 30 seconds, then stir in the chili powder, oregano, cocoa, cinnamon, allspice, cayenne, black pepper and remaining 1 teaspoon salt. Stirring constantly, stir for 1 minute, until very fragrant. Stir in the tomato sauce, broth, water, vinegar and brown sugar, scraping up any browned bits off the bottom of the pan.
Add the ground beef and turn the heat to high. Bring to a bubble, then reduce the heat to medium-low and cook, stirring occasionally, until the chili is bright red and slightly thickened. Season with salt and hot sauce to taste.
To serve, divide the buttered spaghetti into individual bowls. Top with the chili, beans, cheese and onions. Serve immediately.
Recipe Notes:
slightly adapted from The Complete America's Test Kitchen TV Show Cookbook
Nutrition information provided as an estimate only. Various brands and products can change the counts. Any nutritional information should only be used as a general guideline.
Nutrition
Calories: 745
Sugar: 8 g
Sodium: 883 mg
Fat: 38 g
Saturated Fat: 18 g
Unsaturated Fat: 5 g
Trans Fat: 1 g
Carbohydrates: 61 g
Fiber: 11 g
Protein: 39 g
Cholesterol: 107 mg
Keywords: Cincinnati Chili