Beef chili is served over spaghetti and topped with beans, cheese and onion in this traditional Cincinnati Chili Recipe.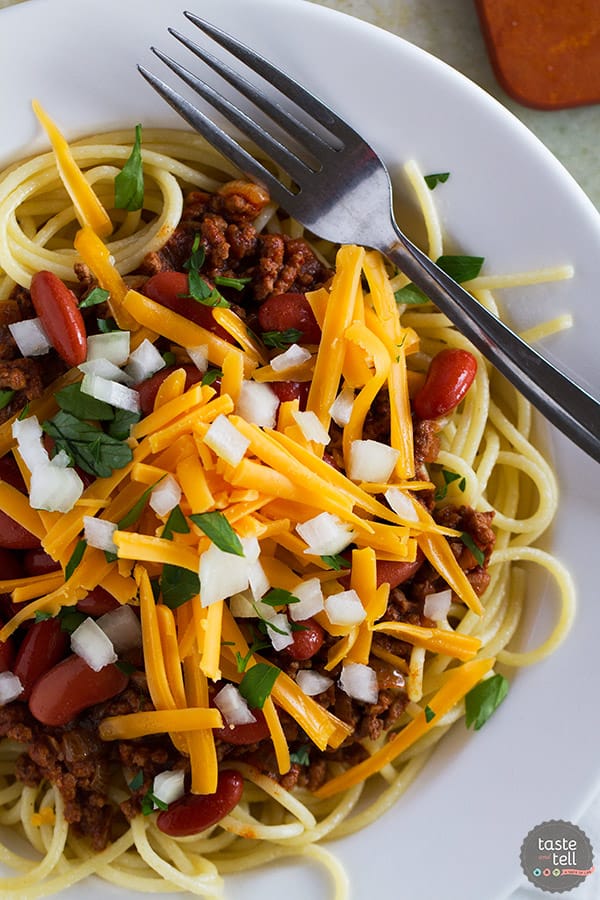 Yum

Just a few days ago, I mentioned that I wanted to beef up the number of America's Test Kitchen cookbooks in my collection this year. And here I am with another ATK review!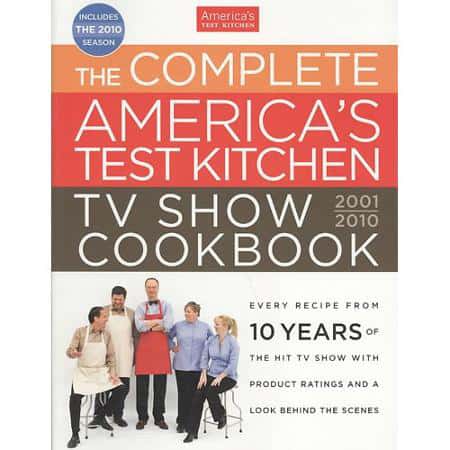 This book, The Complete America's Test Kitchen TV Show Cookbook, was one that I just couldn't resist buying when I spotted it at Costco. I actually really love watching America's Test Kitchen, and used to dvr it whenever it would come on. I love how it's so much more than just giving you a recipe – but actually teaching you about why the recipe works. I also love that they take the basics and find the very best version of those basics.
That is the biggest reason that I bought this cookbook. I get so wrapped up in making new recipes for this blog, and remaking recipes from the archives, that I sometimes forget to cook just because I love to cook. And when I flipped through the pages of this book, I came across recipe after recipe that I would love to make – just for fun. For my family. And I decided that since there are so many recipes that I want to make, surely all of you would love this cookbook as well!!
This is a very large cookbook. It is 15 years of recipes from the tv show, after all. Plus a shopping guide to the best ingredients and equipment, as well as a look behind the scenes to learn what happens when they are developing and trying to come up with the best recipe. So it's no surprise that the book is just over 1000 pages. So be prepared for a book that you'll get a workout carrying to the kitchen!
Here are the details:
Number of Photos: some. If there is one thing that I can see people complaining about with this book is that there aren't a lot of photos. There is a photo every other page or so, but they are small and every recipe does not have one. But with the size of this book, I can see why there aren't a lot of big, full page photos of every recipe. There just isn't enough room!!
Difficulty Level of Recipes: easy to medium. I have always loved that ATK doesn't dumb down recipes. They show you – and teach you – the correct way to make things. So while there may not be a lot of shortcuts, you are learning how to cook and learning techniques that will help you when you cook other recipes.
Availability of Ingredients: easy. They keep things pretty real, and you should be able to find most of the ingredients pretty easily.
Other recipes I want to make:
Beef Empanadas
Kung Pao Shrimp
Breakfast Strata with Spinach and Gruyere
Cream Cheese Coffee Cake
Summer Peach Cake
Stuffed Pork Chops
Perfect Roast Chicken
Buy The Complete America's Test Kitchen TV Show Cookbook on Amazon.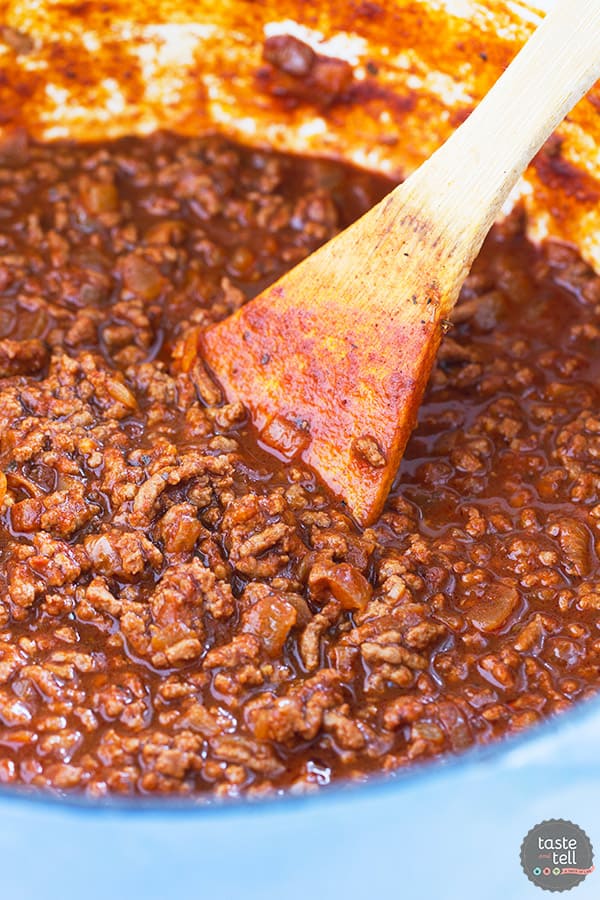 I can bet that if you ask most 6 year olds what their favorite food is, you won't get many that say chili. Well, my girl is absolutely in love with chili. It's the funniest thing. She could care less about chicken nuggets or cupcakes or peanut butter sandwiches. Give this girl a big bowl of chili and she is one happy child. (If only she could teach her ways to my boys!!)
So with her in mind, I decided that it's about time I tried a Cincinnati Chili Recipe. I've had just about every version of chili under the sun, and while I had heard of Cincinnati Chili, I had never actually tried it.
I mostly followed the recipe exactly. I reduced a few of the spices, simply to ensure that my family would actually eat it. This recipe is a little different in that you blanch the beef before adding it to the chili, which removes most of the fat without taking away all of the flavor. It was definitely a different method than what I usually do, but the end product was so good. I loved all of the spices and flavors in this chili. I did really like that the chili is served over spaghetti – it makes it very hearty. I did feel like I was just eating spaghetti with a thick meat sauce, so it didn't really feel like chili to me. But nonetheless, it was delicious! And the leftovers were even better. I'm glad I can finally check this Cincinnati Chili Recipe off of my culinary bucket list!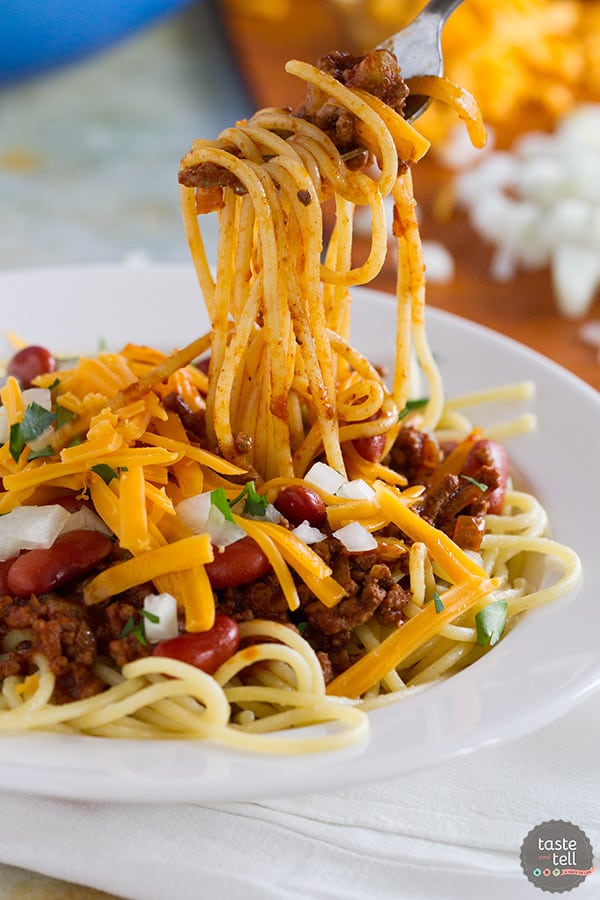 Like what you see here? Make sure you are following Taste and Tell for more recipes and ideas!
Facebook | Pinterest | Instagram | Twitter | Google+ | Weekly Newsletter | Feedly | Bloglovin
Print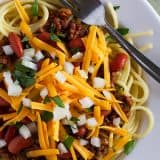 Cincinnati Chili Recipe
Author:

Prep Time:

20 mins

Cook Time:

1 hour 20 mins

Total Time:

1 hour 40 mins

Yield:

6-8 servings
---
Description
Beef chili is served over spaghetti and topped with beans, cheese and onion in this traditional Cincinnati Chili Recipe.
---
Ingredients
2 teaspoons table salt, divided
1 1/2 pounds 80% lean ground chuck
2 tablespoons vegetable oil
2 medium onion, diced
2 medium garlic cloves, minced or pressed through a garlic press
2 tablespoons chili powder
2 teaspoons dried oregano
2 teaspoons cocoa powder
1 teaspoon ground cinnamon
1/2 teaspoon allspice
1/4 teaspoon cayenne pepper
1/4 teaspoon black pepper
2 cups tomato sauce
2 cups low-sodium chicken broth
2 cups water
2 tablespoons cider vinegar
2 teaspoons dark brown sugar
hot sauce (optional)
1 pound spaghetti, cooked, drained and then tossed with 2 tablespoons butter
12 oz sharp cheddar cheese, shredded
1 (15-ounce) can red kidney beans, drained, rinsed and warmed
1 medium onion, chopped
---
Instructions
Bring 2 quarts of water and 1 teaspoon of the salt to a boil in a large saucepan. Add the ground beef and stir vigorously, separating the beef into strands. Foam will rise from the beef to the top of the water (this takes about 30 seconds), and just before the water boils, drain the beef into a strainer and set aside.
Rinse and dry the saucepan, and place the pan over medium heat. Add the oil, and when it is warm, add the onions. Cook until the onions are softened and slightly brown on the edges, stirring frequently, for about 8 minutes. Add the garlic and cook for 30 seconds, then stir in the chili powder, oregano, cocoa, cinnamon, allspice, cayenne, black pepper and remaining 1 teaspoon salt. Stirring constantly, stir for 1 minute, until very fragrant. Stir in the tomato sauce, broth, water, vinegar and brown sugar, scraping up any browned bits off the bottom of the pan.
Add the ground beef and turn the heat to high. Bring to a bubble, then reduce the heat to medium-low and cook, stirring occasionally, until the chili is bright red and slightly thickened. Season with salt and hot sauce to taste.
To serve, divide the buttered spaghetti into individual bowls. Top with the chili, beans, cheese and onions. Serve immediately.
---
Useful Products for this Recipe:
Don't miss a thing! Follow me on Pinterest to see what I'm pinning!
Visit Taste and Tell's profile on Pinterest.



**This post contains affiliate links. If you purchase an item from Amazon from the link Taste and Tell receives a small commission. Thank you for supporting Taste and Tell through your purchases!**