A version of a New England classic, this Fluffernutter Panini has melted marshmallow creme, peanut butter and candied peanuts all toasted on cinnamon sugar crusted bread.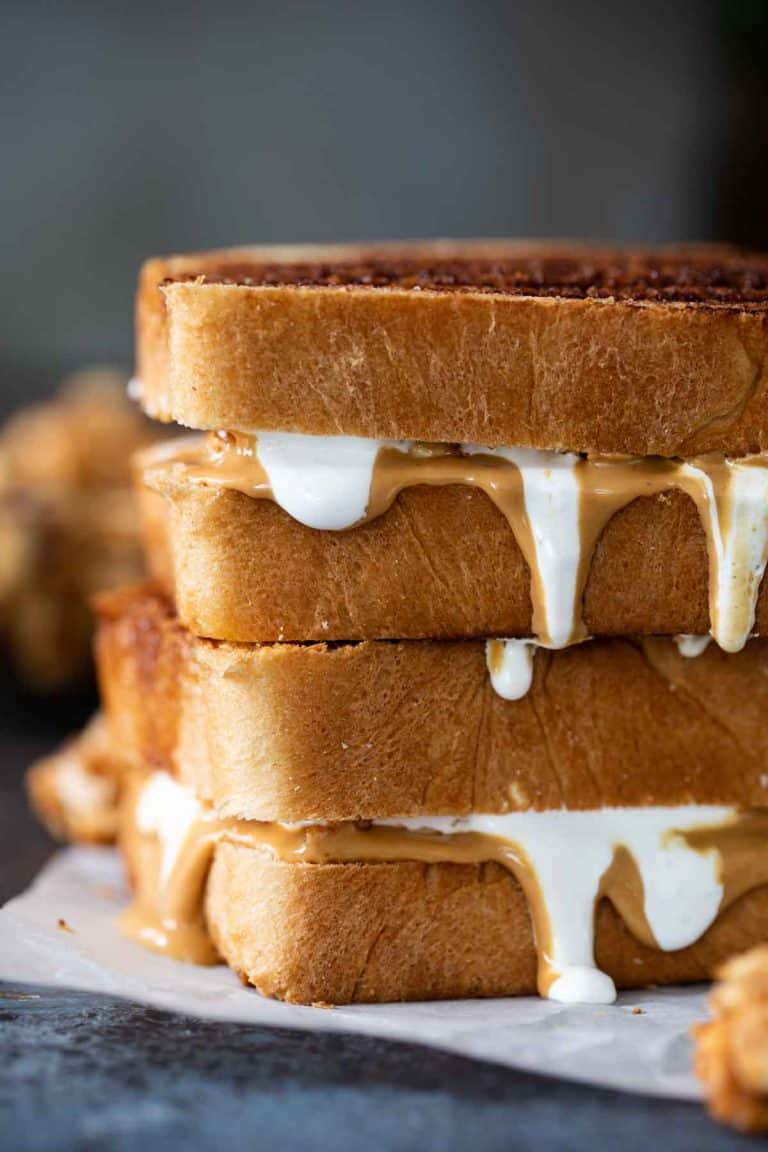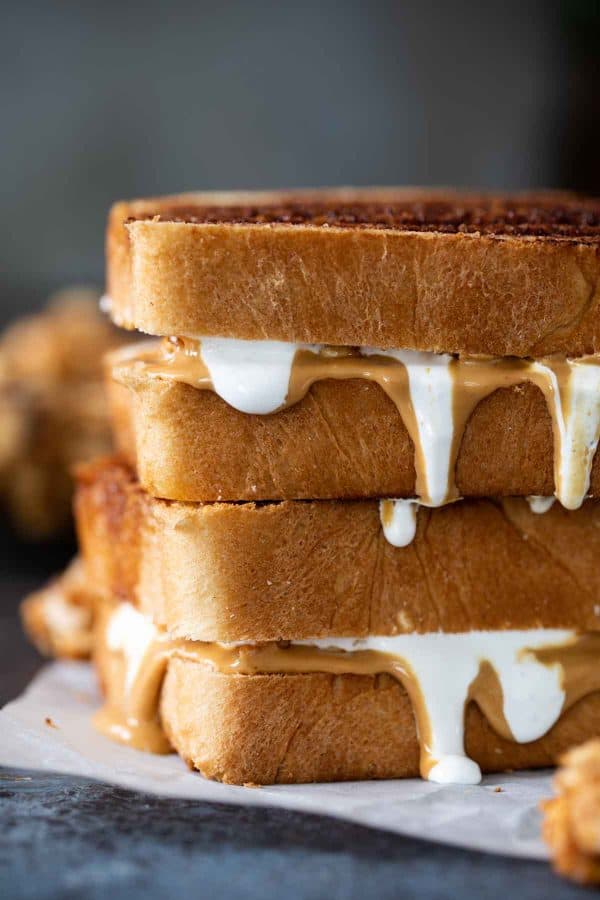 Sometimes you just need a little decadence in your life. Something special, something different – something that is just straight up delicious.
And for that, I introduce you to this Fluffernutter Panini.
Thick, white bread smeared with peanut butter and marshmallow creme. But it doesn't stop there. Add candied pecans to the sandwich, along with a cinnamon-sugar crust – you will have the best sandwiches that you've ever had.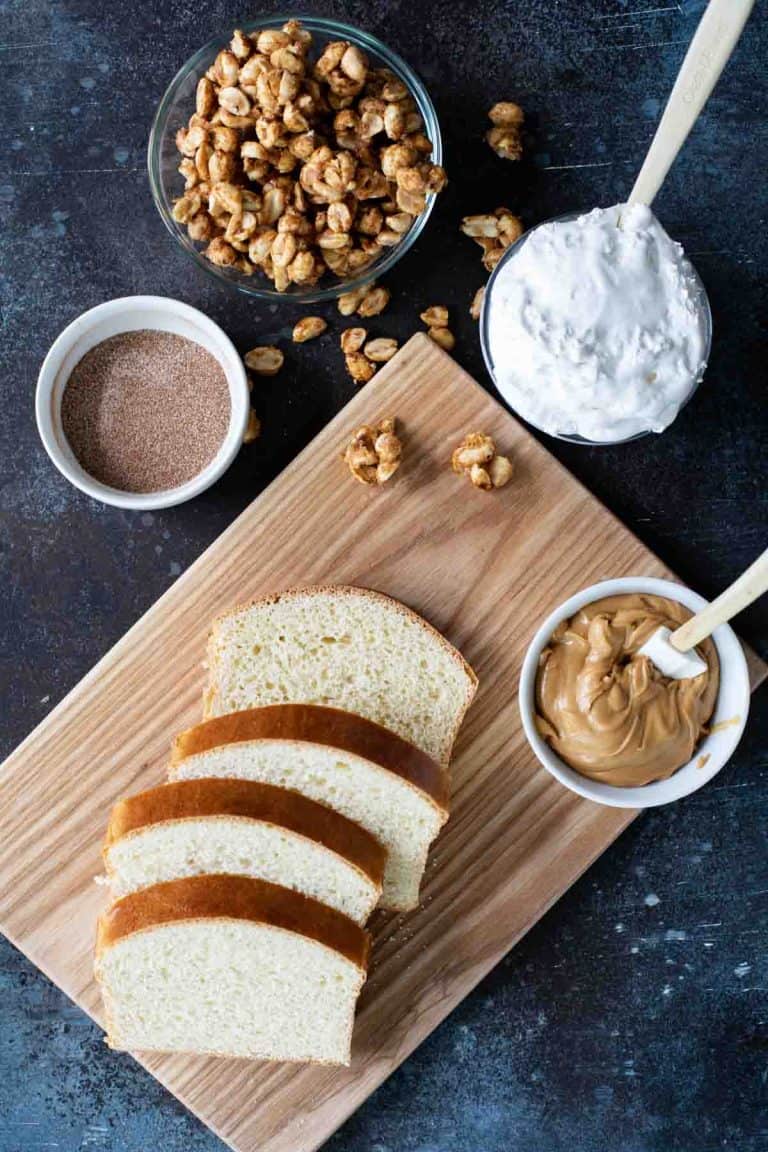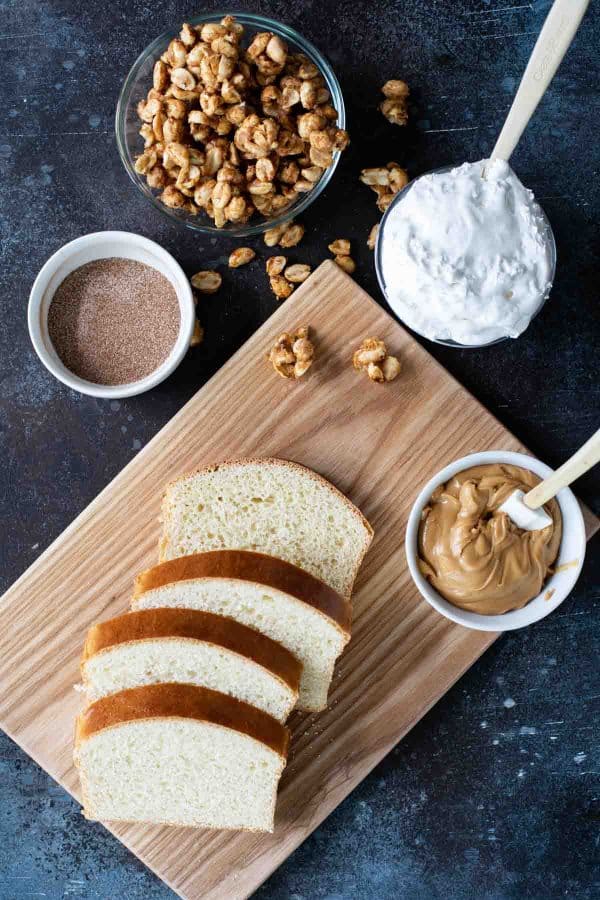 The Best of the Best Panini Press Cookbook by Kathy Strahs
I love my panini press. I've had it since we got married many moons ago, and we've made lots and lots of sandwiches on it. But I do have to be honest and say that I often forget about it. Maybe it's because it lives in the back of a lower cabinet, so I often forget about it. Or I'm too lazy to pull it out.
But luckily, there are cookbooks like this one – The Best of the Best Panini Press Cookbook – to make me get it out and remind me of just how much I love that panini press!
So I ended up making a recipe where you use the panini press in a more traditional way – making a sandwich – but I love that this book gets a lot more creative. It's not just sandwiches! Grilled meats, quesadillas, burgers, fish – who would have known that you could use a panini press for so much more!
The book has 100 recipes, so there is a wide variety to choose from. So don't assume that only boring recipes come from a panini cookbook!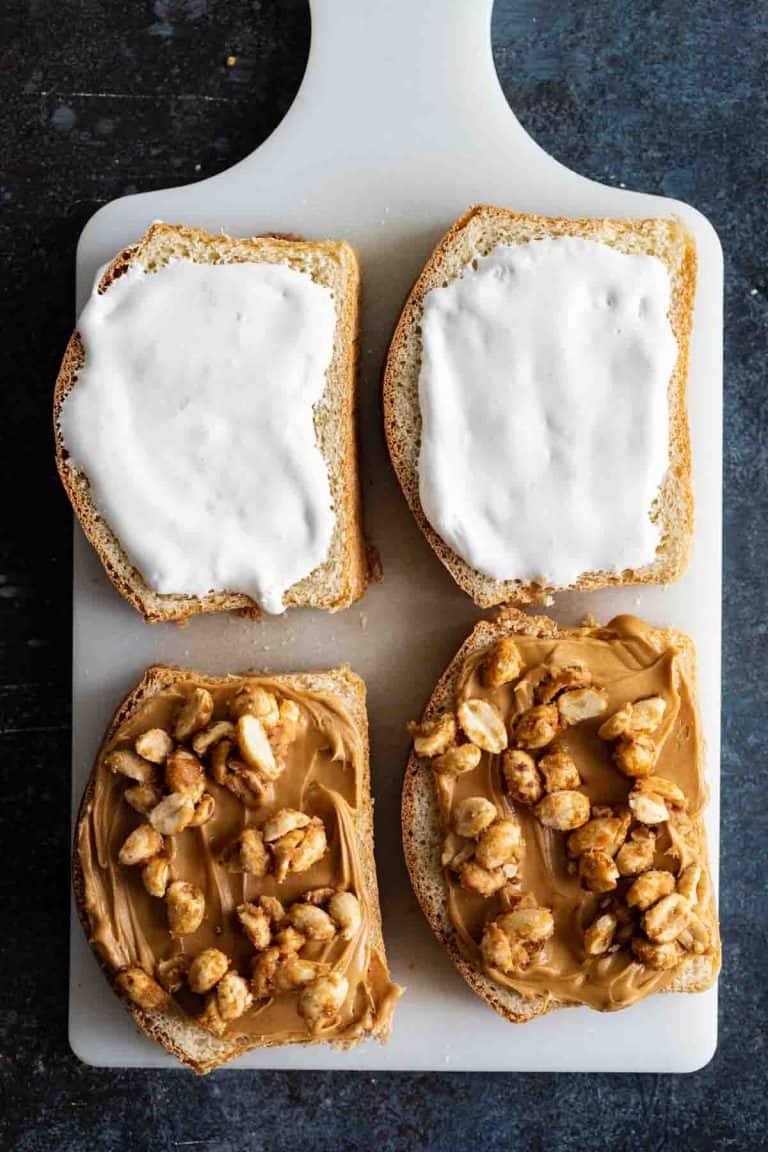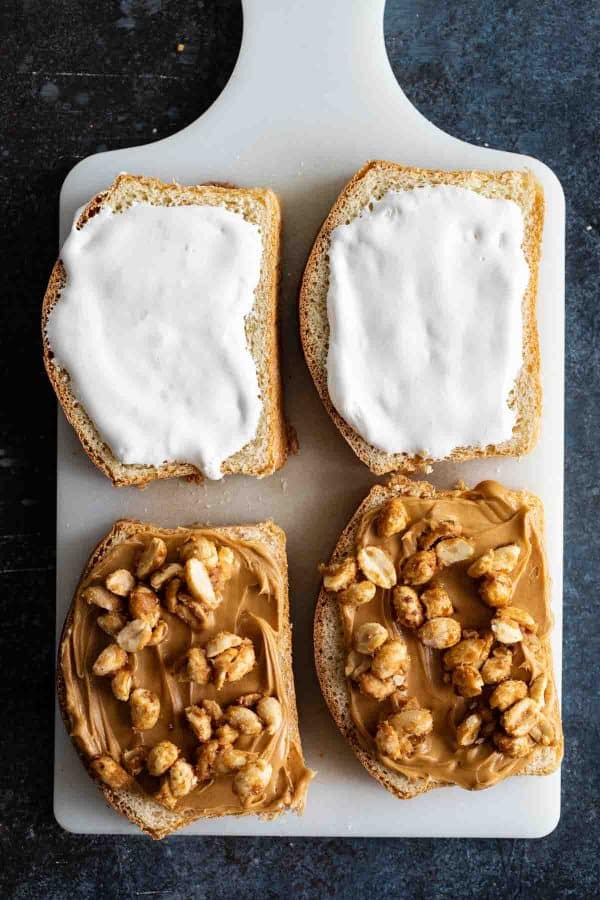 What is a fluffernutter?
Have you ever heard of a fluffernutter? I've known about them for probably my entire adult life, but I've never made them until this recipe came around. But here's a little history on this unique sandwich:
A fluffernutter is a sandwich that is typically made on white bread with peanut butter and marshmallow fluff.
The fluffernutter is said to originate in the early 20th century, when marshmallow creme was invented.
It is especially popular in New England. In Massachusetts, specifically, where it has been proposed that the fluffernutter is the state sandwich.
It was originally known as the Liberty Sandwich – named during World War I.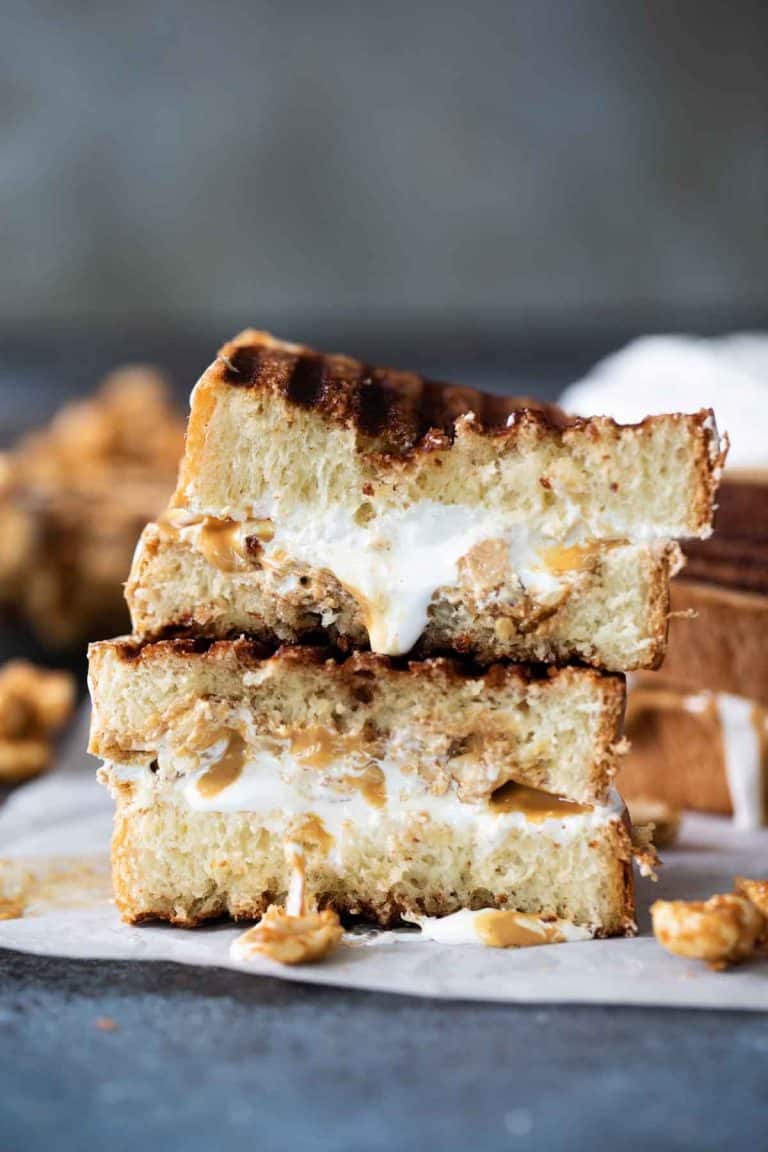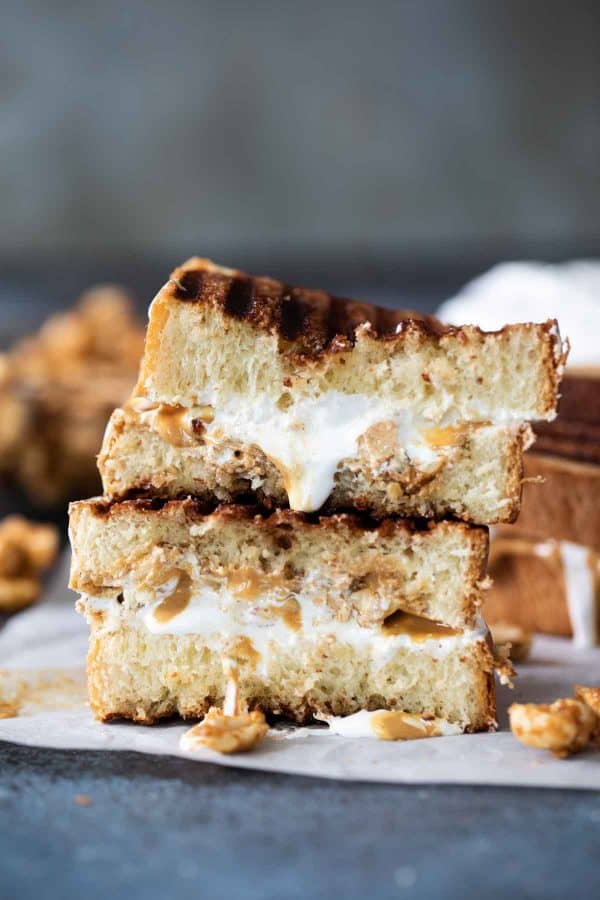 Ingredients in this Fluffernutter Panini
Here is what you need to make this Fluffernutter Panini:
For the candied peanuts:
unsalted roasted peanuts – I have made this with both salted and unsalted. And really, both work just great, so if you only have salted peanuts, that will work!
sugar – regular granulated sugar works great, but if you have superfine sugar, it will work even better!
vanilla – you just need a little, but I would use pure extract.
salt – if you use salted peanuts, you'll probably just want to leave this out.
For the fluffernutter:
butter – make sure it is at room temperature, as you are going to be spreading it on the bread.
sugar, cinnamon and salt
white bread – the book suggests using thick cut bread – about 1-inch thick. I ended up making my own bread. I think that regular white sandwich bread that comes pre-sliced at the grocery store might fall apart too easily for this recipe. But if you don't want to make your own bread, you should be able to find an uncut loaf of bread at your grocery store or local bakery.
peanut butter – I just used regular creamy peanut butter.
marshmallow fluff – here, I can't find the actual marshmallow fluff, but you can find marshmallow creme. Either will work.
How to Make this Fluffernutter Panini
The trickiest part in making this sandwich is spreading the butter on one side of the bread and the fillings on the other side. It might be a little messy, but here is how I make them.
Start by spreading the butter, cinnamon and sugar mixture on one side of each of the slices of bread.
Take 2 of those slices of bread and turn them over, so the butter side is down. I use a cutting board so that I don't get butter all over the counter.
On the up-side of one slice, spread on some of the peanut butter. On the up-side of another slice, spread some marshmallow creme. Top with some of the peanuts.
Put the sandwich together, peanut butter and marshmallow together, then grill the sandwich on the panini press.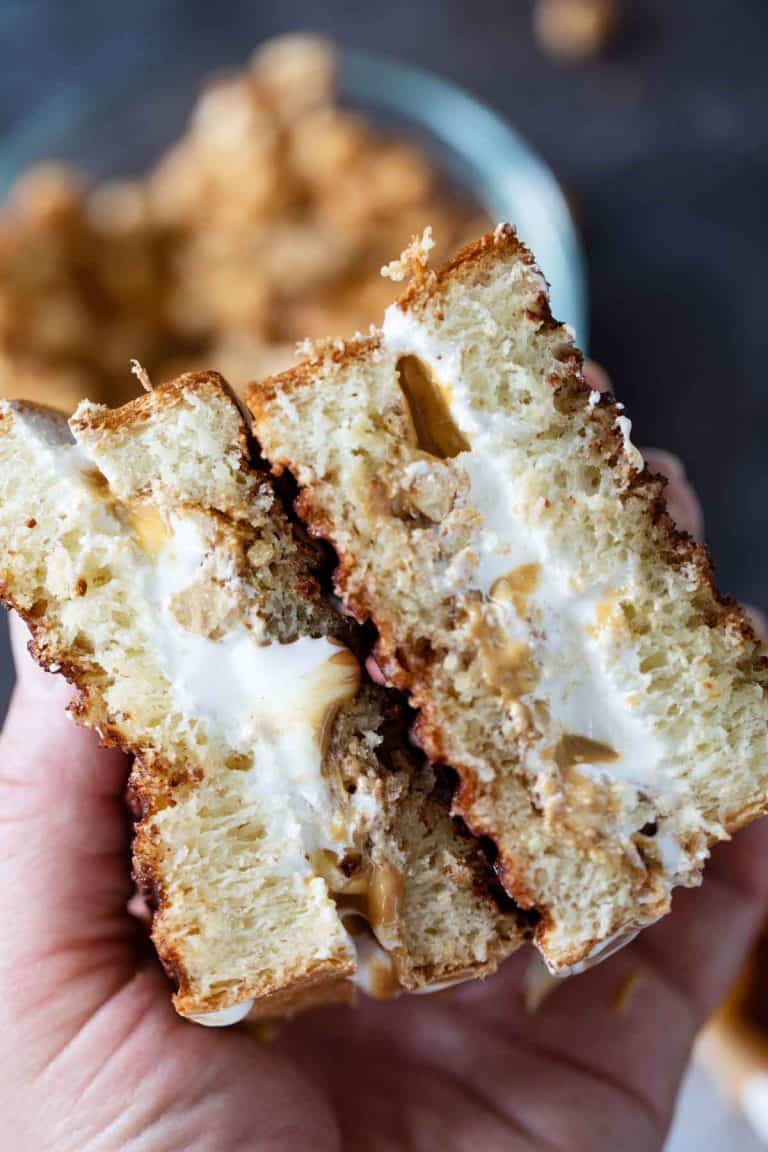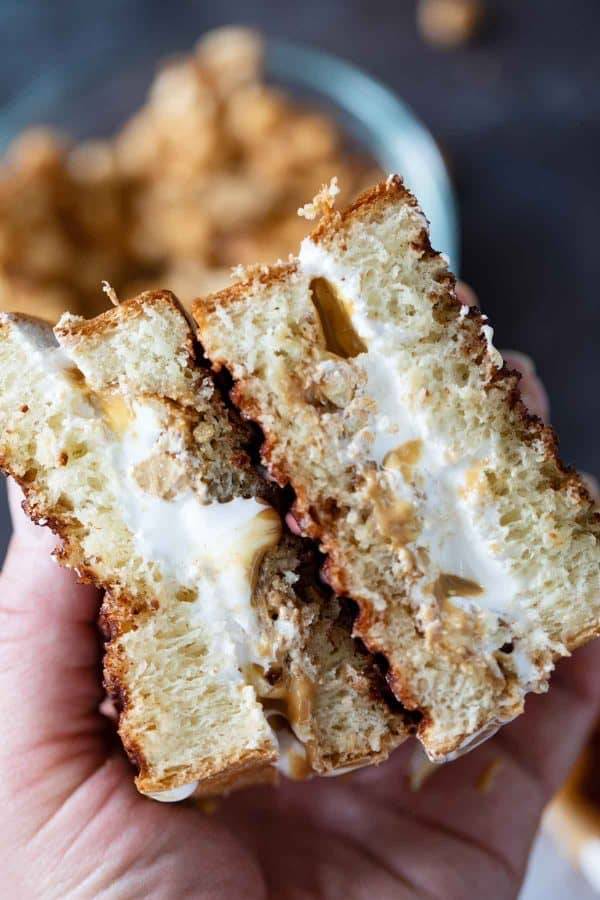 More Peanut Butter Recipes
Reeses Peanut Butter Cheesecake
Peanut Butter Blossoms
Peanut Butter Banana Bread with Chocolate Chips
Peanut Butter Banana Ice Box Cake
Peanut Butter Popcorn
Peanut Butter Fudge Pie with Salted Peanut Butter Caramel
Tools Used to Make this Fluffernutter Panini
You'll need a panini press to make this sandwich. You don't need anything fancy – I have had a cheaper model for years and it has served me just fine.
You'll also need a skillet to make the candied peanuts.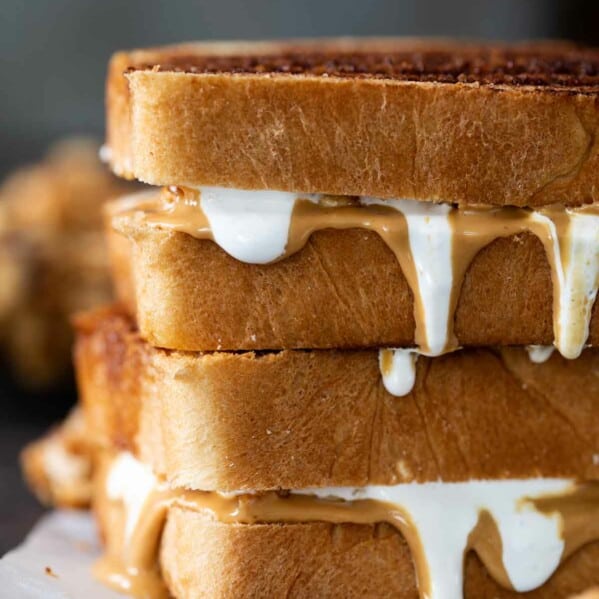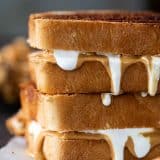 Fluffernutter Panini
---
Author:
Prep Time: 10 mins
Cook Time: 20 mins
Total Time: 30 minutes
Yield: 4 servings 1x
Category: Dessert
Method: Panini Press
Cuisine: American
Description
A version of a New England classic, this Fluffernutter Panini has melted marshmallow creme, peanut butter and candied peanuts all toasted on cinnamon sugar crusted bread.
---
Scale
Ingredients
Candied Peanuts:
1/4 cup unsalted roasted peanuts
1 tablespoon sugar
1 teaspoon water
1/4 teaspoon vanilla extract
Pinch of coarse salt
Sandwiches:
4 tablespoons unsalted butter, at room temperature
2 tablespoons sugar
2 teaspoons ground cinnamon
Pinch of coarse salt
8 slices of white bread, each about 1 inch thick
1/2 cup peanut butter
1/2 cup Marshmallow Fluff or Marshmallow Creme
---
Instructions
To make the candied peanuts: Lay out a piece of aluminum foil on a large baking sheet. Spray with nonstick cooking spray and set aside.
Combine the peanuts, sugar, water, vanilla and salt in a skillet and place over medium-high heat. Cook, stirring constantly, as the mixture goes from syrupy to dry and sandy to a deep brown, caramel color. This will take from 10-12 minutes.
Pour the peanuts out onto the prepared pan. Let the peanuts cool completely then break apart as needed.
To make the sandwiches: Combine the butter, sugar and cinnamon in a small bowl. Stir until they are well combined.
Heat a panini press to medium high.
For each sandwich, spread a layer of the cinnamon butter mixture on two of the slices of bread. Flip the slices of bread over. Spread 1/4 of the peanut butter on one slice, and 1/4 of the marshmallow fluff on the other slice. Sprinkle 1/4 of the peanuts over the peanut butter, then close the sandwich with the other slice of bread, marshmallow side down.
Prepare the remaining 3 sandwiches.
Grill 2 panini at a time, with the lid closed, until the marshmallow fluff is melted and the bread is toasted, 2-3 minutes.
Recipe Notes:
Very slightly adapted from The Best of the Best Panini Press Cookbook by Kathy Strahs
Nutrition information provided as an estimate only. Various brands and products can change the counts. Any nutritional information should only be used as a general guideline.
Nutrition
Serving Size: 1 sandwich
Calories: 619
Sugar: 18 g
Sodium: 197 mg
Fat: 34 g
Saturated Fat: 11 g
Unsaturated Fat: 10 g
Trans Fat: 0 g
Carbohydrates: 68 g
Fiber: 3 g
Protein: 16 g
Cholesterol: 31 mg