Perfect for when corn is in season, this Grilled Corn Salad makes the perfect summertime side dish.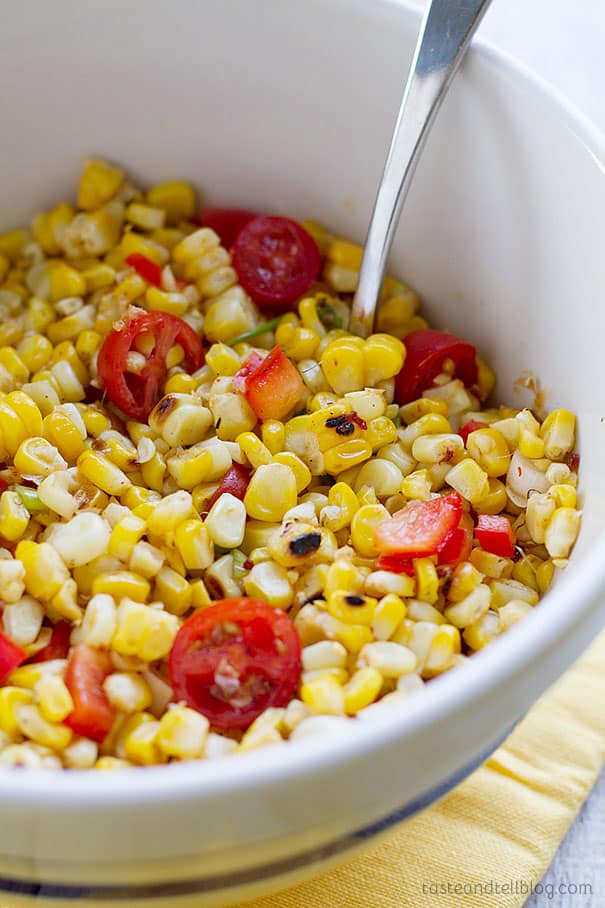 Photos Updated July 2014



Note: The title of this recipe was updated July 2014. While it was originally called a relish, I thought the name didn't do it any justice. This grilled corn salad is a great side dish salad in the summer!
I usually give myself a few minutes on the computer in the morning to do a blog post before going about my daily duties. But as I sat down to my computer this morning, I pulled up my email, and noticed I had 35 emails. I had checked my email before I went to bed the night before, so I knew something was up if I had that many emails over the course of a Sunday night.
Well, I get an email notification every time someone leaves a comment on my blog. Someone left 30 comments on my blog, on different posts last night. Normally, I'm very happy when I get comments. But these comments, even though there was a comment with each of them, each had a link to something that said something about an easy way to make money. No, I did not click the link. And the comments – although there was a comment left each time – you could obviously tell that this person had just looked at the picture and left some words that might work with the picture.
Do these people really think that kind of advertising works? Did he/she think I would actually click on the link, believing that I would find this magic easy way of becoming a millionaire overnight? And did he/she think that others that read the post would read down to their comment and click on their link? Needless to say, I spent the time I normally spend blogging having to go through each comment and delete it.
I'm so glad that the good parts of blogging overshadow these bad parts. Good part? Getting me excited about trying new recipes – like this one. Although it's called a "relish", I ate it as a side dish, and it was so good. You'll love it – especially if you love the smokiness from chipotle. And I'm guessing it would be a great relish or topper for some grilled chicken. And the corn is so good right now. A perfect recipe for this time of year!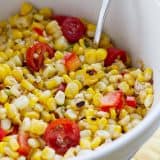 Grilled Corn Salad
---
Prep Time: 15 minutes
Cook Time: 15 minutes
Total Time: 1 hour
Yield: 6-8 servings 1x
Description
Perfect for when corn is in season, this Grilled Corn Salad makes the perfect summertime side dish.
---
Scale
Ingredients
4 ears fresh corn, shucked
1/2 cup diced red bell pepper
3/4 cup halved grape or cherry tomatoes
2 tablespoons thinly sliced green onions
1/2 to 1 chipotle chile, canned in adobo sauce, minced (seeds removed for less heat)
1 tablespoon fresh lime juice
2 teaspoons vegetable oil
1/4 teaspoon sugar
1/4 teaspoon salt
1/4 teaspoon ground cumin
---
Instructions
Heat a grill to medium-high. Add the corn and grill until charred, turning occasionally, about 15 minutes. Cool the corn completely.
Cut the kernels from the cobs and place in a medium bowl. Add the bell pepper, tomatoes and green onions.
In another small bowl, combine the chipotle chile, lime juice, vegetable oil, sugar, salt and cumin. Whisk to combine. Pour over the corn and toss to combine.
Chill for at least 30 minutes before serving.