Hash browns, cheese, taco seasoning and eggs are combined in these Mexican-Style Eggs in a Nest for an easy breakfast, perfect for entertaining!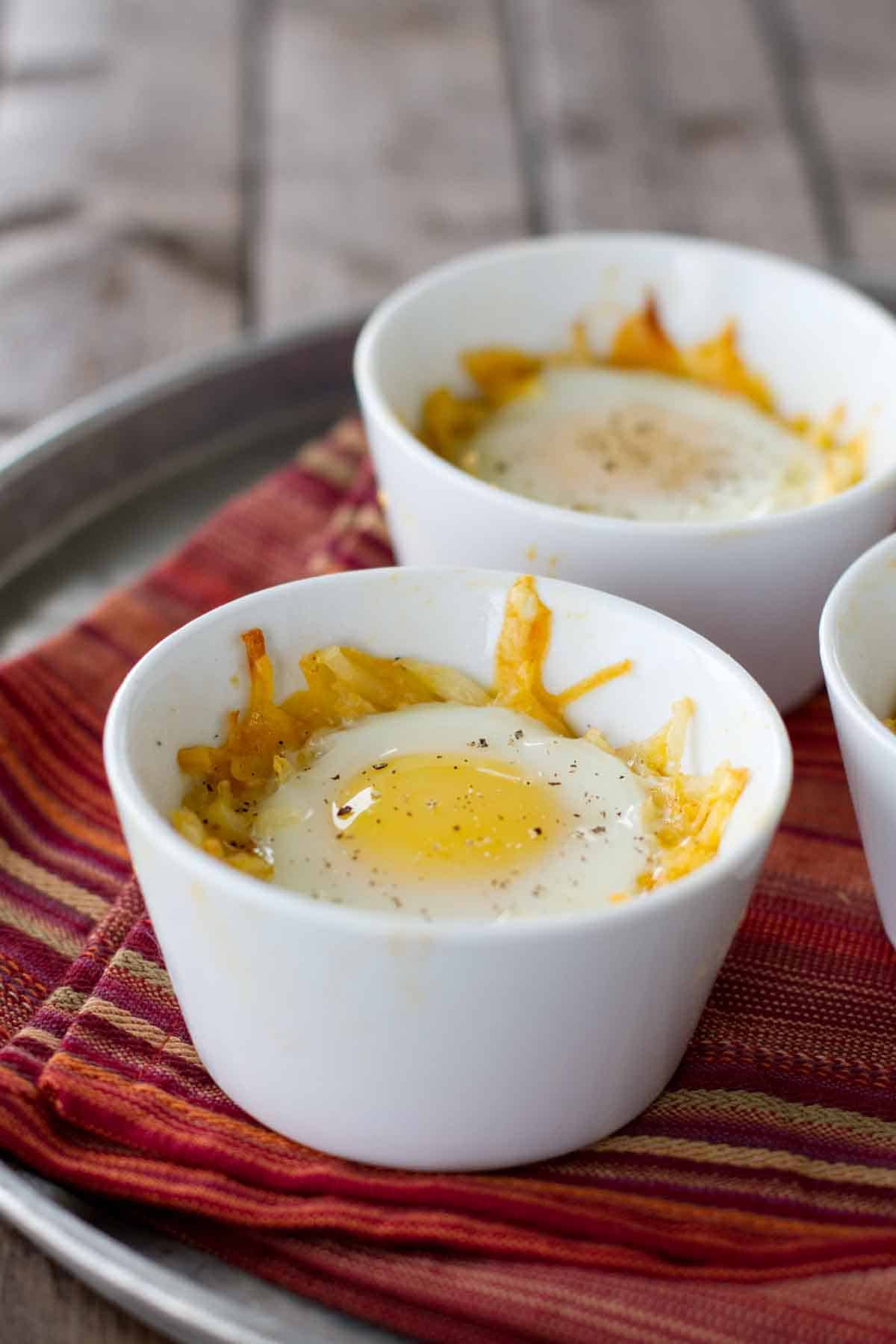 This post has been sponsored by The American Egg Board
We are an egg loving family.
Boiled, scrambled, in an Egg Salad Sandwich, or even on a burger – it really doesn't matter. We like them any and every way.
Which is why I'm so excited that I will be working with The American Egg Board to support The Good Egg Project over the next year and talking about all things eggs.

And what better way to kick the whole thing off than by celebrating World Egg Day? Yep, today is World Egg Day. I love when I have a whole day to celebrate one of my favorite foods! There are so many reasons to love the humble egg. Did you know that eggs are one of the highest quality proteins available? Packed with nine essential amino acids, they are a power food to help you grow and perform. There is a reason why body builders love eggs! High quality protein can also help you to lose weight, they give you energy, and may even help prevent macular degeneration (a leading cause of age-related blindness.) If that doesn't give you reason enough to get excited about eggs, just think about how fast and easy they are to prepare, plus at only $0.15 each, they are very budget friendly. Egg meals are what we always turn to when we are looking for a fast and cheap meal!!
America's egg farmers also love to give back to their communities through the Good Egg Project, teaching about where eggs come and helping to fight childhood hunger. For more information about the Good Egg Project, visit incredibleegg.org.
I'm not sure who likes eggs the most in my family. Abbi is a boiled egg addict. I've never seen a 4 year old put them down like she does. She will sometimes just ask for boiled eggs for a meal, and eat 4 of them in one sitting – nothing else. All through college, I survived on scrambled eggs, tortillas and salsa. And when I got married, my husband taught me the simple joy of a simple sunny side up egg.
And since it's World Egg Day, what better way to celebrate than with a globally-inspired egg dish? I love baked eggs. Seriously love them. These eggs are baked in "nest" of potatoes, cheese, and taco seasoning. This is one of the easiest meals – even for the craziest of mornings. I think this would make the perfect dish if you have company, as well. Hands on time is so little, and then they just go into the oven to bake. It really doesn't get much easier.
Breakfast, lunch or dinner, eggs are a great (and inexpensive!) choice!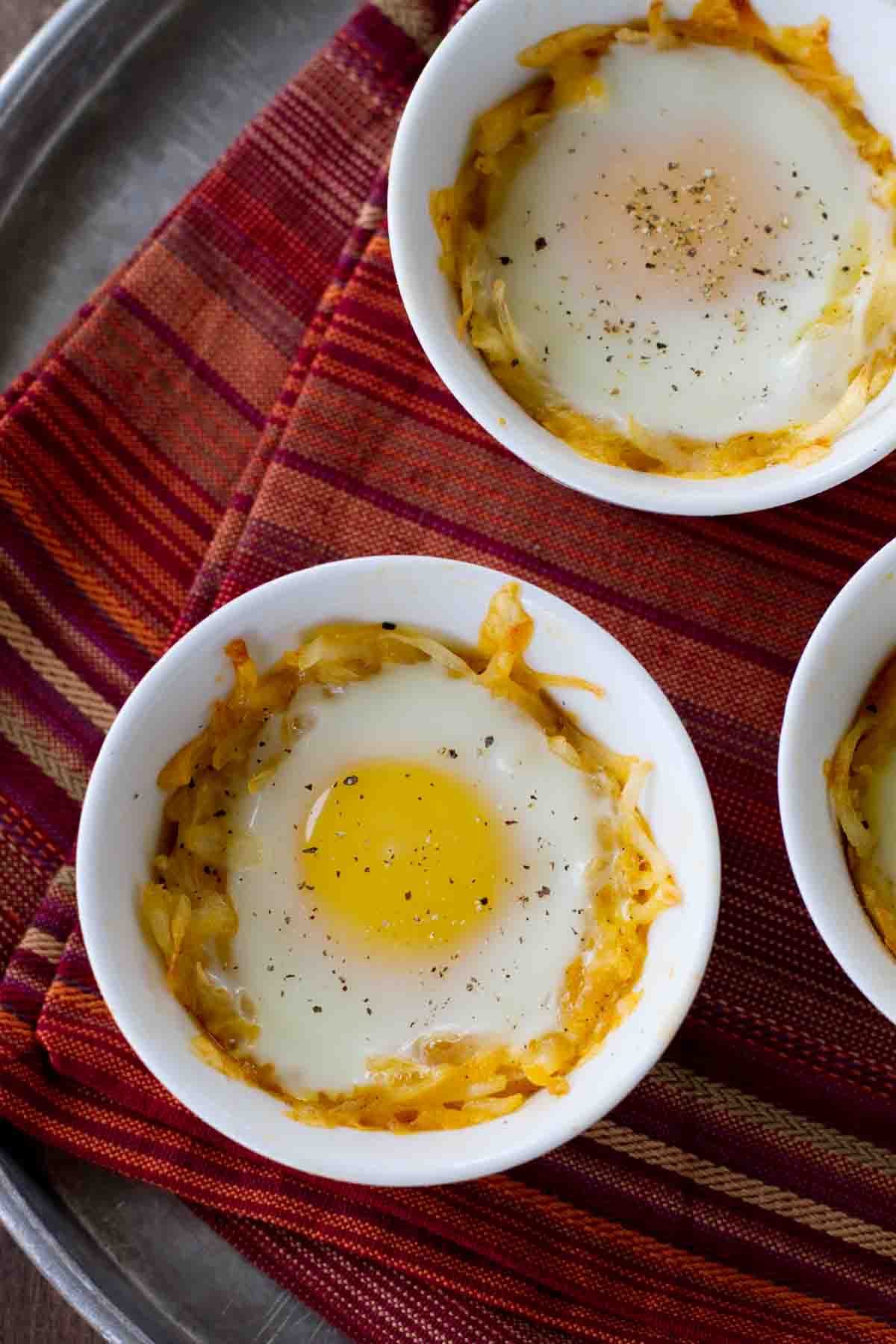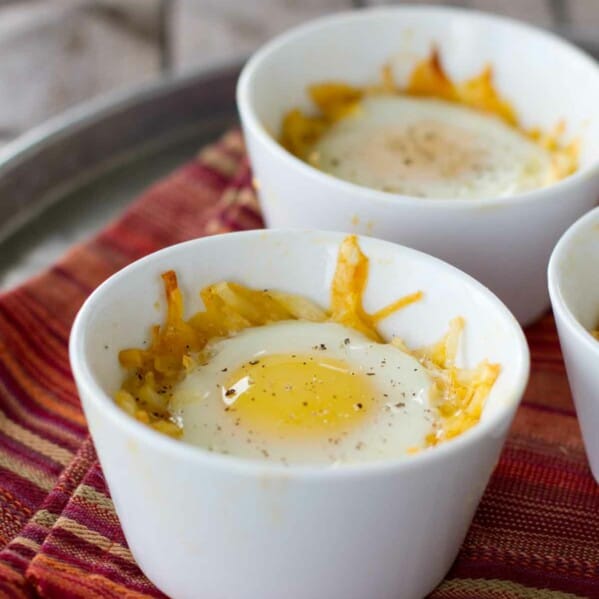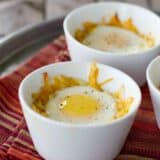 Mexican Style Eggs in a Nest
---
Author:
Prep Time: 10 minutes
Cook Time: 25 minutes
Total Time: 35 minutes
Yield: 4 servings 1x
Category: Breakfast
Method: Baked
Cuisine: Mexican
Description
Hash browns, cheese, taco seasoning and eggs are combined in these Mexican-Style Eggs in a Nest for an easy breakfast, perfect for entertaining!
---
Scale
Ingredients
2 cups frozen shredded has browns, thawed
1 cup shredded cheddar cheese
1 teaspoon taco seasoning
4 eggs
Salt and pepper
---
Instructions
Preheat the oven to 375°F. Grease 4 1-cup ramekins or custard cups.
Combine the potatoes and cheese in a bowl. Sprinkle the taco seasoning over and toss to combined. Divided the mixture evenly between the 4 ramekins. Press against the bottoms and halfway up the sides. Place the cups on a baking sheet and bake in the oven for 10 minutes.
Break an egg and gently slide it on top of the partially cooked potatoes and cheese. Repeat with the remaining eggs and cups. Place back in the oven and bake until the whites are set and the yolks are thick but not hard, 10-15 minutes more. Sprinkle with salt and pepper and serve.
I am in a working relationship with the National Egg Board, and this post has been sponsored.  I'm so glad to be able to work with companies and organizations that I truly believe in.  Thank you for supporting them, too.