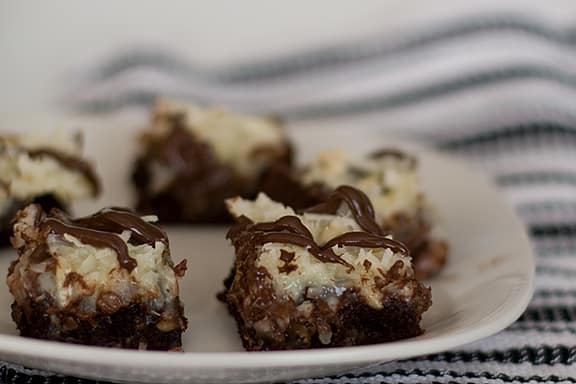 Merry Christmas to you all! I hope your day is filled with lots of family, lots of friends, and certainly lots of food!!

Almond Macaroon Brownie Bars
from Betty Crocker Christmas Cookies Dec/Jan 2009
Makes 48 brownies
Brownies
1 box Betty Crocker Original Supreme brownie mix (with chocolate syrup pouch)
1/4 cup water
1/3 cup vegetable oil
3 eggs
Filling
3 cups flaked coconut
1 cup slivered almonds, toasted
1/4 teaspoon almond extract
1 can (14 oz) sweetened condensed milk
Drizzle
1/2 cup semisweet chocolate chips
1/2 teaspoon vegetable oil
Heat oven to 350. Spray bottom of 13×9-inch pan with cooking spray. Make brownie mix as directed on box, using 1/4 cup water, 1/3 cup oil, 3 eggs and chocolate syrup pouch. Spread batter in pan. Bake 28 to 30 minutes or until toothpick inserted 2 inches from edge comes out almost clean.
Meanwhile, in a large bowl, mix filling ingredients. Remove brownies from oven. Carefully spoon and spread filling evenly over brownies. Bake 10 to 15 minutes longer (filling will not brown). Cool completely, about 1 hour.
In small microwavable bowl, microwave chocolate chips and oil on high for 30 to 40 seconds, stirring every 10 seconds, until chips are melted. Spoon into a resealable food-storage plastic bag; seal bag. Cut small tip from corner of bag; drizzle chocolate over filling. For bars, cut 8 rows by 6 rows.