A sweet shortbread crust is topped with a pecan and coconut mixture for a buttery, sweet bar cookie.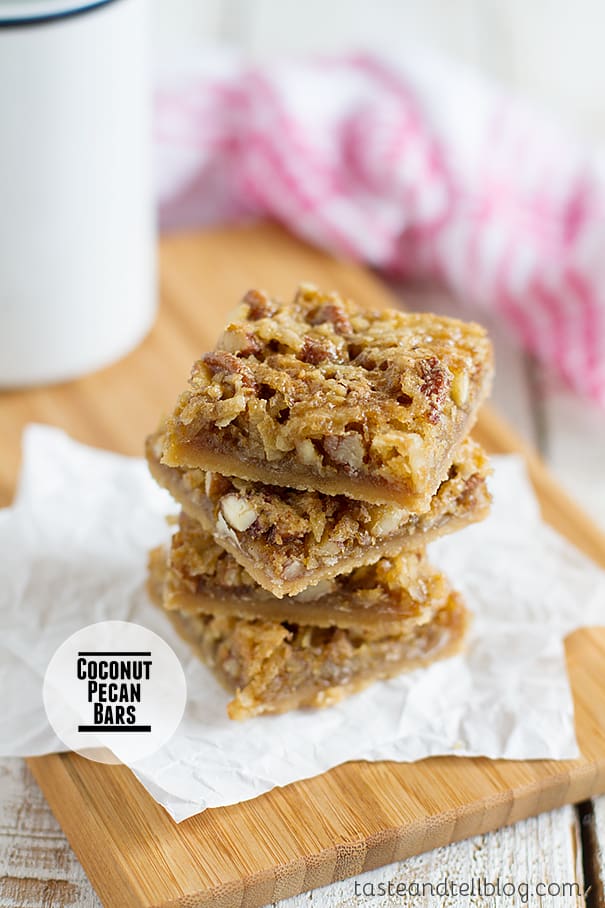 I am headed to Seattle today, to spend 2 days exploring and eating my way through the city. I am so excited. Seattle is one of my favorite places. It has been years since I have been there, so I cannot wait. And we are bringing the kids along, which should be a fun way to see the city.
I have spent some time researching where we are going to eat (one of my favorite parts of exploring a city!!). My list of places I want to go is about a mile long, and right now, I'm trying to convince my family to scratch doing any "activities" and just spend our time eating. 3 dinners each night? Why not?!? 😉

So it might be a tough sell to skip over everything but eating. I haven't completely pared my eating list down, but there is one stop we will be making for sure. Fran's Chocolates. Our hotel is within walking distance, and if Bobby Flay considers their Coconut Gold Bars good enough to be mentioned on The Best Thing I Ever Ate, you know I want to try them. Because me and coconut? Best of friends.
In preparation for what I am hoping is a life altering chocolate bar, I made these Coconut Pecan Bars. They may look unassuming. In fact, I'm sure if you put them on a dessert buffet, people might skip over them because they definitely don't look fancy. But believe me on this – one bite, and you will be hooked. The sweet, buttery crust. The soft, pecan and coconut infused layer. Pure heaven. I seriously had to hide these away from myself to keep from eating the whole pan.
Try them – you won't be sorry!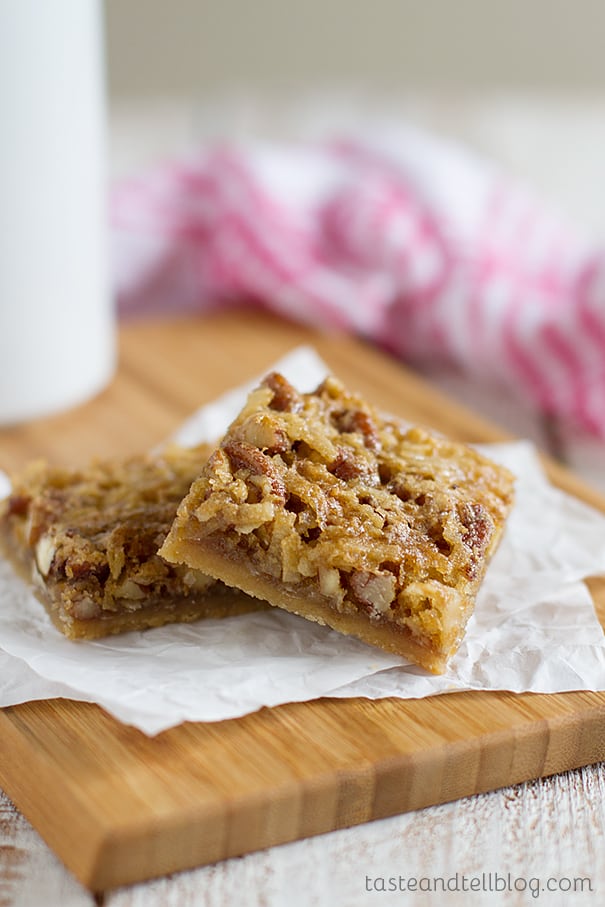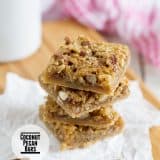 Coconut Pecan Bars
---
Prep Time: 15 minutes
Cook Time: 27 minutes
Total Time: 1 hour 15 minutes
Yield: 24 servings 1x
Description
A sweet shortbread crust is topped with a pecan and coconut mixture for a buttery, sweet bar cookie.
---
Scale
Ingredients
1/3 cup butter, softened
1 1/2 cups packed brown sugar, divided
1 1/4 cups flour, divided
2 eggs
1 teaspoon vanilla extract
1/2 teaspoon salt
1 cup Diamond pecans, chopped
1 1/2 cups sweetened coconut
---
Instructions
Preheat the oven to 375F. Spray a 9×13-inch pan with nonstick cooking spray, or line with foil and spray the foil lightly.
In a medium bowl, cream together the butter and 1/2 cup of the brown sugar until light and fluffy. Add 1 cup of the flour and mix until it forms a mixture that resembles very fine crumbs. Press evenly into the bottom of the prepared baking pan.
Bake for 12 minutes.
Meanwhile, mix together the remaining 1 cup brown sugar and 1/4 cup flour. Add in the eggs, vanilla and salt and mix to combine. Fold in the chopped pecans and coconut. Spread the mixture evenly over the baked crust.
Bake for an additional 15 minutes, or until browned. Cool completely before cutting into bars.
More Favorite Cookie Bars: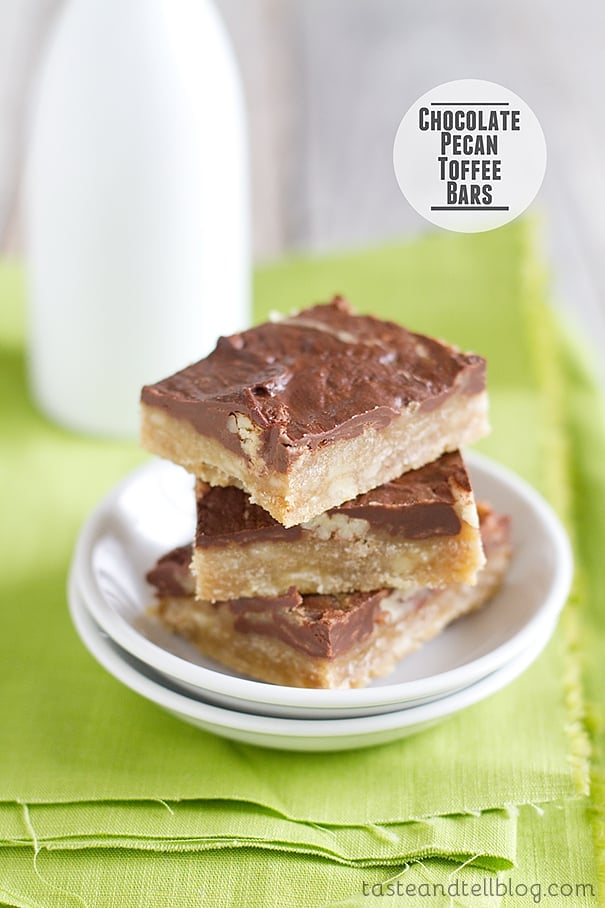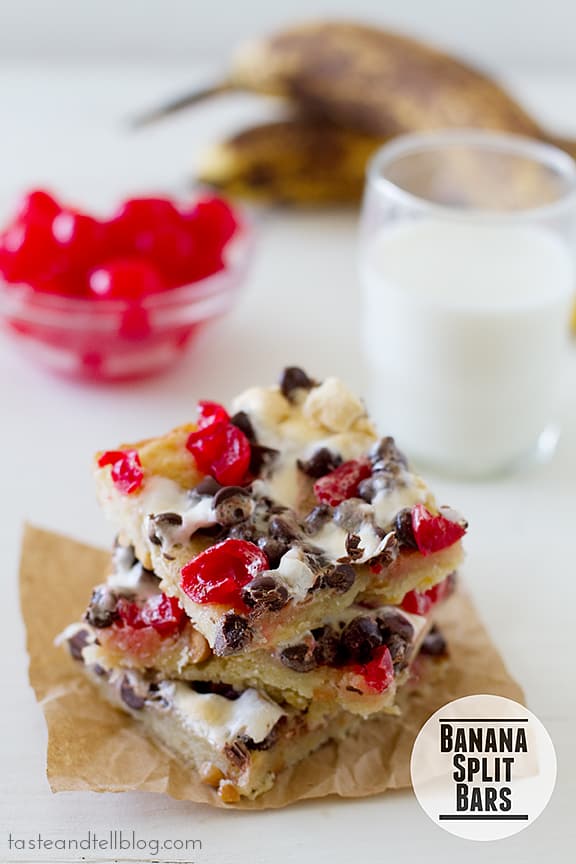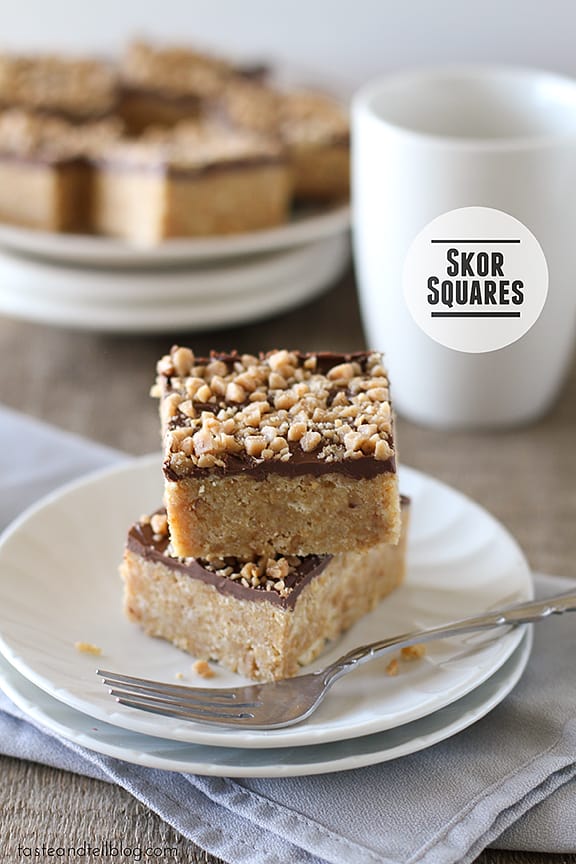 Around the Web:
Seven Layer Magic Bars from Chocolate, Chocolate and More
Samoas Bars from The Recipe Critic
Cookie Dough Seven Layer Bars from The Domestic Rebel