These moist, dense and fudgy Coconut Flour Brownies will convert you even if you aren't grain free! Dairy free option is also included.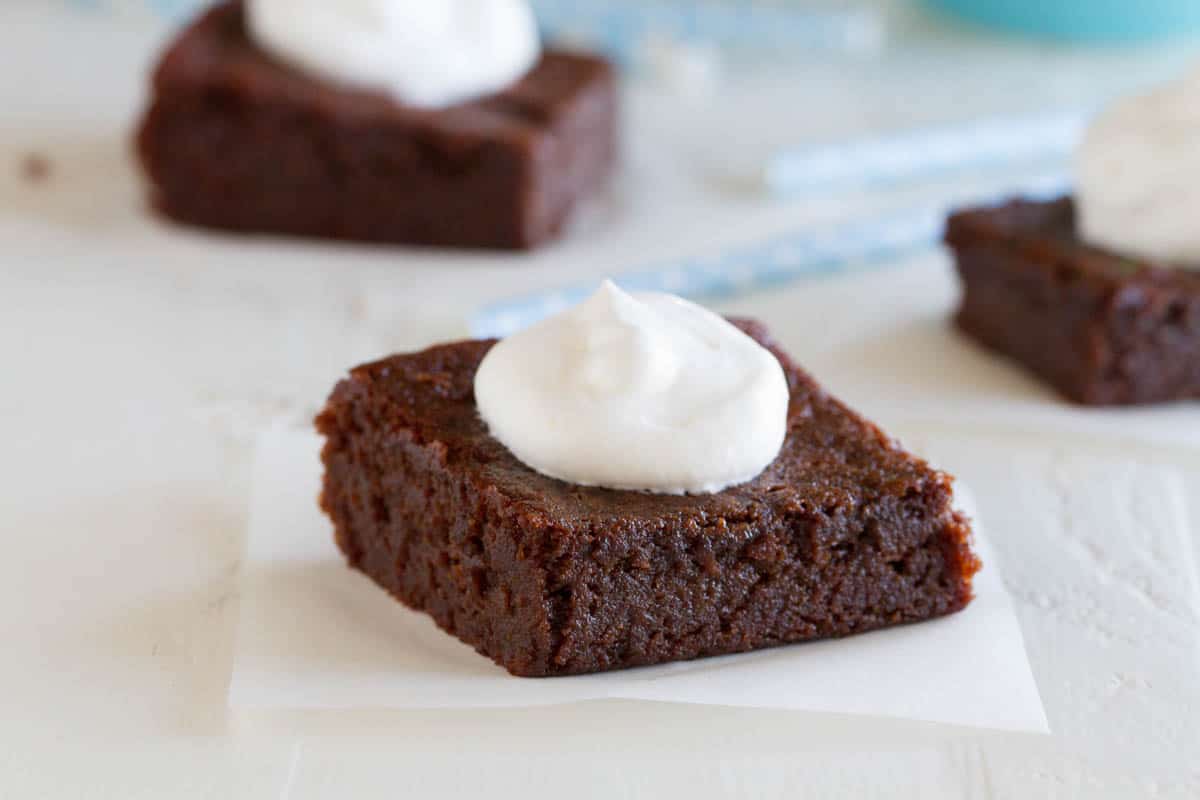 I often realize just how uncommon it is that we don't have any food allergies or intolerances in our house. I know a lot of families that have to alter diets and cooking styles to deal with different conditions.
Because we don't have any diet restrictions, I'm not used to cooking or baking for people who do have those restrictions. Every once in awhile, I'll volunteer to bring a meal to another family, and every once in awhile, I'll be faced with one of these allergies or intolerances.
So, while I don't have to bake grain free on a normal basis, I'm always willing to practice up whenever I have the chance!! And I was given the chance with this cookbook, Everyday Grain-Free Baking by Kelly Smith.

I'll admit that I went into this cookbook with some prejudices, not being very familiar with grain-free baking. I thought it would be full of ingredients that were hard to find and hard to say. But I was wrong – the recipes do rely on different types of flour besides all-purpose, such as almond flour and coconut flour, but for the most part, most of the ingredients are very normal. In fact, for these Coconut Flour Brownies, the only ingredient I didn't already have on hand was the coconut flour.
The book has a wide variety of recipes, everything from bread to breakfast to pies and cakes and brownies and cookies. I also love that even though it's a grain-free cookbook, there are also dairy free recipes, recipes with dairy free options, egg free recipes, nut free recipes and recipes suitable for the Specific Carbohydrate Diet. Each of these are designated on the recipes that they apply to.
Here are the details:
Number of Photos: many Looking through the book, it feels as if there is about one photo for every other recipe. The photos are very well done and are great at showing what the final recipes will look like.
Difficulty Level of Recipes: medium Really, I think most of the recipes in the book fall between easy and medium, but since it's a baking book, the recipes may be a little more difficult for some. And if you aren't used to baking grain free (like me) there might be a small learning curve to learn any differences.
Availability of Ingredients: easy This is the thing that surprised me most about this book. Today, you can find almond flour and coconut flour at most grocery stores, and most of the other ingredients are pantry staples for me.
Other Recipes I Want to Try:
Coconut Flour Drop Biscuits
Cherry Chocolate Chip Scones
Chocolate Covered Banana Muffins
Peach Pie in a Jar
Lemonade Sunshine Cake
Peach Cobbler Breakfast Bars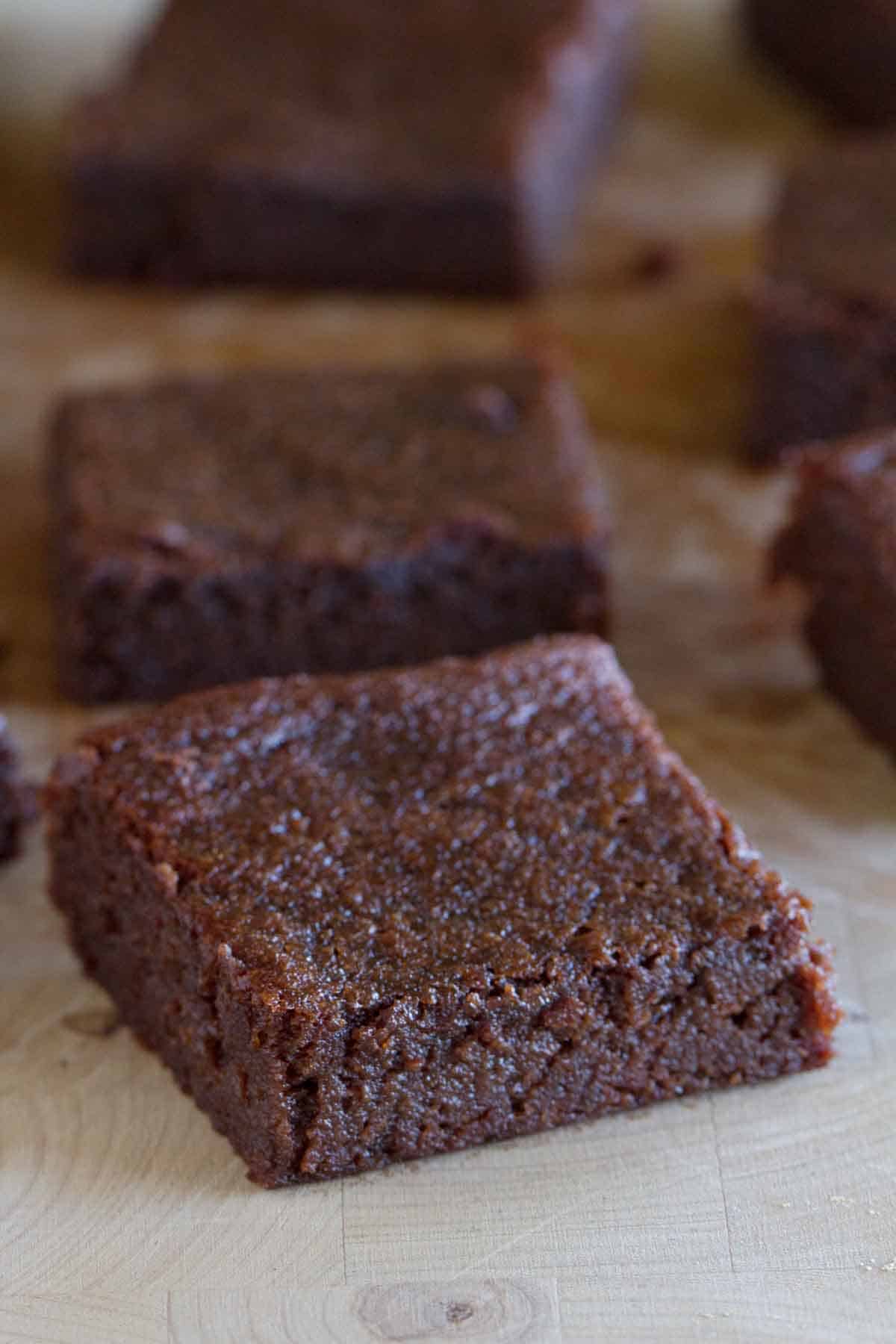 While trying to decide what to make, I wanted to try something that would be good to take to neighbors, if needed. I was drawn to many of the recipes with fresh fruit that is not in season, so I have a lot of recipes to try this summer, but in the end, I decided that you can never go wrong with chocolate!
I have never used coconut flour before, so I didn't really know what to expect. The recipe was fairly simple to prepare, but when the brownies came out of the oven, I had some doubts. They didn't really look like brownies when I first took them out – they looked more like a cake.
But I carried on. And when I took them out of the pan to cut them, I no longer thought they looked like cake. And when I took my first bite? I was totally blown away. The taste and texture were totally not what I was expecting, but they were so good.
The texture wasn't gooey like a normal brownie, but they are dense and rich and I would still call them fudgy. They had a hint of coconut flavor to them (they do have coconut flour, coconut oil and coconut milk in them!) but the chocolate really shined.
In the book, there is a recipe for whipped coconut cream, which I wish I would have prepared for. Your coconut milk needs to be refrigerated overnight, and well, I wasn't prepared. So since I can 😉 I just whipped up some fresh whipped cream.
These brownies were so good that I would make them again even though we don't need to bake grain-free. And bonus is that they saved well, too. They were perfectly moist and delicious 2 days later, which is definitely a plus.
I'm so glad to have this book in my collection!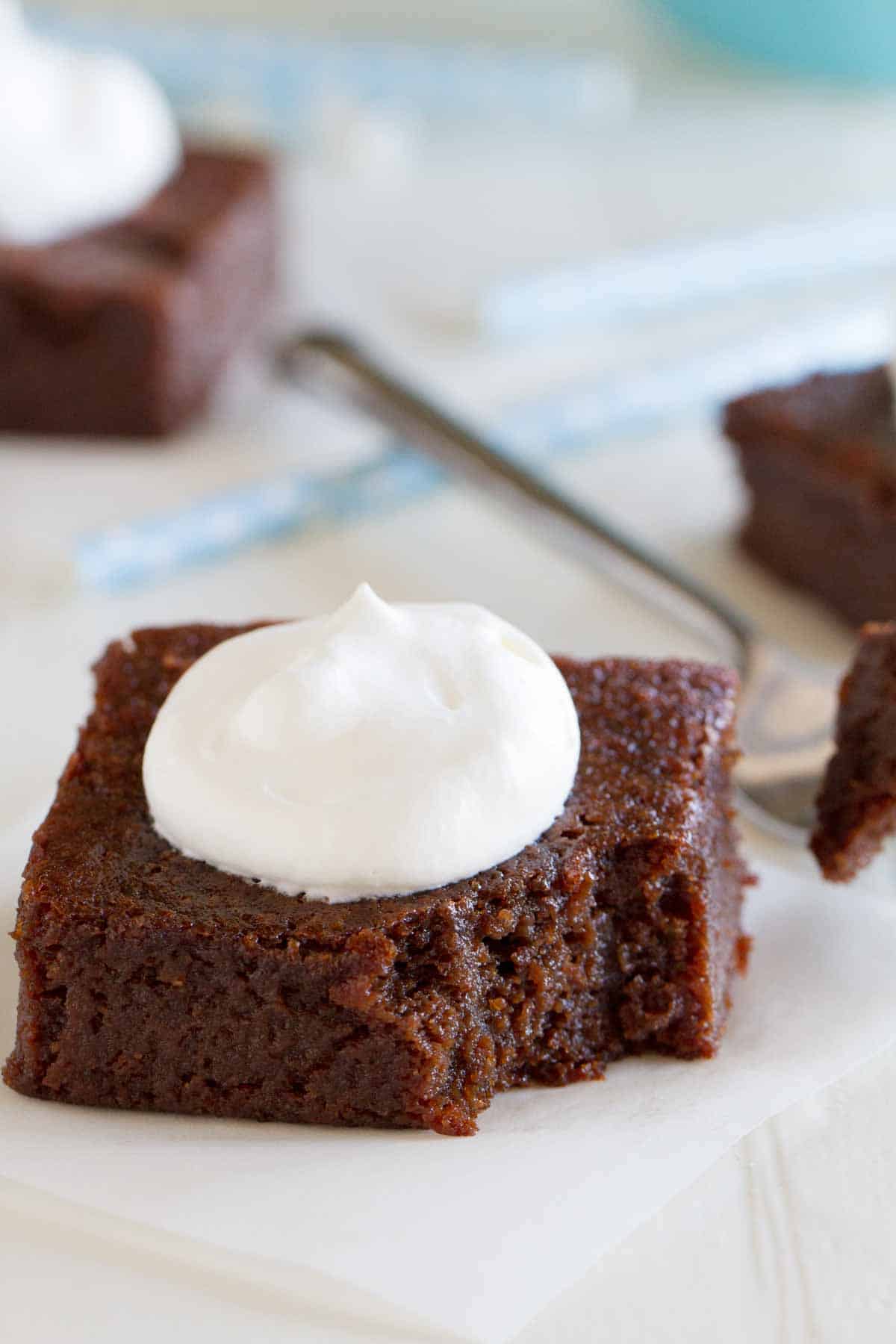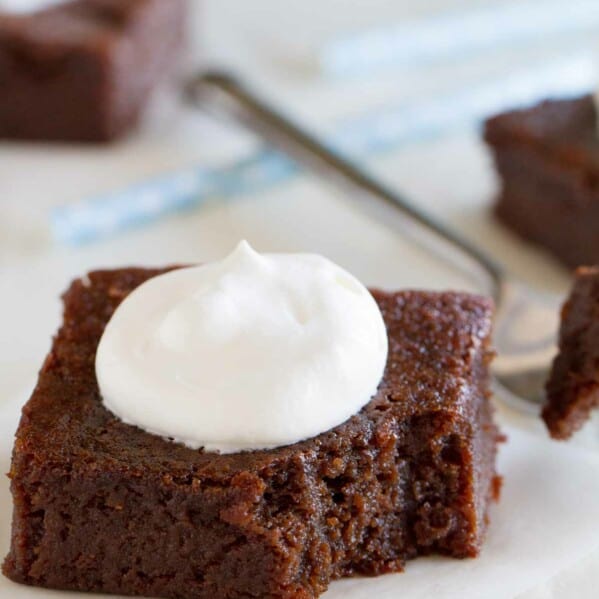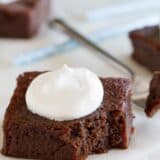 Coconut Flour Brownies
---
Author:
Prep Time: 20 minutes
Cook Time: 25 minutes
Total Time: 45 minutes
Yield: 9 servings 1x
Category: Dessert
Method: Baked
Cuisine: American
Description
These moist, dense and fudgy Coconut Flour Brownies will convert you even if you aren't grain free! Dairy free option is also included.
---
Scale
Ingredients
1/2 cup coconut flour
1/4 teaspoon baking soda
1/4 teaspoon salt
1/3 cup coconut oil
1/4 cup unsalted butter*
1/2 cup semi-sweet chocolate chips**
1 tablespoon cocoa powder
1/2 cup honey
1/2 cup coconut milk
2 large eggs
1 teaspoon vanilla extract
---
Instructions
Preheat the oven to 350ºF. Grease an 8×8-inch baking dish, or line with foil or parchment paper.
In a small bowl, mix together the coconut flour, baking soda and salt.
Heat the coconut oil and butter in a small saucepan over low heat until melted. Add the chocolate chips, cocoa powder and honey. Stir the mixture until the chocolate chips start to melt, then remove the pan from the heat and stir until the chips are completely melted and the mixture is very smooth. Set aside to cool.
Whisk together the coconut milk, egg and vanilla in a large bowl. Slowly whisk in the cooled chocolate mixture.
Sift the dry ingredients into the chocolate mixture and whisk vigorously until no lumps remain. Allow the batter to rest for 5 minutes so that the coconut flour can absorb some of the liquid.
Pour the mixture into the prepared dish. Bake for 25 minutes, or until a tester inserted in the middle comes out mostly clean. Remove the dish from the oven and allow to cool completely before cutting into squares.
Recipe Notes:
*For dairy free, substitute palm shortening for the butter
**For dairy free, use dairy free chocolate chips
source: Everyday Grain-Free Baking
Keywords: coconut flour brownies