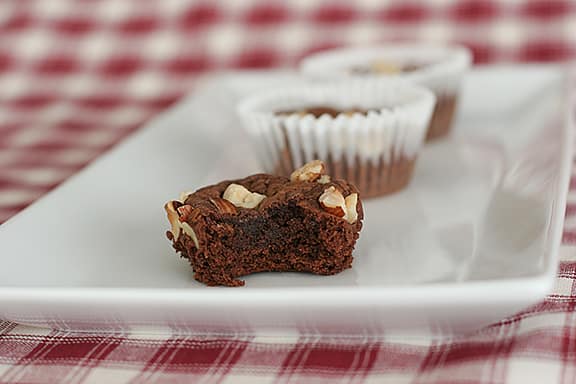 We are taking a short break from Red Velvet Week – but don't worry – I still have one more red velvet recipe for you tomorrow!!
Have you ever had one of those "duh" moments while cooking?  Well, mine seem to be coming on more and more lately.  And this recipe was no exception.  I went to make these brownies, super excited because I love Nutella.  I don't normally even keep it on hand, because I know I can't stop myself from going to the jar and eating it by the spoonful.  Well, I prepared my muffin tin.  I mixed the ingredients.  I went to fill the paper liners.  And I was only able to fill 7 of them – not even 3/4 of the way full like the recipe says to – more like half full.  I was wondering why the recipe was so off.  I put them in the oven, and they weren't done in the specified time.  Which is strange, because my oven cooks a little hot, so things are usually done before the time on a recipe.  I cooked them a few minutes more, until they were done.
I was seriously confused at why I only got 7 brownies.  So I did what I should have done earlier – I went to the internet.  These brownies are quite popular, so I was able to find several blogs that had made these.  And as I read through them, seeing if anyone else had the same problem – I found that no one else had complained of the same issues.  And that's when I noticed it:  Line a 12-cup mini muffin pan with paper or foil liners.  Somehow, I had completely missed that one little word:  mini.  And all I could do was laugh at myself!!
Regardless, these were absolutely perfect.  I love that they only have 4 ingredients. I love that they don't make a million and a half – they are a perfect small batch.  I love that they are fudgy and Nutella-y.  And even though I didn't follow the recipe exactly, they still turned out!!
Recipe Rating:  9 out of 10
Nutella Fudge Brownies
from Desserts 4 Today
makes 12 brownies
1/2 cup Nutella
1 large egg
5 tablespoons all-purpose flour
1/4 cup chopped hazelnuts
Heat the oven to 350 degrees. Line a 12-cup mini muffin pan with paper or foil liners.
Put the Nutella and egg in a medium bowl and whisk until smooth and well blended. Add the flour and whisk until blended.
Spoon the batter into the prepared muffin tins (about 3/4 full) and sprinkle with the chopped hazelnuts.
Bake until a pick comes out with wet, gooey crumbs, 11-12 minutes. Set on a rack to cool completely. Serve immediately or cover and store at room temperature for up to 3 days.