Full of chocolate, coconut and almond flavor, this Almond Joy Candy Bar Filled Chocolate Bundt cake is a chocolate lover's dream!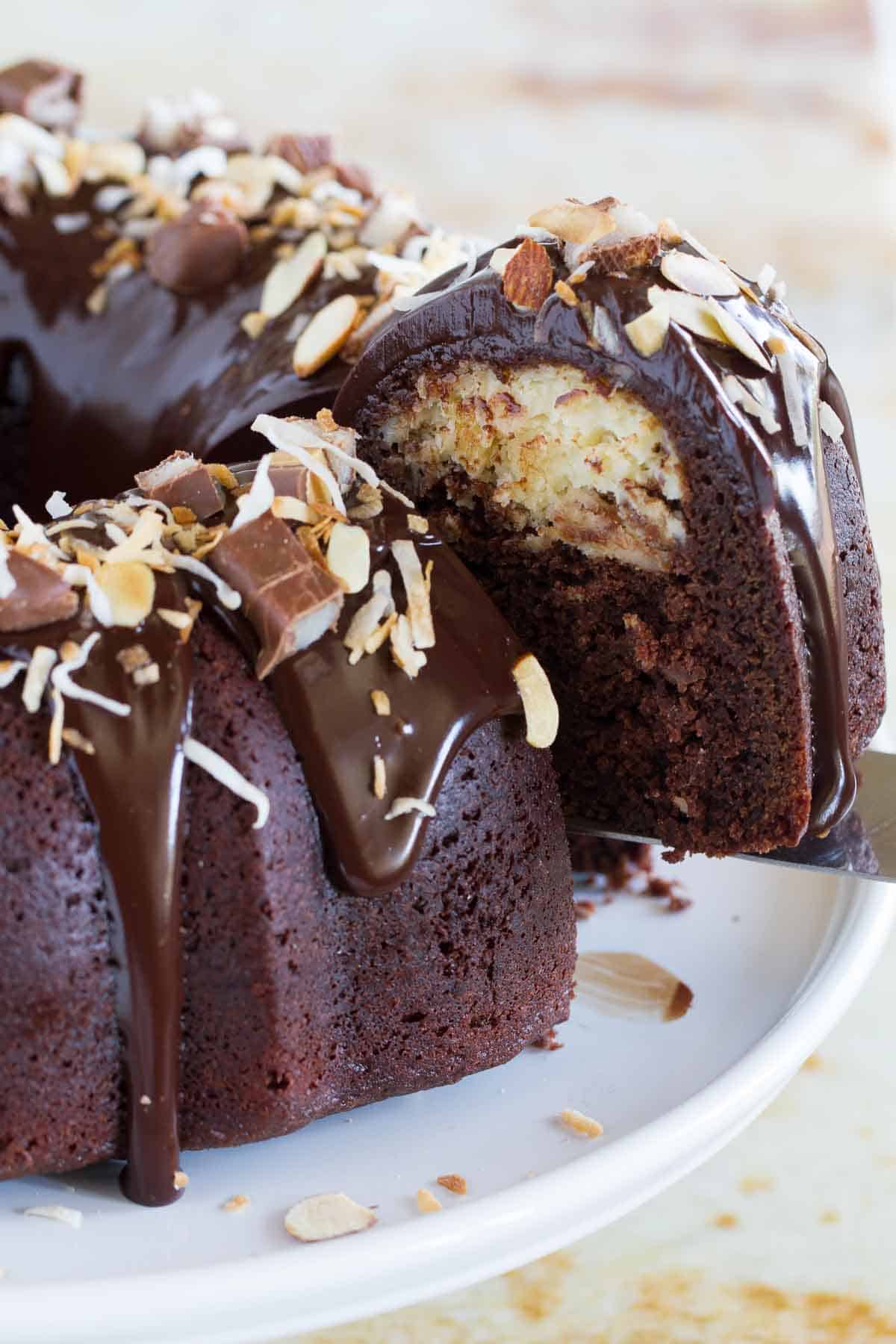 This post has been sponsored by HERSHEY.
I have a friend that is a great piano player. One of those people that sits down at the piano and you can tell it just transports her to another world. Somewhere where nothing else matters. Where she can lose herself. Or find herself, depending on how you look at it.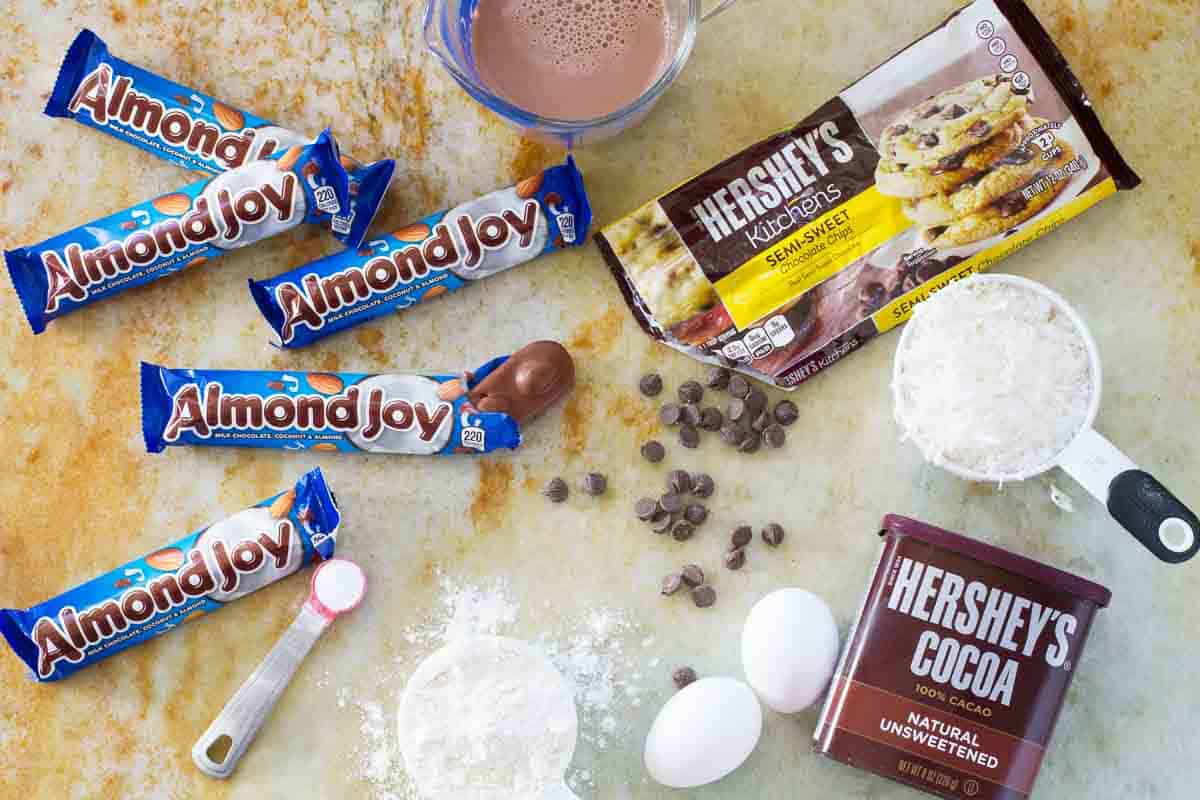 For a long time, I was jealous of her. Maybe not her, but the fact that she had this talent that she felt so deeply. I didn't think I had anything like that in my life. I am not a singer, not a musician. Not a runner, or a painter, or a writer.
But then I discovered my love of baking. And it all changed.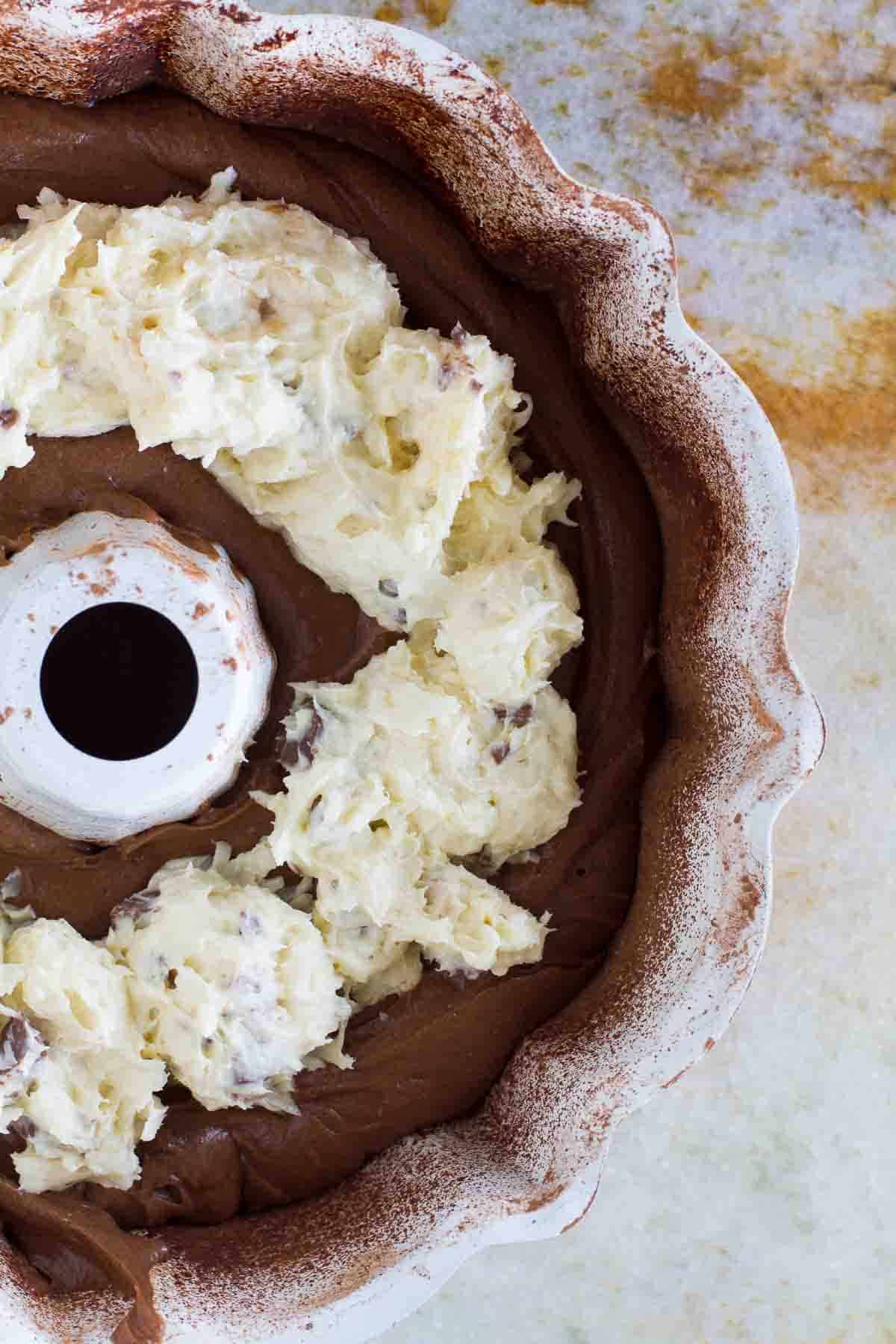 I have always loved food. My mom is a great cook, and made pretty much all of our food growing up. Eating out was not a normal occurrence at all. In fact, when I was a kid, I'm pretty sure the only time we ate out was when we were on vacation. But really, nothing beat mom's food. My love of homemade food was ingrained into me from the time I was a child.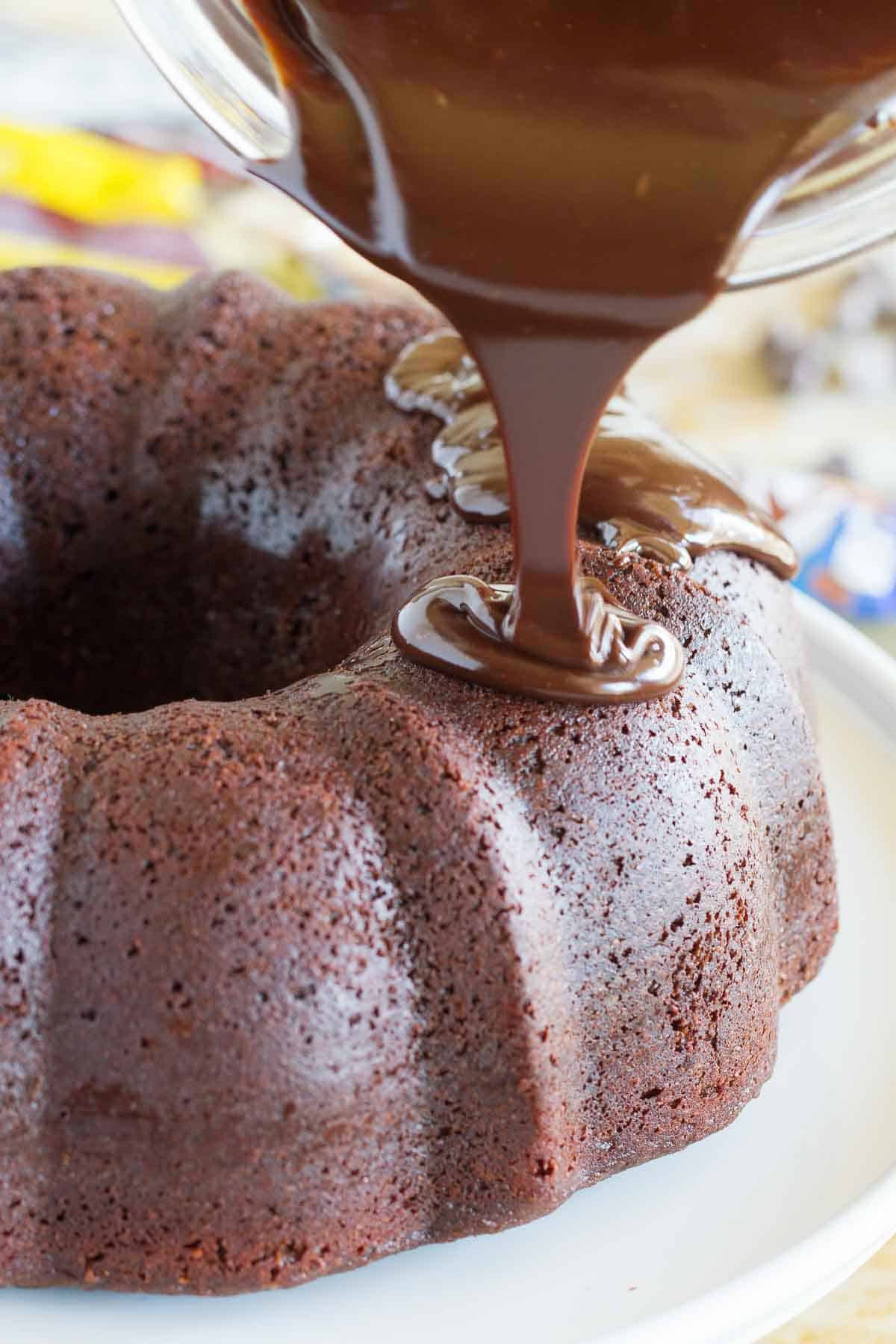 I didn't discover my true love of cooking and baking until I moved away from home, though. I didn't have the chance to get into the kitchen a lot as a college student, simply because cooking for one leaves you with lots of leftovers. When I got married, it all changed. I loved being in the kitchen. I loved pouring over cookbooks and spending hours reading blogs. That passion that my piano playing friend has? I had finally found mine.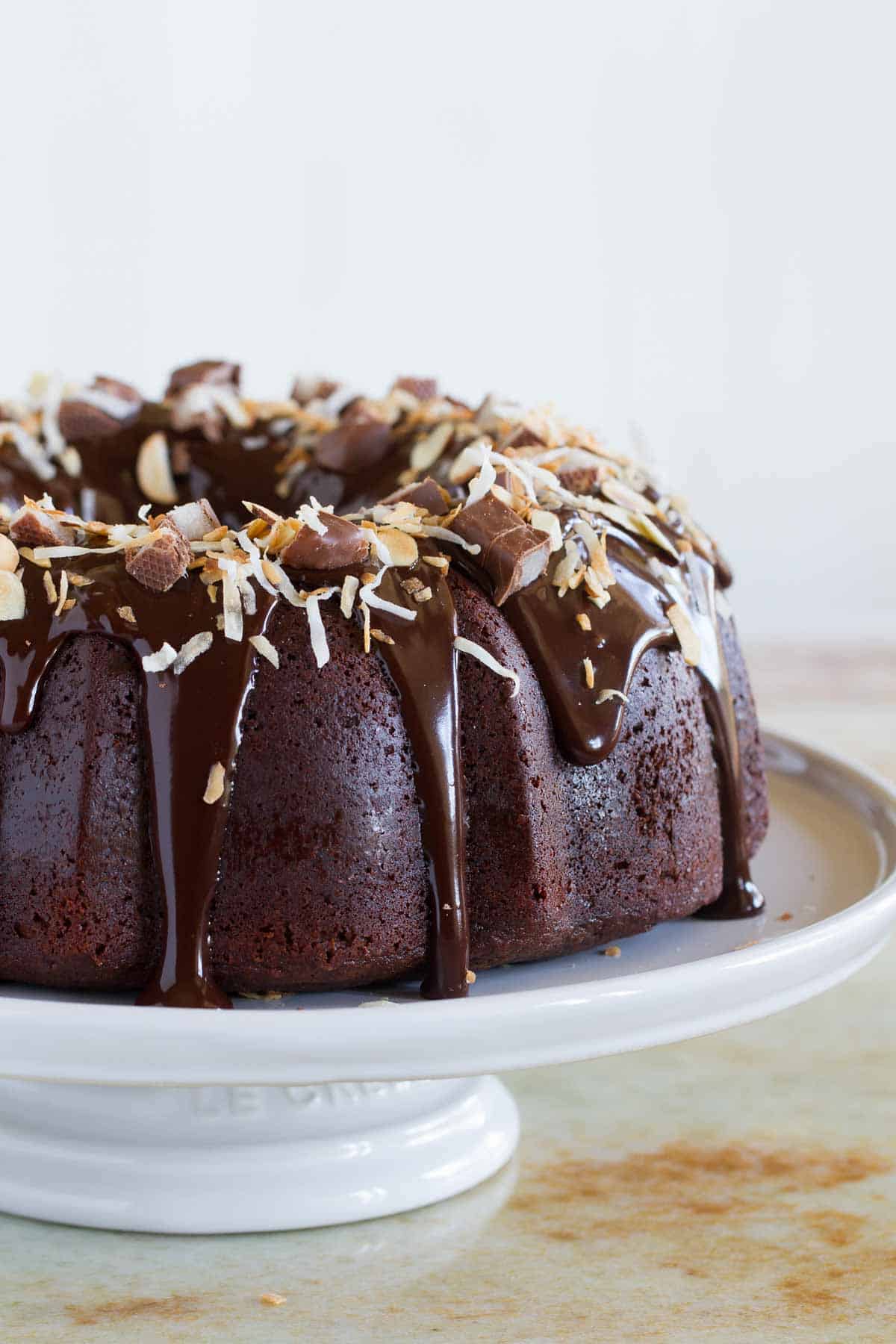 I love baking for my family and friends – seeing the looks of delight on their faces as they take a bite. But even more than that, I love how I feel when I'm in the kitchen. I will never turn down a cookie or a slice of cake, but even more satisfying than eating those desserts, for me, is baking them. The time spent in the kitchen. Putting on an apron, picking my favorite online music station, and just creating. It's an art – maybe not with paint or charcoal or clay, but the process of raw ingredients coming together to create something that is beautiful and delicious? Definitely my form of art.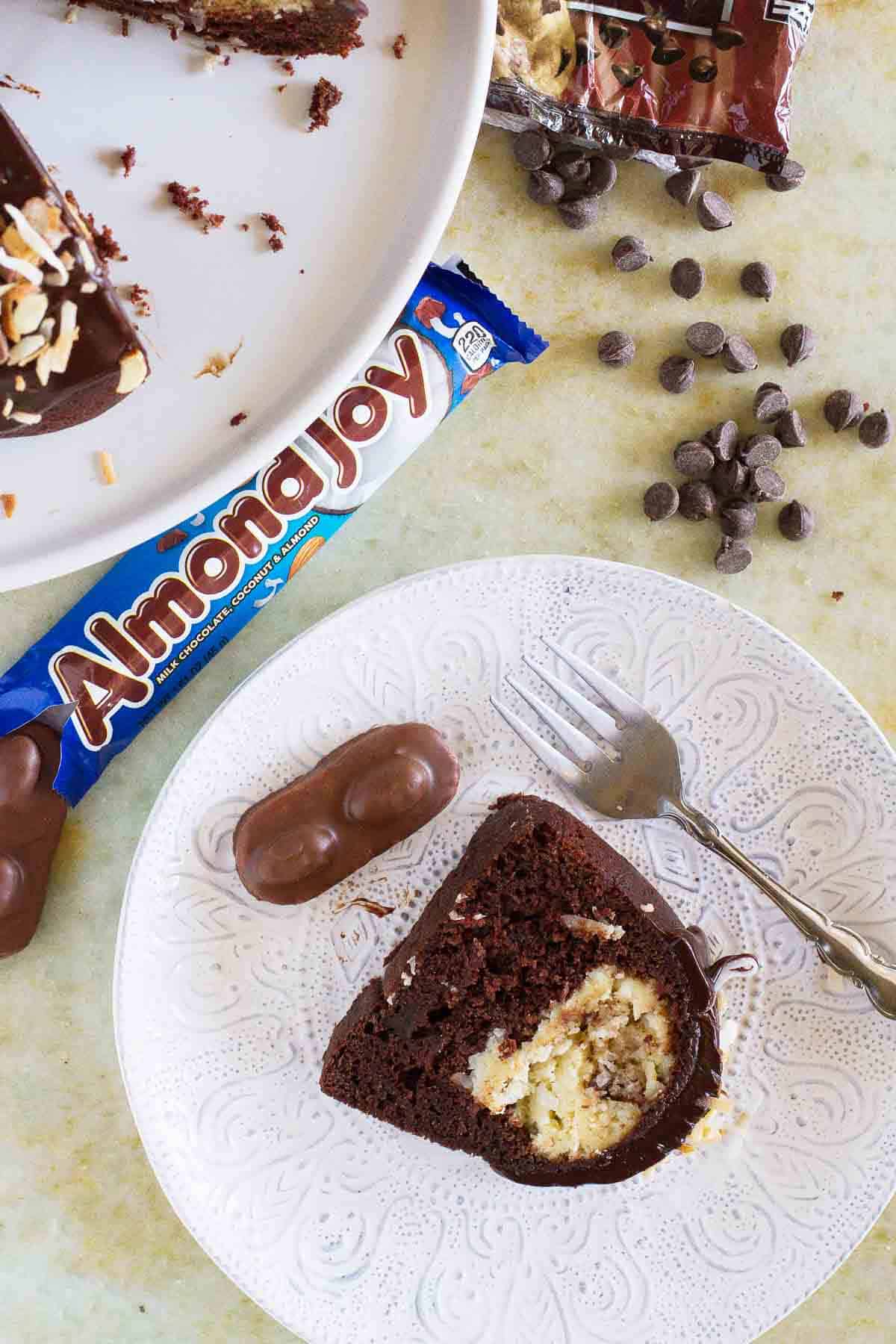 Just like an artist starts with a blank canvas and a palette of paint, I love to go to my pantry and get inspired by the ingredients I have on hand. And what a better place to start than with a plethora of HERSHEY'S products that I had stocked up on? I am so excited to be working with HERSHEY over the next couple months, creating delicious recipes to share with all of you. I wish I could bring you each a homemade slice of cake, but this is the next best thing. Sharing with you all about my passion for baking and a little bit about what goes on in my kitchen.
That pantry inspiration started with this Almond Joy Candy Bar Filled Bundt Cake. You already know that bundt cakes and I are BFFs. So it's only natural that I would kick off this whole series with one killer bundt cake. Almond Joy Candy Bars are one of my favorite candy bars. Because coconut. Seriously, though – bundt cake + coconut is definitely going to be a winner in my book. While there is nothing wrong with a perfect chocolate bundt cake, when you fill it with this coconut cream filling, you have pure magic. Then the loaded ganache is a little bit more magic that takes this chocolate bundt cake from amazing to spectacular.
So I hope you'll join me and HERSHEY in the kitchen for a bit of baking fun and delicious chocolate. I'd love to hear why you love baking, as well. Why do you love to get into the kitchen? You can follow the hashtag #BakeHappy and share your favorite kitchen creations that make you happy!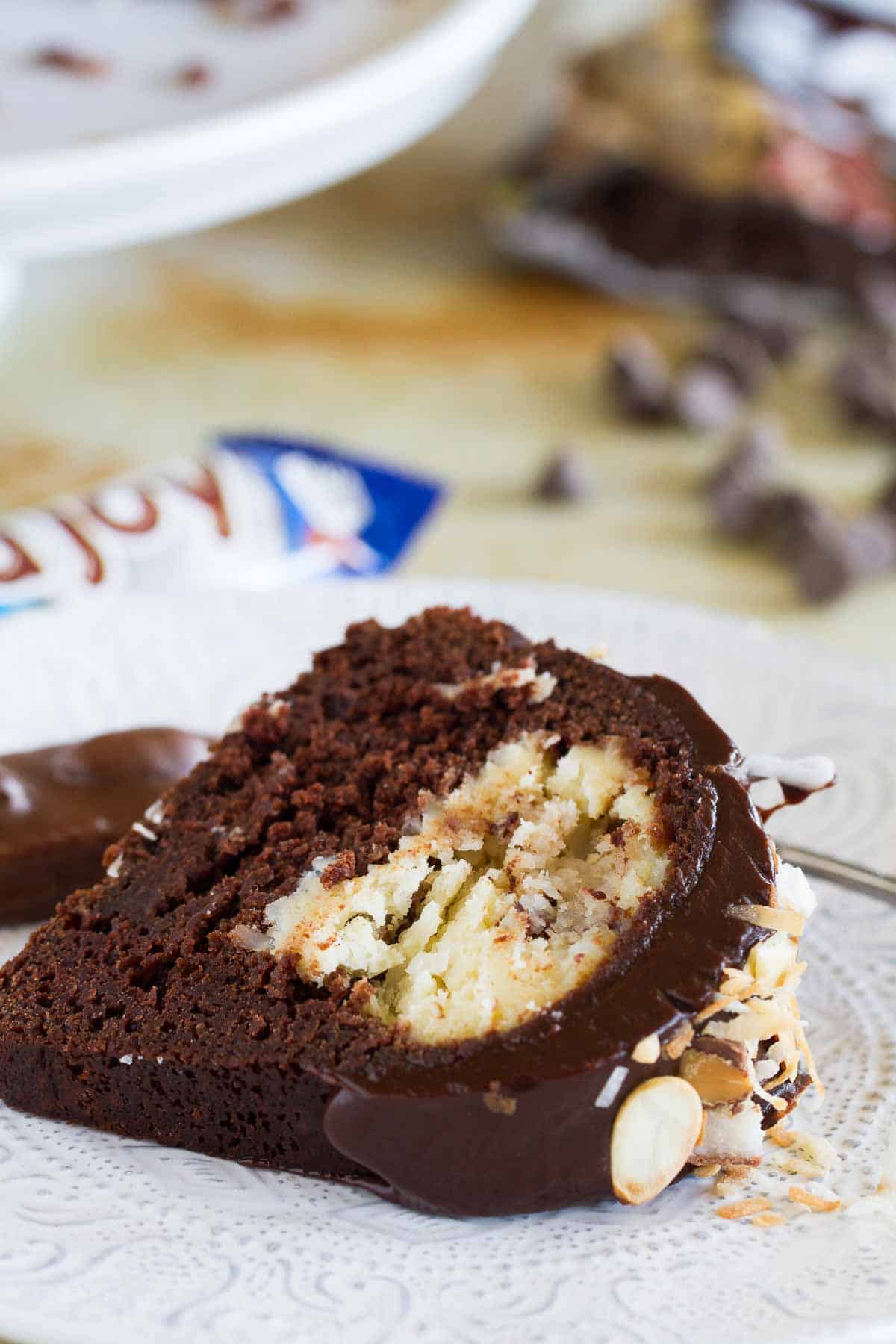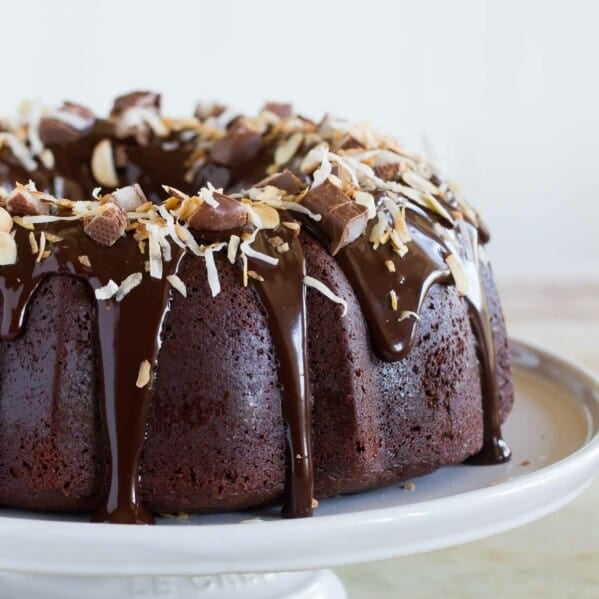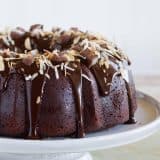 Almond Joy Candy Bar Filled Chocolate Bundt Cake
---
Author:
Prep Time: 25 minutes
Cook Time: 60 minutes
Total Time: 1 hour 25 minutes
Yield: 12 servings 1x
Category: Dessert
Method: Bake
Cuisine: American
Description
Full of chocolate, coconut and almond flavor, this Almond Joy Candy Bar Filled Chocolate Bundt cake is a chocolate lover's dream!
---
Scale
Ingredients
5 ALMOND JOY Candy bars (1.61 oz. each), divided
1 cup (2 sticks) unsalted butter
1/2 cup HERSHEY'S Cocoa
1/2 teaspoon salt
2 teaspoons vanilla extract, divided
2 cups plus 2 tablespoons all-purpose flour, divided
1–1/2 cups granulated sugar
1–1/2 teaspoons baking soda
1 cup chocolate milk
2 eggs, lightly beaten
1/2 cup sour cream
1 package (8 oz.) cream cheese, softened
2/3 cup powdered sugar
1 egg yolk
1 cup MOUNDS Sweetened Coconut Flakes
2/3 cup heavy whipping cream
1 cup HERSHEY'S Semi-Sweet Chocolate Chips
1 tablespoon toasted sliced almonds*
1 tablespoon toasted coconut*
---
Instructions
Heat oven to 350° F. Grease 12-cup fluted tube pan and dust with cocoa. Remove wrappers from 3 candy bars; chop and set aside.
Melt butter in small saucepan over medium heat. Add cocoa and salt, whisking until smooth. Remove from heat; stir in 1 teaspoon vanilla. Set aside to cool 5 to 10 minutes.
Stir together 2 cups flour, granulated sugar and baking soda. Slowly beat in melted butter mixture until moist crumbs form. Gradually add chocolate milk and eggs, beating well after each addition. Stir in sour cream; set aside.
Beat cream cheese in separate bowl until smooth. Gradually beat in powdered sugar, egg yolk, remaining 2 tablespoons flour and remaining 1 teaspoon vanilla. Stir in coconut and chopped candy bars.
Pour about ¾ of chocolate batter (about 4 cups) into prepared pan. Spoon cream cheese mixture down the middle of batter being careful not to go to edges of pan. Pour the remaining chocolate batter over cream cheese mixture.
Bake 45 to 55 minutes or until wooden pick inserted into center of cake comes out clean. Cool in pan on wire rack about 20 minutes. Remove from pan to wire rack. Cool completely.
Place chocolate chips in heat proof bowl. Heat whipping cream until hot, but not boiling; pour over chips. Allow to sit for about 5 minutes; whisk until chips are melted and mixture is smooth. Cool 10 to 20 minutes or until mixture is cool and slightly thickened. Meanwhile, remove wrappers from remaining 2 candy bars and chop. Pour mixture over top of cake, allowing some to go down sides. Sprinkle top of cake with remaining chopped candy bars, almond slices and coconut. (If ganache is too warm it will not be thick enough to hold the toppings and they will slide off cake.)
Store cake, covered in refrigerator. For best flavor allow cake to come to room temperature before serving.
Recipe Notes:
To toast almonds: Heat oven to 350 F. Spread almonds in thin layer in shallow baking pan. Bake 8 to 10 minutes, stirring occasionally, until light golden brown ; cool.
To toast coconut: Heat oven to 350 F. Spread coconut in thin layer in shallow baking pan. Bake 5 to 10 minutes, stirring occasionally, until light golden brown; cool.
This post has been sponsored by HERSHEY, but all opinions are my own. Thank you for supporting me and the companies I partner with.