Lasagna Bread Pizza – French bread pizza meets lasagna for this easy pizza dinner.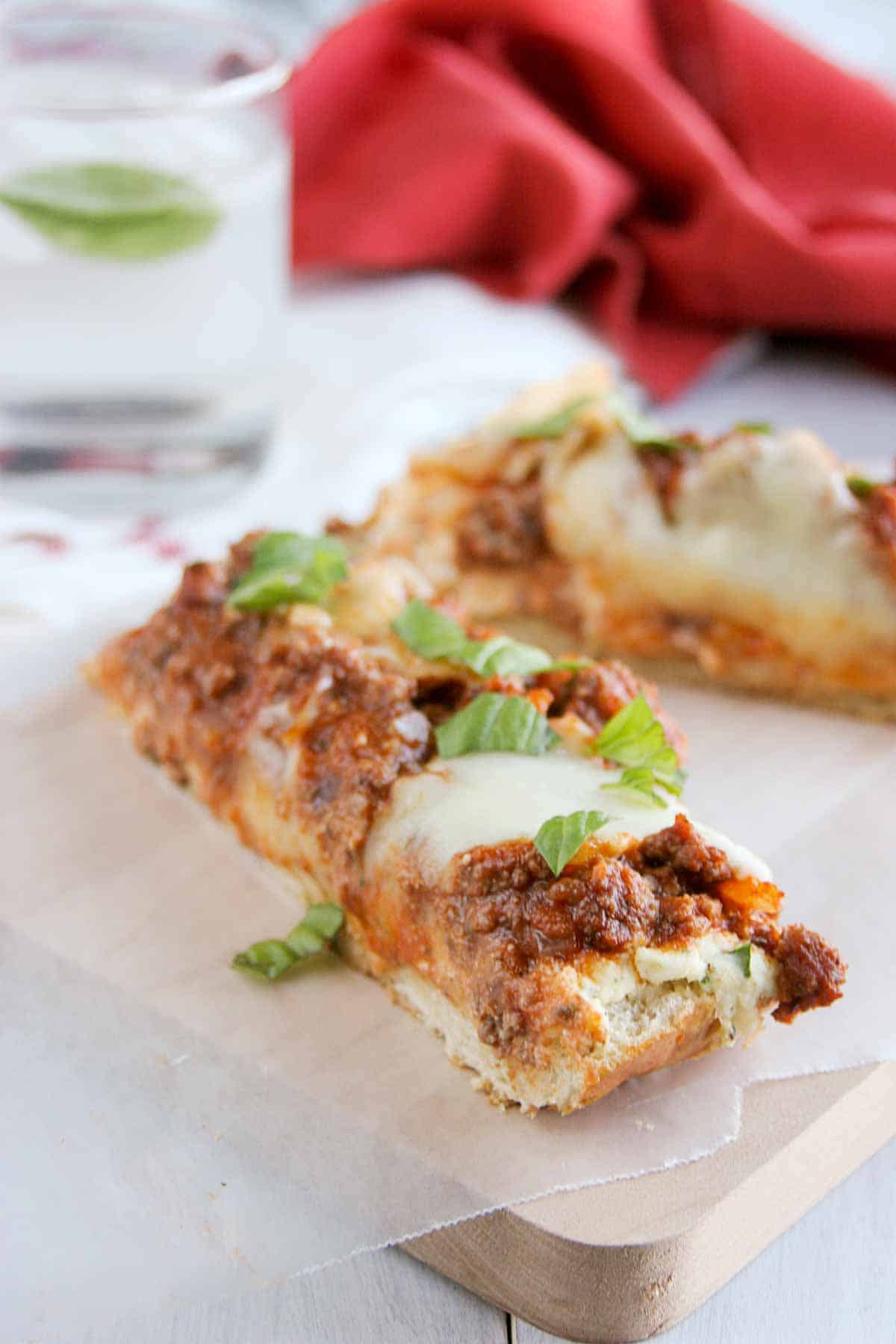 The beginning of the year kind of feels like a Monday to me. The excitement of the holidays is past, and the next holiday break is in the distant future. Just like a Monday, where the excitement of the weekend is past, and you have to wait the whole week for another weekend to come around.
But truth be told, I kind of like Mondays. And I kind of like January. It feels like a time to take stock, to get organized, to start over. It's a blank canvas. And as much as I loved all of the sweets – and I did post a lot of sweets in December – I'm kind of happy to get back to posting more dinner ideas.
I'm also excited to get back to posting with a little more normal posting schedule. Including bringing back Fridays with Rachael Ray and the Blogger Spotlight series. And today, Fridays with Rachael Ray is coming back with a bang. A recipe that you must add to your "to make" pile.
I actually made this recipe quite some time ago. (I've got a little stockpile of dinner ideas now, since December was taken over by dessert.) But even though it's been weeks since I've had it, I still remember it like it was yesterday. That says something about the recipe, right?
I love the flavors in lasagna, but rarely make it. And we all know I'm a bread lover. This combines the two into a delightful (and messy) dinner that leaves you satisfied. I would definitely be happy putting this one on a regular rotation on the menu!

Like French Bread Pizza? Try these:
Spinach Artichoke French Bread Pizza
French Bread Pizza with Sausage and Portobello Mushrooms
Taco French Bread Pizza
French Bread Hawaiian Pizza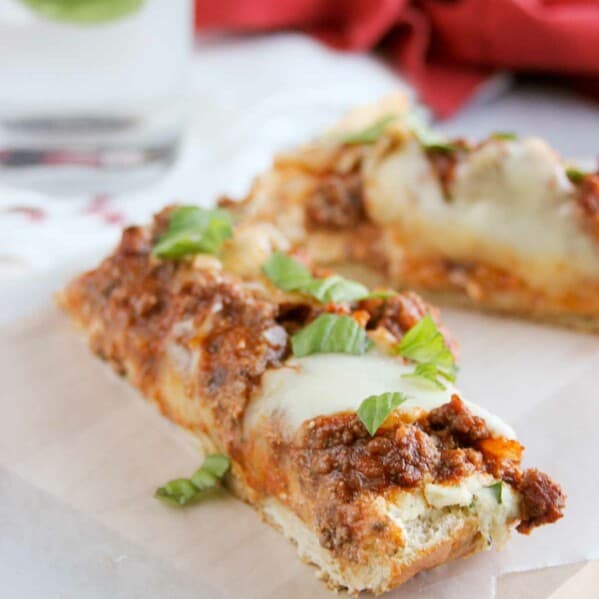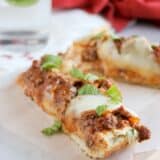 Lasagna Bread Pizza
---
Author:
Prep Time: 10 minutes
Cook Time: 40 minutes
Total Time: 50 minutes
Yield: 4 servings 1x
Category: Main Dish
Method: Baked
Cuisine: Italian
Description
Lasagna Bread Pizza – French bread pizza meets lasagna for this easy pizza dinner.
---
Scale
Ingredients
1 large loaf of French bread (grocery store size)
olive oil
1 lb ground beef
1 small onion, chopped
2 cloves garlic, chopped
1 heaping tablespoon tomato paste
1 can (15 oz) tomato sauce
1 teaspoon dried thyme
1 teaspoon dried oregano
salt and pepper
1 container (15 oz) ricotta cheese
1/2 cup grated Parmesan
1 egg yolk
2 tablespoons finely minced fresh parsely
6 oz fresh mozzarella
fresh basil, torn (optional)
---
Instructions
Heat oven to 375F. Cut French bread in half lengthwise. Reserve one half for another use. With the other half, (I used the bottom) pull out some of the bread from the center, making sure not to go all the way through. Place on a baking sheet and cook in the oven until lightly toasted, just a few minutes.
Meanwhile, heat olive oil in a large skillet over medium-high heat. Add the ground beef and cook until browned. Add in the onion and garlic and cook for a minute or two. Add the tomato paste, tomato sauce, thyme, and oregano and season with salt and pepper. Stir together, reduce heat, and simmer for 20 minutes.
In a bowl, combine the ricotta, Parmesan, egg yolk and parsley. Season with salt and pepper.
Spread the ricotta mixture over the toasted bread. Top with the meat mixture, then a layer of fresh mozzarella. Bake until golden and bubbly, 15-18 minutes. Top with fresh basil, if desired.