A meatball becomes a patty melt in this change-up idea for burger night. A meatball patty is served up on garlic buttered bread with a tangy Balsamic Marinara Ketchup and plenty of cheese.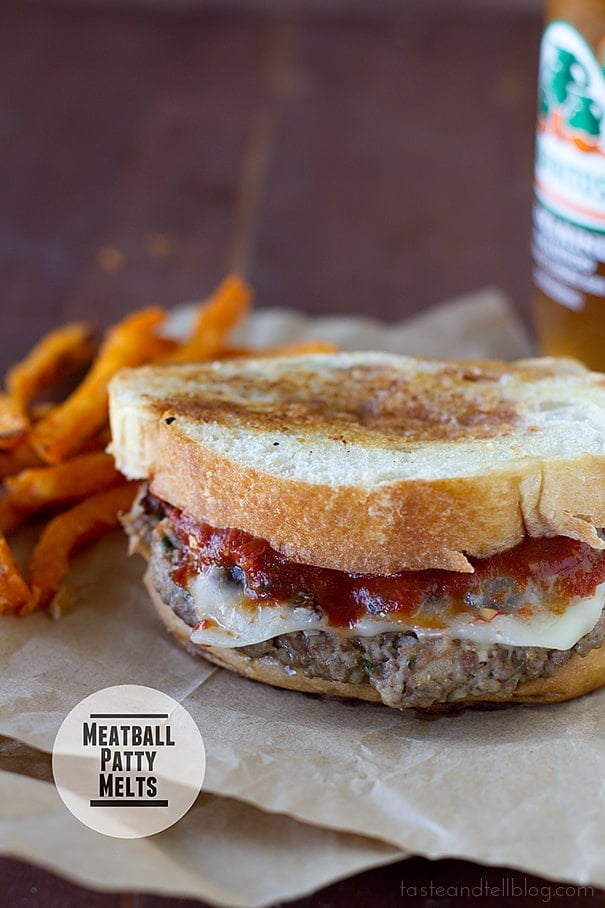 So I'm doing something really crazy today. I'm going camping.
Ok, so camping in and of itself isn't crazy. At least not for me. I love it – tent and all. But we haven't been camping for awhile now. Simply because camping with young kids = you never know what you're gonna get. Camden is mobile and wanting to crawl everywhere, and I don't know how I'll keep him off the ground. And Easton has been wanting undivided attention lately. We'll have family there, so I'm hoping that his cousins will distract him and we'll make it out alive. So if you don't hear from me on Monday, you'll know that things didn't go over so well. (Just kidding – I'm sure we'll survive!!)
One thing that is not crazy, though, is throwing a huge meatball in between two slices of bread and grilling the whole thing up. Add to that a homemade balsamic marinara ketchup? Perfection.
I knew I had to make this burger/sandwich when I first saw it. I'm a patty melt fan, and this change up looked amazing. I did run into a couple of problems, though – but I take complete blame for them.
First of all, I have a rule that I don't make burgers from meat that has been frozen. It just never quite works out for me. Well, when I made these, both my ground beef and ground pork were from the freezer. Mistake #1.
Second, make sure you squeeze as much liquid out of the bread before adding it to the burgers. I started off with meat that was more watery than normal (because it was previously frozen) and then added even more moisture from not squeezing enough milk out of the bread. Mistake #2.
While the burgers ended up extremely tasty, they were practically falling apart. In fact, the only one I was able to salvage into an actual patty after they were cooked was this one for the photos. But honestly – like I said, I take complete blame for this.
But even though they were falling apart, and I had to pretty much eat it with a fork, these were incredibly delicious and full of flavor. I would totally add these to the rotation for burger night!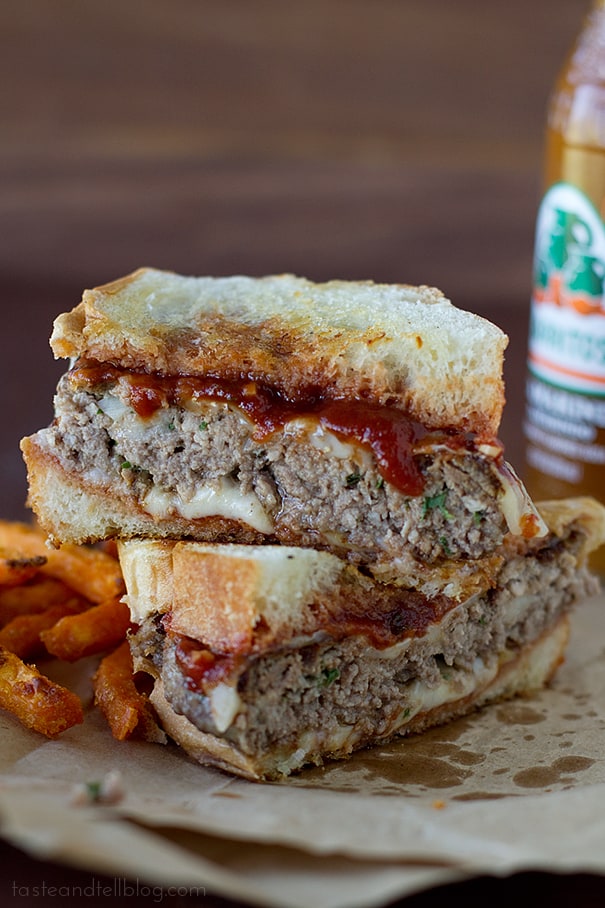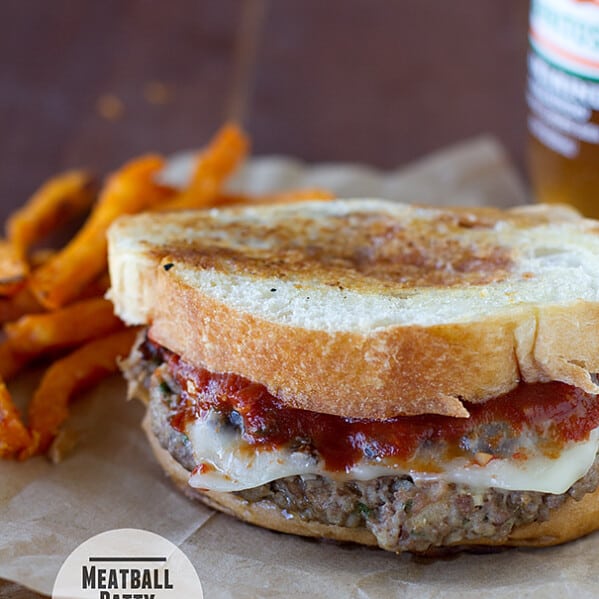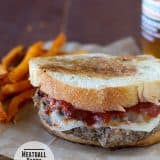 Meatball Patty Melts
---
Prep Time: 10 minutes
Cook Time: 30 minutes
Total Time: 40 minutes
Yield: 4 servings 1x
Description
A meatball becomes a patty melt in this change-up idea for burger night. A meatball patty is served up on garlic buttered bread with a tangy Balsamic Marinara Ketchup and plenty of cheese.
---
Scale
Ingredients
Balsamic Marinara Ketchup:
1/4 cup tomato paste
1/4 cup beef stock
2 cloves garlic, minced
1 (15-ounce) can tomato sauce
3 tablespoons balsamic vinegar
3 tablespoons brown sugar
1/2 teaspoon dried oregano
Pinch of crushed red pepper
Torn basil leaves
Burgers:
2 slices of white bread, crusts removed
Milk (for soaking bread)
1 pound ground beef
1/2 pound ground pork
Salt and pepper
1/4 cup flat-leaf parsley, finely chopped
2 cloves of garlic, minced
3 tablespoons grated onion
1/2 cup grated Parmesan
Olive oil
3 tablespoons butter
3 cloves garlic, minced
8 slices of sturdy Italian-American bread, sliced 3/4-inch thick
8 slices deli-cut mozzarella
8 slices deli-cut provolone
---
Instructions
make the ketchup:
In a saucepan over medium heat, combine the tomato paste, beef stock and garlic. Add in the tomato sauce, vinegar, brown sugar, oregano and red pepper. Bring to a gentle boil then reduce heat. Stir in the basil and then let cook, stirring occasionally, until thickened, about 20 minutes.
make the burgers:
Place the bread in a bowl and add enough milk to soak the bread. Allow to sit for a few minutes, then squeeze all excess milk out of the bread.
Place the bread in a large bowl and add the ground beef and ground pork and season with salt and pepper. Add in the parsley, garlic, onion and Parmesan and gently mix. Form the mixture into 4 large patties.
Heat a grill pan or an outdoor grill over medium high heat. Drizzle olive oil over the patties and then cook, turning once, until cooked, about 10 minutes.
In a small saucepan, melt the butter. Add the garlic and allow to cook for 1 minute. Remove from the heat.
Brush the outsides of each slice of bread with the garlic butter. Build four sandwiches, with the buttered sides facing out. Layer each with some of the Balsamic Marinara Ketchup, mozzarella, a patty, provolone, and more ketchup. Place the burgers on the griddle and cook until the bread is toasted and the cheese is melted.
Recipe Notes:
More Burger Night Ideas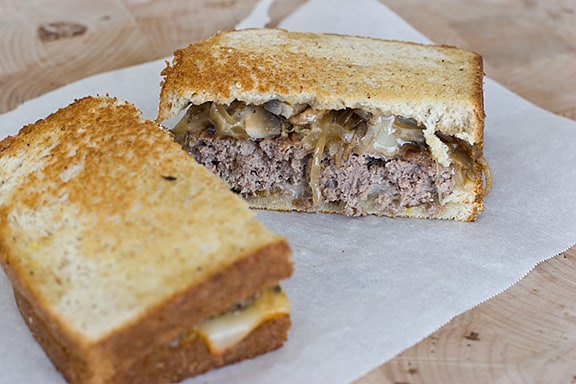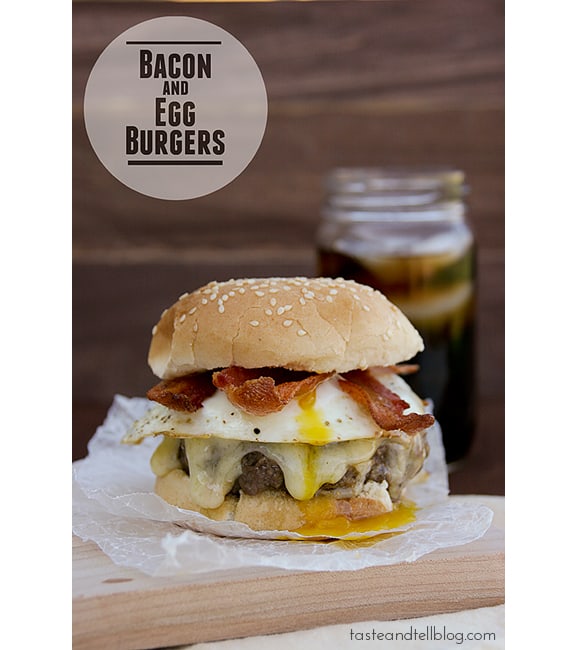 Around the Web:
Spicy Chimichurri Burgers from Simply Scratch
Greek Burger from Live Laugh Rowe
Bacon and Blue Cheese Burgers from Favorite Family Recipes