Homemade calzone dough is filled with ricotta, cheese, pepperoni and sausage, then served with a side of marinara.
Let me preface this by saying that I am not Italian, and I do not really know if this is the "real" way that Italians do their calzones. That is just what my recipe said – and I am a trusting person, so naturally, I believed the recipe. It states that a true calzone does not have the marinara sauce in the calzone, but instead it is served alongside the calzone for dipping. If anyone out there reading this blog is a true Italian and knows if this is true, I would really like to know!!
Authentic or not, this was a great way to serve a calzone. This came as a request from my husband, and he rarely requests things to eat – he usually just goes along with what I make (or pours a bowl of cereal if he doesn't want what I make!!) The dough was very straightforward and simple to make. I basically followed the fillings, except I did part pepperoni and part sausage. I just used mozzarella and some sharp cheddar that I had in the fridge instead of using all cheddar. The original recipe says that it makes 2 large calzones – feeding 8, but I made 4 smaller calzones, and one calzone a person seemed just about perfect. The one thing I would do differently next time would be to saute the mushrooms first. I filled the calzones full, but once they baked and the mushrooms cooked down, there wasn't a whole lot of filling in each. If I would have sauteed the mushrooms first, I think they would have stayed full – like a calzone should be!! I had a lot of extra filling, but I just put it in the freezer for next time we want to do calzones or pizza. This would be a good recipe to have fun with – the fillings could be endless!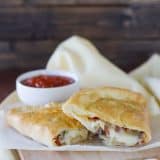 Italian Calzones
---
Author:
Prep Time: 30 minutes
Cook Time: 30 minutes
Total Time: 2 hours 15 minutes
Yield: 4 servings 1x
Category: Main Dish
Method: Baked
Cuisine: Italian
Description
Homemade calzone dough is filled with ricotta, cheese, pepperoni and sausage, then served with a side of marinara.
---
Scale
Ingredients
1 (.25 ounce) package active dry yeast
1 cup warm water
1 tablespoon olive oil
1 teaspoon white sugar
1 teaspoon salt
2 1/2 cups all-purpose flour, divided
1 teaspoon olive oil
1/4 cup sausage
1/2 cup sliced fresh mushrooms
1/2 cup ricotta cheese
1 1/2 cups shredded cheese
1/4 cup diced pepperoni
3 tablespoons fresh basil leaves, chopped
1 egg, beaten
Marinara or spaghetti sauce, for serving
---
Instructions
Make the dough:
In the bowl of a stand mixer, dissolve the yeast in the water. Let it sit for a few minutes until it foams. Add in the oil, sugar and salt. Mix in 1 cup of the flour and mix until smooth. Gradually add in the rest of the flour. Change to the dough hook and mix until the dough is smooth. Continue to knead for about 5 minutes, until elastic.
Pour the olive oil into a large bowl. Add the dough then flip over to cover in oil. Cover the bowl and let it rise in a warm area until almost doubled, about 40 minutes.
Make the filling:
In a medium skillet, cook the sausage until browned and cooked through. Remove to a plate, and add the mushrooms to the same skillet. Cook until soft.
In a bowl, combine the ricotta, cheese, pepperoni. Add in the cooked sausage and mushrooms. Stir in the basil leaves. Mix well and refrigerate until the dough is done rising.
Make the calzones:
Preheat the oven to 375F. Punch down the dough and separate it into 4 equal pieces. Roll each piece into a circle on a lightly floured surface. Fill each circle with 1/4 of the filling mixture. Fold over the top of the dough, then fold over the edges, pinching to seal. Brush the top of each calzone with the egg, then place on a lightly greased baking sheet.
Bake for 30 minutes, or until golden brown. Serve with the marinara.