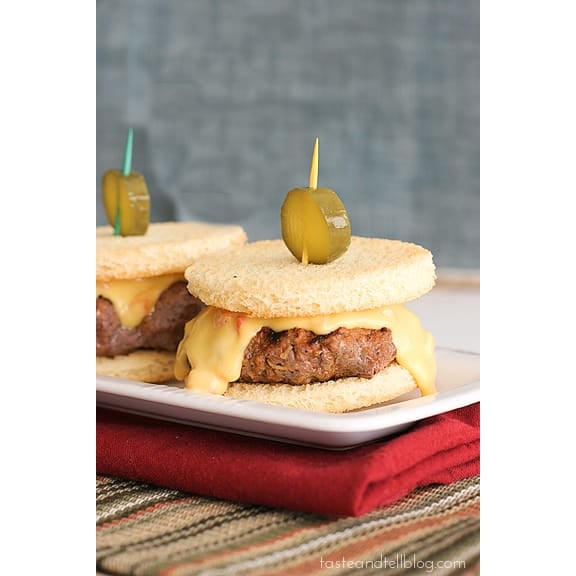 I feel like it's been forever since I've had a Rachael Ray recipe and I'm glad that Saturdays with Rachael Ray are back. And I thought I'd bring one of her wonderful burger recipes, since they always turn out great!
I also was thinking that this would be a great recipe to have on hand for if you are planning your menu for a Super Bowl party.  Nothing says football food better than burgers – especially mini ones!!
These burgers did not disappoint.  The burgers themselves are juicy and full of flavor.  And the pimiento cheese sauce – a great bonus!!  They are messy, but totally worth licking your fingers for!  This recipe comes from RR's magazine, and it is not specified as a 30-minute meal. But I do have to say – I timed myself, just for fun, and these were done in under 30 minutes.  And that was with a toddler pulling at my leg and distracting me more than once!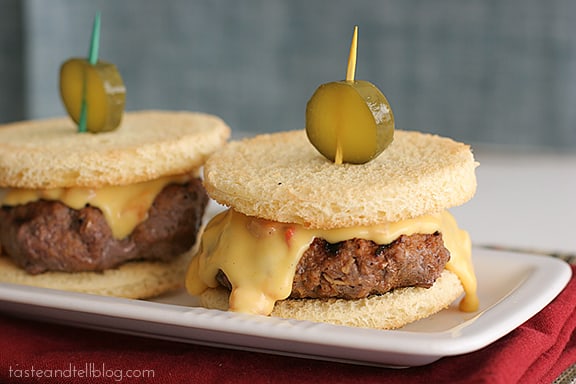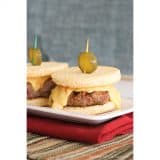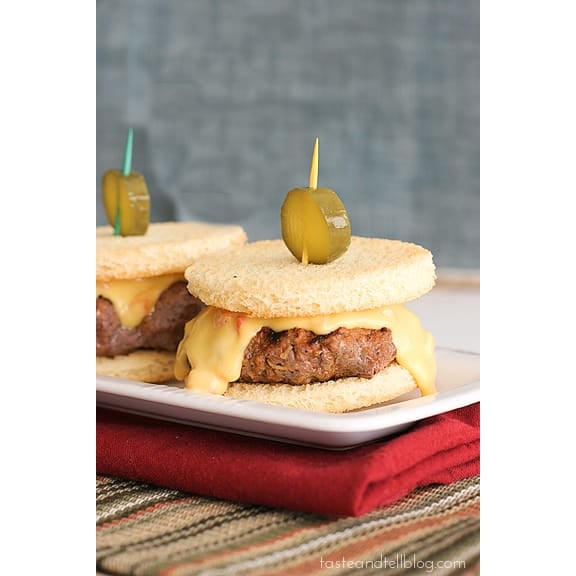 Pimiento Cheese Sliders
---
Prep Time: 20 minutes
Cook Time: 10 minutes
Total Time: 30 minutes
Yield: 4 servings 1x
Description
Slider sized burgers are topped with melted pimiento cheese.
---
Scale
Ingredients
16 slices good quality white bread
1 1/2 pounds ground beef sirloin
2 to 3 cloves garlic, grated or finely chopped
3 to 4 tablespoons grated onion
1 tablespoon paprika or sweet smoked paprika
1/2 cup beef broth
salt and pepper
a drizzle of olive oil
2 tablespoons butter
2 tablespoons flour
1 cup milk
1 cup shredded sharp yellow cheddar cheese
3 tablespoons well-drained chopped pimientos
1 tablespoon yellow mustard
several drops hot sauce
8 slices good-quality dill pickle chips or bread-and-butter pickles
---
Instructions
Pre-heat the oven to 350°F. Cut the bread into 3-inch rounds or trim into slider-size squares. Arrange on a baking sheet and bake until lightly toasted and golden, 8-10 minutes.
Combine the meat with the garlic, onion, paprika, beer, salt and pepper. Mix and form eight burgers (about 3 ounces each) and drizzle with oil. Heat a griddle pan or large cast iron skillet over medium-high heat. Cook the patties for 3-4 minutes on each side.
Meanwhile, in a saucepan, melt the butter over medium heat. Whisk in the flour and milk and simmer to thicken for about 3 minutes; season with salt and pepper. Melt in the cheese and stir in the pimientos, mustard and hot sauce.
Divide the patties among eight toast slices and top with the cheese sauce and another slice of toast. Garnish with the pickles and secure with toothpicks.
—————————
adapted from Every Day with Rachael Ray December/January 2011

Check out these other pimiento cheese inspired recipes:
Southern Cobb Salad with Pimiento Cheese Dressing from the Cooking Photographer
Pimiento Cheese with Homemade Mayonnaise from Eat It, Atlanta
Pimento Cheese Potato Skins from Food.People.Want