Bacon and Egg Burger – A seasoned burger patty is topped with bacon and eggs for this burger with a breakfast twist!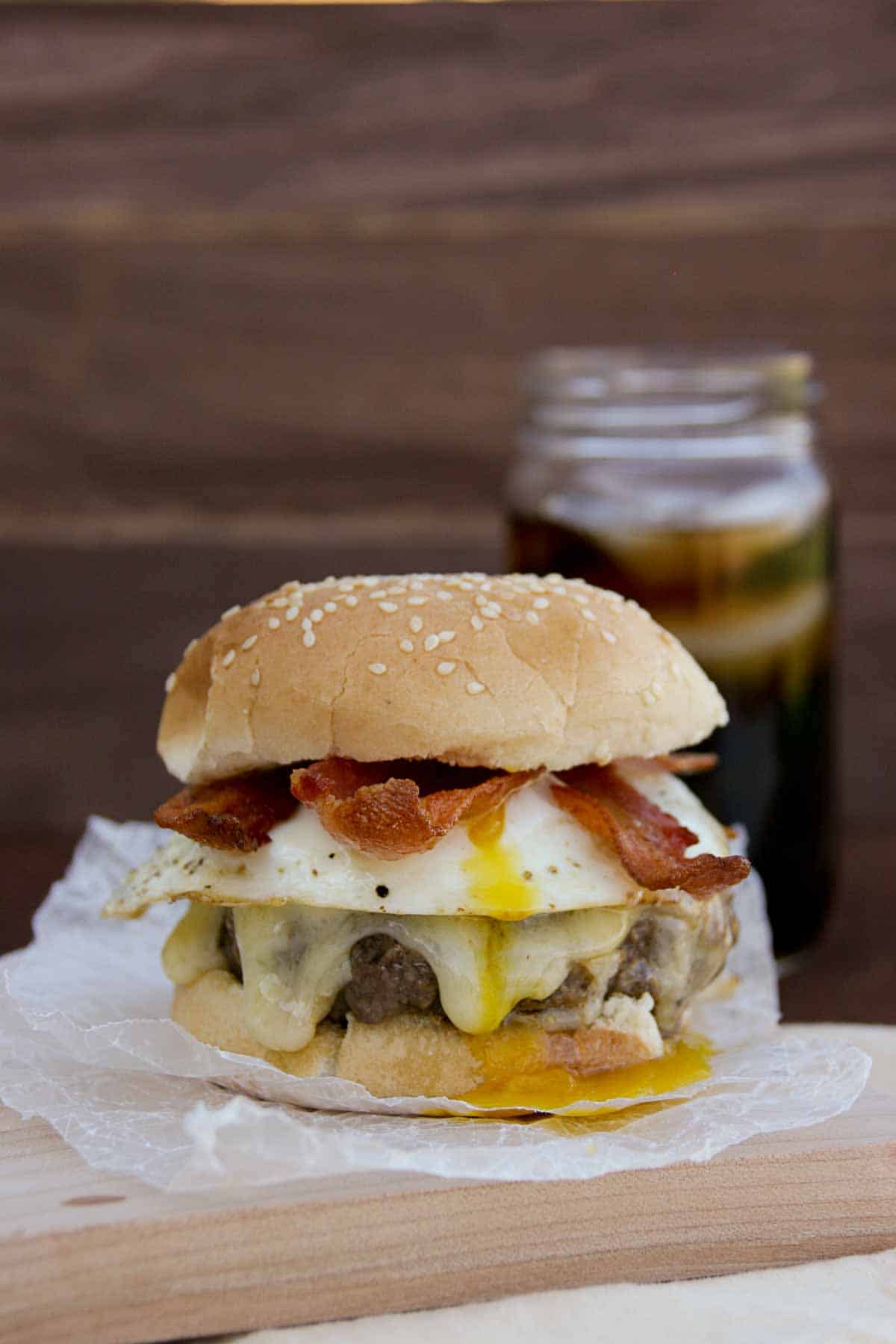 When it comes to burgers, I've come a long way in the past few years. Up until I met my husband, I don't know if I ever really made a burger. And then I was introduced to my husband's grilling skills. Let me tell you – he can make a mean hamburger! In fact, I think up until that point, I didn't even really know what a delicious burger was. And let's face it – after you've had the best, why even try to compete? So I didn't really make burgers. If we had a craving, I'd usually just send him to the grill.
But, over the years, I have run into a few burger recipes that I've wanted to try. (Coincidentally, most of them come from Rachael Ray!) I'll admit that I never really had great burger confidence. But let me tell you – after a few years of making a few burgers a year, I must have learned a thing or two – or at least been able to choose good burger recipes – because this burger was amazingly delicious. After making these burgers, I think I proved that I do have some burger skills!
Why I have never had an egg on top of my burger is beyond me. I am an egg lover. And a burger lover. And I know that this isn't anything new, but it was the first time I had tried it. I totally fell in love with it. No need for any additional condiments – this burger had everything I love. Even if you aren't into an egg on your burger, the way the meat is seasoned was perfect as well. I really love Rachael's method of grating onion into the patty mixture – it keeps everything so moist. This Bacon and Egg Burger is going right to the top of my burger favorites!
Have you ever tried an egg on your burger?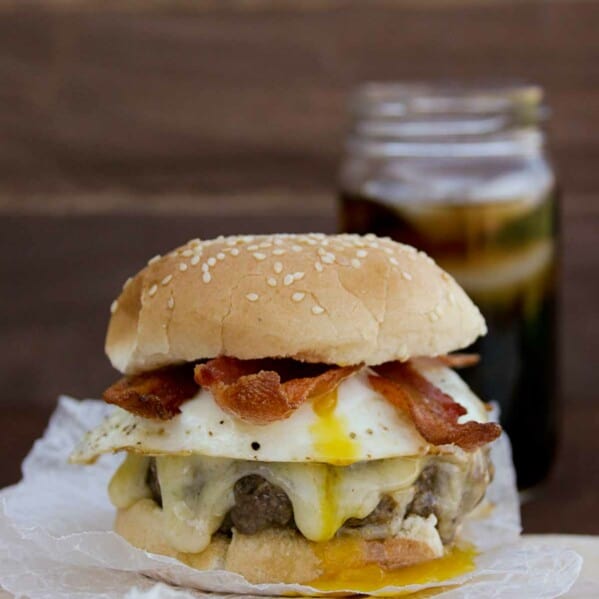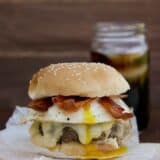 Bacon and Egg Burger
---
Author:
Prep Time: 10 minutes
Cook Time: 10 minutes
Total Time: 20 minutes
Yield: 4 servings 1x
Category: Main Dish
Method: Stove Top
Cuisine: American
Description
Bacon and Egg Burger – A seasoned burger patty is topped with bacon and eggs for this burger with a breakfast twist!
---
Scale
Ingredients
1/2 lb thick cut bacon
1/4 cup real maple syrup
1 1/2 lbs ground beef
3 tablespoons worcestershire sauce
3 tablespoons grated onion
2 tablespoons grainy dijon mustard
salt and pepper
extra virgin olive oil or vegetable oil for drizzling
1/2 lb sliced extra-sharp white cheddar
melted butter
4 large eggs
4 hamburger buns
---
Instructions
Preheat the oven to 400F. Arrange the bacon on top of a broiler pan or a cooling rack over a baking sheet. Bake the bacon until mostly cooked, about 15 minutes. Drizzle the syrup over the bacon and return to the oven to let continue cooking. Cook until the bacon is done and crisped up, about another 5 to 6 minutes.
Heat a cast iron skillet over medium-high heat. In a bowl, combine the ground beef, worcestershire sauce, grated onion and mustard. Season with salt and pepper. Form the mixture into 4 patties. Drizzle the patties with the oil. Cook in the cast iron pan, flipping once, until a crust forms, about 7 minutes. Top with the cheese and cook another 2 minutes to melt the cheese.
Meanwhile, melt a little bit of butter in a pan over medium heat. Add the eggs and cook to your liking. Season with salt and pepper.
Toast the buns. Top with a burger patty, an egg, bacon and the bun top.