What are you making for the Super Bowl this weekend?
Confession time – I don't even know what I'm going to make yet. I'd better get on that.
But one thing is for sure – these sliders would make the perfect game day food. I knew it the minute I saw them. Just think – everyone loves 7 Layer Dip, don't they? I know it's a must have for parties here. And I always adore a good burger. I knew these would be tasty, but they even surpassed my expectations. Why I didn't think of this recipe is beyond me, but I'm so grateful that Rachael Ray did, because it's genius!!
I have to admit – I am sometimes intimidated by Rachael Ray recipes because the ingredient lists seem to be long. Something about 3 kids, 4 and under, and trying to get dinner on the table. The fewer the steps, the fewer the ingredients – the more likely I will be to actually get through it. But this recipe is worth all of the ingredients. It's actually very easy, and came together a lot faster than I was expecting. And you get pretty much everything from scratch, which is totally worth it. Every single layer of this slider was packed full of flavor.
I think I have my new favorite slider recipe!


Seven Layer Sliders
---
Prep Time: 20 minutes
Cook Time: 10 minutes
Total Time: 30 minutes
Yield: 6 servings 1x
Description
The flavors of the popular Seven Layer Dip come together into this crowd pleasing, bite-sized burger.
---
Scale
Ingredients
8 ounces canned refried beans
2 pounds ground beef
1/4 cup grated onion
3 cloves garlic, grated or finely chopped, divided
1 1/2 tablespoons grill seasoning
1 tablespoon chili powder
1 tablespoon paprika
extra virgin olive oil
1 large avocado
1/2 small red onion, finely chopped
2 jalapeno chiles, seeded and finely chopped
3 tablespoons finely chopped cilantro
1 teaspoon lime zest, plus juice of 2 limes
salt
2 tomatoes, seeded and chopped
1/4 cup mustard
1 cup sour cream
1 tablespoon hot pepper sauce
1 teaspoon ground cumin
6 slices deli pepper jack cheese, quartered
12 mini hamburger buns
1 cup shredded romaine lettuce
1/2 cup green olives with pimiento, chopped
---
Instructions
Heat the beans in a small saucepan. Add water if needed to thin out a bit.
In a large bowl, combine the ground beef, grated onion, two-thirds of the garlic, the grill seasoning, chili powder and paprika. Form the mixture into 12 equal portions and shape into patties. Drizzle with olive oil; set aside.
In a bowl, mash the avocado. Add half of the red onion, half of the jalapeno and half of the cilantro. Add in the lime zest, lime juice and the remaining garlic. Mix together and season with salt.
In another bowl, combine the tomatoes and mustard. Add the remaining red onion, jalapeno and cilantro. Season with salt.
In a third bowl, stir together the sour cream, hot sauce and cumin.
Heat a grill pan or a grill over medium-high heat. Add the patties and cook, turning once, until cooked, about 6 minutes for medium. During the last couple minutes of cooking, add 2 pieces of cheese to the top of the burgers. Tent with foil to melt if needed.
Top the bottom of each bun with a spoonful of refried beans, a patty, lettuce, guacamole, salsa, spicy sour cream and some of the chopped olives. Top with the bun top and serve.
——————
adapted from Every Day with Rachael Ray September 2008

More sliders that would be perfect for the big game: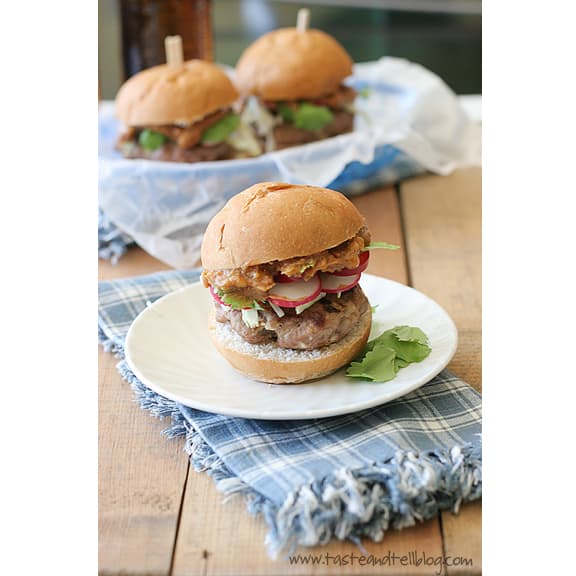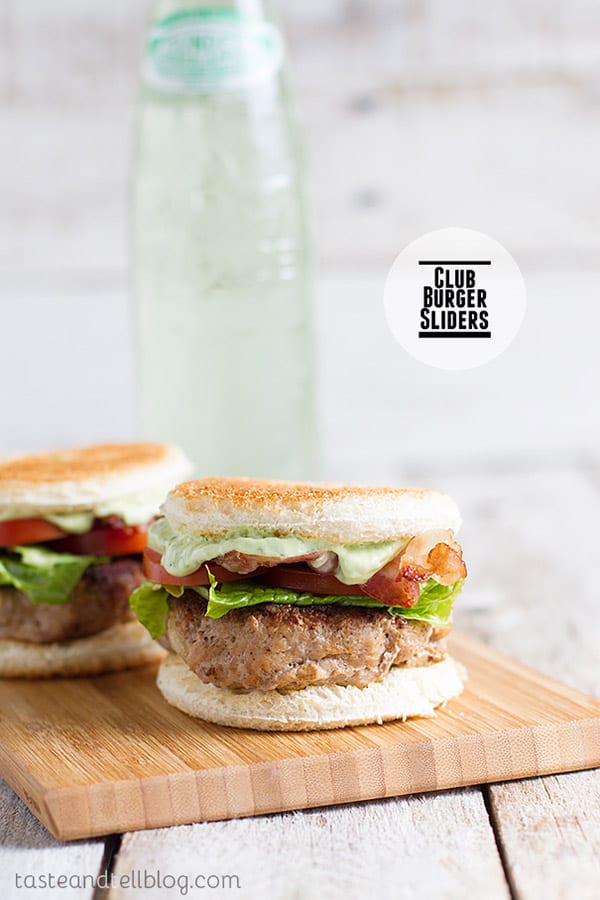 Club Burger Sliders with Avocado-Ranch Dressing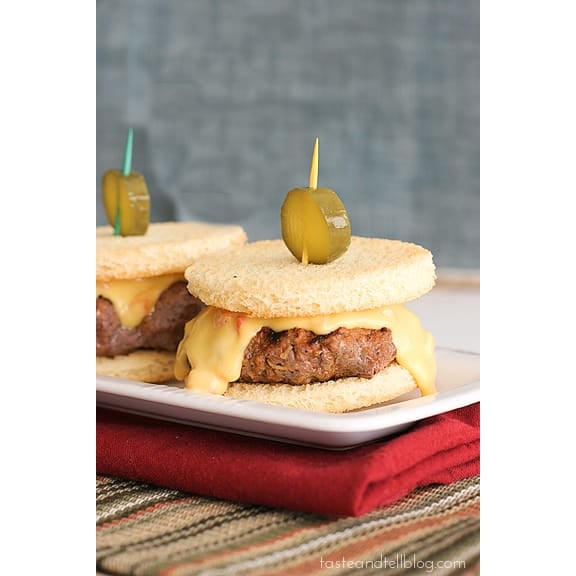 Around the Web:
Buffalo and Bleu Cheese Turkey Sliders from The Baker Upstairs
Sweet Potato Pulled Pork Sliders from Lauren's Latest
General Tso's Chicken Sliders with Crunchy Slaw from Mom on Time Out