So, have you ever had a recipe that was your go-to recipe? The one that you've made a million times. You don't even need the recipe card for it anymore. It's the recipe that people call "your recipe" and you don't think there will be another recipe that will top it?
For me, it's my caramel corn recipe. Which, ironically, I've never shared here before. Years ago, back in college, I had a wonderful friend named Dawn. And she made the best caramel corn. I know I ate quite a bit if it back then. When she moved, or I moved, I can't remember which, she gave me the recipe. Written on a 3×5 card, since the only thing any of us used the internet for back then was to chat on AOL. I still have that card, although I've made that recipe probably hundreds of times since then. So much, in fact, that to the people I've made it for, they call it my recipe.
"Hey, Deborah – you should bring your caramel corn."
"Can I get your recipe for caramel corn again?"
But you guys, I've cheated. I was in love with that recipe, but I wasn't faithful.
This popcorn right here? Even better than that caramel corn I've been making for years and years.
There are many versions of this recipe floating around online, but I think I've perfected it. It was a hard job, but someone had to do it, right? My mom made marshmallow popcorn all of the time growing up, and this takes that marshmallow popcorn and incorporates it with my caramel corn for the perfect marriage. Perfect, I tell ya.
So popcorn lovers unite. And don't blame me if you eat the whole bowl of it. Because you probably will.


Marshmallow Caramel Popcorn
---
Prep Time: 5 minutes
Cook Time: 10 minutes
Total Time: 15 minutes
Yield: 8 cups 1x
Description
Ooey and gooey, this popcorn is coated with a marshmallow and caramel mixture, making it addictive and delicious.
---
Scale
Ingredients
8 cups popped popcorn (about 1/2 cup of popcorn kernels if using an air popper)
1 cup brown sugar
1/2 cup butter
1/8 cup light corn syrup
2 cups mini marshmallows
1/2 teaspoon vanilla
---
Instructions
Place the popcorn in a large bowl.
In a large saucepan, combine the brown sugar, butter and corn syrup. Cook until the butter is melted. Add in the marshmallows and stir until completely melted. Remove from heat and add in the vanilla.
Pour the marshmallow caramel mixture over the popcorn and stir until completely coated.
**this popcorn stays sticky and soft. Store in a covered container (if it lasts that long!)**
More Popcorn Favorites:
Red Hot Popcorn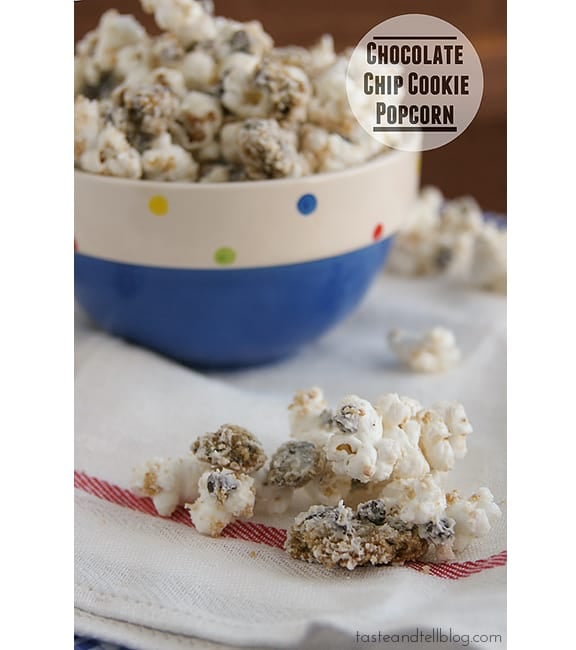 Chocolate Chip Cookie Popcorn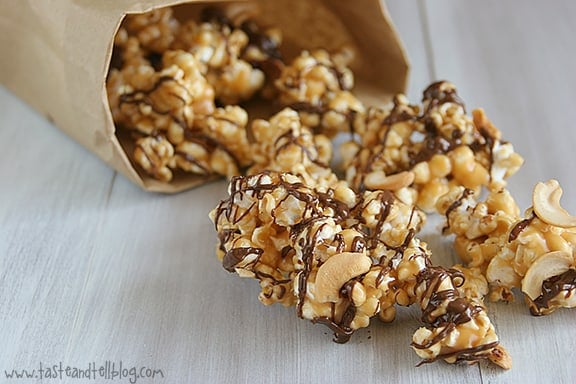 Peanut Butter, Chocolate and Cashew Popcorn
Around the Web:
Samoa Popcorn from Lemons for Lulu
Snickers Popcorn from Cookies and Cups
Garlic Rosemary Parmesan Popcorn from Two Peas and Their Pod