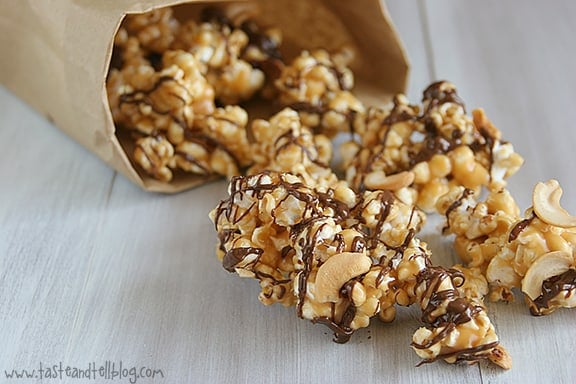 We all know that peanut butter and jelly go perfectly together.  But do you know what else goes perfectly with peanut butter?  Chocolate.  Oh yeah, and cashews.  Combine them all together, and what you have is the absolute perfect snack.
I'm not going to lie – this was by far my favorite of the peanut butter recipes that I did for Tablespoon.  Between my husband, daughter and I, we devoured this all in less than 24 hours.  It's that dangerous.  And that delicious.
Here's how you make it: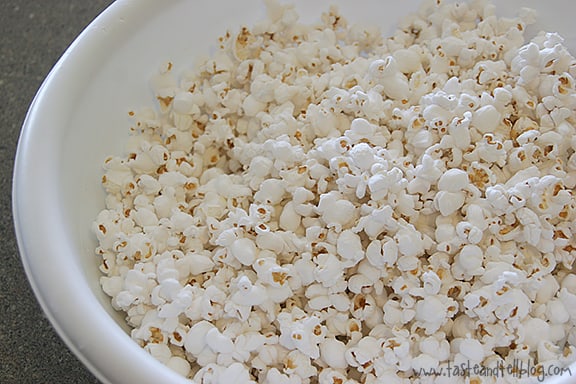 Start with some air popped popcorn. You can use microwave popcorn, but I prefer air popped.  (And you save a few calories – not that it matters that much, because you are going to be drenching it in peanut butter and chocolate!)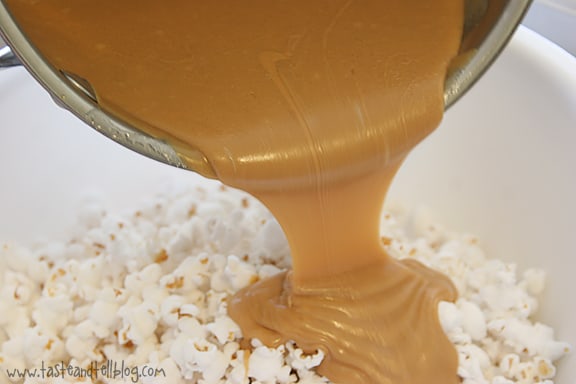 The peanut butter mixture is just a mixture of peanut butter, honey, corn syrup, sugar, and vanilla.  Cook it up, and pour it over your popcorn.  I poured it over the popcorn in a bowl, but it would be way easier to put your popcorn on a sheet pan and pour the peanut butter mixture over.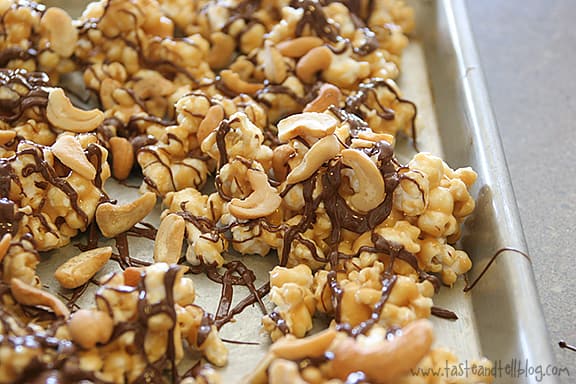 Melt some chocolate chips, and drizzle the chocolate over the peanut butter popcorn.  Add in some cashews, and if you have the patience, wait for the chocolate to set up.   Or dig right in – because that's what I did!!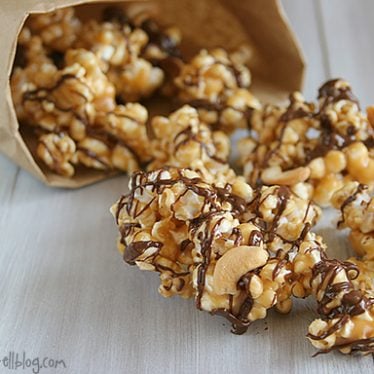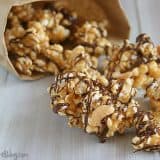 Peanut Butter, Chocolate and Cashew Popcorn
---
Prep Time: 15 minutes
Total Time: 20 minutes
Yield: 16 cups 1x
Description
Forget caramel popcorn! This peanut butter popcorn is drizzled with chocolate and cashews for an indulgent treat.
---
Scale
Ingredients
1/2 cup popcorn kernals, unpopped
1/2 cup corn syrup
1/2 cup honey
1 cup sugar
1 cup peanut butter
1 teaspoon vanilla extract
1 cup chocolate chips
1 cup cashews
---
Instructions
Pop the popcorn, removing as many unpopped kernals as possible. Lay the popcorn out on 2 large baking sheets.
In a saucepan, combine the corn syrup, honey and sugar. Bring to a boil. Boil 1 minute, then remove from the heat. Stir in the peanut butter and stir until melted and combined. Stir in the vanilla.
Pour the peanut butter mixture over the popcorn evenly. Mix gently to coat all of the popcorn.
In a small bowl, melt the chocolate in the microwave. Using a fork, drizzle the popcorn with the chocolate. Sprinkle the cashews over the chocolate.