A little bit spicy and perfectly sweet, this Caramel Gingerbread Popcorn is the perfect Christmas version of caramel corn.
Gingerbread is the perfect holiday flavor! For even more gingerbread recipes, try these Glazed Gingerbread Baked Donuts, Soft Chocolate Gingersnaps, or Gingerbread Cookie Cupcakes.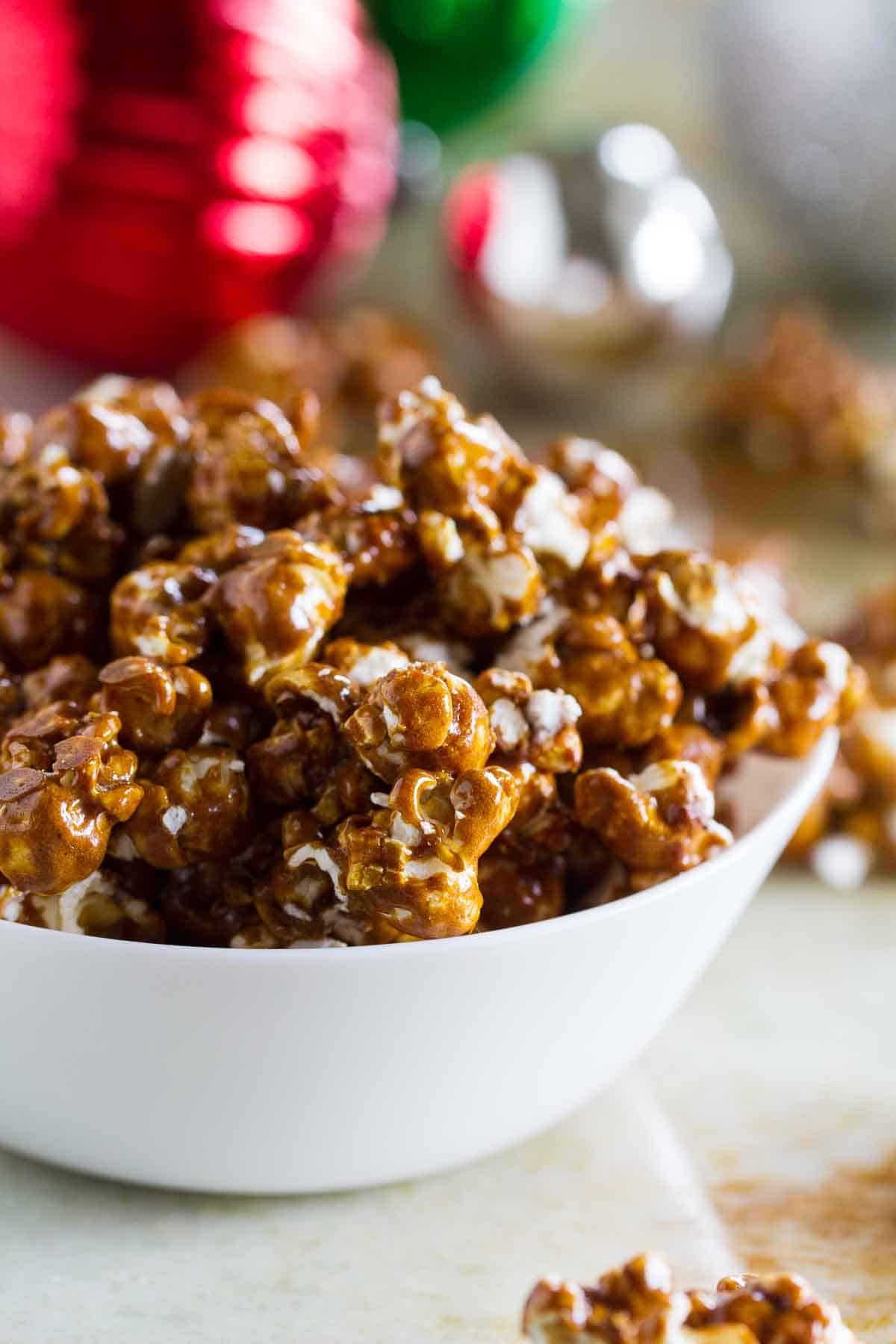 It's funny how blogging makes you see things differently. Usually when someone goes out to eat, they just see a menu with choices of things to order for that meal. But a blogger sees recipe ideas. Or when someone walks down the aisles at the grocery store, they see something to eat. Not something to add to their list of things they want to try to make at home.
Seriously – ask any food blogger you know. I'd pretty much guarantee that if you asked, they'd admit that they have a notebook or a file on their phone that is full of recipe ideas gathered from restaurants and grocery stores. I know I'm guilty.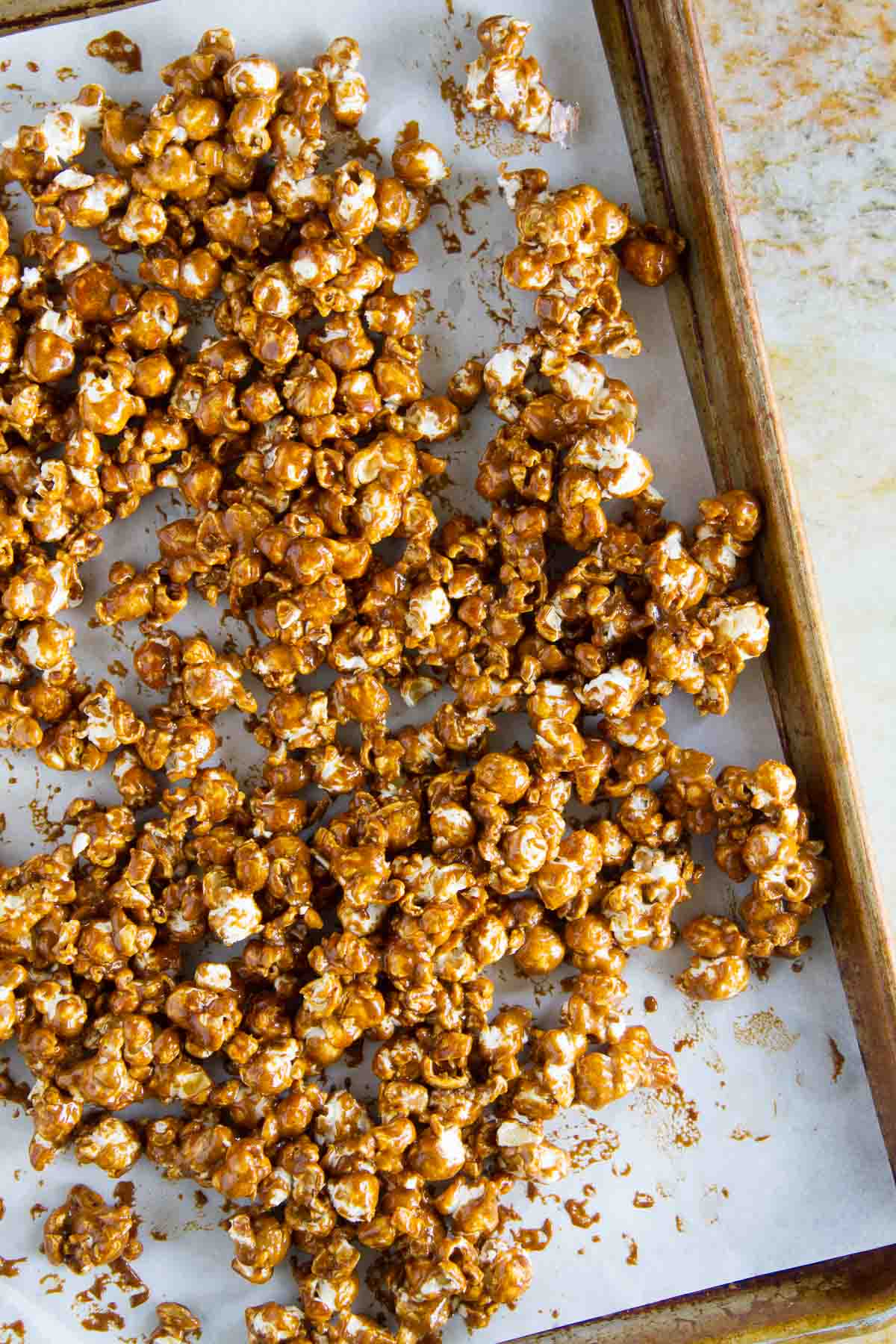 That is how the idea for this Caramel Gingerbread Popcorn came about. A couple of months ago, I stopped at the grocery store to pick up a few things. And there on one of the end caps was a big box of caramel gingerbread popcorn. I kind of stopped dead in my tracks, and the thought went through my head that I should try to make that at home. I walked away, and then quickly turned around and went back to take a picture so that I wouldn't forget.
Funny thing is that I never even tried that grocery store version. I just knew that I needed to make it at home.
When I actually got around to trying the recipe, I quickly learned that I'm not the only one who thought caramel gingerbread popcorn was a good idea. So yeah, this isn't original by any means, but let me tell you – it's been done many times for a good reason. This stuff is G-O-O-D. In fact, my husband is a self-proclaimed gingerbread hater. But he could have easily eaten this whole batch himself. He even said that he likes this version better than my normal Baked Caramel Popcorn. And that recipe is amazing. So yeah – this is good.
And it's actually quite easy. It does take a bit of time in the oven, but making it is quick and easy. You don't even need a candy thermometer. The one thing you do need to note, though, is that you need to make sure you use a large enough pot, because the mixture will foam up when you add the baking soda. And it's hot.
There is still a little over a week until Christmas, which means there's still plenty of time to make this Caramel Gingerbread Popcorn. In fact, I think we'll be making it long after Christmas is over!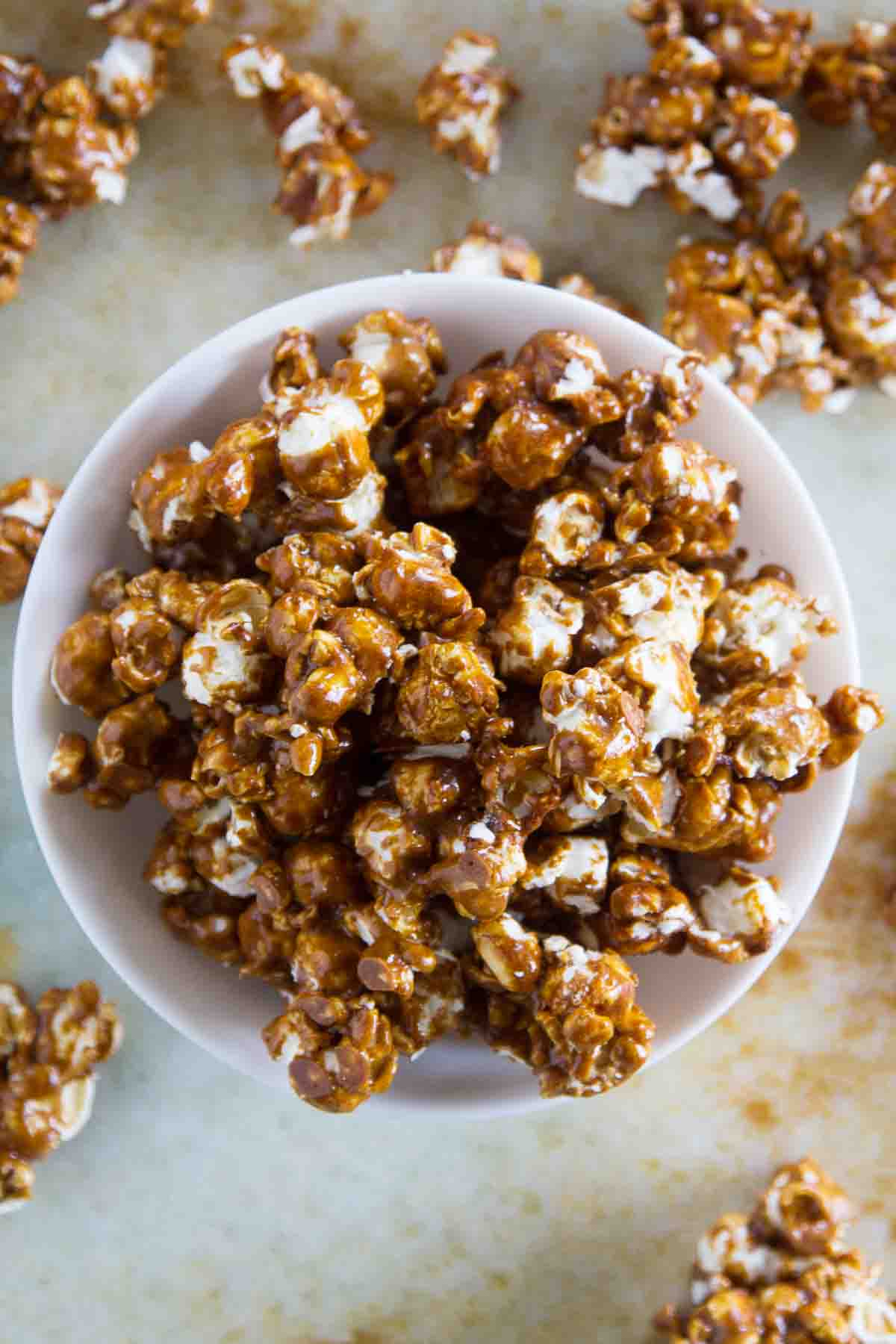 More Popcorn Recipes
Eggnog Popcorn
Peppermint Popcorn
Red Velvet Popcorn Cake
Peanut Butter Popcorn
Muddy Buddy Popcorn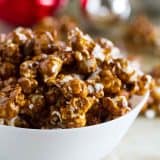 Caramel Gingerbread Popcorn
---
Author:
Prep Time: 15 minutes
Cook Time: 70 minutes
Total Time: 85 minutes
Yield: 14 cups 1x
Category: Dessert
Method: Baked
Cuisine: American
Description
A little bit spicy and perfectly sweet, this Caramel Gingerbread Popcorn is the perfect Christmas version of caramel corn.
---
Scale
Ingredients
14 cups popped popcorn*
3/4 cup light brown sugar
1/2 cup butter
1/4 cup light corn syrup
1/4 cup molasses
1 1/2 teaspoons ground ginger
1/2 teaspoon ground cinnamon
1/4 teaspoon salt
1/2 teaspoon baking soda
1/2 teaspoon vanilla extract
---
Instructions
Place oven racks in the upper and lower thirds of the oven. Preheat the oven to 250ºF. Line 2 baking sheets with parchment paper or a silpat baking mat.
Place the popcorn in one or two large bowls.**
Combine the brown sugar, butter, corn syrup, molasses, ginger, cinnamon and salt in a medium to large pot. Place over medium heat and bring to a boil. Once the mixture is at a boil, boil for 5 minutes.
Remove from the heat and carefully stir in the baking soda – the mixture will bubble up. Stir in the vanilla extract. Quickly stir the mixture into the popcorn. (If the popcorn is in 2 bowls, pour half of the mixture into each bowl.) Once the popcorn is coated with the caramel, pour the popcorn out onto the prepared baking sheets. Spread into a single layer.
Bake the popcorn for about 1 hour, stirring every 10 minutes, and rotating the baking sheets halfway through the baking time.
Remove the popcorn from the oven and allow to cool completely. Break into pieces to serve.
Recipe Notes:
*If air popping popcorn, you will need about 1/2 cup of popcorn kernels.
**The caramel will stick to a glass bowl, so I prefer to use plastic. If using glass, you may want to spray the bowl with nonstick cooking spray so the caramel doesn't stick.
Recipe source: Taste of Home
Keywords: caramel gingerbread popcorn