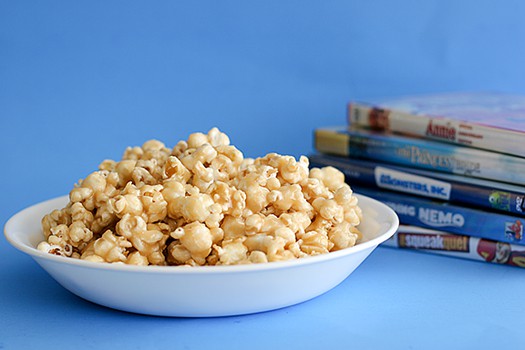 Back to school is right around the corner. It's time to enjoy a movie night with your kiddos before they head back! You'll want to try this Soft Caramel Corn recipe to snack on while watching – it's the perfect treat!!
Soft Caramel Corn
Popcorn is coated in a sweet and sticky caramel sauce that keeps the popcorn soft.
Ingredients
2 sticks of butter (1 cup)
1 cup brown sugar
1 cup white sugar
½ cup corn syrup
½ teaspoon baking soda
2 bags of microwave popcorn, popped, or about ¼ cup of popcorn kernels, popped in an air popper
Instructions
Put the butter in a medium saucepan over medium heat. Once melted, add the sugars and the corn syrup. Stir until it comes to a boil. (You don't want it to come to a boil too quickly - make sure it has enough time to dissolve the sugars.) Once boiling, let it boil for 1 minute.
Remove from the heat and stir in the baking soda. Pour the caramel over the popcorn and stir until coated. Let cool for a few minutes before serving.