An easy recipe for homemade caramel popcorn – made from a simple brown sugar caramel, and then baked until perfectly crispy.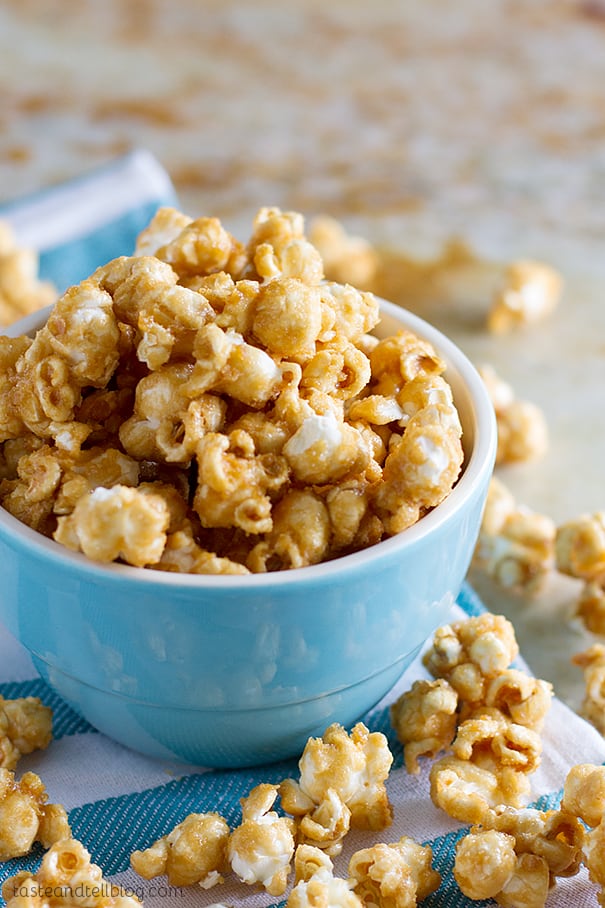 Photos Updated July 2014



Originally published October 17, 2008 – When it comes to snack time, what could be better than homemade caramel popcorn? I needed a snack to take with us to watch fireworks on July 4th, and I made up a batch of this caramel popcorn – but managed to totally mess it up. (It happens to the best of us!!) Thank goodness it doesn't take much, because I just had to make up a batch a couple days later to redeem myself. This was such a hit at my house that a half batch didn't even last 24 hours. My husband thinks that it tastes like Cracker Jacks, and my boys couldn't keep their hands out of it!!
When I was younger, every so often, we would have what we called "pig-outs." It was usually when my dad and my brother would be gone on camp-outs, but us girls and our mom would get lots of candy and junk food, and get to sit in front of the tv, pigging out and watching movies. This was a real treat for us, as we didn't get to have a lot of junk food normally.

As I went to make this caramel popcorn the other day, the memory of these pig-outs came to mind. My memory is horrible these days, (I blame it on pregnancy brain!), so I called my mom this morning to see if we ever ate this caramel corn at our pig-outs. I knew that we always had Brach's candy, but beyond that, I couldn't remember!! She told me that yes, we always had the candy, and that it was always just an array of junk food. She said she was sure we probably had this caramel popcorn from time to time, but she wasn't sure either!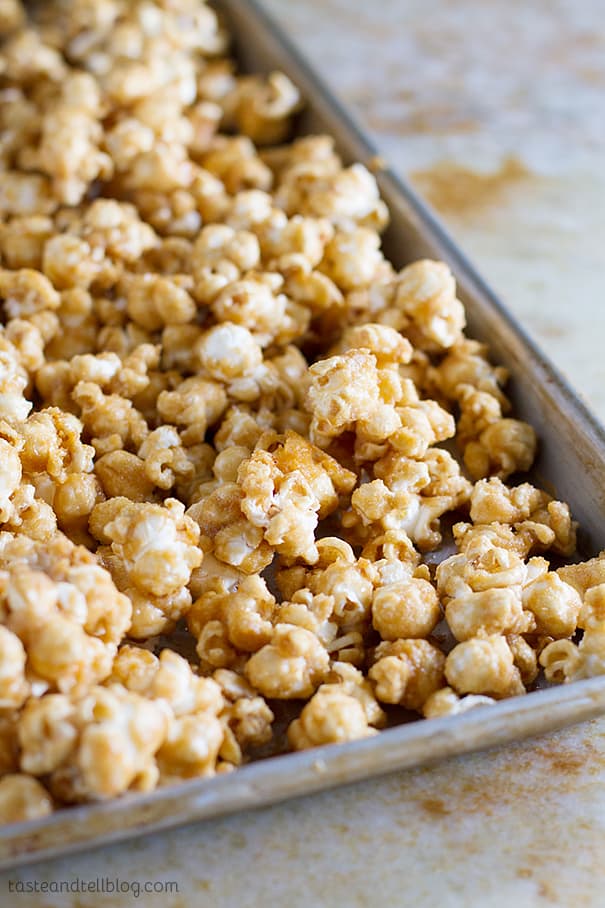 So even if we didn't have this at our pig-outs, I plan on having these special nights with my kids from time to time, and this caramel popcorn will be on the menu!! I have a soft caramel corn recipe that I've been using for years that makes a delicious caramel corn, but after making this, I think I actually prefer this baked version more! I took this to a "movie night" this week with some of the teenage girls in my church, and it was a hit. I had one girl tell me that she doesn't usually like caramel popcorn, but loved this. I went home empty handed!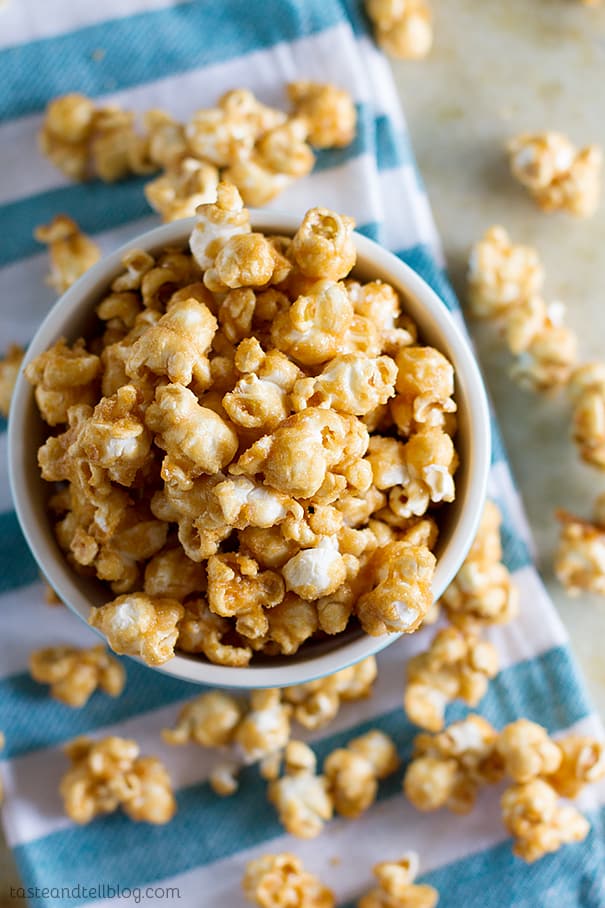 Like what you see here? Make sure you are following Taste and Tell for more great recipes and ideas!!

Facebook ** Pinterest ** Twitter ** Instagram ** Google+
or you can subscribe to my newsletter or Feedly or Bloglovin


Print
Baked Caramel Corn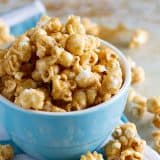 An easy recipe for homemade caramel popcorn – made from a simple brown sugar caramel, and then baked until perfectly crispy.
Prep Time:

10 minutes

Cook Time:

40 minutes

Total Time:

50 minutes

Yield:

6 quarts
Ingredients
1 cup butter
2 cups brown sugar
1/2 cup corn syrup
1 teaspoon salt
1 teaspoon vanilla
1/2 teaspoon baking soda
6 quarts popped popcorn
Instructions
Preheat oven to 250F.
Melt butter in a saucepan over medium heat. Add sugar, corn syrup and salt; stir to combine. Bring to a boil, stirring constantly. Once the mixture comes to a boil, let it boil for 5 minutes without stirring. Remove from the heat and stir in the vanilla and baking soda. (Be careful – the mixture will bubble up.)
Gradually pour the caramel over the popped corn, mixing well. (I usually have the popcorn in 2 big bowls to give me enough room to stir to coat it with the caramel.) Turn into 2 large, shallow baking pans.
Bake in preheated oven for 30 minutes, or until fairly dry, stirring twice. Remove from pan and break into pieces.
Store in an air-tight container.
Notes
Adapted from Goodman's Galloping Gourmet
**I used to cut the recipe down to 4 quarts of popcorn, but I have found that there is just too much caramel for 4 quarts, so I have gone back up to the original amount of 6 quarts.
**This recipe is easily halved.