An easy recipe for homemade caramel popcorn – made from a simple brown sugar caramel, and then baked until perfectly crispy. This caramel corn is perfect for family movie night at home!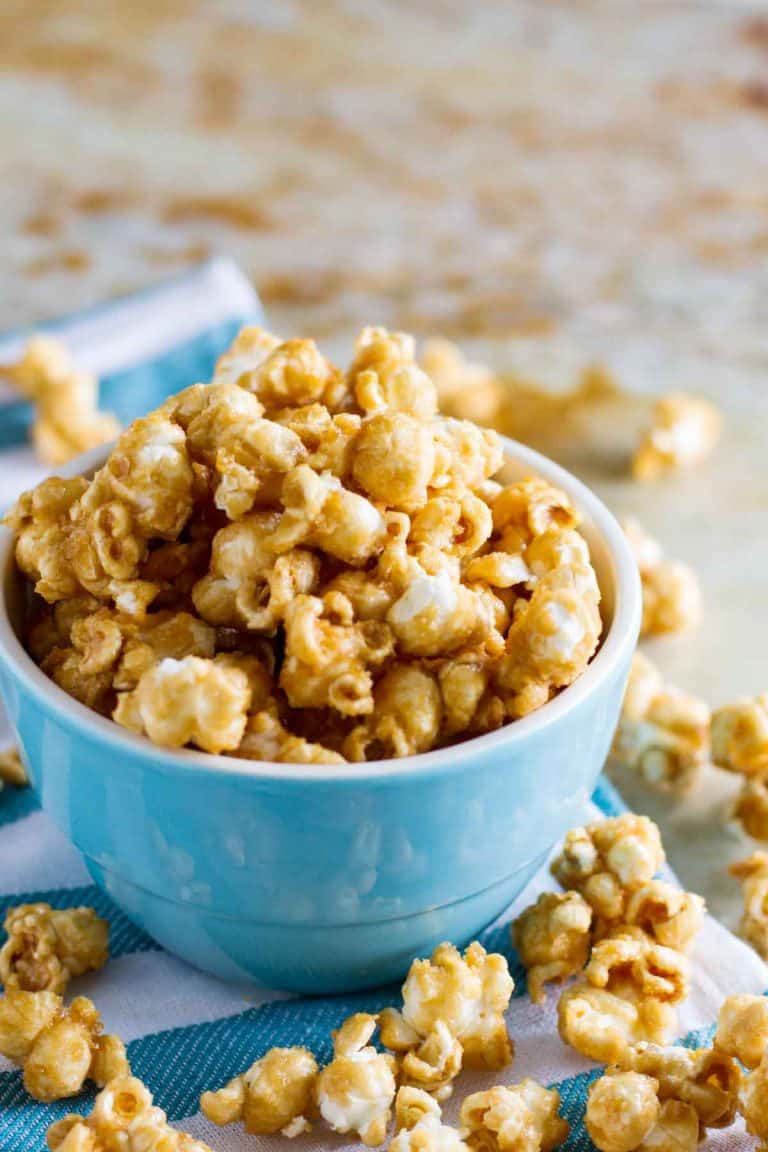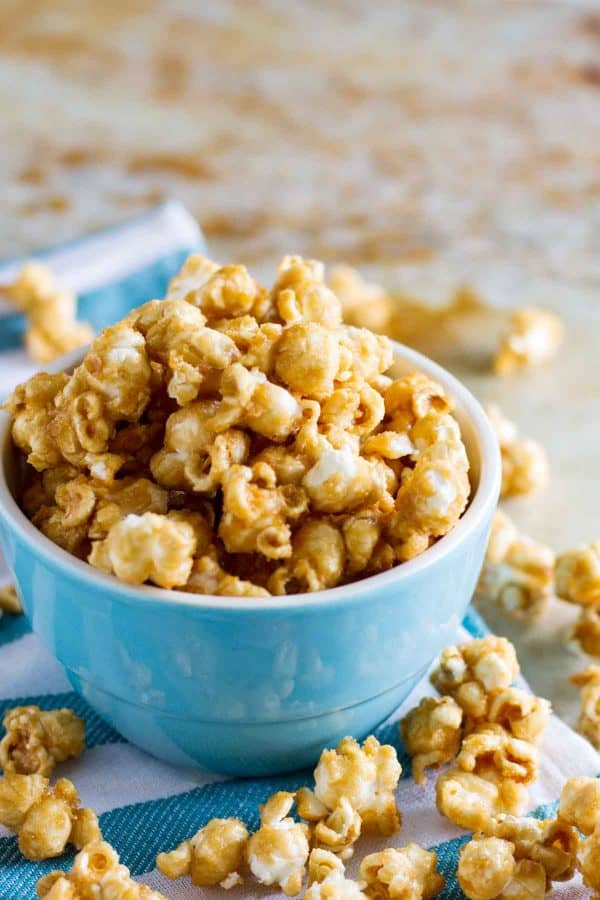 When I was younger, every so often, we would have what we called "pig-outs." It was usually when my dad and my brother would be gone on camp-outs, but us girls and our mom would get lots of candy and junk food, and get to sit in front of the tv, pigging out and watching movies. This was a real treat for us, as we didn't get to have a lot of junk food normally.

As I went to make this caramel popcorn the other day, the memory of these pig-outs came to mind. My memory is horrible, so I called my mom this morning to see if we ever ate this caramel corn at our pig-outs. I knew that we always had Brach's candy, but beyond that, I couldn't remember!! She told me that yes, we always had the candy, and that it was always just an array of junk food. She said she was sure we probably had this caramel popcorn from time to time, but she wasn't sure either!
So even if we didn't have this at our pig-outs, I love having these special nights with my kids from time to time, and this caramel popcorn is a favorite to put on the menu!! I have a soft caramel corn recipe that I've been using for years that makes a delicious caramel corn, as well, but I really, really do love this baked caramel corn recipe!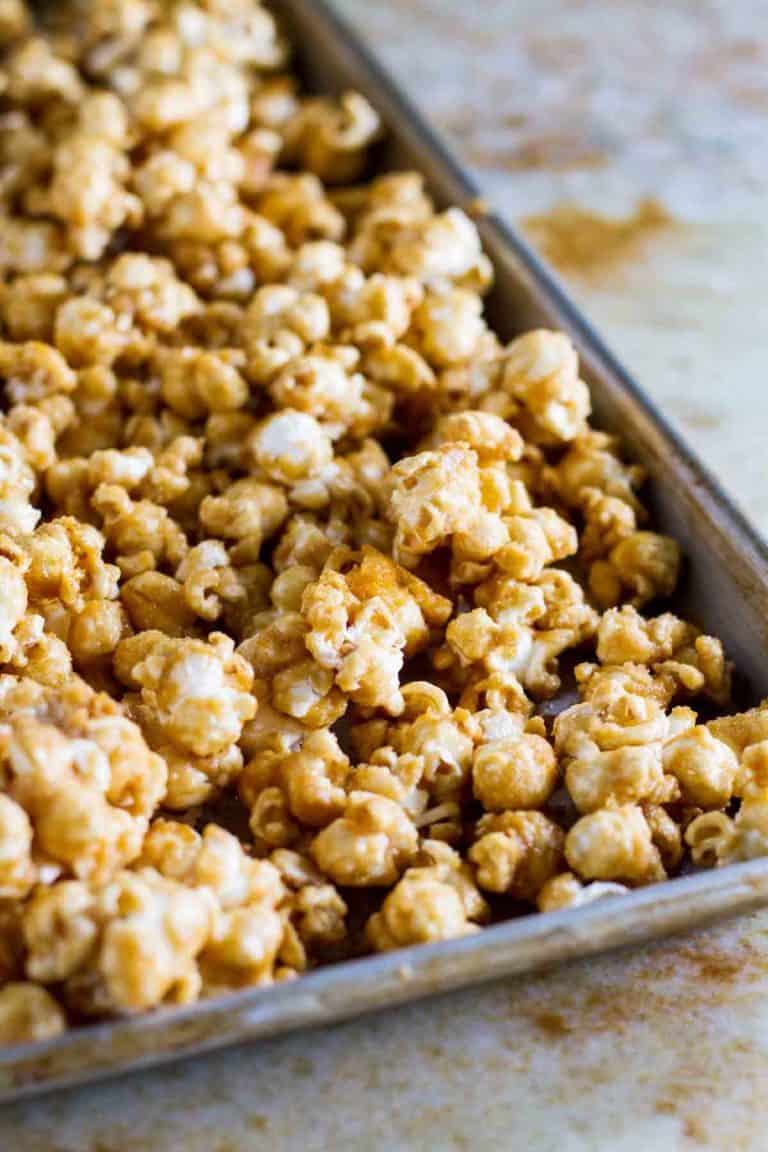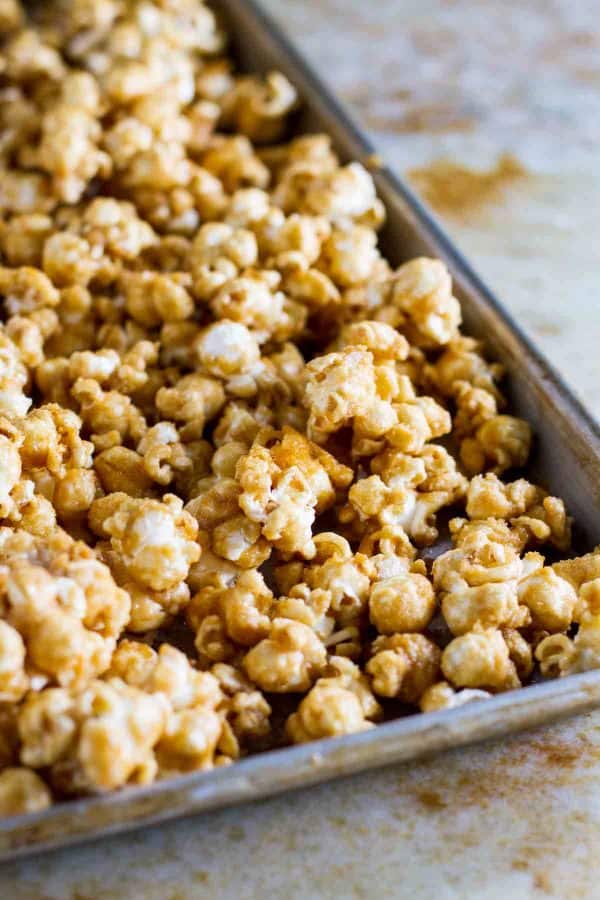 Ingredients for Baked Caramel Popcorn
Unsalted Butter – I like to use unsalted and then add in my salt. If you use salted butter, you'll want to cut down on the amount of salt you add.
Light Brown Sugar – I have never tried making this with dark brown sugar. I'm sure it would work, but I almost always prefer light brown sugar in recipes.
Light Corn Syrup – Not to be confused with high fructose corn syrup (if you use Karo syrup, it is HFCS free), the light corn syrup helps the caramel to not crystalize. I'm sure there are corn syrup substitutes out there, but I haven't personally tried any of them.
Salt – The salt helps to bring out all of the flavors in the recipe, and I always suggest adding a bit of salt. This recipe uses more than some sweet recipes, but I love the tiny bit of saltiness you get.
Vanilla Extract – I always use pure vanilla extract.
Baking Soda – Do not skip the baking soda! I know it sounds like a weird ingredient, but the baking soda reacts with the sugar and the corn syrup, which causes it to form lots of tiny bubbles. (You'll see this happen when you add the baking soda in and the caramel will bubble up.) These bubbles will help to keep the caramel a bit softer so that you won't break your teeth when you are eating the caramel corn.
Popcorn – I have an air popper (it's really one of my favorite kitchen appliances) but you can use microwave popcorn or popcorn cooked on the stove. Just be aware that the flavor and texture might change some if you use buttered or salted or oiled popcorn. I just use plain air popped popcorn.
How to make baked caramel popcorn
Start by making the caramel. In a pot, melt the butter over medium heat. Add in the brown sugar, the corn syrup, and the salt, then stir it all together.
Bring this mixture to a boil, then set a timer for 5 minutes and let it boil without stirring the mixture.
While the caramel is cooking, put your popcorn in 2 large bowls or one really large bowl.
Remove the caramel from the heat.
Stir in the vanilla and the baking soda. The caramel will bubble up – don't worry, that's supposed to happen!
Pour the caramel over the popcorn and stir until the popcorn is coated with the caramel.
Pour the coated popcorn out onto two half sheet baking sheets. Put it in a single layer as much as possible.
Bake the caramel corn at 250ºF for about 30 minutes, stirring it twice during the cook time. It probably won't be completely crispy by the end, but will crisp up as it sits.
Pour the caramel corn out onto a piece of wax paper or parchment paper. When it's cool enough to handle, break it into bite-sized pieces.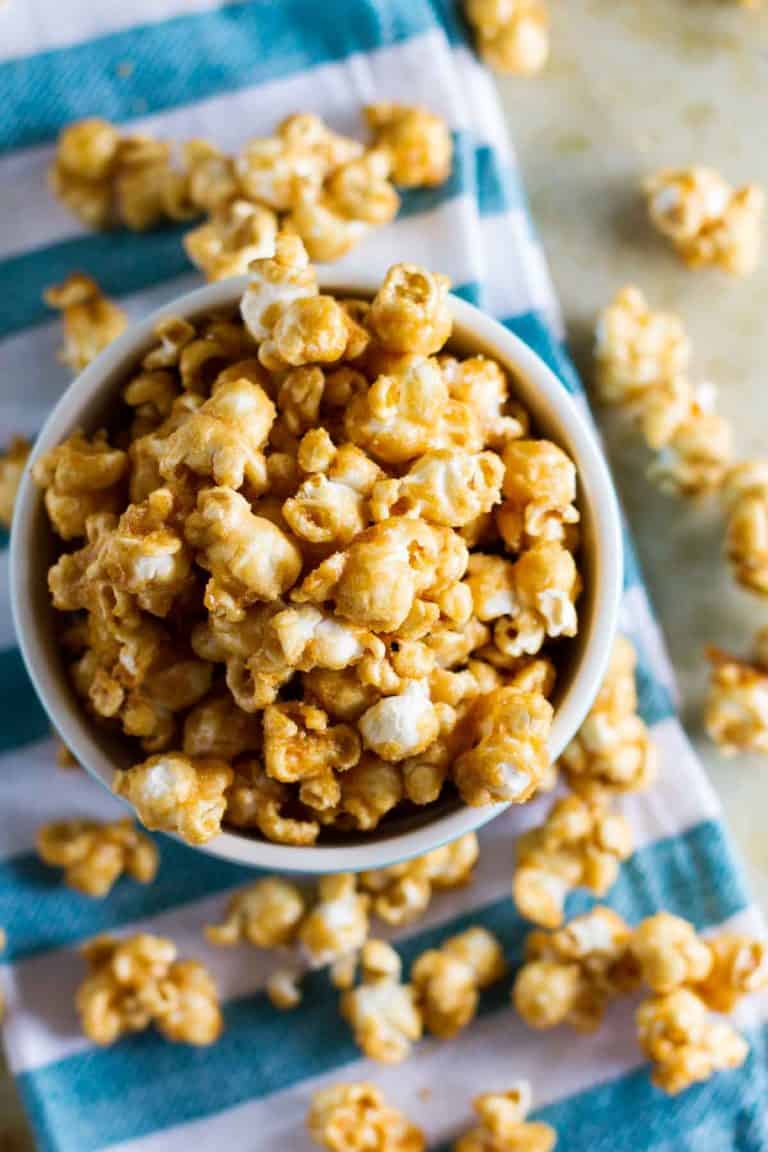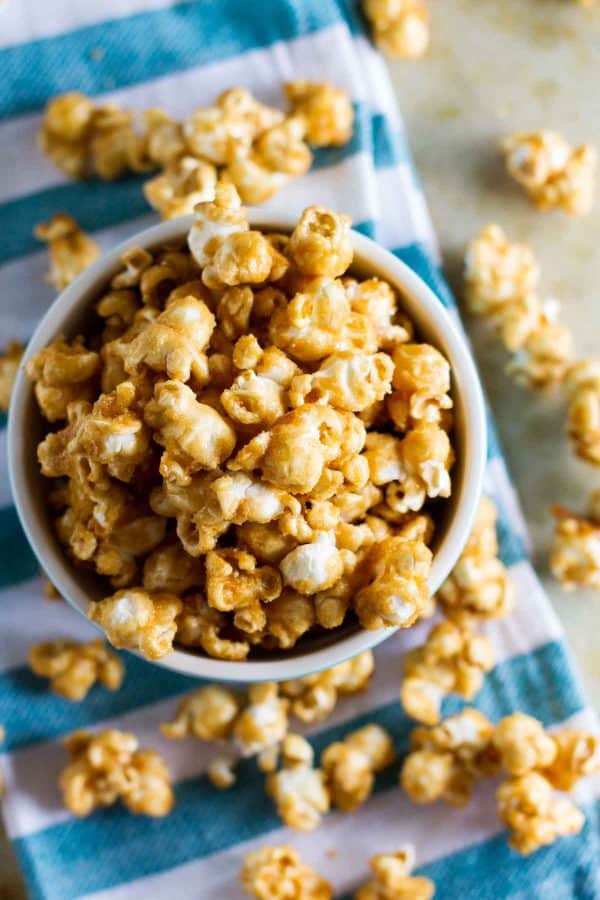 Tips for Making Caramel Corn
You'll want to make sure you are using a bigger pot to make the caramel, as the mixture will bubble up when you add the vanilla and baking soda. You don't want this to overflow as it is really, really hot.
I also like to use a really, really large bowl to mix everything together. If you don't have one, use two large bowls and pour half of the caramel into each one.
Store the caramel corn in an air-tight container. It should be good for several days, although it never lasts that long in our house.
More Popcorn Recipes You Need to Try
Tools Used to Make this Baked Caramel Popcorn
If you want one big bowl to mix the caramel popcorn in, this 9-quart mixing bowl would work perfectly.
I use half sheet baking pans to bake the popcorn.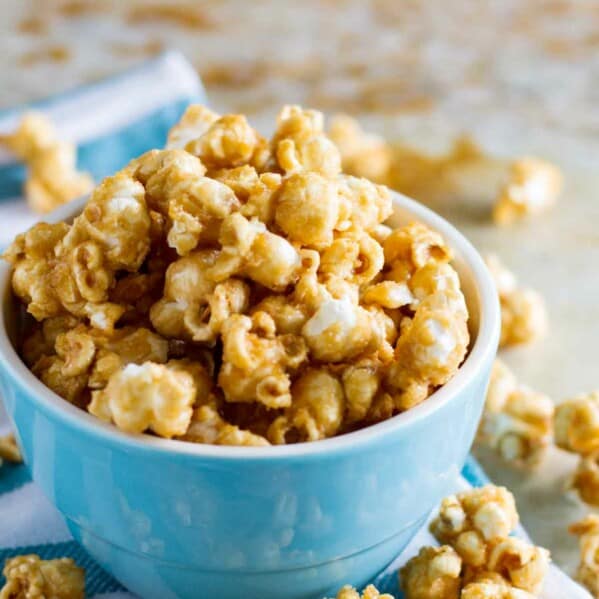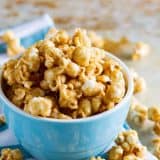 Baked Caramel Popcorn
---
Author:
Prep Time: 10 minutes
Cook Time: 40 minutes
Total Time: 50 minutes
Yield: 6 quarts 1x
Category: Dessert
Method: Bake
Cuisine: American
Description
An easy recipe for homemade caramel popcorn – made from a simple brown sugar caramel, and then baked until perfectly crispy. This caramel corn is perfect for family movie night at home!
---
Scale
Ingredients
1 cup unsalted butter
2 cups light brown sugar
1/2 cup corn syrup
1 teaspoon salt
1 teaspoon vanilla extract
1/2 teaspoon baking soda
6 quarts popped popcorn
---
Instructions
Preheat the oven to 250ºF.
Melt the butter in a saucepan over medium heat. Add the sugar, corn syrup, and salt; stir to combine. Bring to a boil, stirring constantly. Once the mixture comes to a boil, let it boil for 5 minutes without stirring.
Remove from the heat and stir in the vanilla and the baking soda. Be careful – as the mixture will bubble up.
Gradually pour the caramel over the popped corn, mixing well. (I usually have the popcorn in 2 big bowls to give me enough room to stir to coat it with caramel.)
Turn the coated popcorn out onto 2 large, shallow baking sheets. I usually use half sheet baking sheets.
Bake in the preheated oven for 30 minute, or until fairly dry, stirring twice during baking time. Remove from the pan and break into pieces.
Store the caramel popcorn in an air-tight container.
Recipe Notes:
**I used to cut the recipe down to 4 quarts of popcorn, but I have found that there is just too much caramel for 4 quarts, so I have gone back up to the original amount of 6 quarts.
**This recipe is easily halved.
Nutrition information provided as an estimate only. Various brands and products can change the counts. Any nutritional information should only be used as a general guideline.
Nutrition
Serving Size: 2 cups
Calories: 281
Sugar: 27 g
Sodium: 257 mg
Fat: 16 g
Saturated Fat: 10 g
Unsaturated Fat: 6 g
Trans Fat: 0 g
Carbohydrates: 37 g
Fiber: 2 g
Protein: 2 g
Cholesterol: 41 mg
Keywords: caramel popcorn