Feeling snacky? You can never go wrong with the chocolate and peanut butter combination – and this Muddy Buddy Popcorn is just what you need!
My kids love popcorn. Ok, who am I kidding – I love popcorn, too!! It has become a regular occurrence for us to come home from church on Sundays and make a big bowl of popcorn to snack on. And my kids will go. to. town. Movie or not. We will go through a big bowl in no time flat.
So today's cookbook review – Party Popcorn by Ashton Epps Swank from Something Swanky – was a cookbook that I was super eager to get my hands on. 75 different recipes for popcorn? Count me in!!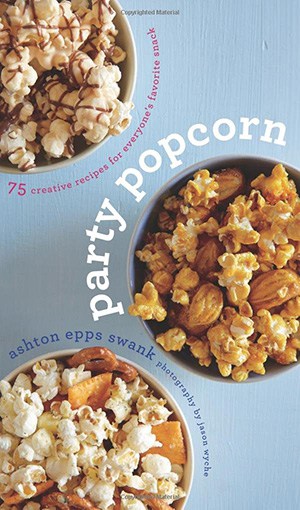 In her book, Ashton covers everything from savory to sweet. I love that there is a whole section of "pop 'n' toss popcorn" – recipes that can be done within 5 minutes after popping your popcorn. These are perfect for those Sunday afternoons when my kids want a snack right now. And as much as I love the savory recipes, my kids are going crazy over the sweet recipes. Popcorn covered in chocolate and caramel and cake and candy? It's not hard to convince them to try the recipes!!
Here are the details:
Number of Photos: Lots. There is almost a photo for every other recipes, so with 75 recipes, it's a good amount of photos. The photos are colorful and really highlight the recipes.
Difficulty Level of Recipes: Easy. For the most part, these recipes are very easy – easy enough for even a novice in the kitchen. There are a small handful that might be a little bit more difficult – where you are making caramel or toffee, but I think even then, the directions are written well enough that anyone could make them.
Availability of Ingredients: Easy. You should be able to find all of these ingredients at your local grocery store. Many of the recipes call for melting candy, but that can even be found at most grocery stores today.
Other Recipes I Want to Try:
Balsamic Salt and Vinegar Popcorn
Mexican Street Corn Popcorn
Coconut Curry Popcorn
Caramel Apple Crisp Popcorn
Pina Colada Popcorn
Bear Claw Popcorn
Buy Party Popcorn on Amazon.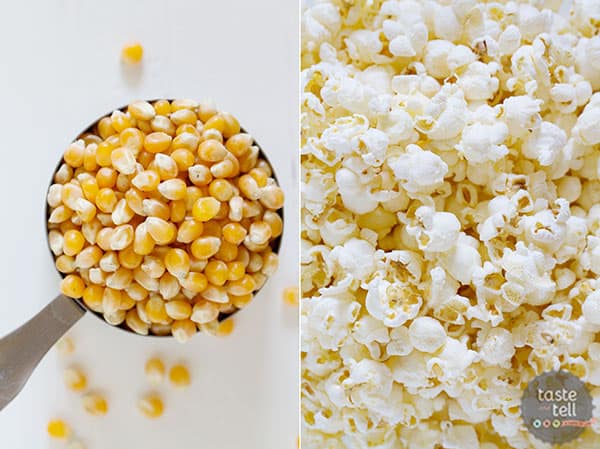 I honestly have the majority of this book bookmarked to make. Popcorn is the perfect snack, and it is going to be my go-to snack for a long time now until I can work my way through this book!! I had a few other recipes chosen out to make for this review, but then I stopped in my tracks when I saw this Muddy Buddy Popcorn. It's one of those recipes where I think – why haven't I thought of that before?? Muddy Buddies are a favorite here, and making it into popcorn instead of cereal? What a great idea!!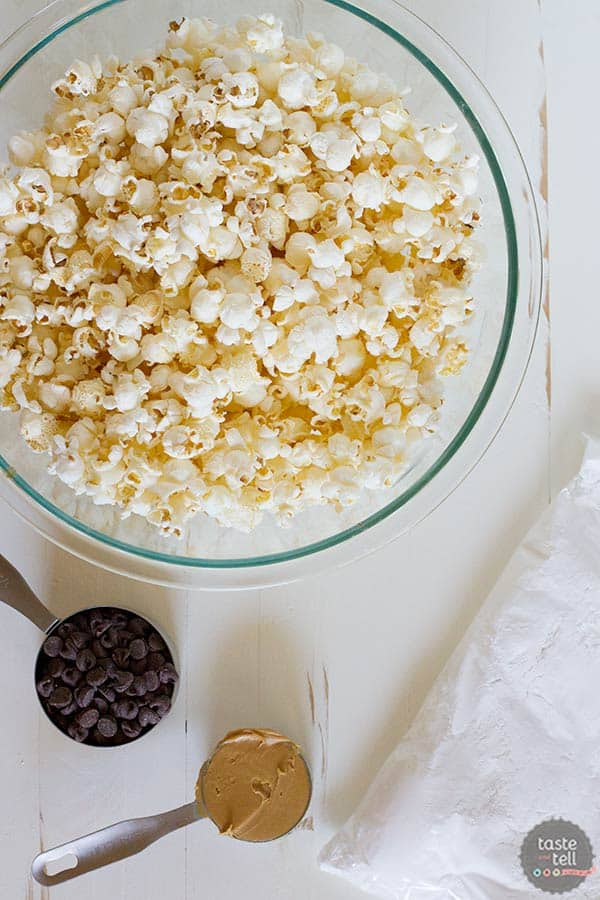 If you aren't familiar with Muddy Buddies – aka Puppy Chow – it is usually Chex cereal that is coated in a peanut butter and chocolate mixture, and then covered in powdered sugar. You really can't go wrong when peanut butter and chocolate are combined, and that powdered sugar layer really takes it over the top.
In this Muddy Buddy Popcorn, you swap in popcorn for the cereal. And it is good. So good, in fact, that I had to put it away on top of the refrigerator where I couldn't get to it because I couldn't keep my hands out of it.
I do have to admit that I almost doubted that all of the popcorn would fit in the bag to coat it in the powdered sugar, but I went for it, and it does fit. So don't doubt!!
I see lots of popcorn and movie nights in our future!!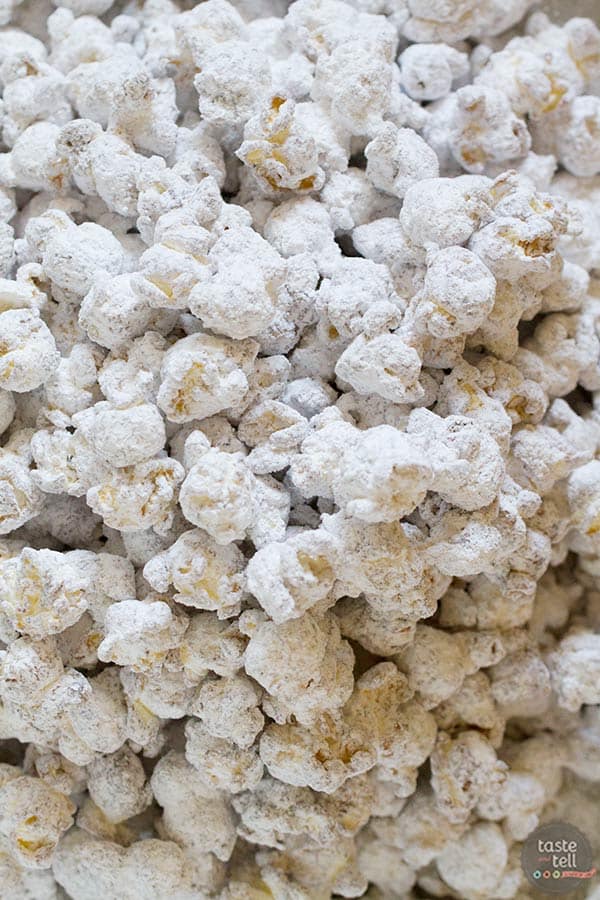 Like what you see here? Make sure you are following Taste and Tell for more great recipes and ideas!!

Facebook ** Pinterest ** Twitter ** Instagram ** Google+
or you can subscribe to my newsletter or Feedly or Bloglovin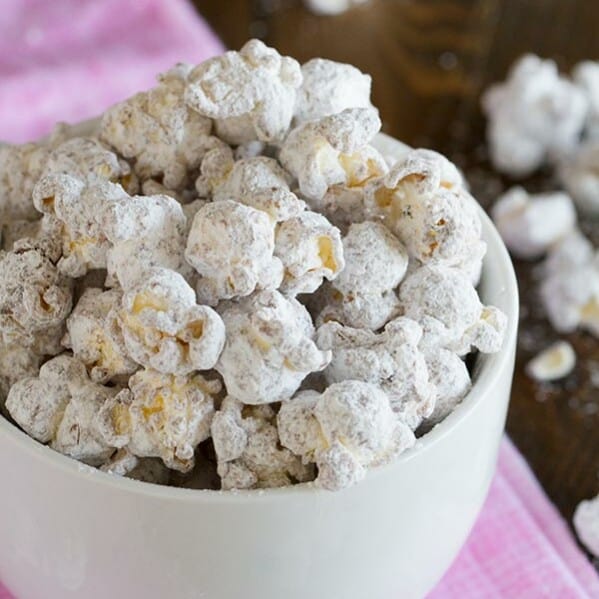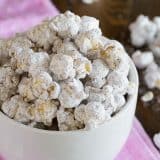 Muddy Buddy Popcorn
---
Prep Time: 15 mins
Total Time: 15 mins
Yield: 4-6 servings 1x
Description
Feeling snacky? You can never go wrong with the chocolate and peanut butter combination – and this Muddy Buddy Popcorn is just what you need!
---
Scale
Ingredients
8 cups popped popcorn (about 1/2 cup kernels, popped)
1 1/4 cups powdered sugar
1/2 cup semi-sweet chocolate chips
1/4 cup creamy peanut butter
---
Instructions
Place the popcorn in a very large bowl and remove all seeds. Place the powdered sugar in a gallon sized ziptop bag.
Combine the chocolate chips and peanut butter in a small microwave safe bowl. Microwave on high for 1 minute, then stir until it is completely melted and smooth. (If the chocolate is not completely melted, continue to microwave on 50% power in 30 second increments.
Pour the chocolate/peanut butter mixture over the top of the popcorn, and gently stir to coat all of the popcorn. Spoon the popcorn into the tiptop bag and gently shake to coat the popcorn with the powdered sugar.
Pour the mixture into a bowl. Store leftovers in an airtight container for up to 2 days.
Recipe Notes:
slightly adapted from Party Popcorn by Ashton Epps Swank
Don't miss a thing! Follow me on Pinterest to see what I'm pinning!
Visit Taste and Tell's profile on Pinterest.


I received this book from the publisher for this review, but all opinions are my own. This post contains affiliate links. If you purchase an item from Amazon from the link Taste and Tell receives a small commission. Thank you for supporting Taste and Tell through your purchases!