Red velvet and marshmallows combine with popcorn to make a fun popcorn cake that everyone will love.
Growing up, my family would go to my grandparent's house every Sunday night. My parents would play Scrabble with my grandma, my grandpa would sit in his recliner and watch his westerns, and us kids would do homework, play games, play in the basement, or watch the Sunday night movie on tv. (Anyone else old enough to remember when they played a Sunday night movie on tv?)
It was every week, something we could always count on.
We could also count on my mom making a dessert every Sunday to take over for dessert. Some of those desserts that she would make are still my favorites. Like Chocolate Cheesecake Cupcakes. Or Popcorn Cakes.

I'm not sure when or why my mom started changing her popcorn balls into a cake, but I sure am glad that she did. Because this has become a recipe that I love. It was normally a cake she would bust out around Halloween (I have the Halloween version here), but I am happy eating it all year round.
I didn't even originally plan on taking my mom's cake and turning it red velvet, but the idea popped into my head last minute and I had to try it.
I figured that the easiest way to give the popcorn cake that traditional red velvet flavor would be to use a dry cake mix. But what I didn't realize is that not all cake mixes are created equal when it comes to red velvet. I've always bought Duncan Hines Red Velvet cake mixes, simply because they seem to be available year round. Well, when I was at the grocery store, I saw that Betty Crocker had a red velvet cake mix. I decided to try it out.
Well, what I ended up with was popcorn that did taste great, but it was more like mauve velvet than red velvet. Not really the look I was going for. So I went back to the drawing board. I didn't realize to start with that it was because of the brand of cake mix. I was going to try again and just add in some additional red food coloring, but then I saw a box of Duncan Hines Red Velvet Cake mix in my food storage. And I decided to give it a try.
It's kind of amazing how different the colors were. This cake was made with Duncan Hines, no extra food coloring needed.
This is such a fun dessert – no one will want to turn away a popcorn cake. And it's definitely a lot more fun with a red velvet twist!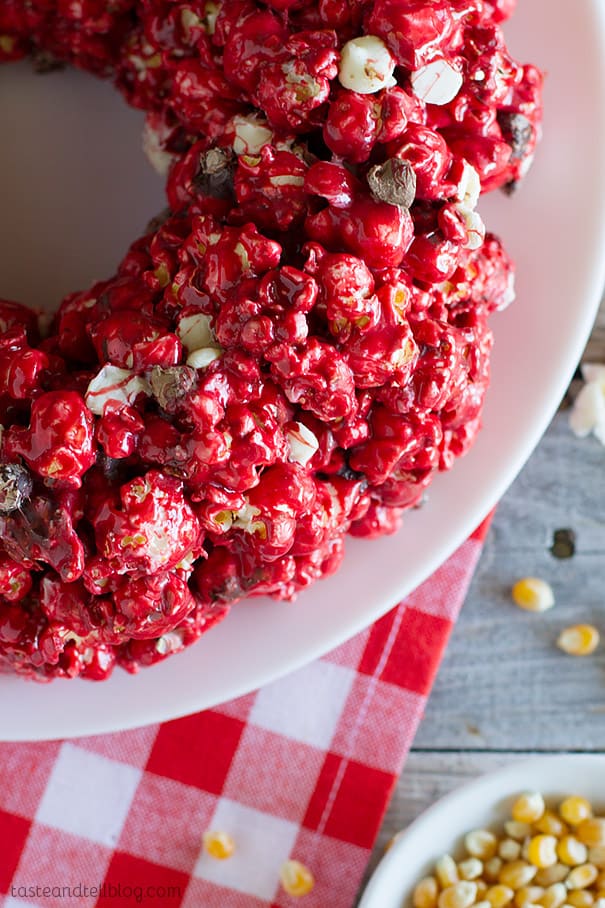 Like what you see here? Make sure you are following Taste and Tell for more great recipes and ideas!!

Facebook ** Pinterest ** Twitter ** Instagram ** Google+
or you can subscribe to my newsletter or Feedly or Bloglovin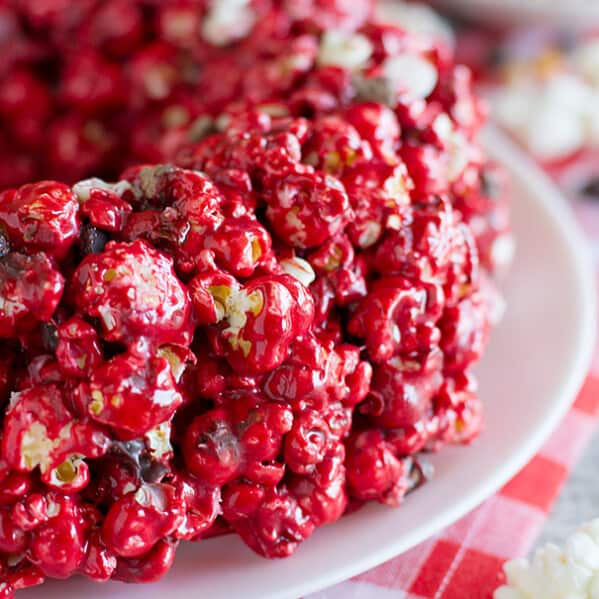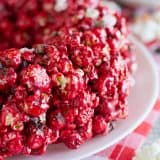 Red Velvet Popcorn Cake
---
Prep Time: 10 minutes
Cook Time: 5 minutes
Total Time: 15 minutes
Yield: 6 servings 1x
Description
Red velvet and marshmallows combine with popcorn to make a fun popcorn cake that everyone will love.
---
Scale
Ingredients
2 1/2 quarts popped popcorn (about 1/3 cup popcorn seeds)
1 (10 oz) bag marshmallows
3 tablespoons butter
3/4 cup red velvet cake mix*
1/2 cup semi-sweet chocolate chips
1/2 cup white chocolate chips
---
Instructions
Generously spray a bundt pan.
Place the popcorn in a large bowl.
Melt the marshmallows and the butter together in a large bowl in the microwave or over medium heat on the stove. Stir until smooth. Stir in the dry cake mix. Immediately pour over the popcorn and stir until the popcorn has been coated with the mixture. Stir in the chocolate chips and white chocolate chips.
Pour the popcorn into the prepared bundt pan. With buttered hands, firmly press the popcorn into an even layer. Turn out onto a serving plate or dish.
Recipe Notes:
*Duncan Hines cake mix makes a more red cake than other brands that I've tried.
More Red Velvet Favs: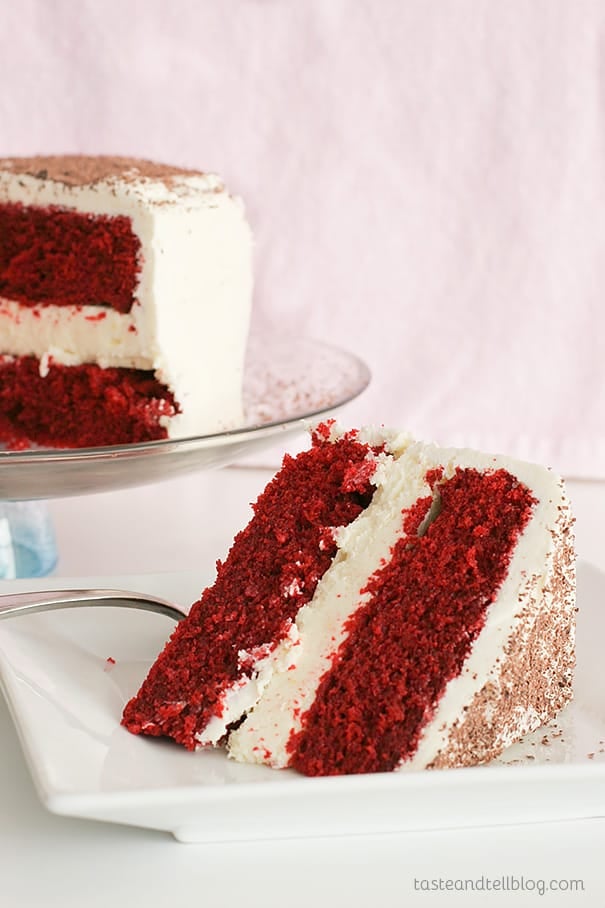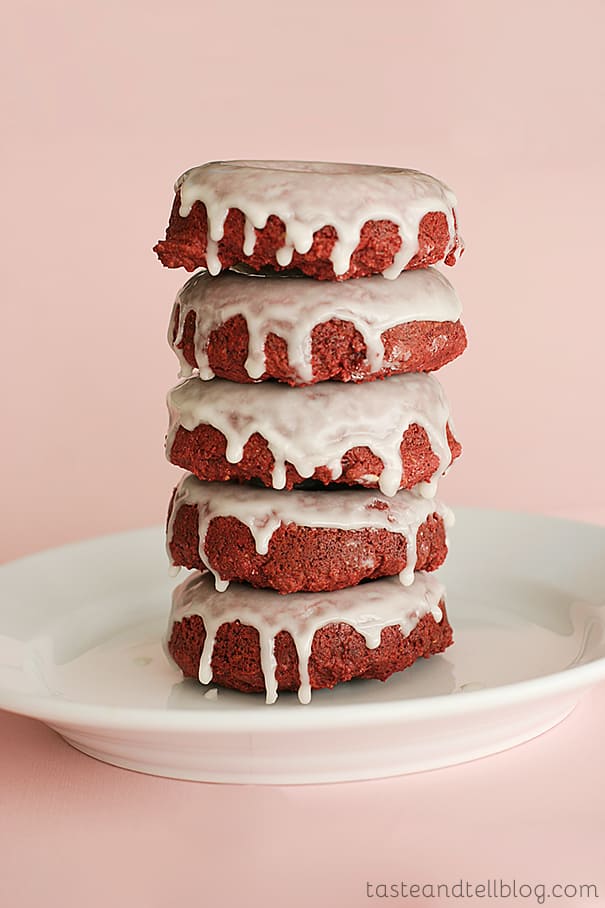 Red Velvet Black and White Cookies
Around the Web:
Red Velvet Cream Cheese Cake Truffles from The Comfort of Cooking
Gooey Red Velvet Brownie Cake from Beyond Frosting
Red Velvet Soft Pretzels from Crazy for Crust