Forget boring mac and cheese! This baked mac and cheese combines cheesy macaroni with bacon and tomatoes, and then is served with a simple romaine salad.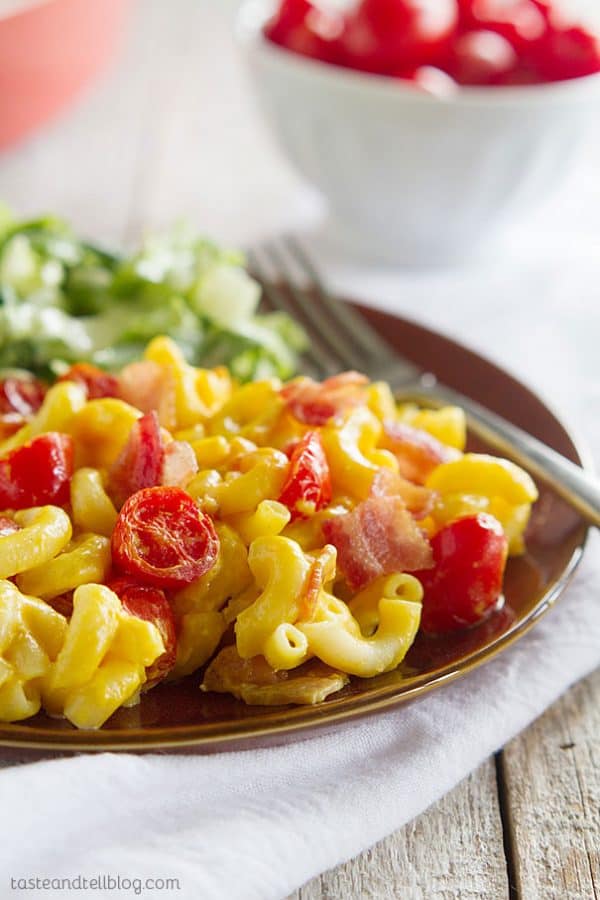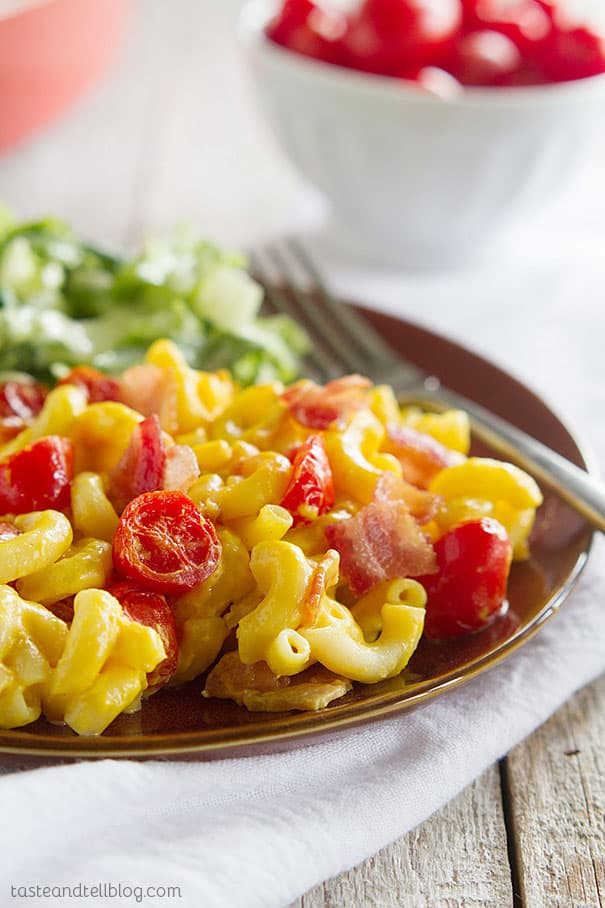 As much as I love going on vacation, coming home is hard.
I have been working for myself for awhile now, and one thing I have learned is that it's not easy to just take some time off. When I worked in an office, I'd ask for time off, the time would come, and I'd go on vacation. Leave work behind. Well, when you are self employed, you have to do all of the work for the time you are missing before you leave, and then come back to a whole lot when you get back.
Over the past few years, whenever I've travelled, I've usually worked. Because it just takes too much time to get completely ahead.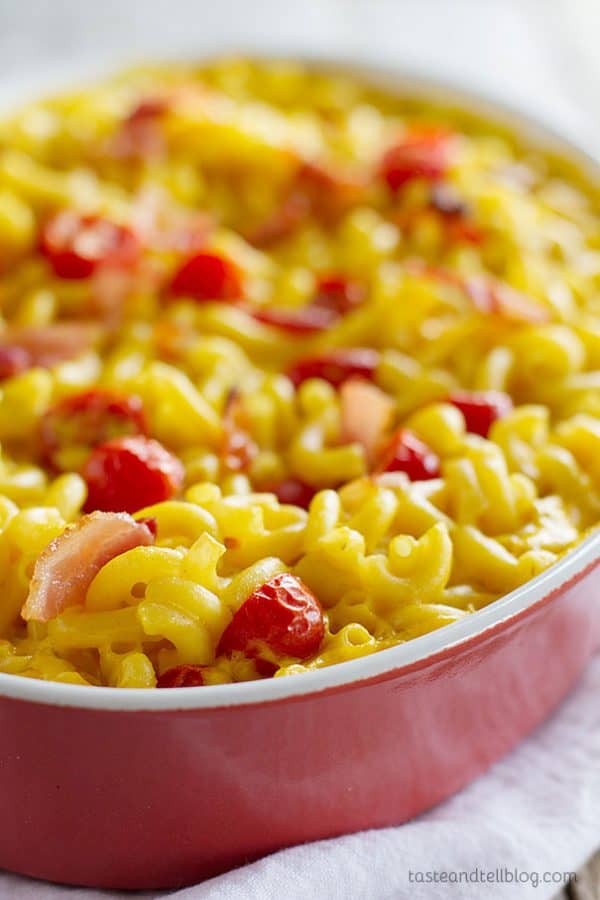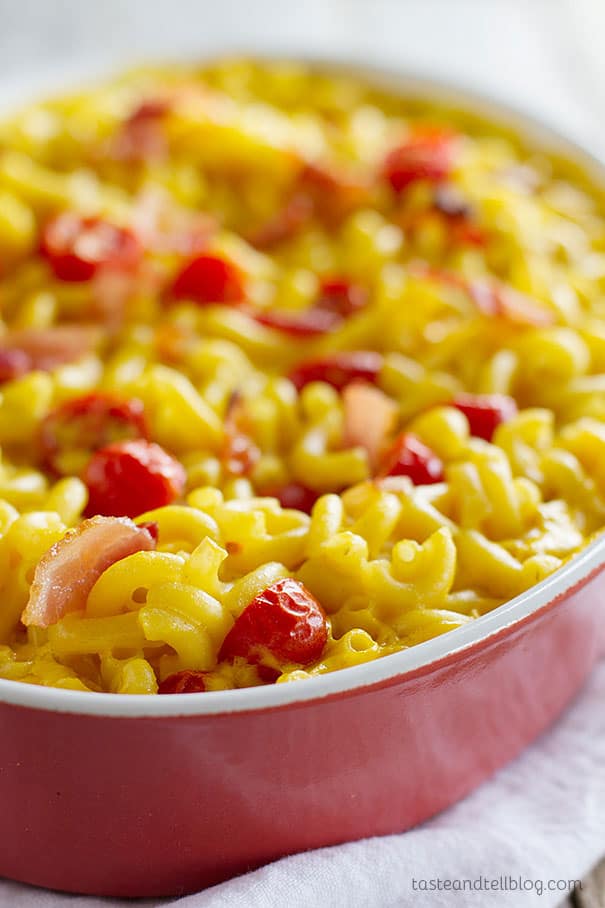 But this past week of vacation, I went into it knowing that I wouldn't have a wifi connection and that I'd have to be ahead. My dad has a hotspot that I used very sparingly, but besides that, it was a true vacation. It's been a long time since I have really had a vacation.
And it was amazing.
I love what I do, but taking that time off made it even harder to get back to work. In fact, here it is already Friday, and I'm still struggling to get back into the swing of things.
But life goes on. And sooner or later, things have to go back to normal.
One thing I have been happy to get back to, though, is getting back into the kitchen. Let's just say that I ate way too much junk food, and getting back into the kitchen to make dinner was a welcome change. On the menu was this BLT Baked Mac and Cheese.
Mac and Cheese is definitely a favorite in my house. And I've had some delicious versions coming out of my kitchen lately. (Stay tuned for more!!) This version is coming in as one of my favorites.
I'm a blt junkie, and when you combine the flavors of a blt in a baked mac and cheese? I'm sold!! This baked mac and cheese adds some bacon and tomatoes in a creamy mac and cheese, and then it's served with a simple romaine salad. The kids didn't really want to touch their salad (surprise, surprise), but both my husband and I agreed that this was killer when put the salad on top of the mac and cheese and ate it all together.
This mac and cheese has a little bit of turmeric to give it that bright orange color. If you don't have it, I would definitely think you'd be ok to leave it out. I was originally going to leave it out because I didn't have any, but then ended up at the grocery store for something else and decided to pick up a jar. It did give it that bright orange that you'd get from boxed mac and cheese, but believe me – this tastes way better!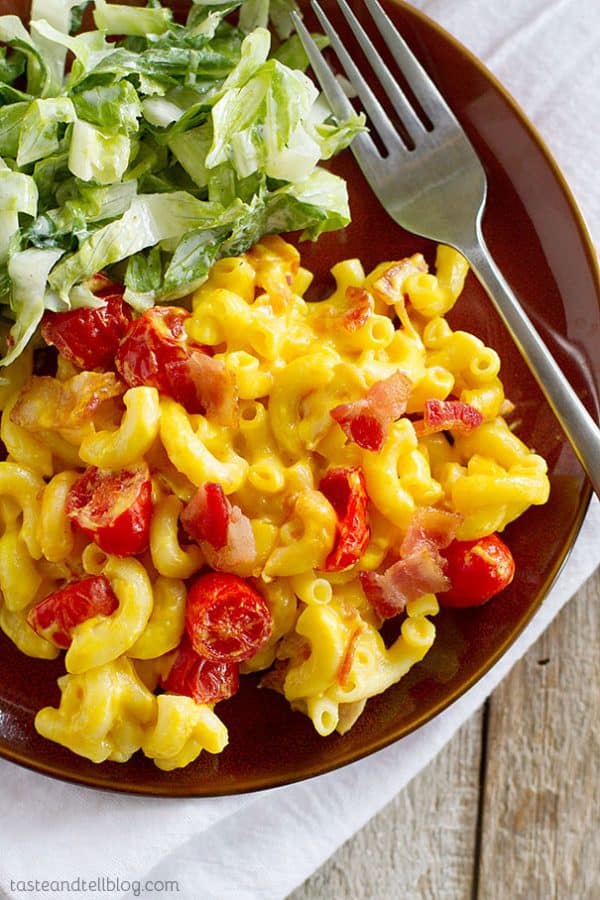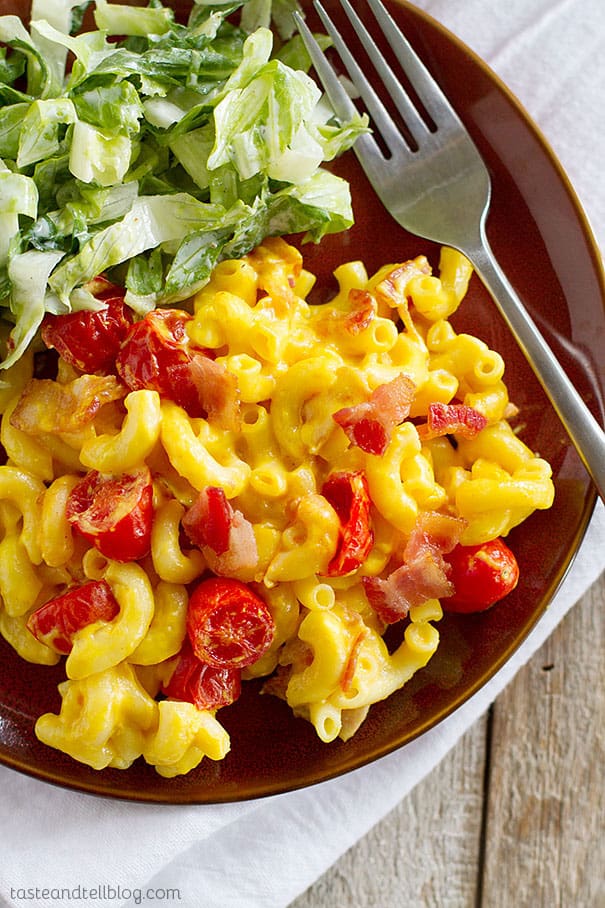 More Must-Make Mac and Cheese:
Stovetop Sausage Mac and Cheese
Pepperoni Pizza Mac and Cheese
Pumpkin Cheddar Mac and Cheese
Baked Mac and Cheese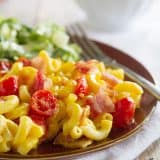 BLT Baked Mac and Cheese
---
Prep Time: 20 mins
Cook Time: 20 mins
Total Time: 40 mins
Yield: 4 servings 1x
Category: Main Dish
Method: Baked
Cuisine: Italian
Description
Forget boring mac and cheese! This baked mac and cheese combines cheesy macaroni with bacon and tomatoes, and then is served with a simple romaine salad.
---
Scale
Ingredients
8 oz bacon, cut into 1/2-inch pieces
12 oz dry macaroni
2 1/4 cups milk
1/2 teaspoon turmeric
6 oz cream cheese
2 cups shredded sharp cheddar cheese
6 oz cherry or grape tomatoes, halved
salt and pepper
1/4 cup plain Greek yogurt
1 tablespoon apple cider vinegar
1–2 romaine hearts, shredded (about 6 cups)
---
Instructions
Preheat the oven to 375F.
Place the bacon in a large skillet over medium heat. Cook until the bacon is crisp, then remove with a slotted spoon to a paper towel lined plate.
Meanwhile, bring a large pot of salted water to a boil. Add the pasta and cook until just short of al dente. Drain.
In the same pot, bring the milk to a simmer. Whisk in the turmeric. Add the cream cheese and cook until the cream cheese has melted. Stir in the cheddar cheese until melted. Add in the cooked pasta, tomatoes and cooked bacon. Stir to combine, then season to taste with salt and pepper. Transfer the mixture to a 9×13-inch baking dish. Bake until heated through, about 20 minutes.
Meanwhile, whisk together the yogurt and vinegar in a large bowl. Add the lettuce and stir to coat. Season to taste with salt and pepper.
Serve the romaine salad with the mac and cheese.