Mac and cheese with 3 cheeses – all made on the stovetop for a comforting, kid-friendly meal.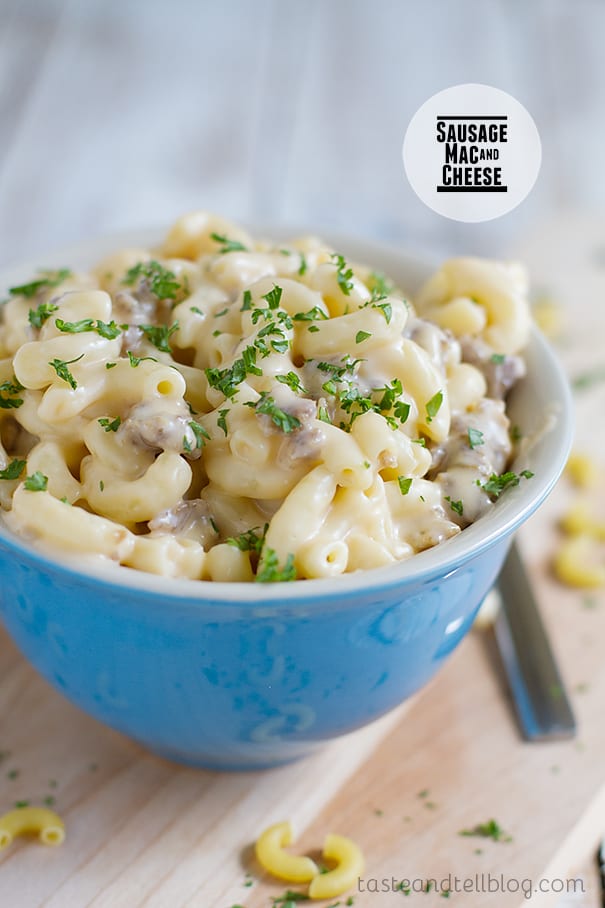 Photos and Recipe updated June 2014



Originally posted May 18, 2007 – My kids are mac and cheese addicts, so when I remembered this recipe from the archives, I thought it would be a good one to make for them (and rephotograph at the same time!) I won't lie – I was afraid they were going to turn their heads because of the sausage, but they all surprised me and loved it!! This is a great easy dinner or lunch idea that got 5 stars from my family!! (*Note – I did change the recipe just a bit from how I made it when I first posted this recipe. I'm sure you'll love the changes!!)

How is it that I can take a "Cooking Light" recipe and turn it into something completely not light? Maybe it's because it involves cheese, and I tend to go overboard when it comes to cheese. I decided to tackle the Cooking Light magazine I bought a few weeks back. I wasn't feeling super energetic, so I started off with what looked like an easy, fast meal – Stovetop Sausage Mac and Cheese.
I stuck with the basic gist of the recipe, but didn't have any of the light ingredients in the house, so I used what I had. First of all, I just had some basic sage sausage, and used probably 8 oz instead of 4. Then, all we had was full fat milk, so no fat-free milk in the mac and cheese. The reduced fat sharp cheddar was substituted with regular sharp cheddar, and the Monterey Jack was substituted with Colby Jack. (I used about twice as much Colby Jack as was called for!! Did I mention I love cheese??) The rest of the recipe I didn't change. Not only was this super easy, but quite tasty as well. And in all honesty – it probably would have been just as good if I would have made it as written. I figured that by using what I had, I took the calorie intake from 433 calories a serving to 575 calories – not great but still not horrible in my book. But the portion sizes are also very big – it makes 4 servings – and I could have easily eaten less than a fourth of the recipe. Taking all of this into account – light or not, this was a great weeknight meal!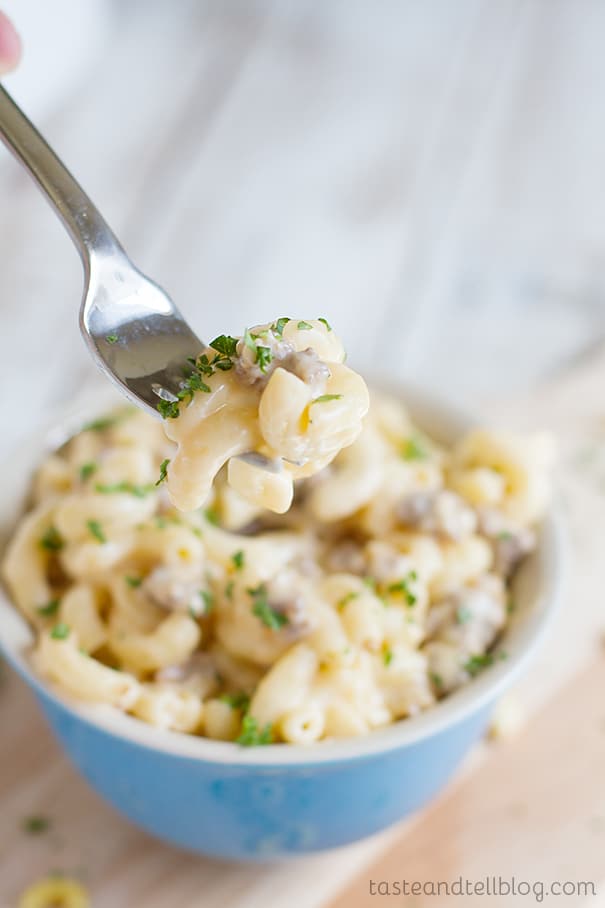 Like what you see here? Make sure you are following Taste and Tell for more great recipes and ideas!!

Facebook ** Pinterest ** Twitter ** Instagram ** Google+
or you can subscribe to my newsletter or Feedly or Bloglovin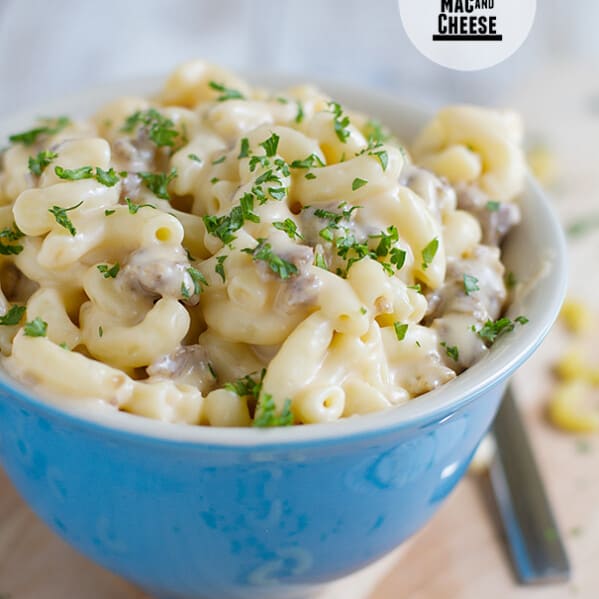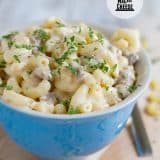 Stovetop Sausage Mac and Cheese
---
Prep Time: 10 minutes
Cook Time: 10 minutes
Total Time: 20 minutes
Yield: 4 servings 1x
Description
Mac and cheese with 3 cheeses – all made on the stovetop for a comforting, kid-friendly meal.
---
Scale
Ingredients
4 ounces Italian sausage, casings removed
1 1/4 cups milk
2 tablespoons all-purpose flour
3/4 cup (3 ounces) shredded sharp cheddar cheese
1/3 cup (about 1 1/3 ounces) shredded Monterey Jack cheese
1/4 cup (2 ounces) 1/3-less-fat cream cheese
1/2 teaspoon onion powder
1/4 teaspoon garlic powder
1/8 teaspoon salt
5 cups hot cooked elbow macaroni (about 8 ounces uncooked pasta)
Chopped fresh parsley (optional)
---
Instructions
Heat a large skillet over medium-high heat. Add the sausage and brown, breaking it up as it cooks.
Combine the milk and the flour in a small bowl and whisk until smooth. Add the milk mixture to the skillet and bring to a boil, stirring the whole time. Reduce the heat to a simmer and add the sharp cheddar, Monterey Jack, cream cheese, onion powder, garlic powder and salt. Cook until the cheeses melt, stirring the whole time. Add the pasta and stir to coat.
Garnish with parsley before serving, if desired.